Are you sick and tired of your current career situation?
Do you want a better work-life balance? Be your own boss? Be in control of your time and health?
And finally, afford to go on your dream vacation (the one that's been sitting on your bucket list for like forever)?
You are in luck.
You've come to the right place!
We'll give you the tools and courage you need to become a successful virtual assistant. And at last, live your dream life.
Learn how to become a successful Virtual Assistant. Get your free cheat sheet.
So, stick with us here…
First and foremost, let's take care of the basics.
What Is a Virtual Assistant
Before we go any further, you need to understand who is a virtual assistant.
Quite simply, a virtual assistant is someone who helps an online business manage their everyday tasks.
Think of it as a personal assistant or secretary, only that this time tasks are done online and not offline.
This virtual professional can work part-time or full-time. And from any location in the world.
Demand for Virtual Assistants Is Sky High
Perhaps you're wondering if there's demand for virtual assistant services?
The answer is – YES.
Reality is company owners are getting busier by the day. They don't have much time nor energy to do everything they want or need to do.
What this means is: they don't have much time and energy to spend on growing the business (and enjoying themselves).
And that's where you as a virtual assistant comes to the rescue.
And do what tasks?
Keep reading to discover the virtual assistant services you can offer to a business.
(It's relatively easy to do work. So, don't get scared).
What Does a Virtual Assistant Do?
Chances are you may have asked yourself this question. Therefore, we'll break the virtual assistant tasks into categories so that it is easier for you to follow.
So check this out:
eCommerce Virtual Assistant
As an eCommerce virtual assistant, you'll ease the burden off eCommerce businessmen and help them outgrow their competitors.
These are the key tasks you'll be handling:
eCommerce product data entry
Handle transaction seamlessly
Manage the inventory on a daily basis
Provide 24/7 customer support via email and live chat
Manage order processing
Manage product categories
Coupon data entry
Establish product classification & taxonomy
Handle product returns and exchange
You might be wondering how you can learn these skills for you to handle an eCommerce virtual assistant role competently.
Now, listen to this very carefully: Small Revolution School offers eCommerce virtual assistant and many other online courses which will make you a highly desirable online professional.
Let's look at another role.
Click here to download your free Cheat Sheet on how to become a successful Freelance Virtual Assistant.
Virtual Administrative Assistant
As a virtual administrative assistant, you'll be mainly handling administrative tasks. For example, you may have to manage contact lists, handle billing, accounting, basic HR tasks, among others.
Here's a list of the core tasks:
Bookkeeping
Travel arrangement
Schedule management
Customer management
Manage emails and telephone calls
Keep up with the industry latest trends
Manage a contact list in CRM
Manage calendar and set up meetings
Format and manage documents
Social Media Virtual Assistant
As a social media virtual assistant, you'll mainly handle social media marketing tasks for a client.
And they include:
Create business' Facebook, LinkedIn, Google + pages
Form social media profiles on various platforms
Research for fresh content for social media posts
Increase and engage the audience on various social channels
Set up performance metrics and measuring analytics
Be watchful of competitors
Real Estate Virtual Assistant
You'll basically complete various real estate tasks including paperwork preparation, filing, responding to emails, scheduling meetings, and more.
Keep reading for the tasks outline:
Manage calendar
Set up meetings
Manage database
Run email campaigns
Respond to email inquiries
Follow up with prospective renters and buyers
Compile morning reports with information received
Perform property research and prepare property reports
Write blogs and articles for content marketing
Run social media campaigns for the real estate website
Real estate data scraping using various classifieds software on websites including Craigslist, Backpage, Oodle, and eBay
Post adverts on websites such as Craigslist, Zillow, RentLinx, among others.
Send introductory messages to potential renters plus appropriate listings based on their requirements
Do phone and email follow-ups with parties involved in the closing process such as the home inspector and the home appraiser
Virtual Research Assistant
From the title, it is a no-brainer that you will be doing a lot of Internet research for your clients.
Here's more on this role:
Compile research data
Carry on competitive intelligence
Search for guest blogging opportunities
Search for important business specific statistics
Compare prices to determine the right vendor
Present the researched data simple, clear, and concise format
Search for credible sites for accurate information based on your needs
Data Entry Virtual Assistant
As the role suggests, clearly you'll be doing data entry tasks. You'll be required to accurately input data.
Here's a detailed breakdown of the tasks:
Review data for accuracy
Prepare, compile, and sort the data for entry
Keep a track record of your activities and tasks
Generate reports and enter data into the CRM system
Perform data management – update data and delete unnecessary files
Virtual Bookkeeping Assistant
Any business small or big needs to do bookkeeping – it's the backbone of a business. And that's where you as virtual bookkeeping assistant come in. You need to be conversant with software such as Xero, NetSuite, QuickBooks, etc.
Payroll processing
Inventory management
Manage revenue expenditure
Excel bookkeeping data entry
Bank and credit card reconciliation
Budgeting and year-end bookkeeping
Project cash flow and account reconciliation
QuickBooks and Sage 50 accounts management
Follow through record keeping and bookkeeping procedures
Virtual Marketing Assistant
You'll help the business owner to streamline his marketing efforts. That can be achieved through email marketing, Facebook marketing, Twitter marketing, etc
Let's dig a little deeper on the tasks:
Social media marketing
Conduct keyword research
Create and run AdWord campaigns
Develop fresh innovative content for all social media channels
Research and identify new business leads in your domain
Manage and set up mail merges using YesWare for Gmail
Desirable Virtual Assistant Qualities
As a virtual assistant, there are some qualities that can make you excel in your career. They are mainly interpersonal skills, but they can make you a sought-after virtual assistant.
Here's the list of those desirable qualities. Hone them:
Be a good communicator both verbally and in written form
Be resourceful (for lack of a better word, don't be thick)
Be able to manage expectations and instill confidence
Be able to work independently without supervision
Be resilient/thick-skinned. This is not for the faint-hearted.
Be versatile and flexible enough to adapt to any changes
Be understanding / empathetic / tolerant / patient
Be reliable, dependable, and consistent
Add real value to your client's business
Be confident
Be organized
Be trustworthy/honest
Be professional
Be accessible
Be approachable
Be a problem solver
Be proactive
How to Become a Virtual Assistant
There's no formulaic secret to becoming a successful virtual assistant.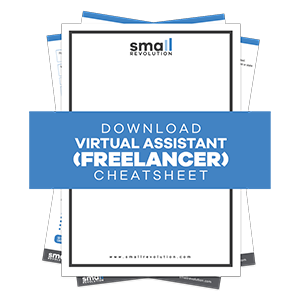 Just get started!
And remember to keep things as simple as you possibly can.
But most importantly, take action. Remember, the end goal is to get to the advertising and pitching of your services the quickest possible.
Your top priority being: generate revenue and acquire clients.
So, what are the simple steps you need to take?
Let's outline them:
Select Your Business Formation
There's no one size fits all advice on choosing your business formation. However, you can decide based on the following criteria:
Your own risk tolerance
The physical location of your business
The virtual assistant role you'll be undertaking
The business setups available within your location
Your personal situation such as spouse, family, children, and liabilities
Also, decide if you're going to operate as a sole proprietor or a limited liability company.
Paying taxes is an aspect you'll also need to consider from the onset.
Click here to download your free Cheat Sheet on how to become a successful Freelance Virtual Assistant.
Determine Services You'll Offer Your Clientele
The truth is: there's more to being a virtual assistant than just checking emails, managing a client's calendar, and attending to phone calls.
Therefore, it's crucial that you decide on the type of services you're capable of offering. (We've covered an extensive list of virtual assistant roles in this post)
In case you're unsure of where to get started, first try out the tasks that interest you. And while at it, keep trying until you find what works for you.
However, don't just stop there. Keep learning new skills to improve your level of competency and skill set.
Here's a suggestion to get you started:
Re-read our list of virtual assistant roles mentioned in this post
Seriously think about the virtual assistant duties you can relief your clients from
Select about three ideas that you are comfortable to work on.
And then….
Get started already!
Yep, that's all that really matters.
AS time goes by, you can adapt and make changes to get to what suits you best.
Once you get started, you'll pick speed and working rhythm and the other steps will get a lot easier to achieve.
After you land a client, you'll have to decide on the payment method. Do you opt for an hourly work rate or a retainer fee?
Keep reading and you'll find out…
Establish Your Pricing Format
Think about these for a moment:
How much money can a virtual assistant earn in an hour?
What's the right amount of payment to charge?
How much is sufficient? (not too little and not in excess)
The answer mostly varies.
What it all boils down to is your role, the skills you possess, and your work experience.
Therefore, how do you determine your rate and the pay worth your time and effort?
Let's discuss…
If you decide to go for an hourly rate, then know that you're trading your time for money. And that means you have to consider several important aspects including:
You're a subcontractor. Therefore, you need to factor in the tax regulations. For example, in the US, you'll have to pay self-employment tax which means double tax payments as employee and employer.
You won't be entitled to benefits (exceptions are rare). That means you aren't entitled to sick days, health insurance, paid vacation, or retirement benefits.
There'll be overhead costs to be paid. Think of website hosting, incurred office expenses, software subscriptions, electricity, and more.
In view of the above facts, you can't even begin to compare your virtual assistant rate with your regular day job rate.
Do this:
Take whatever wage you think is appropriate for your take-home pay and mark it up by at least 25%.
A majority of employers will figure out that you need to meet those expenses. And if they ask for a breakdown of the expenses, then be sure to provide one.
Remember, the business owners also enjoy some perks when contracting a freelance virtual assistant in place of an employee working either part-time or full-time.
For instance, they don't incur costs associated with taking in and training new employees. They also don't incur the many other costs and added obligations that come with hiring a new employee.
In a nutshell, try to quote a slightly higher figure than what pops in your head at first.
Do not be tempted to charge low figures for the sake of securing a job. In the long-term, you won't be happy. Neither will your employer.
We highly recommend that you also check out our latest VA Salary Guide for more insights.
Have an Online Presence
To succeed working online, located anywhere in the world, while providing virtual services you need to establish an online presence.
The two basics you need are a website and having a presence on social media. A combination of these two will make it insanely easy for you to promote your services to suitable clients.
Don't feel overwhelmed. Start simple.
Even a basic website explaining a bit about yourself and the services you're able to offer will enhance your business growth.
We recommended that you use WordPress plus a custom theme for your website.
For your social media channel, be where your clients are. It will save you the hustle of juggling multiple social media platforms. And keep the simplest you can.
Highly consider Facebook and LinkedIn.
Make good use of these social media platforms to foster relationships as time goes by. Don't get tempted to jump into self-promotion. Instead, be sincerely helpful and allow the relationships grown naturally.
Pitch and Network for New Clients
Your client base will grow exponentially. And that growth process depends on four ingredients:
Experience
Exposure
Confidence
Time
If you have these four ingredients, then your growth process gets easier. But you need to consistently and actively work towards building your business.
So, how do you find your first few clients?
Here's a simple procedure you can follow to help you find virtual assistant employers.
Take a look:
Find the Perfect Clients
Have a target market in mind.
Firstly, figure out what kind of businesses and markets interest you. Then, ask yourself where you can find them.
That's how you single out perfect prospects within your target market.
Here are some attributes to help you determine an attractive and ideal client:
Are they running profitable businesses?
Do their businesses need help?
Have they hired VA's there before?
Gradually Grow Relationships With Prospective Clients.
Cold pitching is a great way to land clients fast. But even better, you can build strong relationships and consequently land your best clients. But it takes time.
So what are some of the ways you can cultivate a strong relationship? Read on.
Seek their feedback to help you better your services.
Keep them a top priority by responding promptly.
Have casual conversations instead of sales pitches.
Be genuine, they can smell a fake.
Be patient, strong relationships are not built overnight.
Maintain the relationship even after. Keep in touch.
Find things you have in common and develop a bond around them.
Pay attention to what they have to say and ask questions instead of talking the whole time.
Add value in the form of a solution, a fresh perspective, share things that may interest them etc.
Pitch New Prospects Daily.
The truth is you've just launched your business. Therefore, nobody even knows what you do!
So if you want work, you better look for it.
And how do you do that?
By pitching consistently until you reach a point where you're getting a constant flow of referrals.
And since you are starting out, you need to pitch on a daily basis. Let it be the first thing you do every day.
Always be marketing.
Read on for some of the ways to market your wares as a virtual assistant
Start your own Virtual Assistant Facebook Page
Attend local business meetings and events. Tell people about the services you can offer.
Join different Linkedin groups and Virtual Assistant Facebook Groups. Mainly to meet other virtual assistants and trade information.
Print a Media Kit. Drop it into local businesses.
Request reviews from former happy customers.
Offer a Trial Period
Offering a short paid trial period to a potential client will help you test the waters before committing long-term.
You'll be able to determine how well you work together, thus eliminating fear and risk.
Truth be told, your client doesn't know what to expect. And fair enough, neither do you.
A paid trial is the best solution for managing these anxieties.
Check In Early and Consistently
When it comes to online work, communication is crucial. Therefore set a regular schedule to check in on your clients and ensure that their needs are being met.
There are so many communication tools that you can use to your advantage.
While at it, take note of the varying time zones to determine the best time to communicate.
Position Yourself as Irreplaceable
You got an ideal client. And you want to position yourself an irreplaceable virtual assistant. So they keep you for the long-term.
What's the magic formula?
The answer is simple: Provide as much value as possible. Make yourself an invaluable part of their business.
How?
The answer may vary with each client. But here's an example:
If you're working with a solopreneur, they are most likely juggling multiple tasks. They work for long hours, sacrificing their health, personal time and even family time.
If you'd find a way to take some of the time-consuming tasks off their plate, identify and suggest solutions to productivity bottlenecks, and help them regain more of their weekend time, you'll be valuable. (Unlike someone who is merely exchanging a few hours of time for money).
That's how you become an invaluable member of their team.
Things You Need to Become a Virtual Assistant
There are minimum requirements you need for your work to flow seamlessly throughout the day.
Therefore, consider the following for your office arsenal:
Good typing
Relevant Insurance
Excellent English grammar skills
Good administration skills
High-speed internet connection
Cloud storage; Dropbox, Google Drive, etc.
An email address that you check regularly
Colour printer (depends on your work)
Word processing program; Microsoft Word, G-Suite, etc
Spreadsheet program; Microsoft Excel, Google Sheets, etc
Ability to use multiple computer programs
Business Cards with your contact details; email address, phone number, Skype, and social media handles
Virtual Assistant Websites
There are many ways to go about landing your virtual assistant jobs as we've discussed above.
Another option is to check out websites that offer virtual assistant jobs and make an application.
Luckily, we've done all the hard work and compiled a comprehensive list of these websites.
Let your search begin!
Final Thoughts
There's only one way to be a successful virtual assistant.
Get started.
And since, we've detailed what it takes to be successful, you have no reason to fear. Simply follow our guide and watch yourself turn into a highly sought after virtual assistant.
Best of all, get certified training at Small Revolution School. Be a professional.
Click here to download your free Cheat Sheet on how to become a successful Freelance Virtual Assistant.
Photo courtesy of Freepik from tirachardz