Are you always able to write, speak and communicate in perfect grammar in your own language? In many cases – yes. Still, you will sometimes make errors, use too much jargon, or even mash your sentence structure into something utterly awful.
In a business environment, there is little place for poor communication, especially if you are intent on building a long-term online career as an online worker.
Chances are that English is not your native language.
Even if it is, you always need some extra help when you write. To improve your grammar you can take an online course or use one of the many online grammar tools.
Grammarly is one such offering – constant revision of your written English.
What Is Grammarly?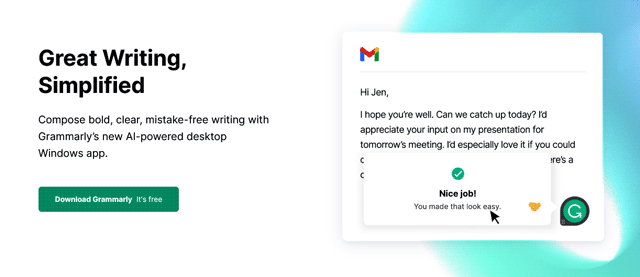 Grammarly is an online tool and much more than a spell checker. It is one of the most widely used proofreading tools. It revises your grammar and your word choice if it notices that something is incorrect. It offers suggestions and fixes your writing.
If you want, you can always expand your suggested alterations because there is an explanation why you should use the word Grammarly suggested. In this way, you can learn along the way and improve your grammar over time.
How to Use Grammarly?
You need to sign up (free accounts are available) to unlock some features of Grammarly. There are several ways you can use It. It all depends on how much you use it and what you use it for. You can:
Download Grammarly Native App,
Use the browser extension or
Use Grammarly Add-in for Microsoft Office
Using Grammarly Browser Extension
A browser extension is simply a small piece of software that is added to your browser. Think of it in a similar way as adding fancy parts to your car. The extension is 'bolted on' to your browser and provides extra functions.
Grammarly offers a free browser extension. The extension creates a small green logo in the upper right corner and it flags problematic words that you type most of them time when you're using your browser.
The following video shows how to use Grammarly with Chrome.
Very similarly, you can use it with Firefox:
And, of course, Safari uses it, as well.
Using Grammarly Add-in for Microsoft Office
When you download this version of Grammarly, it will proofread everything that you type in Microsoft Office, which includes Microsoft Word and Outlook. This is very useful for typing all sorts of texts, but also making sure that your emails are mistake-free.
Using Grammarly Native App
If you choose to download Grammarly for Windows it will install this app on your system and you will be able to copy and paste all your text for proofreading. It offers free version checks for more than 150 types of errors.
Even if you choose free or premium version, you need to remember that Grammarly is an online app and it will need an Internet connection to work.
Who Should Use Grammarly?
When you think about it – anybody who wants to improve their knowledge of English and have literate, written conversations online. This includes all online workers.
However, striving virtual assistants and copywriters are people who definitely need Grammarly.
Virtual Assistants need it because it will improve their language, boost their confidence and improve their communication skills. They can use the free plug-in for their browsers, because they are usually only required to write short text pieces and messages.
Copywriters, on the other hand, should definitely think about purchasing the Grammarly Premium. It recognises more than 250 types of mistakes, deals with vocabulary and style and even checks for plagiarism online.
If you are a copywriter, you should think about purchasing Grammarly same as you think about purchasing a computer or a headset. It is not a luxury but a necessity for somebody who is planning a long-term copywriting career.
In Summary
There are other ways to check your work for mistakes, but none of the existing apps are as fast and convenient as Grammarly is.
Watch the videos that show you how to install and use different options of Grammarly and see which one suits you and your job the best.
Frequently Asked Questions
1. What are the three options for making use of Grammarly?
a. Grammarly Native App
b. Browser extension
c. Grammarly Add-in
d. All of the above
2. Which is the best Grammarly option for Copywriters?
a. Premium Grammarly
b. Free Grammarly Native App
c. A simple browser extension
d. Office Grammarly