In this lecture, you'll learn what curated content is, why and how it can be useful in marketing, as well as how to plan, structure, and finalise a curated collection blog post, all by yourself, step by step.
This is very useful for every copywriter because it enables you to create quality content while even building some useful connections within your niche by providing useful backlinks to fellow eCommerce store blog writers.
With great examples to learn from, you'll soon find creating a curated collection very easy.
Ready? Let the exciting journey begin!
What Is Curated Content?
You can generate interesting and engaging content for your readers without actually writing it yourself or hiring somebody else to do it. Sounds good? It is!
From time to time, you can simply make a compilation of other people's work and publish it. With due respect of copyrights, of course.
That is curated content. A curated collection blog post is also sometimes called a round-up blog post.
Take a look at these:
1. Owlet is an eCommerce store that sells baby socks that track baby's heartbeat and oxygen levels. They created a blog article "The 6 Best of the Best Baby Pajamas" in which they linked to different websites and their products and added a short description.
2. Williams Sonoma sells cutlery, kitchen appliances, cookware, bakeware and related items. This "Saturday Food Section" blog post curates articles about the latest events from the world of restaurants and food news. They only offer the link and the short commentary about each of them.
3. Mr Porter Eats hasn't reached out to other bloggers, but to a completely different platform: Instagram. While they sell watches, shoes and clothes, their blog post collects "Instagram's Most Liked Brunches" with a photo, comment and a link to every Instagram profile they used.
You can follow the link to the article to see the entire collection, but this is just an example of one photo used in this article. Others follow the same structure: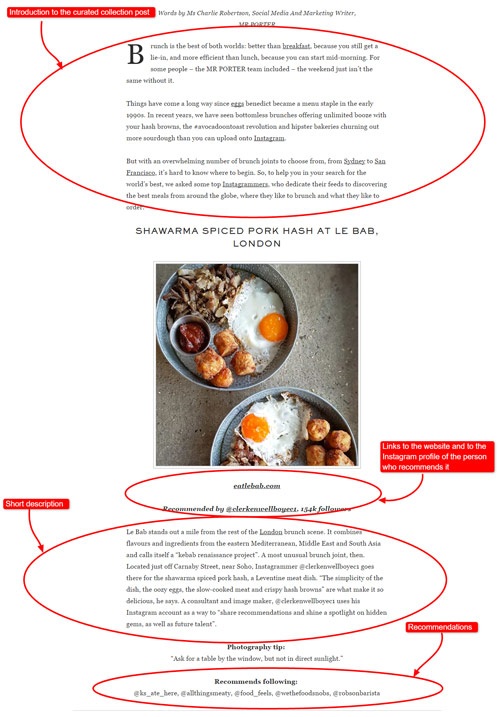 In other words – writing curated content is a method of providing value to your blog readers by using existing content from other online sources, as shown above.
Content curation itself is not bad at all and it is totally different from just copying and pasting other people's published articles onto your own blog posts.
Curating quality content on specific topic involves finding and sharing it to your readers without violating the rights of the owner.
An experienced marketing expert Heidi Cohen gives the following general definition of content curation in her article How To Curate Content Like A Pro: 8 Lessons (Examples Included):
Content curation assembles, selects, categorizes, comments on, and presents the most relevant, highest quality information to meet your audience's needs on a specific subject.
It sounds nice in theory, doesn't it? Now you probably wonder hot it's actually done in practice. Let's see!
How Does It Work in Practice?
Let's illustrate what this whole procedure of content curation really means and how it actually works in practice with a real-world example situation.
Imagine you need to create some content for the website selling gazebos for market stallholders online pretty quickly. What's a really quick and easy way to get some fabulous content you need?
Of course, it a round-up or curated content post saying, for instance, who has the best articles about how to display your products at a market stall.
The next thing you do is research the topic on the Internet, find and filter the best articles to use, and create your own title.
Here are your research results:
Creative Women's Circle: Visual merchandising for markets sounds like an article with plenty of interesting thoughts about how to improve a visual merchandising, which is just what you need for your collection.

Gazebos Australia: 4 Tips Every Stallholder Ought To Know About Selling promises good content. Knowing that this is a gazebo seller, you are probably able to find some great tips on how to set up a stall, perhaps even by using a gazebo. Or, in this case, you can use their tip about lighting.

Brisbane Threads: 30 Ways to Make Your Market Stall More Successful! Part One is full of interesting idea about market stall organisation. However, some of those tips are not about visual representation. That is why it is great that you don't have to use the entire article, but just the tips you need for your topic.
Now you read the content you've chosen thoroughly and decide which part(s) of these articles to use in your blog post. You can compile the content of all of them or one/two of them, as you like it.
Do these three steps for each of the websites you want to include in your article:
Choose a few pieces of content from all three of them and present them to your readers in different sections as, let's say, 3 or 5 tips for how to display your merchandise really effectively.

You can include e.g. a paragraph from each article, or some photos to inspire your readers even more.

Comment on those photos, tell people what these articles/paragraphs talk about (e.g. they give some fantastic unique merchandising ideas on how to sell more and make your market stall more successful), direct people towards those articles to read them. In other words, add some extra value to them.
Did we mention it's a great idea to sneak in an article about your own (i.e. your employer's) business instead of just sending visitors out to a whole bunch of other people doing the same or similar thing?
That's your next paragraph in this curated collection article. Just like you did with these three, take a piece of your own content and include it in the same manner.
Don't think this is the same as a listicle! Unlike curated collection blog posts, listicles contain unique ideas on a topic (e.g. 10 ways how to sell more at your market stalls).
Another idea to curate content on the given topic is to go to e.g. Flickr and to choose 10 photos from 10 different photographers and pull them into your own round-up post about the most beautiful photos of market stalls from around the world and comment on them briefly.
You got the point? Yes, it's that simple. In a nutshell, you take somebody else's content (research and decide on the best), include it in your blog post, and link back to it.
Then you share it with your audience.
Now when you really understand what is meant by content curation, read the following sections to find out more important details on how to structure such blog posts and what to pay special attention to if you really want to curate like a professional.
Why Should You Create Curated Collections?
Continuously creating original content is undoubtedly challenging and demands a lot of time and creative capacity. Don't you agree?
By creating curated collection articles, you are able to publish fresh, authentic but borrowed, non-unique content legally.
If you do it properly, everyone's happy with your work. How come?
Firstly, your audience is happy because you gathered and filtered useful links, descriptions, interpretations, or any other information about a specific topic from multiple credible and influential but not easily discoverable sources and shared it with them. You saved their time and effort since you published all that in a single location.
Secondly, the publishers and creators of that original content are happy because you showed that you like and respect their work, as well as helped them promote their content. Choosing their content among tons of other similar stuff can be the first step in developing a great business relationship with your sources. Here is a 'thank-you-tweet' from a restaurant because they've been included in a roundup article:
Big Thanks to Eater Houston for including Lucille's in this #brunch roundup article! Have a large party? Don't… https://t.co/NKRaKXsfDO

— Lucille's Houston (@LucillesFood) March 25, 2017
Finally, you are happy because you managed to publish great content your audience is extremely satisfied with. Then, you also started to build valuable connections with some credible sources from your field of interest.
In addition, talking about others more than about yourself makes you appear less promotional and commercial on social media. Last but not least, you saved a lot of time and effort but achieved the same goals as with original content.
Strategic Approach to Content Curation
Although curated content is a collection of other people's content and resources, it is NOT necessarily lazy or boring.
On the contrary! You have to try hard, do a thorough research on the topic, discover the highest quality content, and add some extra value to it if you want your audience to find it useful and interesting.
You have to build an effective strategy on how and where to find valuable content quickly, and what exactly to do with it once you find it.
In one of his Buffer articles, Kevan Lee suggests a comprehensive approach to each of the following steps if you want to stand out as a great content curator.
1. Discover (Spend approximately 75% of your time on this activity)
To discover the best original content as fast as possible, check your newsletters, Twitter, Facebook, Feedly, or content aggregation sites (which collect content on their own and let you check the news), such as Digg Deeper, Panda, Inbound.org, Hacker News, Sidebar, Product Hunt, GrowthHackers etc. regularly.
Curate from curators, that is to say, follow interesting people online and see what they share. It's a good idea to have your own list of maximum 25 go-to content sources.
You can add anything you find relevant to the Pocket or Evernote, read-it-later applications that allow you to save any interesting content you find on the Internet for later use and under appropriate topic sections. You can check our topic about useful tools for content curation to learn more.
2. Read (Spend approximately 20% of your time on this activity)
First, get the read-it-later application you like. Then, mark any useful, unique, and share worthy content as 'favourite' and read it. Be ruthless and stop reading if the content doesn't hold your attention at first breath.
It's also advisable to do all your reading at the same time because it's easier for you to choose the right content while your brain is still highly reflective.
3. Share (Spend approximately 5% of your time on this activity)
One of the ways to share fast is getting a social media scheduling application like Buffer, which can be used to manage your Facebook, Twitter, Google+, Instagram, Pinterest, LinkedIn, or other accounts.
It's also possible to set up automation workflows that allow for the bulk scheduling to happen without your bothering to do it manually. Here is a video about how to do this:
For instance, if you use Buffer for fast-sharing curation, you just need to set a custom schedule and add the content you want to share, and everything takes care of itself. Isn't that great?
There are other apps that you might find useful, shared in this slideshow, with their characteristics and main points. More about this, you can find in our topic, Content curation helpful tools.
Now that you know the three basic steps, let's go into some more details about planning and actual writing of the curated collection post.
Conduct a Thorough and Efficient Planning Phase
Detailed and careful planning is the key step in every successful work. This is NOT an exception, of course. You want to stay on topic and keep your readers engaged, right?
Then, you have to plan carefully what to write about. Moreover, you need to think about the types of content you want to curate and to keep your audience in mind.
Get To Know Your Target Audience
While planning what to write about and while writing, try to keep your readers in mind continuously. Put yourself in their shoes and always be aware of the following (at least):
Who are you writing for?
What are the topics of interest to them?
Does the content add some value to them?
Is it meaningful for them?
What motivates them to act (e.g. purchase)?
What do you want them to learn from your writing?
Remember, it's crucial that you have a deep understanding of your audience before you even start to write so that you can tailor your content to their specific needs and interests to show you appreciate them.
A good example of this is the Evelo bike shop blog post, which provides their customers and visitors with top ten websites bicycle lovers need to know. This is a part of the article:
In this way, Evelo shows the understanding of their target audience needs. Bicycle lovers are interested in different cycling-related websites: communities, bike shops, review websites and many more.
In this article, Evelo writers also use the language that contains terms known to this community. In other words, they keep their target audience in mind when writing.
A very bad move would be for Evelo to compile a curated article in which it features top 10 homemade face masks. That's not something that interests their audience.
On the other hand, let's take a look at the article on The Muse, named 25 Food Bloggers We Love (and Their 25 Best Recipes). This is nicely compiled article and it features nice ideas and good blogs. However, can you notice what's a bit off?
Here's a hint – check out the home page of The Muse. What is it about? Job search, career coaching, reviews of different companies, and the like. Not much to do with cooking or food blogs, right?
Therefore, even if your curated content looks good and is very well done, it doesn't do you much good if it doesn't 'speak' to your target audience.
Identify Your Primary Takeaway
Think of what your blog readers will learn after reading your curated post. What do you want to achieve e.g. sales, branding, building your email list? Your reasons for content curation should be defined precisely.
List all possible learnings, tips, tricks, or insights that your readers can get from your post.
This is an excellent example of using the curated blog post to increase sales. Williams Food Equipment sells everything you may need to prepare your food. All the appliances, cutlery and the like.
Their blog post is Top 9 Cooking Trends From Our Favourite Canadian Bloggers. They used recipes from different 9 blogs, but they picked the recipes that require different appliances to be made: juicers, slow cookers and the like. This is a part of the recipe.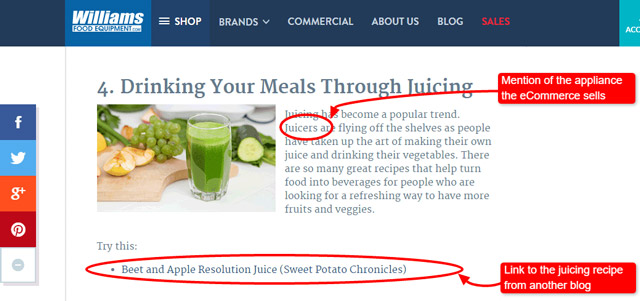 In that way, the content used from different websites inspires people to buy appliances needed to make their food. It is a nice, non-invasive, yet effective way to increase sales.
On the other hand, this is a not-so-clear curated content from Madewell Musings blog. Madewell is a clothes eCommerce shop and its blog is about lifestyle, style, food, culture and similar topics. However, their weekly roundup blog posts don't seem to have a clear idea:
What is the purpose of this article? Light entertainment for the readers? A couple of interesting links to fight off boredom? These don't seem like good enough reasons for an article.
The takeaway is not that clear, both for the readers and the eCommerce shop.
Identify the Content Type You Want to Curate
Writing curated collection blog posts using various content types is a great way to add variety and value to your blog. Consider using different types of posts not just for curated content, but also for any type of post you create for your readers.
Do you want to create a curated blog post with videos?
How about SlideShare presentations relevant to your products?
Or links to relevant eBooks that are helpful and chock-full of information?
Make sure to jot down the content types you plan to use for curated blog post. This always comes in handy for future posts, as well.
Here are some suggestions on different types of content you can curate as long as it's relevant, useful and interesting to your target audience:
Other people's blogs, articles, websites, webinars, quotes, various reviews, books, e-books or interviews.
Here is the example of Graceship, an eCommerce store that sells women's bags and is very active in promoting women. Their blog post: 5 Blogs Every Career Woman MUST Follow curates different career women blogs, providing links and short commentary.
Here is another example in which the curated content are the free webinars about photography. The blog post "FREE Photography Webinars" is published by How Does She – an eCommerce website that sells printables, photography and similar products.
Another very interesting curated content piece is done by the eCommerce store that sells watches, Worn&Wound which puts together a collection of magazines about watches.
Here is the link to one of their such posts: On the Newstand Aug/Sept 2012.
Here is the example of expert tip collection 5 Tips From Nutrition Experts to Make Your Diet Healthier in 2015, published by the Top.me, which is an eCommerce store selling nutritional supplements, exercise programs and similar product.
Your industry examples or the latest news
This is the example of how Hootsuite does its curation collection. It is a platform that allows scheduling of your social media posts. Social Media News You Need to Know: July 2016 Roundup.
This here is only a part of this article on which you can see the links to the news sources and the commentary of the curator.
Company promotional offers, events (workshops, training sessions etc.), work previously done for customers and/or their happy experiences, community work, teasers of upcoming products, brand updates, employees' achievements and success stories
This is an example published by a software-selling eCommerce store X-Cart: X-Cart 5 Apps and Themes Roundup from April. It involves the list of all the features this business created in April.
This is a part of the article: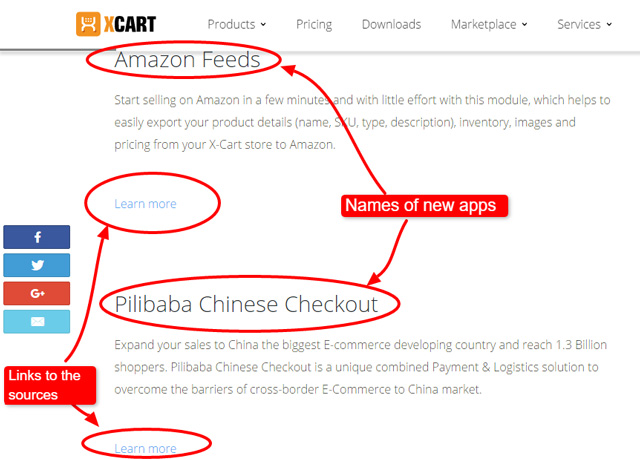 Your comments section, content from your FAQ section or other social media talks that are of interest to your readers, Tweets, Facebook or any other highly shared and commented interesting statistics, data, graphs, and charts
This is a great curated collection of Tweets, created by LEED Bicyclology, an eCommerce store that sells ebikes and ebike kits.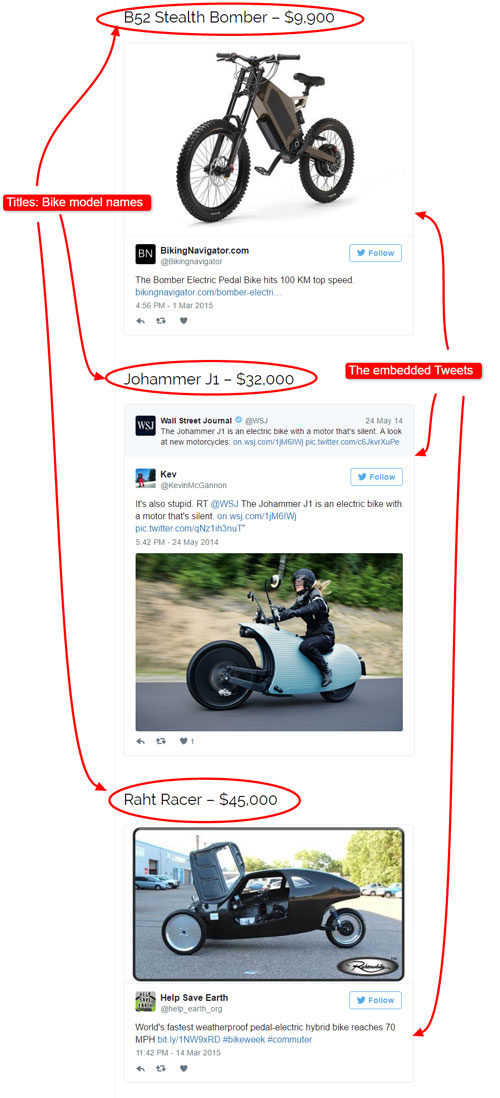 This is a great example of curated content that fits the interests of the blog readers. Curating Tweets is easy if you search it by the hashtags.
VapeStore made a blog post consisting out of frequently asked questions. They put them together and named the post Common Vape Questions and Answers – From Our Experts.
Keep in mind that this is not a common FAQ page, but a blog post. Take a look at the part of this blog post:
Case studies or research results
For example, Core DNA published an article about 7 eCommerce Case Studies You Need To Steal From. This is a part of that article that features only one case study. Others are composed in the same way.
Visual material such as photos/images, videos, infographics, screenshots, presentations, GIFs and the like
The Knot is one of the most famous, go-to websites when it comes to wedding planning. They also have an online shop in which they sell wedding gifts, bridal accessories and many other details that make weddings perfect. Besides it, they also offer a plethora of advice and inspiration for the future brides.
Here is a part of their article 26 Most Insta-Worthy Flower Ideas We've Ever Seen in which they curated photos found online.
Bellamy's Organic created a blog post that gathers The 10 Best Baby Videos on YouTube. They sell organic baby food, so this type of post is related to their eCommerce store product and it is quite amusing.
Similarly, eCommerce Platforms website created a blog post that features 5 Infographics That You Need to See so Far in 2016. This is only a part of the article and it features only the first infographic. You can see that it features the clickable title to the source of the infographic and the short comment about it.
Another example is the blog post created by The Bridebox, an eCommerce store that offers high-quality wedding albums. Their blog has a curated collection post that features gifs: 25 Gifs That Describe How You Feel About Wedding Planning.
Whatever content you choose to curate, always remember the following:
Make sure it's top-quality and relevant
Take it to the next level and add value to it
Link to the sources and give credit where it's due
Do all you can to position yourself as a go-to source for information in your industry.
Brainstorm Possible Titles
Brainstorm with your co-workers and/or employer when it's time to come up with a title. Sometimes you need a few suggestions before you can end up with a final title, so make sure to jot them down at this point.
What you can do is pick a working title while you're just starting out. Once your curated blog post content is finished, you can fine tune the title to make it final.
After planning your blog post, it's highly advisable to think thoroughly about its structure and to create an outline before you start writing it. Keep reading to find out how you can do it.
Master the Structure of Curated Collection Posts
A curated collection blog post is just like any typical post you write. It should have:
An introduction to summarise the topic you want to discuss on the post and to give readers a glimpse of your curated content.
A body to discuss your curated topic in detail. This is the part of your curated post where your reader's concerns, questions, and needs are addressed.
A conclusion sums up your reader's learning in a brief statement.
Fstoppers.com published this curated collection post The Top Five Most Influential Wedding Blogs that we'll use to mark these three sections.
Create your outline based on what you want your readers to achieve from your curated blog post. Start your outline by determining the points you want to cover in the introduction, discuss on the post's body, and summarise as your reader's learning.
Now, when you've created your outline, it's time to start writing. So, let's begin!
Write an Introduction
An intro to your curated blog post should be able to establish credibility and capture the attention of your readers. Think of it as a one-shot deal to make sure your readers stay and finish the blog post.
Here are some of the examples:
Fatherly made a very nice introduction to their curated post "The Best Training Gear to Get Kids Ready for Little League". It has a nice, personal approach and the readers can relate to it. The mention of the kid's coach and the amusing take on 'fatherly and patriotic duty' make people smile and they believe that the writer understands them.
Save-on-crafts.com made a very short introduction to their post "Top 10 Wedding Backdrop Ideas". It is not long, but it emphasises on the fact that this is easily neglected, yet very important part of a wedding decoration.
Therefore, it gives the reader important information and then offers solution in the body of the text.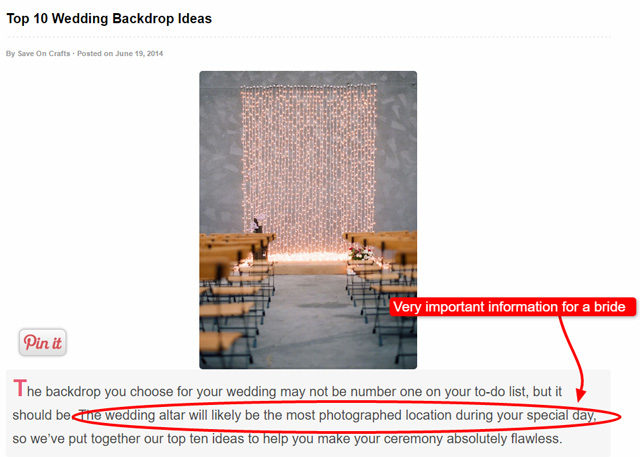 Kelty has a nice curated collection blog post "The 17 Best Farmers Markets in Colorado". In their introduction, there is a clear explanation why a reader should be interested in farmers markets and then the article body offers a list of the best markets around.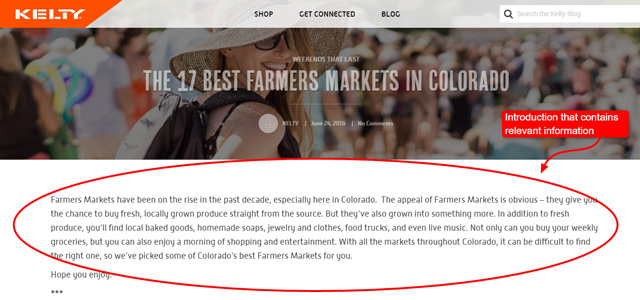 Sometimes, it is better to leave the introduction for last and work on it after you've written the curated content. This can help you establish a more credible and engaging intro once your content is in place.
Write the Body
The body of your curated blog post should be able to deliver the promise in your introduction. It can be written in the paragraph form, numbered lists, with bullet points, using multiple headings, or a combination of any of these or any other formats.
Here are some tips to help you write the body of your curated blog post:
Jot down the number of examples you find useful and valuable to your readers.
Make a range from one to ten examples and decide on the best number to use for a specific topic you want to discuss on a curated post. Ask your colleagues for help.
Make each example easy to understand and digest.
Adding photos or any visual presentation is helpful especially to blog visitors who love both imagery and text.
Write a Conclusion
A conclusion for your curated blog post should reflect the primary takeaway you've outlined. Summarise what your readers learned or mention the benefits they get from your post.
Let's take a blog post from Shoerazzi, for example. They made a nice collection of deals in their blog post "Where to Find Christian Louboutin On Sale". In the conclusion, they are reflecting the primary takeaway by saying that the most of the sales are happening twice a year and during end-of-season.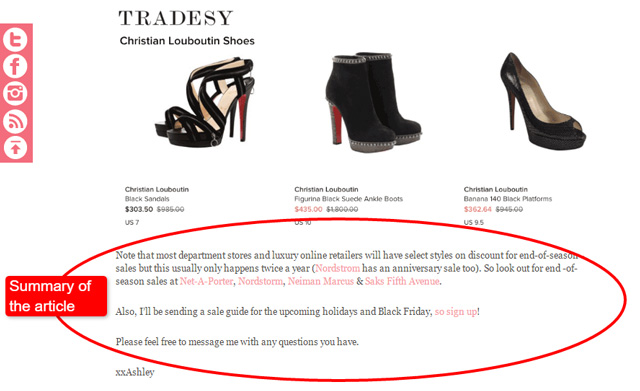 It is also a good idea to ask your readers a question to encourage them to leave a comment or feedback.
While the conclusion in the end of the Tiny Hands' blog post "Easter's On It's Way"! It not a shining example of a summary, as it doesn't really sum up the content of the text, but it invites the readers to get more engaged.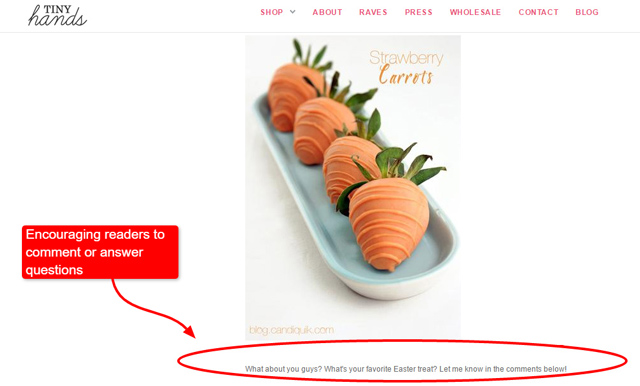 In other words, this type of conclusion is a very direct call to action. Let's learn a little bit more about that, because it is the thing that turns your readers from passive observers into active participants.
Add a Call-To-Action (CTA)
There are many types of CTAs for blog posts. You can create a call-to-action banner or section to simply tell your readers to comment and share the post.
However, if you have a subscription, a related content or free eBook, or a related product for sale, you can tell readers to sign-up, download, or check out the product on its page.
Brit.co created a blog post that features Instagrams: "18 Must-Follow Instagrams for Ultimate #ShoeInspo". The article ends with questions that engage readers and invites them to comment.
Below that is the call-to-action that invites readers to subscribe to the blog.
Just be specific about what you want your readers to do and make sure the action you want to trigger is relevant to the content you provided.
Curated Collection Posts: Finalising the Content
In order to complete your curated collection blog post and see it published, you just need to put the following finishing touches to it.
Look For Appropriate Images
Readers love to see images on posts, so it's important to look for an accompanying image that will fit the topic of your curated blog post.
If your post is about a relevant product, you can use one of the product photos. If it is about a relevant topic and not necessarily about a product, you can look for royalty free or 'creative commons' images.
Take a look at the part of the Bridal Musings blog post Top 10 Plus Size Wedding Dress Designers By Pretty Pear Bride. In this post, you will see a nice, featured image in the introduction, and images for each wedding dress taken from a different website.
Now, this is the same blog post, but we took the liberty to crop out all the images to illustrate our point. So, this version is NOT published by the Bridal Musings, but is only here for you to see the difference.
It's obvious that the first, real version of the blog post is much more interesting and would definitely have more readers. The second, fake one, has all the same information, but with the lack of images, it isn't as exciting and useful to the readers.
Add Links to Additional Resources
Identify additional sources of information which you can link to in order to increase credibility for added info within your post. This is a helpful gesture and at the same time it eases the burden of researching and writing more info about the topic.
Using hyperlinked sources also increases your blog's visibility in the search engines, improves page views, and more time spent by readers on your post.
When you're curating content, make sure you are also searching for additional resources to include on your post. List them down separately as "resources" to set them apart from curated links.
Finalise the Title
Update your working title to make it more appropriate for your content. Make it concise, optimised for SEO, and accurate. Here are some articles that you might want to read to learn more about SEO-friendly titles:
You may need help in doing this, so it's best to decide with your employer in order for you to pick the most fitting title for your curated blog post.
Proofread and Edit
Proofread the draft you've written. Even ask your employer and co-workers to proofread and give feedback. It's a good practice to collaborate when creating content especially a curated one.
Take note of their comments and suggestions, and see if there's anything in your draft that needs editing.
Copy and Paste Your Draft Onto Your Blog
Some blogging platforms do not work well with content copied from MS Word. It's best to copy from Word, then paste it on a Notepad (text file) before copying and pasting onto the blogging platform.
Finalise – Check, Adjust Text Format, Upload Images
Adjust the format of your text if necessary and upload the image you've chosen for your post. Do a final check by proofreading the post and ensuring that there are no typos or missing/broken links in your curated content.
Optimise Your Curated Blog Post for Search
You should optimise your curated collection blog post for search engines and other readers to find it. Use your blogging platform's SEO tool/plugin to enable you to include meta-data on posts and pages.
Publish Your Post and Promote It
It is a must to promote your blog posts and it starts within your team. Tell them to spread the word about it through their social networks; post the link to your Facebook page and tweet about it.
Learn From Others
Writing curated collection blog posts is indeed a great way to boost your blog's credibility. But it can also be fun and educational especially if you want to include numerous sources on your post.
Below is an eCommerce site that shows an example of the best practices of publishing a curated blog post.
Every girl knows how risky it is to buy a wedding dress online! Modcloth published this collection of images of real people wearing their Gilded Grace Dress with very little original content.
Such a Style Gallery helps this ecommerce business show the customers how dependable and trustworthy it is.Their blogger put together the photos of their product 'in use' and provided some suggestions on how to style it, adding links to their other products.
In this way, the company addressed their prospect customers' concerns and needs in advance, establishing itself as an expert in the field.
The screenshot above is just an excerpt of this list, so it's best that you check the entire post to see the inspiring photos and suggestions in this curated blog post.
Remember, a good curated collection blog post doesn't have to be too long nor have too many links. It depends on the post you are writing.
In Summary
A curated collection blog post should be well-thought of in order for you to provide more information and value to your readers.
The length and number of curated information will depend on the topic you want your readers to learn from. Go for quality instead of quantity when it comes to curated information because it works better – not just for your readers, but also for your blog.
Know and understand the best practices for writing curated blog posts
Learn all about blog writing basics
Identify your blog's main takeaway
Determine the content type you want to curate for this post
Brainstorm and write an outline together with your team
List a few working titles initially
Draft the content – write introduction, body, and conclusion
Look for additional sources you can link to for added credibility
Finalise the most appropriate title for your post
Add a CTA for reader engagement and sharing
Proofread, edit and finalise your complete draft
Search for relevant image(s) that will accompany your post
Copy and paste the draft onto your blogging platform
Optimise your post for SEO
Publish and promote
Content curation can be the easiest way out for bloggers in case of reduced creative capacity or the lack of time because it's certainly both cost-effective and time-effective.
However, by NO means should it be a substitute for content creation but a supplement to it. You wonder why?
Be sure that your audience will soon know if you start curating (and even creating) and publishing content randomly without a plan just to save time or attract them. When they recognise it, they'll ignore you. That's why you should be careful.
Avoiding trouble is generally advisable when blogging, and it's especially important when it comes to curating content. Therefore, be careful NOT to plagiarise or duplicate content, fail to attribute the sources, or break any laws.
Now, please, do the following quiz to demonstrate the knowledge you've acquired in this lesson.