There are various tools that can make your life easier when it comes to content curation. Let's just briefly introduce you to some of them.
They will help you with different stages of your curation process. Some of them help you find the content you need, some of them save that content for later and others help you share it with the general public, or they can help you in other ways.
However, you have to keep in mind that most of these tools are not just made for curating blog posts. Their primary functions are usually saving content for alter or even more complex, like – creating regular email newsletters.
With this in mind, you can choose to use them as they are meant to be used and learn all about them in depth, or you can just use them partially to get help creating blog posts. It is up to you and you'll find a lot of useful links and resources about these apps.
Still, we're going to focus here on showcasing the most popular curation tools, explaining their primary use and giving a brief suggestion on how you can use it as a Copywriter.
In the Curated collection lesson, we've already mentioned Pocket, a read-it-later app, and Buffer, a social publishing tool.
Let's learn more about them, so you can decide what's best for your needs.
Tools That Help You Discover Good Content
People are exposed to a lot of content every day – more than even before. A lot of that content is not relevant to us, so we tend to forget it quickly. However, high quality content can be repurposed as a blog post by creating a nice curated collection.
Tools like Nuzzel and Refind discover, rank, and/or save content really worth your attention. Also, you need to pay special attention to Feedly, as this is a very useful app for bloggers.
Feedly
Among the most extensive and the most useful apps in this regard is definitely Feedly. You can install this app from the Google store or iTunes and it is available as an app for mobile devices, a well as the app for your desktop.
Feedly monitors all the relevant sources that you choose and delivers all the important updates to you. What makes it really special is the variety of the sources.
You can choose relevant, well-known and credible feeds, like New York Times and other magazines, but you can also choose to follow influential bloggers from your niche.
Here are some of the pools regarding how much people use Feedly and what is their favourite way to use it:
Poll: Where do you like to begin your research on a topic or keyword?

— Feedly (@feedly) April 7, 2017
How do you prefer to save awesome stories to your Feedly? https://t.co/8WQ9qyVRaD

— Feedly (@feedly) March 15, 2017
What's more interesting – you can even set Feedly to follow the content from your company private feed. Here is how a blank Feedly account looks like: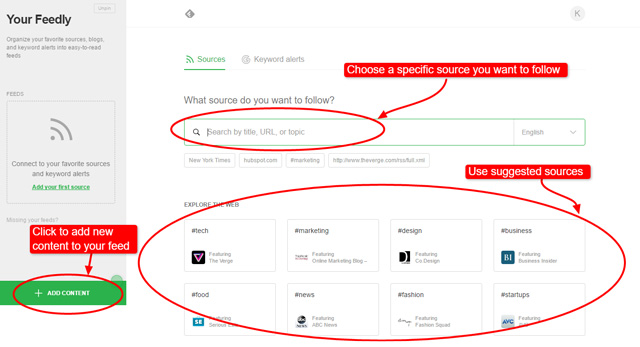 You just need to click and add the source that you want to follow. Once it's there, you can organise the sources, save the content for the later read and even share if with your friends. Take a look at the Feedly blog post which offers excellent tips for using Feedly.
Feedly allows you to discover new, relevant sources, as well, which is very important if you want to create newsjacking article, curated collection or simply find interesting content to share on your social media.
Let's say you write of an eCommerce that sells bicycles. You may want to sue Feedly to follow all the news from the relevant cycling sources. You need to create an account, search for the relevant sources by typing in your keywords and then follow the sources you deem relevant.
Once you do that, you can organise your cycling sources all at one place and then you'll have an easy access to all the cycling news coming from those sources.
In the following graphic, you will see how to find relevant sources, create and name a feed 'Cycling' and add two sources to it.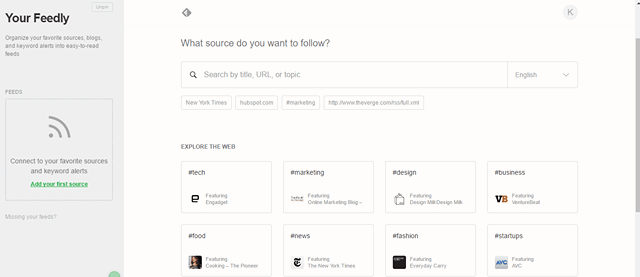 Another useful feature is the fact that Feedly can create curated boards for your team, if you're working with a team of writers, or just use this excellent tool for your own needs.
It is also possible to follow Google Alert using Feedly, as well as using the operators to get alerts for your own niche. This is an absolutely precious option to use when gathering content for your curated collection posts.
Refind
You can use Refind as an app or a browser plugin. It is highly functional and useful in both of these forms.

The creators of Refind wanted to find a way to provide people with the content that is the most relevant to them. You need to use it to follow people or interests and Refind offers you the results that are most relevant for you.
You can save those results for later into your smart list. You do it by simply clicking the browser button or using your mobile app. When you do it, Refind will show you who of your friends has saved that link, as well.
The smart list sorts your saves into Soon, Someday and Done folders. A link is kept in the Soon list for two weeks before it finds its place in the Someday part.
There are two very useful options that Refind offers: it can import your interests from Twitter, Pocket and even your bookmarks.
The other options is that, once you browse Google, it notifies you which of the links from the search results have been saved by your friends.
Nuzzel
While it is similar to Refind since it allows you to find relevant content in the sea of 'noise' that comes your way from all sorts of social media, Nuzzel is not quite the same.
Nuzzel acts as your personally tailored RSS feeder that chooses the content your friends post on Facebook and Twitter and presents them to you according to its relevance. Here is a very good and practical review of Nuzzel.
It searches newsletters and news as well and integrates that with Facebook Messenger bot, which means that Nuzzel can deliver the selection of all the important news to your inbox.
Tools That Help You Save the Content for Later
Saving interesting content for later can help you a lot when it comes to creating curated collection. This means that the time you spend searching for a specific type of content will be much shorter, as you already, probably, have the thing you need saved somewhere on your apps.
Pocket
There are a lot of people using Pocket for their needs. This app used to be called Read It Later, but it changed it's name. One of the main reasons so many people use Pocket, is the fact that is easily integrated with over 1500 different apps.
You can use Pocket Explore to search for the relevant terms you need for your blog post. Here are the options you'll get once you open up this web page.
When you install it the Google Chrome version of Pocket, it will require from you to create an account. It is free and it means that you will be able to access all your saves from any type of device you choose.
Let's use the same eCommerce example as before – the online bicycle store. If you want to find and save some articles about cycling, you should visit the Pocket explore, type in 'cycling', take a look at the results and save the article you like.
Instapaper
Obviously, Instapaper is a Pocket alternative. This is another read-it-later app that saves your content. It is also available for Android, PC and Apple devices. You just need to learn how to save content on Instapaper and you're good to go.
In addition, you can use Instapaper to send your content to Kindle, as well. There is also a very useful text-to-speech option.
Get it while it's hot! iOS 8 extensions, Text-to-Speech, Premium, and Profiles http://t.co/1iDKmyGjcO

— Instapaper (@instapaper) September 17, 2014
One of the main differences between Pocket and Instapaper is that you can highlight, quote and share the parts of the articles you save on Instapaper. This makes is extremely useful in creating a curated collection blog post, if your idea is to curate quotes.
Also, Instapaper keeps a more, paper-like properties and is more focused on the text. It allows changing font sizes and ways to read texts, while Pocket is much more colourful and basically a better idea if you are gathering different types of media.
You can also explore ReadKit if Instapaper and Pocket aren't your cup of tea.
Tools and Resources That Help You Create, Share or Integrate Your Content
When the discovery phase is over, you end up with a lot of useful content that you need to read and include in your blog post. There are tools that easily curate that content and do the work for you, especially when it comes to curating content from the social media.
Some of these tools are created with creating newsletters and emails in mind, but you can easily use them to create excellent blog posts.
Curata
When you visit Curata website, you will find two solutions that it offers. The first one is the Content Marketing Platform (CMP), but that's not your primary interest here. Go ahead and explore the Content Curation Software (CCS) for now, since it is a very useful tool for a copywriter at this stage.
Here is the overview of Curata tools that the company itself published on their YouTube channel:
Basically, once you get your Curata software, the interface is divided into three major parts. To your very left is the bar with all the search filters and criteria that you may want to apply. You can search content by source, author or topic and categories.
The middle part is actually your feed of relevant content based on your search. This is where you can dig in and find the content you want to use.
On the right side of the page is your curated content. This is a text editor where you can write, annotate content you added and see your post.
Once you are happy with your blog post, you can publish it via Curata. Also, you can save your project and get back to it later.
You can learn more details about how to use Curata and how important it is to the marketers in the following article from LiveAndSocial: Curata: Why We Freakin' Love It And How to Use It
Storify
This is an excellent tool if you want to make a collection of all the posts of Twitter, Facebook and other social media, and integrate them into a story that you can publish. You can use hashtags to curate content on Storify, but it's not necessary.
For example, if your eCommerce store is about to publish a new product and you have made some marketing efforts to announce it, you can use Storify to collect all the social media posts about your product, and turn it into a story that you can publish as a blog post.
It is a nice and fast way to create curated content that is very useful and interesting to your readers, without taking too much time to make it.
Use can use Storify to make collections of news, Q&As or even for hashtag campaigns or live blogging.
Let's give our Bicycle example one more go. If you want to create a blog post for your bicycle-selling eCommerce company, you can go and make something like this:
Top 5 Bikes for Boys – 2016 Best Kids' and Toddler Bike Reviews List
On the other hand, you can use your own story or this story that somebody else made and embed it directly into your WordPress.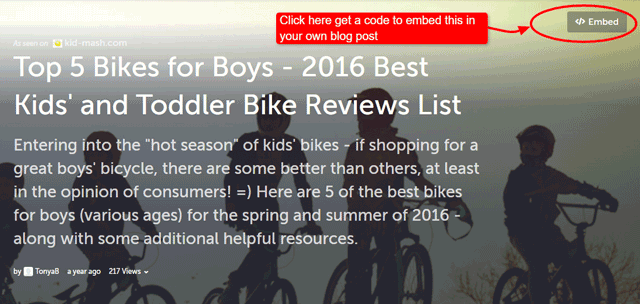 Curated
This one of the most well-known and widely used curating tools. Curated requires from you to create an account and it offers different monthly pricing plans.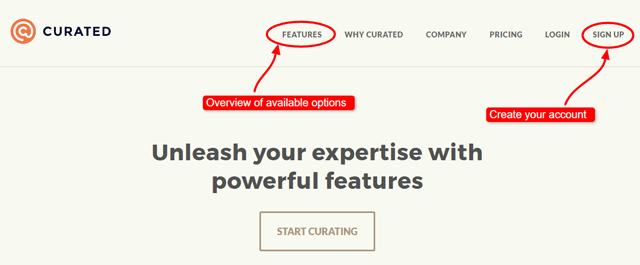 Just like with other major curation tools, the initial idea is to make an app that would make creating newsletters easy and effortless. Still, you can use Curate for your blog posts, as well.
While you do your research, you need to simply click "save to Curated" or email it to your Curated account. You can even open your curated content to other contributors, as well.
Once you save a link, you can easily and quickly add accompanying text and/or choose an image that you want to illustrate your content.
When your curated content is done, by hitting Publish, Curated will turn it into a website page or an email newsletter.
Tools That Help You Publish Your Content
You already see that there are many apps that have the publishing option already integrated into them. However, most of those options usually end up creating a separate web page or an email newsletter for you.
If you want to create content and publish it in your own way and at your own pace, you can use some of the apps that schedule your posts. Here are some of them:
Hootsuite
This tools is widely used by social media experts. It allows you to schedule and publish content at any time. You just need a Hootsuite account and accounts of social media platforms.
Hootsuite can work with over 35 social media platforms. Here is how you can set up your account and schedule your publishing content.
In simple words, you can create content, make a schedule in your Hootsuite account and simply make a timetable about when and where you want your content published.
If you want to learn more about how to make the most of this amazing app, you can check out Hootsuite training center and take some of their courses that give you deep understanding about how this works.
Quite similar to Hootsuite are SproutSocial and Sprinklr. You can check them out and see if you prefer one over the other.
Other Interesting Tools That You Can Check Out
Creating curated collection usually consists of discovering, organising and publishing your content. However, each of these steps can be helped with a little bit of automation provided by helpful apps.
Now that we have those covered, here are some other apps that you may also find interesting, which are not necessarily part of that process
Letterlist – This is an amazing source of inspiration and ideas, since it present a collection of newsletters that can be delivered directly into your inbox. You can pick them yourself and subscribe to them.
Again, if you are writing for an online Bicycle shop, you can pick a newsletter like this to inspire you: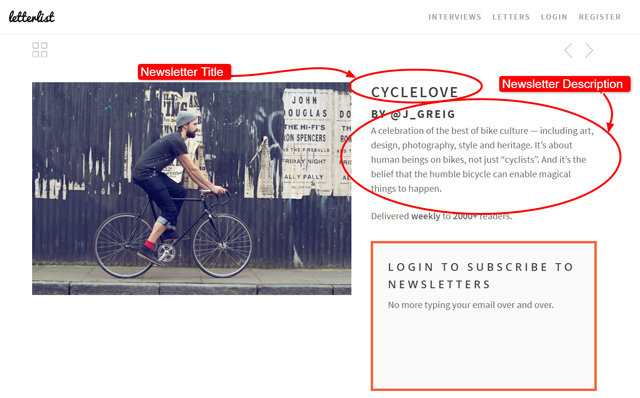 Goodbits – This app allows you to create successful and interesting email newsletters, yourself. You can check out how it's done in the Goodbits blog posts that explains it.
SmartBrief – This tools allows you to subscribe to selected newsletters and browse them by the industry. This can inspire you and help you find great content to curate.
Zapier and IFTTT help you with organising all the apps and applets you work on. For example, they can help you connect an app like Pocket with an app like Buffer for instant and easy curation and publishing.
In Summary
These are just a few tools which will certainly come in handy. Feel free to follow the links provided and explore the Internet to find out more about each of them.
Don't hesitate to use them instead of going through the whole process of content curation manually, which can be really exhausting and time-consuming. Some of them help you with finding the inspiration for your content while others allow you to quickly put that content into a story.
You can use Feedly, Refind or Nuzzel to discover interesting content that you may want to reuse. What's more, SmartBrief and Letterlist will send you interesting newsletters that you can draw your inspiration from.
Once you find something interesting, you can use Pocket and Instapaper to save it for later. Curata, Curated and Storify will automate your process of curation, while you can schedule your publishing in advance with Hootsuite.
Don't forget to check Zapier and IFTTT if you want to automate your process even more and integrate some of the apps.