The fact that an online store is hiring a trained eCommerce copywriter like you means that your employer perfectly understands how significant their website content is.
Great! But, do YOU really see the bigger picture and know how to get the most out of every single piece of that content?
And we're not talking only about creating new articles, but leveraging what they already have. Not actually? Don't worry. You'll learn new techniques and skills in this lesson.
But first here's the background story to find out what this is all about. When you get hired by an eCommerce store, you need to know where to start and which way to go.
The approach and techniques you're about to discover here are super helpful, easy and beneficial to the employer and you, as well. Unfortunately, they're often overlooked.
A wise and common start would be to examine the existing content, then suggest and make some improvements to give the business a bit of a lift. Don't you agree?
It's a fantastic way of getting to know the content since most newbies can often start by rewriting or simply improving the already existing blog articles.
Wondering why?
Because it allows you to get to know the products, services and the business you've started working for pretty easily without having to start from scratch at the very beginning of your journey.
Don't you find it more hassle-free to rewrite and delve into something that exists in order to learn about it rather than having to do your research from scratch?
Sure, you do. Thus, let's dig deeper into it now.
The Bottom Line
Rarely will you work on a brand new website that doesn't have a blog, social media channel or some kind of online presence? It will almost never happen.
Instead, every online store will usually have a blog or perhaps some customer-focused Help pages or a few social media channels. It means you're NOT starting from scratch.
Looking at their existing content and making improvements will give you a head-start on your eCommerce blogging efforts. Often, some simple enhancements are all it takes!
Thus, when you start working for a new employer, you can go through an 'audit' process of their existing online store blog. Those small improvements you make can bring some big rewards.
Running a content audit on your blog can reveal a huge number of insights into what's sitting in your archives, as pointed out in Kevan Lee's blog post on the topic.
You can discover what's worked in the past and what to try in the future.
You can see opportunities for quick wins and simple fixes that could have significant effects.
Make sure you refer to this nitty-gritty guide to a content audit and learn more.
A Step-by-Step Guide to Conducting a Content Audit by Neil Patel is also an informative source to refer to while learning about the content audit.
You need to find blog posts that are naturally attracting organic traffic.
Then, find out if there is a compelling Call to Action (CTA) and you can also improve the customer's experience by enhancing the look and feel of a webpage.
Usually, a stronger CTA is required, honing in on specific product keywords and improving the overall presentation. It's an easy win for both the copywriter and the business.
Sounds simple, right?
Yet, you must be a savvy eCommerce blogger to know precisely how to do it right and to achieve brilliant measurable results.
You haven't got a clue how to check through existing blog content in a store website and to get ideas for upgrading it?
No worries! That's why you're here – to learn it all. So, let's get started!
Discover Which Blog Posts Could Be Improved
One of the lesser known things about any popular blogger is that they spend as much time editing old posts as they do write new posts.
Source: Why You Need To Edit Old Posts on Your Blog: Practical Tips
But be careful.
Not all blog posts are the same. Some are worth more, for a variety of reasons:
More in-depth
More shareable
Higher conversion rate
Resonates with readers more (typically better time on page, bounce rate, etc.)
You don't want to treat all old blog posts equally, as advised in Bring Old Blog Posts Back to Life: 5 Strategies that Work.
Instead, you want to strategically plan which blog posts you should direct your efforts towards for the best search results.
Note: Make sure you go through the 5 suggestions Neil Patel outlined in this article to drive traffic to your old blog posts. You will see a fairly quick increase in overall traffic and conversions.
This is the first step to take. It shouldn't be difficult for you to discover the pieces worth improving and maintaining. You're about to learn how.
You need to get familiar with some helpful tools, the criteria and the step-by-step process of assessing the content.
After this lesson, it'll be a no-brainer to you.
We're going to start this journey with a bit more technical details. So, let's get to know a handy free tool first, shall we?
How to Use Google Analytics to Find the Content Worth Improving
Many eCommerce stores run analytics software that tells them where visitors are coming from and what they are looking at on the website. This software is sometimes called Google Analytics (GA).
Check out what Google Analytics does and what you can do with it. Don't you find it amazing?
But how to access it?
The Web Developer in your team will usually have access to the company's
Google Analytics account. The store owner definitely will, and we recommend that you as a Copywriter also ask for read-only access.
As advised in The Copywriter's Guide to Analytics, explain to your employer the value of knowing the analytics for good copywriting. Chances are they will be more than happy to open the books.
Make sure you pay close attention to the full guide. It goes over some fundamental rules of copywriting and then delves into how to read your Google Analytics for copywriting purposes.
Not only will it teach you more about Google Analytics and how it is affected by copywriting, but it will look at the topic from a different angle by showing you how to leverage your knowledge from Google Analytics to create a better copy.
Copywriting can no longer be considered a soft art that's impossible to measure.
It's now incredibly easy to get data behind your work and prove success in black and white— and you should highly consider it if you want an edge in the field. (Source: Why modern copywriters must be fluent in analytics)
You see?
Being able to produce well-written copy alone is NO longer good enough for the professional copywriter.
It doesn't matter how good your writing is. If you can't show precisely how and why it's successful, you're falling behind your competition.
And that's only 1 of 5 reasons copywriters need to get data … or get out of the business.
Motivated to learn how to measure your copywriters' performance with quantifiable metrics? You should be.
OK. You've definitely realised why you need to get familiar with Google Analytics in case you wondered.
Back to the point now…
Google Analytics provides a quick snapshot of how a site overall has been performing for the last three months, year, or however long you want to check info on:
How many people are coming to your site
What they're doing when they're there
How long they stick around
Consider this your true foundation. You can then easily compare that data with another period, to see how the site overall has been changing over time. This data helps you set expectations for when it's time to really dive into your written pieces. (Source: How To Use Google Analytics For Better Web Writing)
Using Google Analytics, you can search for content on the website that is already receiving organic traffic.
To find the blog articles that you want to assess you need to start your search in Google Analytics.
In this video, you'll learn how to measure your blog post's traffic by using Google Analytics. By understanding this type of traffic, you'll gain some major insight on what content is popular with your audience, and you'll have a much better idea of the direction your content strategy should be moving in.
Also, make sure you check the BlogMutt's How to Measure Blog Success series, particularly their first article Tracking Blog Traffic With Google Analytics. It will teach you how to check blog traffic and what metrics you should use to understand more about your visitors.
Here's their explanation of a couple of key Google Analytics metrics relevant for understanding blog traffic: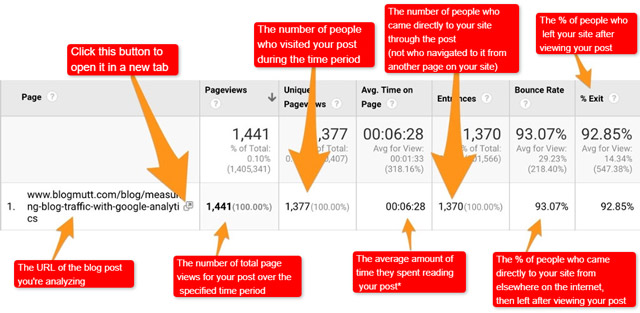 Make sure you thoroughly read the full article on how to track blog traffic in Google Analytics and what it means to your blog. Also, watch the video embedded in it for better understanding.
To sum it up in a slightly different way which is perhaps more appropriate for you in this case…
Go to the 'Behaviour' section of the Google Analytics left-side navigation and click on 'Site Content'>'All pages', like it's been illustrated in the previously linked article: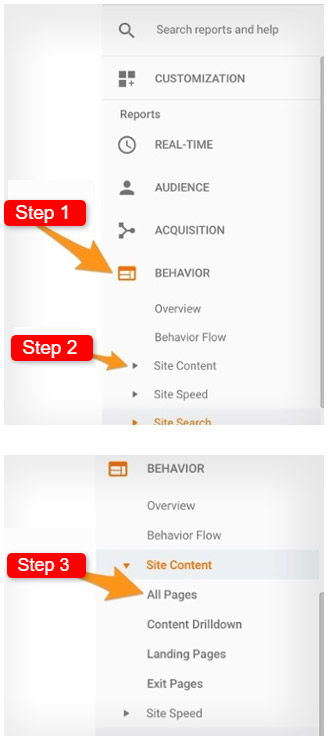 You can use the 'Advanced' option (top-right corner) to filter by the word 'blog'. Remember the video instructions you've just watched? If you haven't, get back to the article, read it and watch the video so that you can follow the rest of the lesson.
Furthermore, don't hesitate to set the dates (e.g. 2016-2018) to get to see content that is the most popular in a particular period.
You could also add the Secondary dimension of Source/Medium (top-left) because it will show you where the website traffic is coming from.
Why does it matter?
Simply because your employer may sometimes buy traffic, for example. You'll recognise the purchased traffic when you see 'CPC', which means that they actually paid for that visit.
This is important for you to distinguish from organic traffic you're aiming at, which is naturally attractive to the search engines. Got it?
The following resources can offer you further deeper insights into those relevant GA sections:
Mind you: you're NOT supposed to memorise this all and become a Google Analytics expert overnight. But in case you do want to, this is how to become a Google Analytics expert in 60 days.
As an eCommerce copywriter, just make sure that you understand the basics, i.e. what the key terms represent and what they reveal to you. Nothing much more than that. OK?
Then, you can move on to the next phase.
The Criteria and the Process of Content Assessment
Now, when you've got a slightly better understanding of the fundamental Google Analytics traffic terminology, here's the approach to take.
Firstly, look at the content and then decide whether it can easily be improved. Identify blog posts that are receiving organic traffic, i.e. some natural traction as explained above.
When you find a few such pages, have a closer look at each of them and work out how you can polish them.
Ask yourself whether they:
are short on power words
are missing appealing images
are incorrectly named
have broken links or
are missing engaging Call to Action panels, and the like
See the point? Nice.
That's basically how you discover which blog posts could be improved.
The Complete Guide to Updating and Republishing Outdated Blog Content can also help you choose which posts to update and provide some best practices for doing so.
It would be helpful to make a list of the most popular articles, i.e. those which are getting significant numbers of visitors based on your findings. You could also include a few notes on what can be done to make them better.
After a thorough analysis, you're ready to upgrade the selected blog posts and hopefully make them evergreen. But, we're going to talk about how to do that in detail down in the lesson.
There are a few more points you should always remember in this process.
When a blog post is improved, don't forget to reset the publish date. This tells Google that the article has changed and the updated version has a new date.
AVOID changing the article URL and heading, if possible. Otherwise, you'll need to create a 301 Redirect. So, it's better not to touch it and make a mess, right?
You could repeat the same procedure every 3 to 6 months, depending on the level of your blog activity.
For example, if you write a lot of articles for a blog, then the content manager or writer should perhaps check Google Analytics more often, e.g. every 3 to 4 months. If you only write a few articles, then it would be checked every 6 months.
Furthermore, you can apply the same techniques and approach to any online store website, i.e. employer you work for and prove you're a valuable team member who can contribute to boosting website traffic and conversions perhaps even from the very first week or month.
Isn't that cool?
Mind you – as a content writer, you might not be used to Google Analytics, but it's critical that you understand how it works because this tool gives you valuable information about your readers.
Remember – you don't have to manipulate Google Analytics perfectly and know every single detail. You just need to know how to:
get the information relevant to you, and
explain to someone else in your team how to get the same information
So, go back to the best performing blog posts, take a closer look at them and find out whether anything holds them back (such as e.g. broken links, text-based graphics that affect the page load time and the like).
After that, it's time for improving the selected top-performing pieces of content.
Ready for several powerful ideas on how to turn the average old content into outstanding to give the website a boost? Here they come.
Revamp Old Content for Long-Term Success
In the subsections to come, we're going to show you how to transform a typical stale piece of content into a top-performing one with several simple tricks.
To demonstrate how the whole process goes on, take a quick glance at the 'BEFORE' version of an example article:
What you can notice at first sight is a lot of text with several unnoticeable subheadings and a featured image. It's all good, but it can be way better.
Eager to discover the secret ingredients that make any eCommerce blog post drive more traffic and generate sales?
Let's not waste time, then! Sharing those remedies with you! Keep reading.
Flesh It Out
In other words, add more value and high-quality details to your piece of content.
Remember – value and quality matter, NOT just keyword stuffing.
As advised in the article What is keyword stuffing and why to avoid it, this strategy shouldn't be used by any modern business looking to improve their search ranking.
Rather, businesses should focus on using keywords in a smarter, more focused way that helps them craft engaging content that will inspire readers and customers.
To find out more about the dangers of SEO keyword stuffing, refer to the full sources linked here.
Also, to help guide your keyword research, usage and even density, there are a few things you need to know about keyword stuffing and its consequences. To learn those very ideas, check out Volusion's quick video on the matter.
Now you know what to AVOID.
So, while checking the articles you're going to improve, thoroughly think about what additional value can be added to each section?
For instance, you could write a new paragraph of content to add more value or just to get a deep link in there.
Or you could rewrite tiny sections of the articles to include more awesome keywords as suggested in the Ahrefs blog post Evergreen Content: How Updating An Old Post Boosted Page views by 468%.
Here's how they made sure to include the keywords in the first section of the article.

Moreover, apart from just mentioning a product or linking to it in a blog article, perhaps you could insert attractive looking 'tables' of product.
Something like in our example article screenshot below.
The idea can be to have your product image(s), a sub-heading, perhaps a few lines of engaging text and then a link through to the relevant product page or category.
Don't you find this presentation more effective than just a couple of coloured, usually blue underlined words?
Not to mention the slight but effective text and layout improvements in the same subheading – rewording to include keywords, adding a few hyperlinks to product pages and bullet points for better readability.
Just compare the screenshot above with the 'before' version of the same subheading 'But Why White?' from the beginning, and you'll immediately see what we're talking about.
You can easily add value to an article just by putting in more carefully chosen words or e.g. renaming a couple of subheadings. Simple, isn't it?
Let's take it a step further, shall we?
Insert Call to Action Links and Blocks
As you probably remember from one of our previous lessons linked above, a Call to Action or CTA denotes what you're trying to get customers to do when they read your content.
Often a webpage will be missing a strong Call to Action, or it won't be placed adequately or prominently enough.
How does that affect the success of a particular blog post?
Well, the customer reads the content but does NOT know what to do next.
That's why you must think this through and know exactly where to insert the CTA and how to make it look.
It's effective if you put the CTA link in the top area of the article (within the first scroll, i.e. in the first ⅓ of it).
Also, it's advisable to place it at the very end of the same article, but this time to make it look more prominent, e.g. like a CTA block.
Call-to-action blocks are designed to get immediate response from users: "Buy Now", "Add more", "Install App"…

Stackable adds CTA blocks to your #Gutenberg builder. Get it here:
https://t.co/1fRVeuT9Hy pic.twitter.com/kUD768KOtR

— Gambit (@gambitph) February 27, 2018
It can be similar to our screenshot CTA example in the previous subsection. Remember it?
Just make sure the end CTA is quite definitive to get the reader involved with the content and the company. OK?
Ideally, you want your audience to:
buy (you may link through to a product page)
make an enquiry (link to the contact page to engage the reader with the customer service if they're not ready to buy immediately but have further questions) or
add their email address to a remarketing list (possible link to another piece of content you created such as a pdf checklist for the reader to download in return for their email address)
These are three possible ways to engage with the customer.
So, you need to decide on which to include, as well as whether to present them as a CTA link or block (as shown in our example screenshot above and these CTA examples).
Then, measure the rate at which you generated leads to figure out what works better.
Your goal is to get leads for your employer's business. Without persuasively giving your website visitors and blog readers solid reasons to make a purchase, an enquiry or give you their email address, they won't engage with the website.
A CTA is that thin line between a conversion and a bounce.
That's why you must use action verbs and power words to make them action-oriented and maximise conversions as you've already learnt in our lesson on creating a strong Call to Action.
Also, check out 6 Characteristics of High-Converting CTA Buttons and 15 Tips to Optimise Your CTA Buttons for Conversion to learn more.
Do you now fully understand why the CTA is a critical component of your content creation work?
Even if you do, going through the Click Here: 16 Hacks That'll Get Your Call-to-Action Buttons Clicked to learn more from examples and expert tips, or just to refresh your memory won't hurt, though.
So, don't hesitate to get down to reading. 🙂
The bottom line…
Without a compelling reason the customer won't engage with the website, and you won't generate sales leads for the employer.
Now when you know all this, you can go back to the old top-ranking articles, add some more compelling and visually appealing CTAs, and place them strategically.
A Web Dev in your team is the right person to collaborate with while improving the CTA design.
When you dress them up, don't forget to double-check whether all CTAs work in all the blog articles. It's pretty self-explanatory why you need to do that, right? You don't want any dead links.
What else can you do to make an old blog post amazing?
Here are a couple more small changes that can make a huge difference.
Polish up the Visual Appearance of the Articles
Besides the text, the existing images can also be upgraded perhaps with better quality stock photos. Just be careful because many readily available stock photos are overused and ubiquitous. You don't want those.
They need to pop really! Make sure they're interesting, and they look good so that they put more zing into your content.
Then, perhaps there is a single comment that could be displayed as a click-to-tweet because it's a true gem.
Tweetable quotes attract your readers' attention like a magnet. You get 2 things at a time:
highlight what is really important
make it tweetable
To learn even more, refer to the Hubspot's quick tips on generating click-to-tweet links for your content.
How does that idea sound to you? More eye-catching and engaging, right?
In addition, perhaps there is a relevant Pin, a YouTube video, an amazing illustration or any other kind of awesome visual content that could be embedded rather than a boring old photo.
Did you know that articles with images get 94% more total views than articles without images?
All these visuals would give your article extra media, which Google likes. And not only Google…
People simply love visuals – photos send a clear brand message and influence consumer associations with your company and products.
But sometimes they can seriously compromise your website's load time.
Follow these smart tips, and you'll be on your way to creating visual content that will boost user experience, reduce load time and improve your SEO.
Let's check the effect of images in practice.
Now, look at a two-paragraph subheading in the first version of our initial example article.
And compare it with the same subheading in the improved version.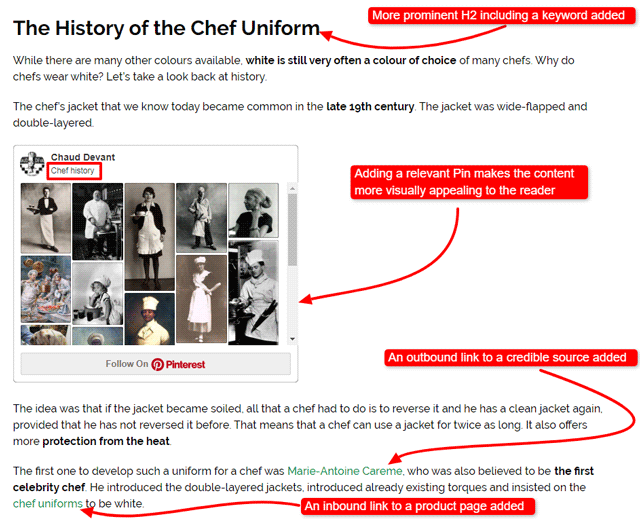 Then, take a glance at the subheading without any visuals below.
And take a closer look at the enhanced content for comparison now.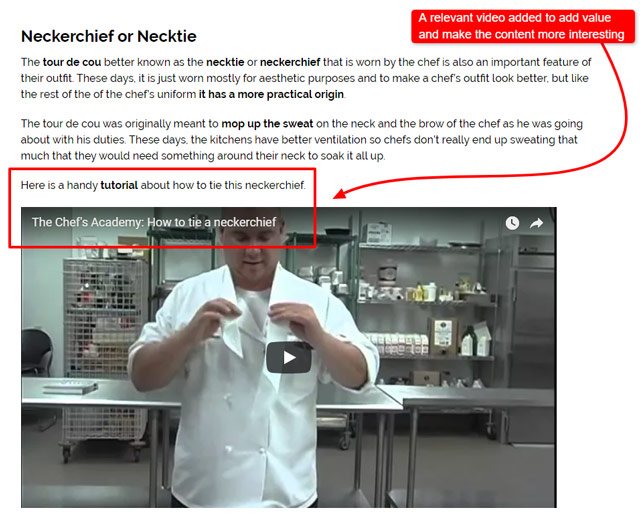 You see why 'a picture is worth a thousand words'? Certainly!
A web page without an image is almost naked, missing something, a finishing touch. Basic image optimisation can transform your web pages, product pages and blog posts into a page that works harder for you with very little effort.
Optimise your images using these tips for some quick SEO wins.
The image should reflect the topic of the post or have illustrative purposes within the article of course.
There is a simple image SEO reason for this: an image with related text ranks better for the keyword it is optimised for. There's more about image SEO here:
The images you use in your blog posts tell a story as much as the words do. It's crucial not only to include images but also to include the right images to help you craft and tell that story.
Imagery should be an integral part of all blog posts. You should think of images the same way you think of your introduction or title. Your blog just won't work without them.
Images support your words and hold your argument together.
If you follow the best practices listed in this blog post, you'll be well on your way to producing content that is visually appealing and engaging.
Your arguments will stand out, your content will appear unique, and overall, you'll become a better writer.
And all that's been said above goes for any other visuals, not only images.
Got it?
When you're sure you've done your best to add more value to your piece of content and include enough relevant visuals to make it more interesting and catchy, it's time to deal with some technical details.
Tackle the Technical Issues and Fix up What Doesn't Work
As Neil Patel pointed out in Content Maintenance: How to Ensure That Your Old Blog Posts Remain Evergreen, your old post may have broken links or links to outdated or out-of-business tools that ultimately hurt your credibility.
An easy way to audit your content for broken or outdated links would be to use the Chrome extension LinkMiner.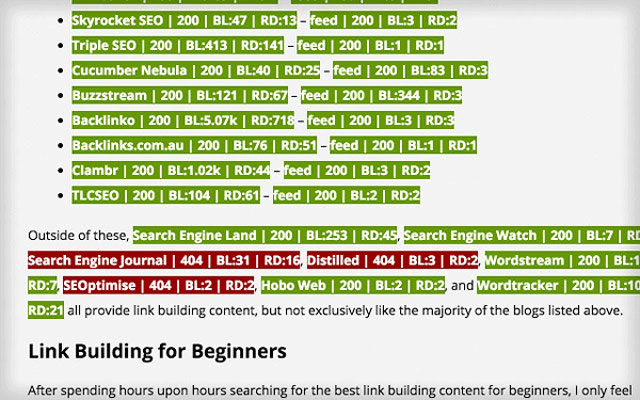 If a link is healthy, it will be highlighted green.
But if it's not, it will stand out with red highlighting.
Since broken links hurt your SEO, leaving an older link that 'used to be good' in your content will actually end up hurting you in the long run.
Thankfully, it's a simple fix.
Just find newer studies or statistics that help emphasise your point and link to those instead.
You can also take this opportunity to move up the 'last updated' timestamp, if your posts have a published date, like this:
This makes your content feel fresher for a longer period of time, and it allows you to make updates that will draw your audience back.
But if they don't know it's been updated, it's less likely they'll return.
Make sure you also refer to Increasing SEO Traffic by Updating and 'Thickening' Your Old Blog Posts for more valuable insights.
The next thing you should pay attention to is text-based graphics.
Source: 11 Best Practices for Including Images in Your Blog Posts
They can seriously affect the page load time, so make sure you remove them if possible.
Textual information should be presented as such if you don't want to lower the page load speed.
Can the speed of your website really have that much of an effect on your sales? Even if your site isn't loading too slowly, can it still be improved? And how does Google factor into all of this? You might be surprised.
Find it out by reading Speed Is A Killer – Why Decreasing Page Load Time Can Drastically Increase Conversions.
Also, take a look at Neil Patel's infographic to learn how loading time affects your bottom line.
Another thing you should check is whether there are any unnatural line or page breaks within an article and fix them.
Here's what they look like in a real-life blog post example:
Should we mention that perfect grammar, punctuation and sentence structure go without saying, too? We bet you're already aware of that.
All these tips are just simple quick fixes but can do wonders for your blog posts so don't neglect them.
Check out how powerful effect those simple tweaks have had on our initial example article. Remember it?
To mention just the obvious changes:
more solid CTAs and product blocks added
a few credible outbound links added
fixed up the broken links
added in a more valuable text
pictures and prominent subheadings that contain keywords included…
To make sure, quickly compare the 'BEFORE' version from the beginning of this lesson to the following 'AFTER' version of the same article, which has been updated and significantly improved.
You see?
Nice, you've done your best to upgrade the content. That's it, right?
Well, not really…
Promote the 'New' Old Content
Now that you know what to do with your old blog posts, it's time to start promoting them again!
Repost updated blogs. Don't be shy about treating the 'old' content just like the new stuff. It will be new to much of your audience.
Use your taxonomy to link your refreshed content with your more recent posts. You can categorise your old (updated) blogs so they show up alongside your new blogs as related content.
Promote the strong performers. Don't assume it's repetitive to your audience. Again, many people in your audience might not have seen the original version. Push it out on social media, etc.
Keeping a Fresh Blog: What to Do with Your Old Blog Posts? offers a few tips that will help you manage your content efficiently, reduce risk, and reap maximum benefits from your blogging efforts.
Aaaaand… What about the results? How will you know if you're doing it all right?
Keep Track of Your Efforts to Make Sure You're on the Right Path
You'll be able to check the results of your hard work if you properly track what you're doing.
As suggested in The Content Lifecycle of a Perfect Post, by measuring your content, you'll be able to continually make it more discoverable and more valuable to your audience.
After all, you may be able to make slight tweaks or changes to it to bolster the SEO strength of your content that would increase the lifecycle of your piece.
Again, Google Analytics can be your best friend here, but we won't take a further deep dive into it now because you're not expected to be a Google Analytics guru. Remember?
Here's what matters to you…
Your content can be judged successful if it:
Attracts organic traffic
You may also want to check out the following 14 Ways to Get Backlinks Without Begging to sum up your backlink learnings.
The success parameters of a blog post listed above can perhaps be measured on a monthly basis by your content manager or another team member who's in charge of the content marketing project.
OK. Now when you've discovered what works best, it's time to standardise the procedure so that the success does NOT depend on the person who's currently working on the content creation.
Instead, it's advisable that anyone who crafts or manages blog content within a company follows the same proven rules and guidelines.
Makes sense, doesn't it?
This brings us to our next topic.
Create a Consistent Style Guide for Page Layout
Creating good-looking content is half the battle.
When the content looks good, the customers have a better feeling about the business.
If the content is badly presented, missing images, has inconsistent styling, poor grammar, issues with line and page breaks, and so forth, then this will reflect poorly on the business.
Don't you think so?
Thus, when you figure out what works best for your website, it's logical ALWAYS to apply it, right?
So, the following natural step to take would be to create a consistent style guide for all your blog pages.
First of all, what in the bananas is a style guide?
A style guide can mean different things to different people, but in general, it's where you write out the 'personality' of your brand, including the colours it uses, the tone it speaks in, and the overall feel it conveys.
Without a style guide? It's easy for your brand to become a little 'all over the place', like a hodgepodge of things you like, but that don't necessarily fit together.
By knowing your blog — from the types of phrases it uses to the colours it employs to the audience it serves — you'll be able to create a site that is consistent, gorgeous, and credible, as pointed out by Melyssa Griffin in her article How + Why To Create A Style Guide For Your Blog (Free Worksheets!).
It literally means creating a document saying anyone who writes articles for that blog must always follow a particular set of guidelines, such as:
use the images of this particular width (e.g.600px)
make all the images aligned to the left
avoid text-based graphics
use a relevant and appealing featured image at the top of every article
always put the first sentence in bold to emphasise the main point
set the style for the blog headline/title as H1
use only one H1 per article
set the style for the other subheadings hierarchically as H2, H3 etc.
Nothing complicated. Just a few simple, clear rules to follow when creating content.
Not sure how and why to create a blog style guide? Follow the link to find out.
Even in the online environment, creating a style guide is important for carving out a distinct brand image for your blog.
Subtle things like the capitalisation of words in the title of your posts, acronyms and image credits affect the reader's experience.
ShoutMeLoud also points it out and offers more in-depth insights into the reasons why your blog needs a style guide and how to shape a distinct voice and elegant style. Refer to the source to find out about the essential elements of a blog style guide and get inspired.
Each business will hopefully have a specific SOP (Standard Operating Procedures) for writing. If yours doesn't, it's a chance for you to craft it and come across as a proactive employee who really deserves to be a part of the successful team.
Here are several more random ideas as to what else you can include in the content creation SOP:
make sure all the embedded YouTube or Vimeo or any other videos are of particular dimensions, e.g. 800px wide (you may also explain how to embed videos into blog posts)
use no more than e.g. 2 click-to-tweet per 1200-word-long article (you may also add step-by-step visual instructions on how to create/insert tweetable content)
write no more than 3 to 4 lines per paragraph
use the primary keywords in the blog title and at least twice more throughout the article
use the secondary keywords in the text body, make it natural, the order doesn't matter
never underline a part of text unless it's a hyperlink to avoid confusing the reader,
include at least 2 inbound links to product pages and make them underlined and blue (further specify the colour)
always add some relevant outbound links from credible sources but avoid linking to competitors
put in at least 2 CTAs per article and place one as a hyperlink towards the top (the first third of the content) and the other at the very end of the blog post as a CTA block to look more prominent
make your CTAs soft, don't be too self-promotional (provide examples for comparison)
understand who you are writing for and bear the user intent in mind
backup any stats or research you use by linking to it
word count for each article should be e.g. 800-1200
introduction and conclusion sections should not be longer than 2 paragraphs i.e. 3-5 sentences, and so forth
The list could go on and on and on…
Still, don't miss out on Kevan Lee's informative article How To Create a Content Style Guide to Improve Your Blog's Quality. You'll learn a lot from his advice and examples included in this post.
Next, another Hubspot's blog post teaches you how to create a writing style guide built for the web and provides some excellent real-life examples to look up to.
What's more, if you need a bit of a head start, you can also download the writing style guide template they've created.
You see what we mean by SOP with style guidelines?
Let's just briefly recap some general basic rules for blog writing and layout you should always bear in mind.
We gave you a slight push. It's up to you to elaborate further on all the suggested points and to add other relevant details so that every new copywriter can follow the same rules while creating content for your employer's eCommerce website.
Not only should you fix up the best performing outdated articles according to such rules, but you and all the other content writers should consistently apply them whenever you blog for that particular website.
It will undoubtedly help you improve readability, appeal and the overall quality of the blogfor which you're responsible.
In case you're still in doubt, or you've forgotten why you should learn all this, here comes a quick reminder.
The Benefits of Evergreen Content
Let's just briefly explain what is considered to be evergreen content. To put it simply, evergreen content has the following characteristics:
It is unique and original – not an exact duplicate of content that is already published on the web
It is useful – Not all original content is useful. When you read an article that is considered as 'evergreen content', you should learn something from it
It's relevant – Meaning it is not binded on [sic] a specific time period but it's relevant whenever you read it
It's optimised – In other words it is published on a website that follows some basic SEO optimisation rules
It's not too short – Usually 'evergreen content' is not short (200-300 words) but it's detailed and informative
It is searchable – For all the above to have a real value, the topic of evergreen content needs to be something users search for in Google. Otherwise, even if you rank high in the SERPS, you won't receive any visits to your website
Anything that does not comply will ALL the above rules cannot be considered as 'evergreen content'.
Refer to the full article How to use evergreen content to increase your organic traffic to see some real examples to make things easier.
As Neil Patel explained in his article Content Maintenance: How to Ensure That Your Old Blog Posts Remain Evergreen, this is the content created to have long-term value – the pride and joy of your site.
They're the pieces created years ago that still ring true and help guide newcomers to your brand.
The value of such maintained content can magnify over time. Think about some of the benefits that evergreen content brings to the table.
It drives traffic to your site over a longer period with authoritative keywords and backlinking (follow the link to the original article to check out the proof and examples).
And if you create a thorough and helpful post, it can be a backlink magnet. It also helps create continuity in your content through the years, which is helpful for establishing authority with Google.
That means that over time the right evergreen content will even help you boost your search position. And as I already mentioned, this type of content usually helps you attract and educate newcomers to your brand.
These are the pieces of content that Hubspot calls a Pillar Page.
These evergreen and constantly-maintained pieces act as central nodes on your site that help establish and grow your authority on a certain subject. In turn, this mitigates any need to constantly feel like you have to reinvent the wheel when it comes to sourcing or backing your newer content.
But since maintenance lacks the urgency that creation and publishing have inherently, it's often overlooked.
Content maintenance is about creating a sustainable relationship with an ever-growing audience by keeping your posts reliable.
If they find an old post that isn't helpful, it can show the company in a negative light. Isn't there so much power in these neglected simple hacks and techniques? Go ahead, master them and stand out from the crowd!
Now that you truly understand how powerful weapon this approach can be in the arms of a skilled eCommerce copywriter, here are some more relevant credible sources for you to explore and benefit from.
Happy learning!
Further Learning Resources
Besides the sources linked in the lesson, the following several articles deserve your undivided attention:
How to Optimise Old Blog & Website Content for a Bright Future
Note: Make sure you read the articles we included in the lesson, as well as those linked above as they will form part of the quiz.
Curious to take it a step further and discover even more advanced tips? In that case, take a sneak peek at the following optional extra sources.
And in the end, have fun with The Most Powerful Way to Persuade. Enjoy yourself!
Before we wrap it up and test what you've learned, let's just summarise everything quickly, shall we?
In Summary
The primary purpose of any online store blog is to help the audience decide to make a purchase.
A surefire way to achieve that, establish authority and boost the store website rankings in search engines is to create content that is engaging and compelling enough, right?
So, when you get hired as an eCommerce copywriter, it's wise to know how to navigate Google Analytics to get the adequate information about what your readers like.
Then, when you figure out which top-performing pieces of the existing content are the most rewarding to polish up, improve them by:
Inserting compelling Call to Action links or blocks, as well as other relevant inbound and credible outbound links (also fixing up those that aren't working and tackling any other technical issues)
Adding in more value and high-quality content
Including some appealing product or other relevant images, pins, videos, snazzy graphics, illustrations and other adequate visuals
All in all, when you realise which high organic blog posts work best, it's critical to stick to that style and remain consistent.
Creating a content style guide goes without saying to ensure consistency and top quality of all the content within one eCommerce store.
Upon learning all this and getting to know your company products and services well, you'll be ready to create your own blog posts from scratch to drive traffic to your employer's website and generate sales.
That's how you'll be able to grow personally and professionally with the business.
We're looking forward to it! Good luck!