Are you a student looking to earn extra cash in your free time working online typing jobs?
Look no further. We've got you.
We know how challenging student life can be. Being under a parent's budget is inconvenient. Need cash for fun activities? A night out with friends? That weekend trip?
Pocket money alone won't cut it.
Whether you're in high school or college, there are online jobs that don't require any technical skills. They're simply typing jobs. You don't need any work experience on your resume.
Here's the top-picked typing jobs where you can make money online from the comfort of your bedroom or dorm room.
Easiest Best-Suited Online Typing Jobs for Students
Is Transcription The Best Typing Job For You?
Transcription is one of the best online typing jobs for students. You'll be typing video or audio recordings into scripts.
Your clients would include academic institutions, media, and legal and medical companies.
Institutions outsource transcription companies to type out their files, and they need typists like you to get it done.
Role of a Transcriptionist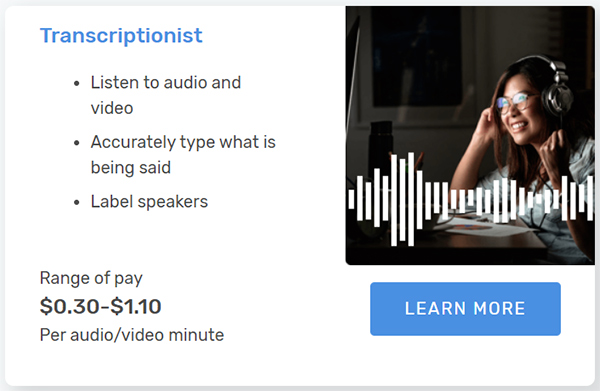 What You Need to Get Started: Tools and Skills
A computer
Steady Internet connection to prevent buffering
Good quality headsets. For comfort, long listening durations, and maximum clarity to avoid errors and mishearing
Typing speed of at least 50 WPM
Language and grammar proficiency
Basic Microsoft Word skills
Transcription Companies to Work For
Transcription companies hire when there's an influx of projects. Here's a list of the companies and how they pay.
Generally, the pay is low for beginners. Earn more with a higher typing speed (70 WPM and above).
There's room for growth with the different levels within the companies.
The higher you go, the more you can earn. Rates also vary depending on the tasks and file's difficulty.
How to Apply for Transcription
Visit any of the sites above, fill in your details, and complete the tests.
Response time ranges between 1 to 6 weeks.
Many have turned transcription into a full-time home job. You're no exception.
Learn about extra tools to incorporate to get the best out of transcription.
Transcription isn't for everyone, but a typical day at TME consists of transcribing audio files at your leisure. Files come in a few times a week are usually 1-2 minutes long. There's plenty of opportunities for advancement, and an awesome community on Yammer where everyone can connect.

Indeed
Join Captioning and Subtitling Freelancers
Wondering what that captioning and subtitling is?
Similar to transcription, this is an online typing job for audio and video files, except instead of having it as one script in a document, you'll be breaking it down into chunks and syncing them to the spoken timecode.
Sounds complicated?
We assure you it's not. Captioning requires short sentences, often not more than 60 characters.
Captioning companies have their own software, which has a syncing tool that you'll have access to once you're hired. They have in-house training and will get you acquainted with their specific company rules and guidelines.
Easy, right?
What's more… It pays around $0.30 more than transcription per audio minute.
Incredible Captioning Companies to Work For
These are well-established and rewarding companies. You can earn up to $3,000 monthly.
How to Get Started: Tools and Skills
As discussed previously, you'll need:
A computer
Quality headsets
Internet access
Be a Native English speaker
Typing speed above 50 WPM
Understand different accents
How to Apply
Simply go to the company's website (any of the above mentioned), fill in your details, complete the test(s), and submit. Response can take up to six weeks.
Once accepted, you can add your payment details. Most freelance companies pay either via PayPal or direct bank deposit.
It's that easy. Be sure to ace the test. They only recruit the best of the best!
Captioning is tedious, but it gets easier with time.
Invest now in additional essential tools to lessen your workload and maximize productivity.
Become a Freelance Writer
So, you love to write? Perhaps you've been journaling for years, running a blog, or writing on social media. Here's how you can turn that fun into an actual online typing job.
Tools and Skills Needed to Get Started
Besides typing, you'll need to master the following:
Grammar, spelling, and punctuation
Proofreading
Research skills
Creativity
Where Can I Work as a Freelance Writer?
You can start by working as a blogger, article writer, or a copywriter.
The highest paying writing jobs require a higher level of expertise, backed by academic credentials.
For student jobs, here are sites that pay for copy typing articles, their main niches, and pay per article.
When applying, research the site's writing styles, other niches, and read some of their published articles.
Be sure to have samples of your written work that comply with their requirements. You can get started with our online course on improving your writing skills.
To set yourself apart, learn to write professionally. Start by taking an SEO copywriting course here.
What's the Other Option?
Start your own blog at WordPress or Wix and grow it: A long shot but a worthwhile investment. Once you gain traction, you'll get paid loads to advertise on your blog.
Write for other independent bloggers, too. Regular bloggers are big on outsourcing services.
Sign up with UpWork or Fiverr and start selling your writing services.
Success begins with the first client!
Why You Should Consider Data Entry Jobs
Data entry jobs are easy, straight-foward, and low-skilled. A perfect example is feeding a database with information from hard copy documents.
People are flocking towards home typing jobs, making competition in the data entry field stiff.
To succeed, attention to detail is paramount. You have to be organized, self-driven, and focused. Leave no room for errors.
Caveat; be prepared to handle monotony.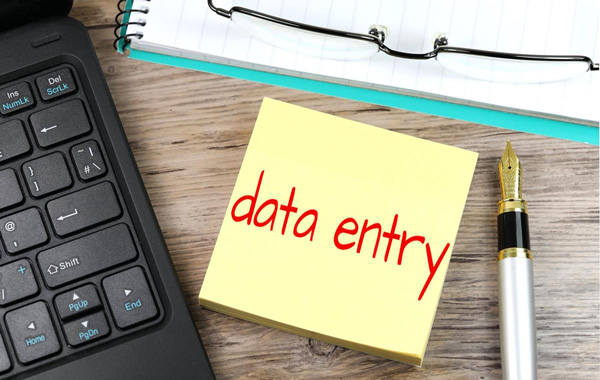 Skills Required for Data Entry
Basic computer skills
Typing skills
Software skills i.e., Word, Excel, Google Docs, and Sheets
Organization skills
Multitasking
How Much Should you Expect to Earn?
Short answer, not much. The pay is unattractive to other professionals. Since it's not worth their time, it's the perfect student job.
The average salary for a data entry clerk is $10 to $15 per hour.
Note that there isn't much room for growth, if any. That's why they source out the lowest-skilled personnel for the job.
How to Find Data Entry Jobs
The Application Process
As previously mentioned, you can always sign up with Upwork and or Fiverr as a freelancer and get data entry jobs.
The catch?
Upwork takes a 20% share of the total earnings. Fair, given you get protection from scammers.
Sites that recruit for data entry include:
With the rise in home jobs, working online as a typist has never been easier. Join us at Small Revolution to learn more and get connected with your first online typing job.