When you are writing for an eCommerce store, your text needs to have some sort of purpose. While writing, you have to keep that purpose in mind. Ask yourself – what do you want your readers to do after they have read your article? Click on something? Buy something? Share your article?
In other words, The main goal of a professional copywriter is to get some kind of call-to-action engagement.
To achieve that goal, you need to use very persuasive language, but without being too 'salesy' or 'pushy'.
Ideally, to convert readers into paying customers, but that's what ONLY 1% of top talented copywriters can do. To get someone to actually spend money i.e. pay for a product after just reading one's blog post is tremendously difficult.
This type of so called 'hard' conversion happens very rarely in reality. When it does happen, it's an absolutely amazing success, though!
Instead, we'll focus on 'soft' conversion here, which might be an action like:
joining a newsletter
liking a Facebook page
sharing some content on one's social media accounts
leaving one's contact details, or
any other similar action promoting the products and the online store
ANY similar activity that allows the store owner to communicate with the reader/prospective customer in the future is quite useful.
You're aware that the reader's engagement requires mastering the skill of writing effective content that will grab people's attention, make them trust you and persuade them to agree with you.
Sounds difficult? No need to worry!
Fortunately, no matter how difficult persuasive copywriting really is to master, this set of skills can be learnt and developed by following some simple but powerful techniques presented here. Yes, you are expected to work and practice a lot, but it's NOT impossible.
In this lecture, we're going to show you the main elements of copywriting in a persuasive way, which will help you hone your skills and be able to get some sort of conversion i.e. Call-to-Action engagement.
Stick to our basic principles and your writing will be good enough for sure.In the following lesson:
We'll show you the secrets of how to connect to the reader
We'll discuss which emotions to trigger to make them act in a desired way
We'll teach you which tone to use to build authority and gain credibility
You'll be given many more useful tips related to the topic.
Eager to find out? Let's waste no more time!
Good vs Bad Examples of Persuasive Language Use
Before we start elaborating on how to write a magnetic, persuasive copy, let's just illustrate what we mean by that. Take a look at these example excerpts from real online store blog articles. We'll start with how it should be done:
Good Examples
Top Father's Day Gift Ideas for DIY Dads blog post from CheapSheds: This is a neatly organised listicle with all the good characteristics of a compelling article previously mentioned in this lecture.
Here's how they skillfully draw the reader into their content with this compelling introduction which evokes emotions and makes it impossible for the reader to disagree with what's being said.
They also point out the readers problems and offer solutions with their products, talking about the benefits of the products rather than about their features.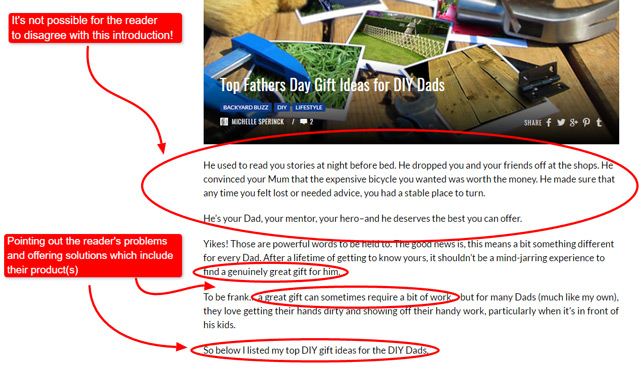 BicyclesOnline blog post Why I'm Not Taking A Water Bottle On My Next Ride?:: Look at how they used persuasive phrases (circled below), an effective headline in the form of a question along with good subheadings predicting concerns of the customers and offering solutions in the text in advance.
The images are also effective, some of them linking out to the product pages. There's also an interesting video showing experts testing the product endurance and quality after the persuasive summary, which helps the author build authority and credibility.

Modcloth and their blog post Unbelievably Easy Strategies to Summer Layering: This is a great example of layout and formatting.The reader can easily pin the images they used and they added hyperlinks to the product pages below the images.
Apart from the catchy headline and subheadings, as well as the attractive relevant images of products in use.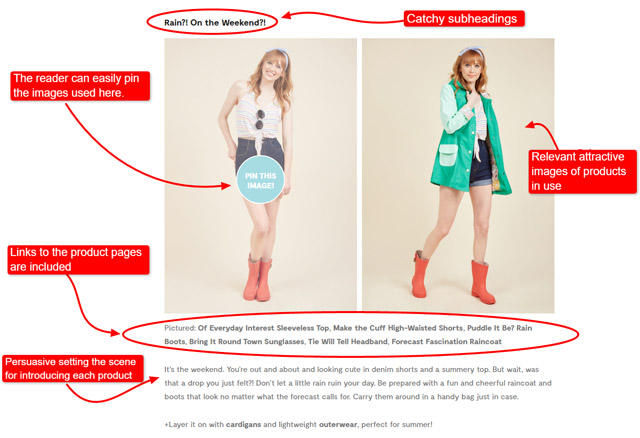 Besides the good layout, take a look at the great use of language in this blog post:
Copywriter did a great job and set the scene to introduce each product in the text in a persuasive way. They address the target reader directly, evoking emotions by referring to some possible everyday problems potential customers may have, and offering solutions with their products, which is a highly persuasive tactic.
Who wouldn't be curious to find out about unbelievably easy strategies to achieve their goals? Starting from the headline, the text is full of effective words and phrases (e.g. be ready for anything, dramatically, stylish, cool factor, longingly, be prepared, fun and cheerful raincoat, finally you're free etc.)
Gazebos Australia's blog post How to achieve market stall success: Illustrates what is meant by good layout and formatting, so take a look at it.
It's a good idea to start with an enticing headline and to divide your content into short paragraphs neatly organised under logical and also equally enticing subheadings. It's also advisable to use bullet points or lists with certain important words/phrases bolded to foster skim-reading.
Compelling images related to the topic are certainly useful, as well as linking out to some external credible sources. It's also wise to underline the parts of the text where hyperlinks are included to make them easily noticeable.
Besides all this, always encourage the reader to get in touch by putting in a clearly visible CTA button and inviting them to leave a comment, download a file, subscribe to a page, and the like. Also, include some social media share buttons so that the reader can connect with you on social media networks and to like or share your content easily.
The persuasive language use is also good. The blog post is about educating a business owner about how to make a good market stall.
It should, therefore involve language that sets the right context and appeals to the business owners. Take a look a the highlighted words: consumer patterns, tips and tricks, running your small business, grow customer base, refresh your skills, new insights, and others.
For a small business owner who clicked on a blog post that involves improving their business, these are the words and phrases that they find engaging.
The 'Could-be-better' Example
Here's an example of a blog post about baby name trends for 2017 from Alex and Alexa with all the right elements. Take a look:
compelling introduction addressing the target audience
a cute baby image wisely linking out to the store page
an expert opinion cited to build credibility
a clearly noticeable Call-to-action button at the end of the blog post.
content organised under subheadings
social media buttons included
OK. what seems to be the problem, then? Well, you REALLY have to be motivated to read this article if you can neglect the tiny font size used here.
Always remember to mind the layout and formatting as much as the content. It can add a lot to your language, but also take away from it if you are not careful.
Bad Example
Here is a very bad example of a blog post in both layout and language used. It is a blog post by Premier Slim badly titled Herbal Diet Pills May Offer Safe, Effective Weight Loss.
Let's start with the title. Put yourself in the shoes of a potential customer and take another look at it. The first thing that is problematic here is the word May.
This blog should be promoting diet pills. Saying that diet pills MAY be safe is not persuasive. Moreover, it indicates that something bad may happen. It is a very bad way to title your blog post.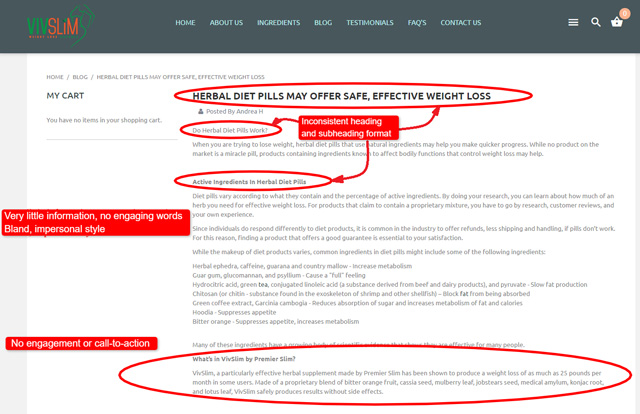 Moreover, while the language uses the correct terminology, the style is very bland and impersonal. This type of text would be found in your instructions with a box of pills rather than a blog post that should persuade somebody to share it or even buy the pills.
Even the conclusion doesn't involve any sort of call-to-action, sharing buttons or anything else that might engage the reader.
You got it?
Now when you understand exactly what we're talking about, let's see why it's important for a copywriter to be persuasive and what mechanisms to use to achieve that.
Importance of Persuasive Language and How to Achieve It
Since the attention span of today's readers is becoming shorter, it's of immense importance for copywriters to create content that is compelling, engaging, and easy to digest. You want people to pay attention to the products and services you write about and engage your readers, right?
Making people read your content to the end, possibly like or share it, and take action as a result of it being useful and appealing can and will significantly affect your future business prospects.
You doubt it? Go ahead, check it out!
It's proven that bloggers can drive more engagement than paid advertising. It's through blog posts that 70% of online consumers learn about companies for the first time. What's more, 81% of people trust the information they get from bloggers.
In addition, Dragon Search Marketing has found that 61% of consumers' buying decision is influenced by custom content, which aims at nurturing a strong relationship with one's existing customers rather than attracting new ones because they're more likely to buy than new prospects.
On the other hand, in 2013 researchers discovered that ONLY 1 in 8 businesses had an updated blog, whereas 80% had NO blog at all! Can you believe it?
How's that possible when we know what a significant impact blogs can and DO have on one's online business?!
But let's look on the bright side of the situation! It's a great opportunity for you as a copywriter to shine and make a living creating effective blog posts in the near future because it pays off when you do it right.
You're still not sure how to actually do it right?
Just follow the basic principles presented in this lecture and you'll get the desired effect.
1: Learn as Much as You Can About Your Target Audience
Create the content your target reader can identify with. Not everyone has to find it compelling, but it has to appeal to a narrow target group you're writing for.
For example, look how this blog post by IZIP Electric Bikes targets their audience well. This eCommerce deals with eco-friendly means of transportation – electric bikes.
They understand their target audience very well: environmentally conscious people who would like some comfort and alternative to the car-based lifestyle. They are probably family people, which raises the concerns about giving kids a ride, hauling groceries and luggage and similar issues.
The title perfectly responds to these concerns, implicating – Yes, it is possible! Look! Somebody has already done it!
The title is Honey, I Sold the Prius! How a Cargo Bike Replaced the Family Hauler. Even if you don't want to buy an electric bike, you will be compelled to check this out.
The entire article is a story about an average, relatable American family (so, no athletes or anyone with superpowers) who had the same concerns as the reader and managed to solve them by buying the electric bike.
The article language is also as compelling. Here is a part of it:
Think about that.
The article doesn't promise crazy adventures and extreme speed. It promises big savings for the family, smart choices and convenience while being eco-friendly. That is because the copywriter understands their target audience well
You see the point?
Write for a real human being, not for a demographic!
Be aware of their worries and ways of life. Explain how the service or product you're describing can help them solve their problems.
Always keep your target reader in mind while writing your blog articles.
2: Make It More Personal
It's better to connect with your audience on a personal level instead of thinking of your imagined ideal reader who actually doesn't exist, isn't it?
Your writing will work better if you succeed in establishing an emotional connection with your audience. Eliciting an emotional response in your readers makes them want to read more. Furthermore, emotions awaken the desire to purchase.
Instead of focusing on how to sell a product, try to focus on how to help a real person. Believe it or not, your readers CAN tell the difference!
Therefore, engage your readers by addressing them directly, using the 2nd person 'you/your' or even their names whenever possible. Empathise with them – find a mutual connection and show you can understand their problem and provide a solution. It builds trust.
Now, let's take a look at this personalised blog post, Was Your Coat Made for You?, aimed at promoting their Made-to-Measure Outwear program. A personal stylist helps each customer to build a wardrobe that they love. It's about trendy, personally tailored men clothes.
What are the elements of persuasion in this article?
Firstly, it has a catchy headline in the form of a question. Moreover, the question is repeated in the introduction and the assumed answer is given. It makes the reader agree with the writer, evokes a slight feeling of dissatisfaction in the readers with what they have, and makes them want to have that very product.
Next, they use some powerful words and phrases such as:
uniquely made for you
armor… for many years to come
luxurious fabrics
100% cashmere
wind and rain resistance
made to be worn comfortably
a timeless coat that will never go out of style
really worth the investment
a versatile option that can be worn for practically every occasion
developed with value in mind
keeps you warm and protected
better than anything else that you've ever worn
What man wouldn't want that elegant practical coat after reading this piece of writing?
In addition, there's a visually appealing photo of the product in use, so you don't have to imagine what it could look like. Nevertheless, when the readers look at it, they can imagine themselves in that situation (walking down the street in a classy coat that makes them look handsome as these models). Who wouldn't want that?
Furthermore, they're addressing the target reader's needs and concerns, offering solutions to overcome their problems right away, thus providing reassurance.
Finally, they wrap it all up with a Call-to-Share although they could've added at least a short sentence inviting people to share the article on social media instead of putting in the share buttons only.
As for the layout and formatting frankly speaking, it could have been better. There are five big blocks of text that hinder skim reading and we all know that's exactly what most online readers do.
However, it is NOT wise to neglect the power of good layout and formatting at all! The next subsection will show you why and how it works.
3: Make the Content Easy to Absorb
Good formatting and clear and precise sentences make your blog easier to absorb and it creates more impact.
To let us prove our point, please, refer to food-safe oils. which type should you be using? by Early Wood Designs of better layout and formatting (at least when compared to the previous example).
Which one would you choose to read if your decision was primarily based on the layout?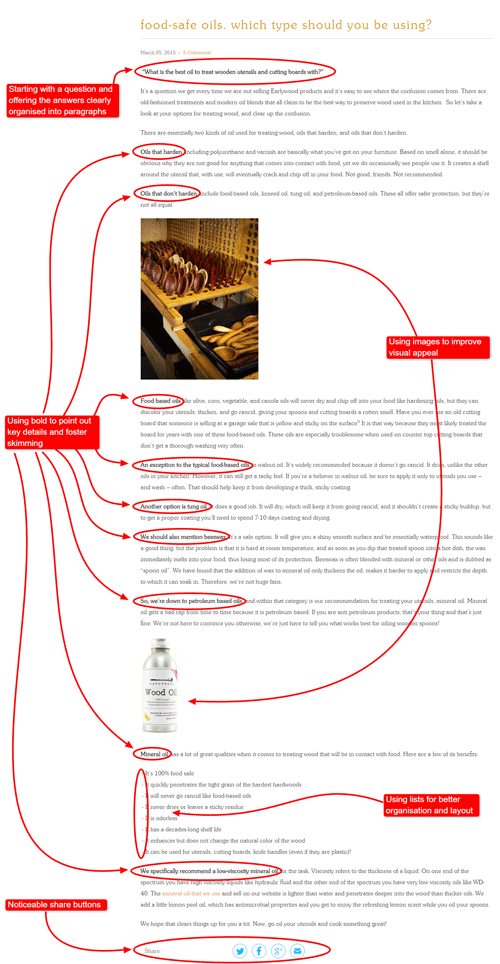 You see how shorter paragraphs, the use of bold, images, and lists let the reader 'travel' through the article with ease unlike those big blocks of text where nothing stands out?
That's the right direction! Let the readers rest their eyes on your articles. Allow them to breathe while reading. In other words:
Don't Neglect Layout and Formatting
The easily accessible layout really does a lot to help turn readers into customers. Thus, use simple, concise words and phrases to explain things, write short paragraphs, include subheadings and lists.
In addition, be careful not to spoil the good first impression using poor grammar.
Check out the CheapShed article on How To Build A Vertical Garden for a decent use of short paragraphs, well-organised subheadings and clearly presented information in a list. Here's a part of it.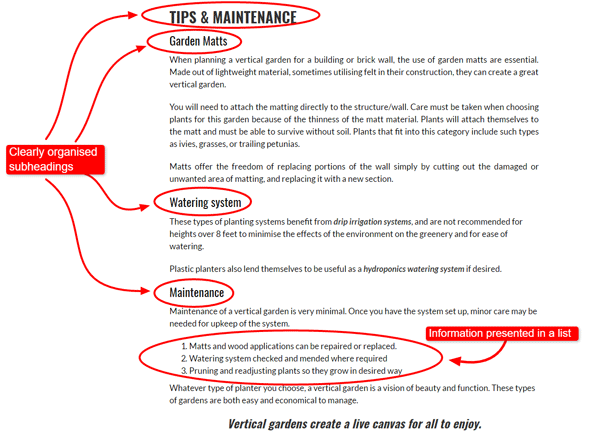 Use Visual Assets
Use images or videos to illustrate your point. Not only that! Use screenshots, graphs, charts, comic, infographics, and other relevant illustration that can help you convey complex information in a way that's easier to digest.
Let's take a look at some good real-life examples.
In their article How to Add Value to Your Home With Confidence – DIY Advice, to present their ideas effectively CheapSheds used an appealing infographic after an introductory textual part. They also included some hyperlinks to their other articles and products, as well as an image with noticeable social media share buttons on it.
Then, in their article Father's Day, Everyday, The Mr. Collection made a good use of compelling images, which lead you to the corresponding product pages of the presents suggested in the article when you click on them.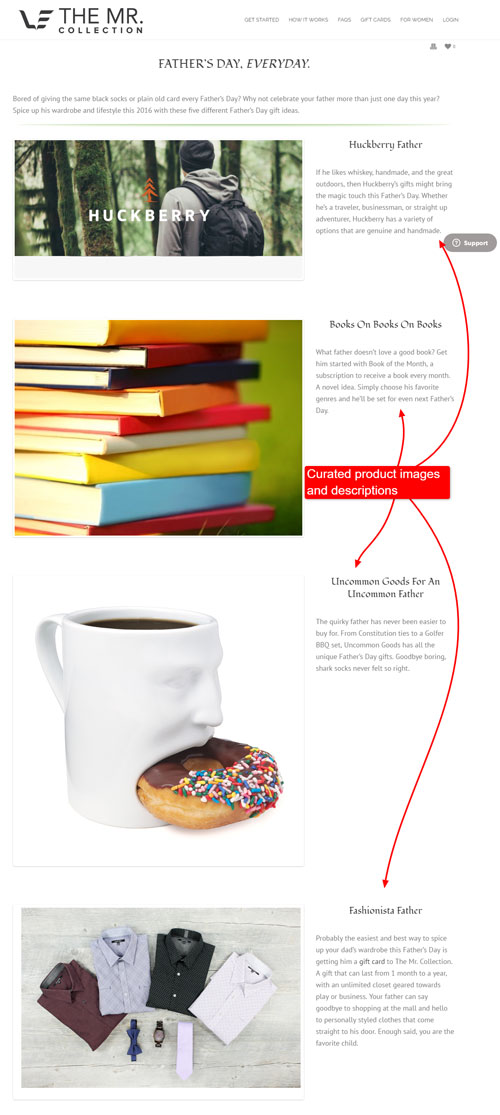 When it comes to incorporating videos in one's blog articles, here's another CheapSheds example which shows how it can be done: How to Assemble a Still a Willow Timber Shed.

Here's also how BolderBand embedded a video in their article Can we help? They included a compelling introduction evoking emotions by using questions, as well as a strong CTA engaging the reader at the end. In the next section, you'll find out more about the reader engagement.
You see? It isn't that daunting!
Engage the Reader
First of all, always be polite and show that you appreciate your reader's opinion. Moreover, ask for it. Involve your reader by initiating a conversation or using a call-to-action.
Here are a few good examples.
In their blog post Kitchen utensils with work ethic, Earlywood did it this way.

This is how CheapSheds tried to engage the reader in their article Selling Your Home? A New Fence Could Up Your Asking Price.

Frank+Oak have this CTA at the end of their blog post Your ultimate guide to holiday dressing.

Here's how Moomin invited the reader to be the first one to find out when the new product's available in their article The First Moomin Art Mug By Arabia.

Then, here's what Paperstone did to engage the reader in their blog post Too Cool To Do Drugs. They asked a question to offer their products and initiate a conversation with the reader. They even included a hyperlink to the product page.
They also invited the reader to subscribe and/or comment on their blog post if they liked it, along with adding clearly visible CTA and social media icons.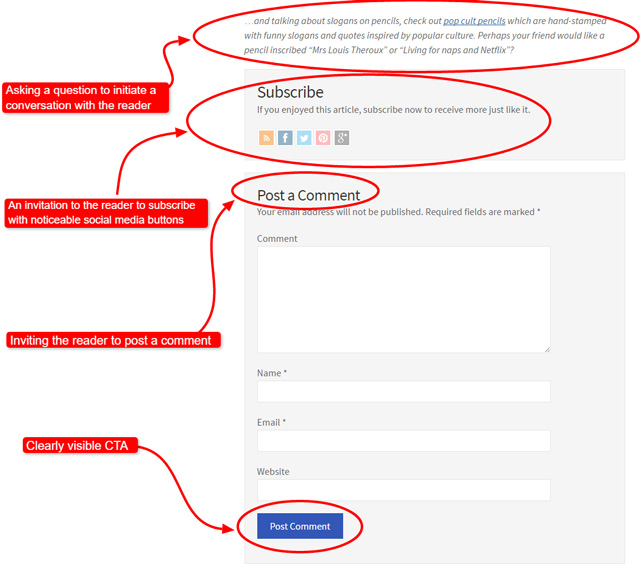 OK. You got it. Enough with the CTA examples. What else can you do to make your content even more appealing and persuasive?
Never Underestimate the Power of Words
Secondly, be consistent and captivate by predicting your reader's questions and answering them in advance or by asking questions where the only possible answer is YES (e.g. You want to be successful, right?). That's how you'll make them trust you and agree with you. As a result, such a reader is much easier to convince.
Alright, but how? Use influential 'action' words. You know? Those simple, yet deceptively powerful words which make it clear what exactly you want your reader to do, such as:
free
new
instantly
how
bargain
discount
guaranteed
proven
protected
because
discovery
results
no risk
get
learn etc.
You get the idea.
In a nutshell, whatever you're writing about, remember to keep it clear and straightforward.
For those who are interested, here's more on high emotion words and what it has to do with marketing.
OK. You've made that content look attractive enough. Is there anything else you should know? Of course. Don't stop polishing it up! You can always do something more to make it better.
The best is yet to come! Thus, keep reading.
4: Learn How to Use the Expert Copywriters' Secret Weapon
A skilful copywriter can easily turn simple words into a powerful tactical weapon. It becomes easy to inspire people for certain actions when you are aware that words can act as triggers. Carefully chosen words evoke certain emotions, which further get your readers take the desired action.
Therefore, all you need to do is:
determine the action you want your readers to take (buy, share, comment, subscribe etc.)
use the precise words to evoke the emotions that will drive that action (e.g. to evoke curiosity, use: confidential, banned, secret, covert and the like).
To find out more about keeping customers on their toes, creating the sense of urgency, exclusivity i.e. scarcity without being too pushy, and other psychological tricks and expert secrets on how to understand consumer behaviour, follow the link to this customer behaviour research and the other links suggested here. You'll be amazed!
Here come more helpful tips to remember and put into practice.
5: Imprint These Tips Into Your Memory
Following these simple tips will make it easy for a copywriter to hit the target when writing blog posts for an online store. So, go ahead! Study, remember, and implement them.
a) WIIFM
Never heard of it? Don't worry. You'll find out in a second.
Writing about yourself (what you do/sell and the like) will probably turn people off, because deep down we are all selfish. Therefore, don't talk about yourself, but talk to your reader (preferably one person). Put yourself into your reader's/customer's shoes and ask:
'What's in it for me?' (WIIFM)
Tell them about the benefits you're offering and give them reasons to act.
Why should they care about your product? For instance, if you go on and on writing about how you sell alarm clocks, people will tune out.
Instead, write how your reader will never be late for their morning shift or an early meeting and you'll have your target audience's attention. They'll want to know more.
For example, the article 5 Reasons to Run 5Ks (Even If You're Slow) truly helps people with valuable advice – it offers value. Moreover, in the end of the article, it offers one of the products as a great addition to the running experience – you won't freeze if you wear one of their hats.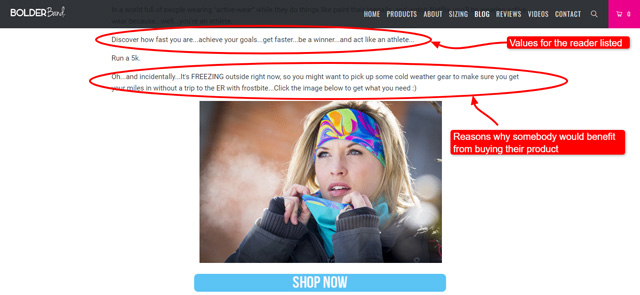 b) Evoke Emotions
Haven't we already mentioned it?
Experts in sales advised us to subtly engage our readers using mainly these emotions:
Pain – everyone wants to avoid it at all costs. So, point out your customer's problem and demonstrate how your product can solve it.
Pleasure – talk about benefits of your product rather than the features.
Curiosity – arousing curiosity will push people to read your content to the end, so don't hesitate – give them an itch to scratch! One way for doing it is to write catchy headlines.
c) Be Assertive and Authoritative
Build authority by demonstrating how you have fulfilled the promise from your headline in your content. Cite your sources, use statistics, expert references, and testimonials to gain credibility and back up that authority.
Here are a couple of good examples.
Edible Arrangements didn't miss the opportunity to use an appealing visual presentationboth of one of their products and the research data to back up the ideas presented in the article Celebrating Your Team: Why it Matters. There are also some other good strategies they applied here (some of them being pointed out in the screenshot below).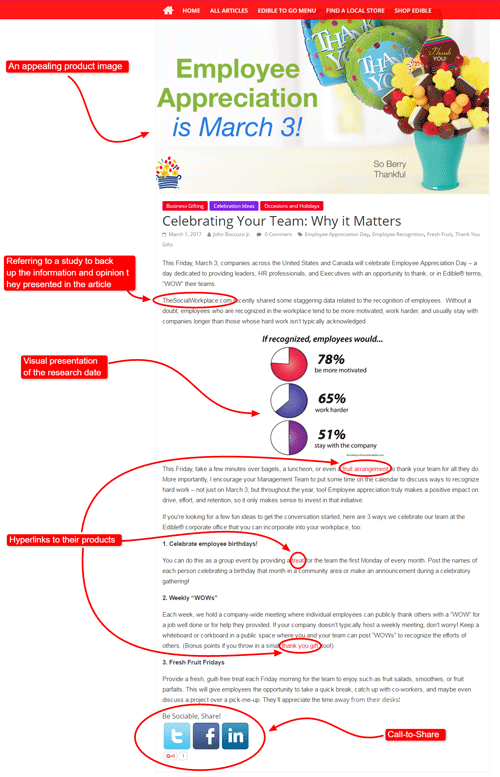 Besides expressing the author's personal opinion, Glory Cycles also referred to a study and to the sources cited in their blog post Crank Length – Bigger Is Not Always Better. Here's what it looks like.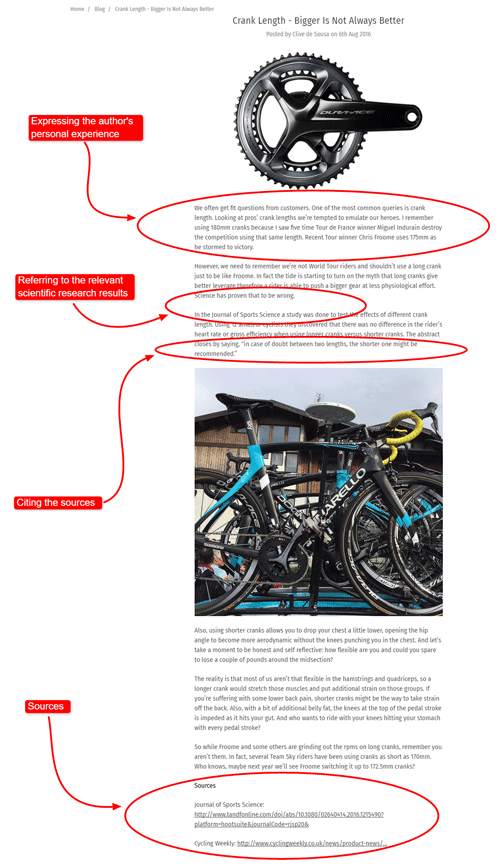 You got it.
There's one more important thing never to be forgotten. Always be honest and mind your tone because that will bring about stimulating positive emotions, which has a great impact on your prospect's decision-making process.
d) People Love New and Free Stuff
Remind the customers that they will get instant access to something, or that you'll deliver the product asap. Nowadays things get old very fast. Therefore, excite them with novelty and improvement. It's crucial for having their trust. Use the word 'free' when it makes sense.
Look at how Edible Arrangements created the sense of urgency by using various persuasive phrases highlighted in the screenshot and stating their offer is valid for a limited period. That way they urged the reader to act promptly.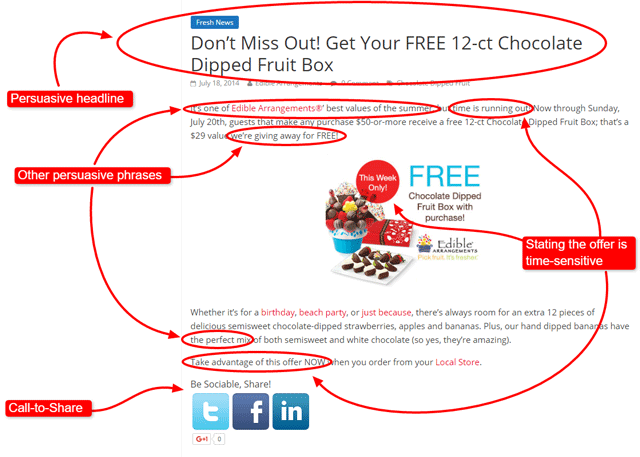 Now, let's see how they offered new stuff to the reader in this blog article. They included clear CTAs and compelling images and word phrasing to offer the reader a chance to save money and to win a prize in exchange for sharing their April Fool Arrangement ideas at the end of the article.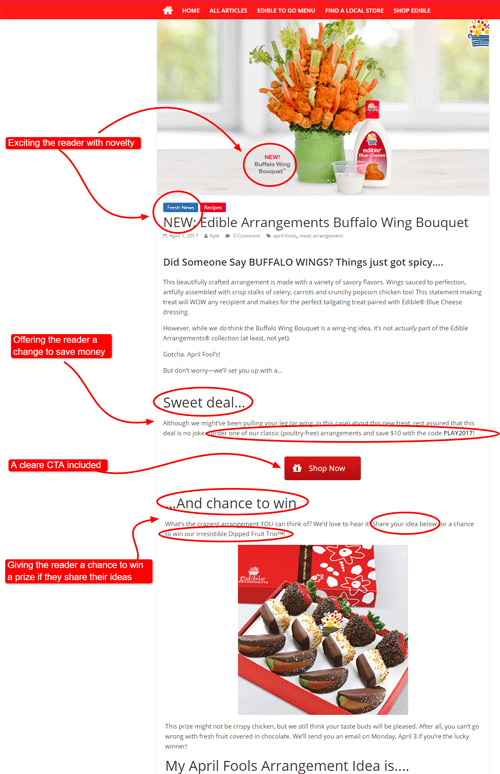 Remember, it's wise to emphasise the instant rewards but it's even wiser to keep your promise!
6: Answer These Relevant Questions
Always check whether your content answers the following questions:
WHAT are you talking about?
WHY is it important to your readers?
HOW does the whole process work?
EVEN IF… – address their possible objections in advance.
All in all, justify why you want your readers' attention and what message you want them to get. Moreover, never forget to use the appropriate tone (e.g. energetic, elegant, innovative, romantic) to convey the message to the target audience, show and earn respect.
In Summary
Persuasive language is what makes any content magnetic, and that is what every copywriter wants to achieve. In a nutshell, you are on the right track if:
you identify your target audience and carefully tailor the content to their needs
your content is concise, simple, and easy to absorb
you establish a personal and emotional connection with your audience
you make your readers trust you and agree with you by using power words
you clearly convey your message to the readers and explain why you want their attention
you manage to build authority and gain credibility