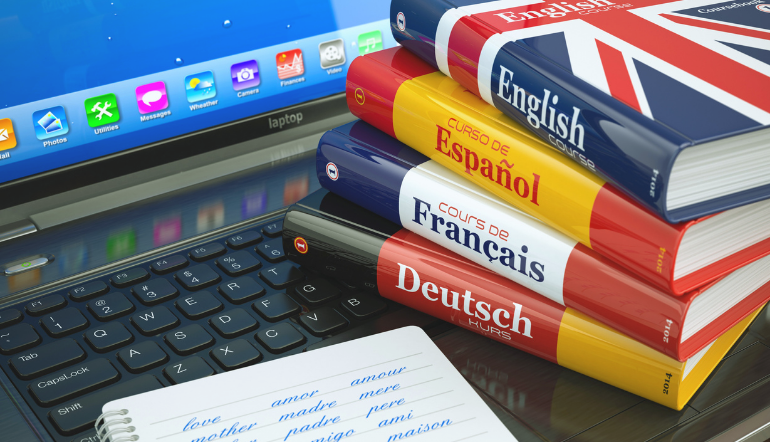 You've got your goal, your motivation and even a good strategy for improving your language. While brainstorming about these important aspects of language learning we have come to one important conclusion:
Take any chance you can get to practice English!
Aren't you glad that we are living in the world with the Internet, where you have thousands of ways, free and cheap resources for language learning? It makes your life much easier.
Still, you should not neglect the traditional methods of improving your English, because, as we already said, every little bit counts.
So far in this course, we managed to:
Bust the language learning myths and boost your confidence about language learning
Learn how to start improving your language by setting goals, making plans and improving your memory
We agreed that you should NOT wait until you feel your English is perfect and that you should start applying for positions when you feel it is good enough to communicate with your team and understand the instructions needed to complete your tasks.
Why?
Because by working in an English-speaking environment, your language will dramatically improve. You will work AND learn at the same time.
Another reason is – within the eCommerce industry, there are many roles, and unless you are a Customer Service Representative, you don't need a good accent or flawless speaking skills. If you are not a Copywriter, some typos and grammar errors are acceptable when communicating with your team members.
So, relax, have fun and start boosting your English skills.
We already explained how in the last two lessons, and we also mentioned that you should try and dedicate at least half an hour or more a day to your English skills. That sounds good and easy, but where to find those sources of English for everyday use?
That's where we can help! The Internet is overwhelming when it comes to English learning resources. You have apps, Youtube channels, blogs, podcasts, Facebook groups, Twitter accounts and much more!
It seems as if you have TOO MANY choices!
Don't worry, we have done the footwork for you. This lesson will showcase the best, most frequently used and the most efficient tools and resources we could find for you. Take a look at them, try them out and see what works best for you.
Given that you are preparing for an online career, let's start with the online resources for your language improvements.
Online Language Learning Tools and Resources
The resources include exercises for different language skills, courses, apps and other. So, you decided to start boosting your language skills and you typed in learn English into your Google search bar. There must be something there, right?
Well, it is much more than just something. There is EEEEVERYTHING!

This includes all sorts of different sources and tools, so let's sort them out and pick the most useful and the most efficient ones for you.
We'll classify them according to their format so you can narrow down your search and pick the content and the format that suit you the most.
Online Courses and Lessons
Let's start with the most traditional way of learning English – through courses and lessons. However, the Internet now helps you take those online courses from home. Usually, these courses work on a similar basis like this course you are taking right now.
You make your account, log in and go through the lessons available to you. Some of those websites offer lessons that you pick yourself, others guide you through them in a particular order and some have online tutors that work with you.
There are online courses offered by well-known online educational platforms and there are those that are offered by specialised language learning organisations. We classified them accordingly, so have a look and see what works for you.
1: Lingoda
Lingoda is a specialised online school of English. You will be working in groups of 5 students, when you decide it is time for your lesson. You have your lesson path to follow and you can do it, mostly, at your own pace.
This means you will not always use the same teacher because if you are about to take lesson nr. 22, you will join the group that is currently working on that. That probably won't be the same group you already worked with.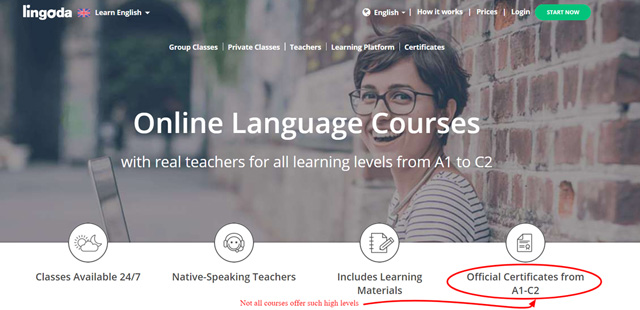 Reviews say that the teachers are good and patient and that the material is excellent. Make sure to go online at least 15 minutes before the lesson starts because you will have to download material and software for your lesson.
2: Ginseng English
Ginseng English offers CEFR curriculum and experienced teachers. Not all of the teachers are native English-speakers, but that is not a bad thing! Ginseng English offers general and business English, from A1 To C1 Levels. 
You would be working with other students and not 1-on-1 with a teacher as they believe it is more effective. They offer 10% off to those in need.
3: London School
London School combines the regular online language courses with individual Skype lessons with English tutors. It is a great combination for those that love learning alone, but also like to get regular feedback on their progress.
The school has its own level scale that you need to check before applying for some courses, because, sometimes, a certain level of language is necessary.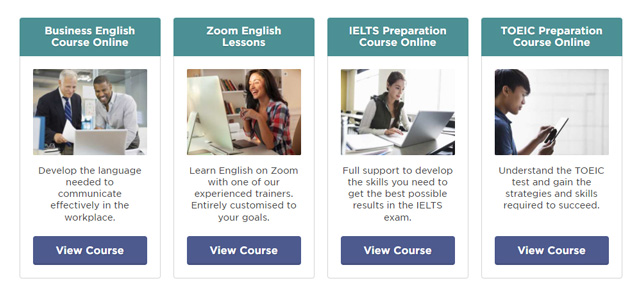 4: British Council
British Council is a big name in the ESL (English as a Second Language) industry. They offer different online and offline courses for different countries.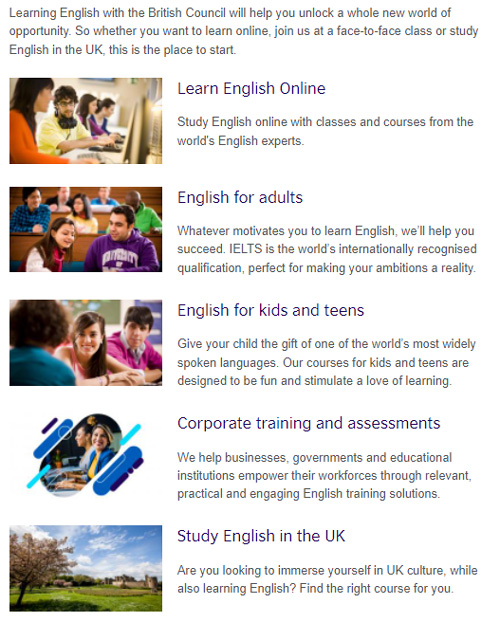 Find out what British Council has available for you.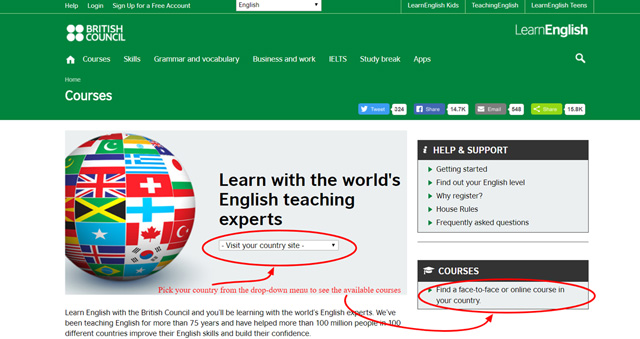 5: ESOL Courses
ESOL Courses have several different courses, but as a Virtual Assistant, it would be useful for you to pick their English for Work section.
6: Effortless English Club
Effortless English Club is an audio course that consists entirely of audio lessons you can listen on the go. Here are the contents of this course: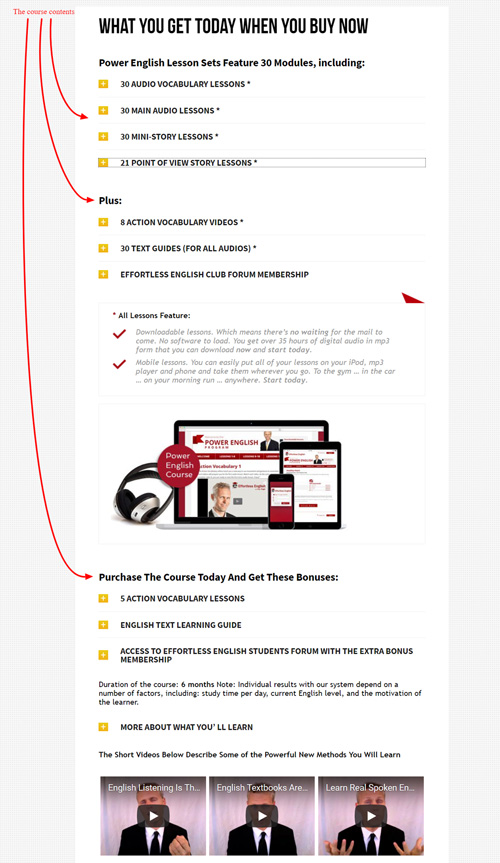 These are the courses and lessons created by people and organisations that deal only with language learning. On the other hand, there are some superb online learning platforms that also offer English lessons.
7: Coursera
Coursera is one of the biggest online platforms that offers courses by world-famous universities. They have courses on a wide range of topics, and luckily for you, learning English is one of them.
Courses that we recommend from this platform are aimed at those that already have a high level of English and want to perfect it.
The courses that we recommend you take into consideration are:
Gain Confidence Using Advanced Grammar Structures is for those that already have their grammar at the intermediate level. The course is not free, but you can apply for financial aid from Coursera.
Take Your English Communication Skills to the Next Level is not an English language course, but it is very useful for those that are on this learning path. It teaches excellent email writing, how to communicate across cultures and how to prepare presentations.

While it is not meant to teach you English, it is an excellent resource and it is a great way to expose yourself to the language that contains vocabulary in relation to your future workplace.
Improve Your English Communication Skills also focuses on professional communication. It is divided into several courses, each with a separate topic. You can choose just some of those courses. It is not necessary to take the entire learning path.
Different Language Learning Apps
They have an app for everything these days! This is a very common and a very true sentence. It also means that there are apps for learning languages, as well. These are very appropriate to the modern lifestyle of today's fast-paced world.
You can learn by using these game-like apps wherever you may be: in the public transport, during your lunch break, while waiting for your friends.
Mostly, they are cleverly designed to be interesting and to offer to you content in different forms. They allow you to find out the meaning of new words by presenting them in a context that is familiar to you, so you conclude their meaning on your own. Something similar happens with grammar structures, as well.
Language learning apps allow you to practice, track your progress and sometimes even build your own vocabulary. They mainly accomplish this by presenting you with different types of content that match your interest.
While they are similar in the way they function, each of them has something that makes it different from the others. That little something may just be a huge difference to you.
So, here are tutorials about the most common language learning apps, so you can pick the right one for yourself.
1: Babbel
Babbel is available as a web and as a mobile app. You practice the language by exploring real-life dialogues. It means that you learn vocabulary from a context and that helps remembering important words. It involves speech recognition software to help you with pronunciation.
The lessons are 10-15 minutes long for easier 'consumption'.
2: Duolingo
Duolingo is another famous language learning application. Here is a video that explains how the app works. The person on the video is learning Esperanto, but you just need to see the way it works.
3: FluentU
FluentU is mainly based on the videos that cover a wide range of topics and formats. You will easily find a topic that interests you. They also have subtitles which can be translated word by word, so you learn different words in a context.
The main downside that the users mention are the robot voices used in the app.
4: Bliu Bliu
Bliu Bliu truly makes your learning fun. It is based on jokes! However, those are some very old jokes – which is actually great! You already know the story and you can conclude what the most of the words mean and learn the new ones. Lessons last for about 10 minutes and you get your own Host.
They help you stay motivated and help you with the learning.
5: LingQ
LingQ is a platform with a limited free use and there is a paid version, as well. It has a rather complex system of earning, coins and points that you can use for different things from changing your avatar appearance to buying the time with a tutor.
Other apps have a more structured approach, while LingQ allows you, even, to add your own material and learn from it.
6: Yabla
Yabla is best used for intermediate and advanced learners who want to improve their language by the means of immersion. You can watch the videos, play the games and learn by using flashcards.
Here are some more technical details about how it is used. You can read in this Yabla review.
7: Anki File
Anki file is one of the most frequently used flashcards apps. It has not been created only for language learning, but it can be used quite well for boosting your vocabulary. Read the Anki manual thoroughly, go through these useful 10 tips and watch the video.
8: Memrise
Memrise is another well-known app used for language learning. It is based on a flashcard system and the spaced repetition program. That makes it excellent for boosting your vocabulary. It also includes courses, but those are created by the users and not by the developers.
Therefore, you might want to use it in combination with a more structured course and approach.
Besides these apps that contain entire English language courses within themselves, there are those that help you work on an individual language skill.
9: My Wordbook 2
My Wordbook 2 is an app by the British Council, aimed at those that want to build their vocabulary using flashcards, images and sounds.
10: Grammar Express
Grammar Express has a bundle of apps that mainly deal with the grammar, idioms and sentence structure. It is perfect for those that want to practice their grammar on the go.
11: PLTT Emineo
PLTT Emineo offers interesting examples that help you brush up your grammar. The creators took extra care to create examples that are useful. They are in the forms of everyday sentences that you actually use in your conversations.
This can come in handy in your talks with your team members. PLTT offers different plans, but even with a free plan, you get as many as 300 examples per day.
12: Speaking Pal
Speaking Pal is excellent for practicing your speaking skills. You get to practice dialogues with a digital partner and with the help of voice recognition software.
Here is a demo of this great app, created by its developer:
13: Learning with Texts
Learning with Texts doesn't really look that nice, but you have to forgive it, since it started as a hobby and was created by a single person. It doesn't mean it is not useful, on the contrary. It allows you to upload texts and audio files, combine it with tools like Google Translate in order to learn.
It takes some technical skills to install it and start it, but those that use it say it is worth your while. Follow their How To manual and watch the video for more instructions. The video is about French, but you can easily go through the same procedure, only for English.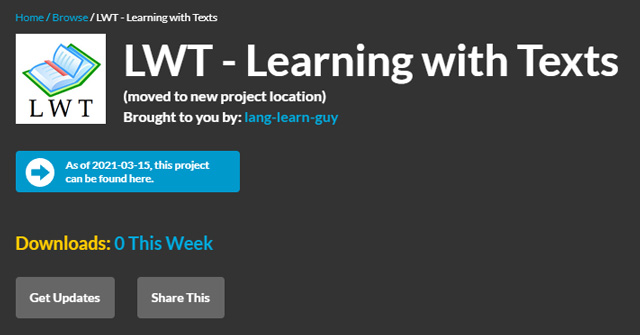 Now, we have suggested different courses and excellent apps to give you a certain structure in your language learning.
However, when you have that structure, you will definitely want to enrich it with different types of content. Let's try with websites and similar resources.
Language Learning Resources and Useful Websites
1: Benny the Irish Polyglot
Benny the Irish Polyglot is one of the best and the most inspiring language learning websites online. If you want to check out only one website – this should be it!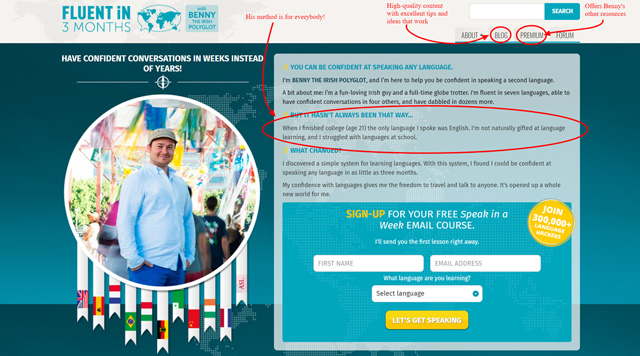 Benny bases his language method on the fact that you should get over your shyness and start speaking right away. Remember him from our lesson Busting the language learning myths?
We already included another of his TED talks into the first lesson of this course, but his words are so inspiring that it would be nice if you took a moment to hear him out one more time. This is similar, but not the same.
Benny is also very present on Facebook, Twitter and other social media. His website contains links to his profiles if you are thinking about following him (pssst…you should!)
2: Cambridge English
Cambridge English is one of those high-authority websites for English learning. Therefore, take some time to see what sort of resources they offer.
You can browse them by Course Type, English Type, Language Level, Uses, Resource Type and File Format. There has to be something you'll find useful.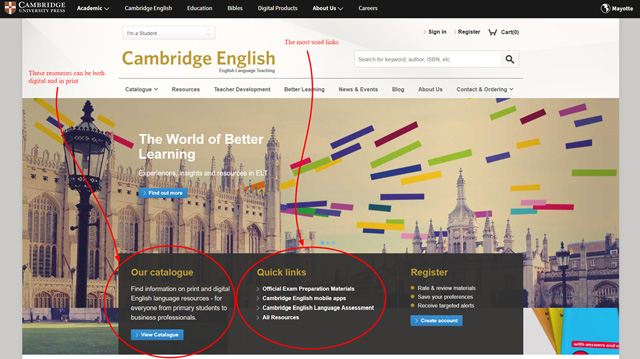 3: British Council
British Council offers resources to use at your own pace, besides the courses that they offer. The resources include exercises for different language skills, courses, apps and other.
4: BBC Learning English
BBC Learning English is another legendary name in the ESL industry. They offer several different courses that consist of videos on different topics. You can use them for language immersion or as educational lessons to learn about language and culture.
5: TED IELTS
TED IELTS is a video archive for TED talks that you can use to improve your reading, listening and vocabulary. You get to watch and listen very interesting videos on amazing and exciting topics.
You can read the transcript, as well, and learn from that. It is mostly designed for those who want to pass the IELTS test, but if you don't tell them you're not using it for test preparation, we won't either!
6: Lyrics Training
Lyrics Training improves your listening, vocabulary and spelling, by allowing you to listen to your favourite songs, read the lyrics and fill in the missing words. Some may think this is a perfect thing for a karaoke party, don't you think?
7: iTalki
iTalki is a social-network-type of a platform where you create a profile and then find language learning partners for language exchange. You can also find a teacher, but those talks and sessions are usually paid. Take a look at how it all works.
8: BabLa
BabLa is an online dictionary at its basis, but it is much more than that. It contains games, different phrases and even materials about living abroad.

9: English Central
English Central bases their language learning method on videos. You browse the videos by topic and level and go through their 4-step learning path:
10: Activities for ESL Students
Activities for ESL Students will remind you of your old grammar books. It is packed with exercises on different grammar topics. You just need to dive in, find what you want to practice and start the drill.
11: Many Things
Many Things is a rich database of different resources for ESL students. It has grammar, texts, videos, audios…whatever you may want to explore and improve. The interface is not particularly interesting, but what it lacks in visual appeal, it makes up in quantities of material.
12. Dave's ESL Cafe
Dave's ESL Cafe is a legendary online place where ESL students and teachers meet. It has forums, exercises, blog posts, quizzes and…well, you just have to see for yourself! Even so, here is a quick review about it.
13: Lindsay Does Languages
Lindsay Does Languages is a website of a very enthusiastic ESL teacher with a useful blog posts that often contain fun tips for better language learning. She also has a library of free language learning resources that you may want to check out.
14: Business English Pod
Business English Pod specialises in business English. It can come in handy if you want to improve your language in that direction. There are video lessons, podcasts, quizzes and all the other tools an online English language learning website has, but the context is business.
In the end, here is what others recommend: The 101 Best Websites For ESL Students in 2016
Podcast
We agreed that one of the best ways to improve your language is to get exposed to as much of your target language as possible. We also agreed that you have to work on your language, at least a bit, every day.
This is where podcasts can help you if you don't feel like you have the time for some 'serious' work or you are on the move.
Listening to podcasts will:
Boost your vocabulary
Improve your listening skills
Teach you about the culture and expand the context of your target language
How should you pick the right podcast for you? You should search among those that you can understand for the most part. If it is too difficult, you will hardly learn.
On the other hand, if it is too easy, it is not challenging enough. It is important that the podcast is interesting for you.
How many podcasts should you follow? Two or three podcasts are quite enough.
How do you actually listen to a podcast? Read up here: How to listen to podcasts: everything you need to know
However, we also said that the content needs to be appealing to you, so we made two lists of podcasts – the first one is the list of English language learning podcasts and they are good if you are somewhere along the lines of the Pre-Intermediate level.
If you need a boost to achieve higher levels of language, you should also listen to the other group: the podcasts on various topics that may interest you.
Let's start with the podcasts meant for learning English:
The English We Speak is a part of the BBC podcasts. It deals with expressions incorporated into dialogues and natural conversations.

Daily Easy English Expression Podcast presents a word or an expression in every episode, so you learn it from the context. It is not too long and probably best suited for lower to intermediate level students.
VOA News – Learning English works for all levels. It is a language learning podcast from the Voice of America News. There are several levels that you can choose from and enjoy the nice pronunciation and diction of real radio speakers.
Teacher Luke has been creating his podcast since 2009. He is a DELTA certified teacher with experience and a stand-up comedian. Can you think of a more interesting person to listen to when it comes to teaching English?
All Ears English is created by two fun ESL teachers. They broadcast 4 times a week and their goal is to transfer you from the Intermediate to the Advanced level. Their topics are interesting and there is not a dull moment in their podcast. They use American English.
ESL Pod has a wide range of useful topics. You can even download the audios for later listening, and you get learning guides. You have the two options: daily and cultural English. Both of them are useful: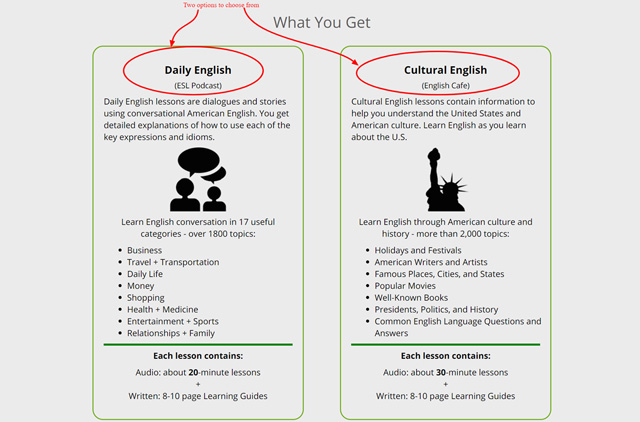 Splendid Speaking is meant for Advanced learners and those that want to reach that level.
Real Deal English offers headlines and current news and events as a means of listening practice. Try it to improve listening skills and your vocabulary while learning what's going on in the world.
News in Slow English is all about learning English by discussing headlines and current news. The language used is adapted for non-native speakers.
Macmillan Business is a podcast of a renown publisher of ESL textbooks. Beside every episode is a note that states which level of language is needed to truly enjoy the given episode.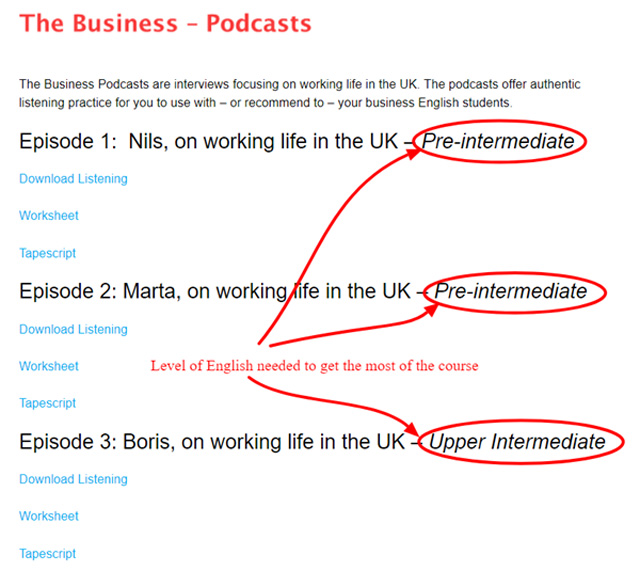 You can also search for more such podcasts on Player FM.
Not all the podcasts you listen have to be about language learning. You should pick different podcasts on the topics you like and try to expose yourself to the natural language that is not adapted for the learners, as long as you understand it for the better part.
Given that you are starting your online career, we chose some podcasts that talk about related topics, eCommerce or even balancing home and work. It can help you build your vocabulary about the industry and help you understand the entire concept.
ABC Radio is an Australian online radio that covers many topics from News to Entertainment. You can easily browse the categories and pick the shows that look appealing to you.
Being Boss is a podcast created by two amazing ladies: Emily Thompson and Kathleen Shannon. They interview different entrepreneurs. This can be interesting for you because the interview form will allow you to practice English and listening skills and the topic of online business will expand your vocabulary about your future industry. Not to mention, these talks are very inspiring.
Boss Mom is a perfect and very engaging podcast for all those moms out there that want to work from home to achieve better work-home balance. It is relevant in terms of business and shows a deep understanding of the life of a working parent.
Think about all those people from your surroundings who don't think that your online career is a legitimate career. Boss Mom understands those troubles and tackles them in her podcast. Just look at this episode title. Relatable, right?
Smart Passive Income is a podcast that deals with the topics of having an online business. It contains strategies, interviews and episodes aimed at ensuring different types of online income. It is a goldmine of context for those who want to learn English that they plan to use mostly in the business environment – you!
Lose the Cape! advertises as the home of a podcast and resources for busy moms. Many of the students are actually parents who want to spend more of their time with family rather than in the office. Lose the Cape consists of the talks and episodes aimed and that audience.
Think Creative Collective is aimed at those that want to create and launch their own business. Since you are about to enter the world of online stores, it is good that you learn as much about it as possible, while boosting your English at the same time.
eCommerce Fuel is one of the strongest online communities for eCommerce store owners who run successful businesses. Isn't that a great opportunity to learn about their values, issues, the way they think and run their businesses? Again, you can do it by practicing your English at the same time.
NEW PODCAST: The Art of Reaching Your Full Potential https://t.co/lPKXfogGIk

— eCommerceFuel (@ecommercefuel) December 9, 2016
My Wife Quit Her Job is another podcast for those that want to start and run their own online business. In this podcast, you will be able to listen to the successful business owners telling you how they managed to change their lifestyle by starting a business from the scratch with a limited budget.
Build My Online Store has a very straightforward name. This is one more podcast that can help you get acquainted with the online business vocabulary, context, topics and ideas.
The Fizzle Show is made for creative entrepreneurs who see their online work as more than just work. The episodes are inspiring, energetic and helpful. However, they sometimes contain some strong language. They bleep it out, but beware if you are about to listen around children.