The aim of this guide is to help you write good quality product titles that are of great value to search engines and useful to readers.
That is why you need to learn how to make good product names. It means learning rules of good syntax and punctuation. Also, it involves carefully choosing which words to use and which to avoid, how to add value and include all the relevant information.
If you don't write the product titles that people like – it will bury your product, as your potential customers won't take the time to actually see your product.
That's the first thing about the product a potential buyer encounters, which makes it as relevant as an advertisement.
If you don't write product titles that search engines like – it will not reach the readers, as the search engines won't mark it as relevant.
Search engines compare a customer's search query with the name of a product, and then decide whether it is a good match.
If a customer is searching for a "wood watch" then it is more likely that our products will be shown in the search results if product titles have some matching words.
Writing a good product title takes practice!
Watch this screencast to get an overview of the entire process. You can apply this method to any product title writing. The product used in the screencast is just an example.
Creating Consistent Product Title Format
Writing an effective product title for an item someone wants to sell means leaving a compelling first impression on potential buyers. That is why it matters.
The product title should fit closely with the manufacturer's title but does not have to beidentical.
The title will usually follow a standard sequence of words. Brand name followed by product type, some characteristics and then perhaps a size or other unique characteristic.
Example 1: Shelta Avalon Vinyl Beach Umbrella 200cm UPF50
Shelta is the brand name
Avalon is the name of this actual product
Vinyl denotes a unique characteristic about this product that sets it apart from others in the range
Beach Umbrella is the type of thing (category) it is
Example 2: Apple iPhone 5s With Bumper
Apple is the brand name
iPhone identifies what the product is
5s identifies a unique characteristic and type of product
With Bumper indicates that this product comes with an additional thing/accessory
Since the product name contains the word "phone" we don't need to add "phone" at the end of the product name
It is extremely important for potential buyers to be able to single out the product you are describing from thousands of other competing products. That increases sales and your employer's (i.e. eCommerce store owner's) income, which further positively affects your job stability.
Product Title Punctuation
At first, one would wonder what's wrong with using correct punctuation. Isn't that something we were taught at school? Well, yes, but things are a bit different when it comes to writing product titles.
This one is a little hard to explain and find examples for but suffice to say avoid including punctuation in your product titles.
You wonder why it's so important? Because it has certain negative consequences a serious copywriter would undoubtedly like to avoid.
Some shopping carts and some search engines will replace the punctuation with "escape sequences". This means that your title ends up not necessarily making sense to your customers when they read the title in the search results.
The punctuation is converted, by the search engine or shopping cart, into a seemingly unintelligible sequence of random characters. This may and probably will result in low product ranking, which has a decline in sales as a direct consequence.
Punctuation marks that are often used, but shouldn't be, include ! * – _ or ( ).
Wool&Prince use a hyphen in their product names, because the type of shirt is called "button-down" and that word already contains a hyphen. That's why it is justified in this case.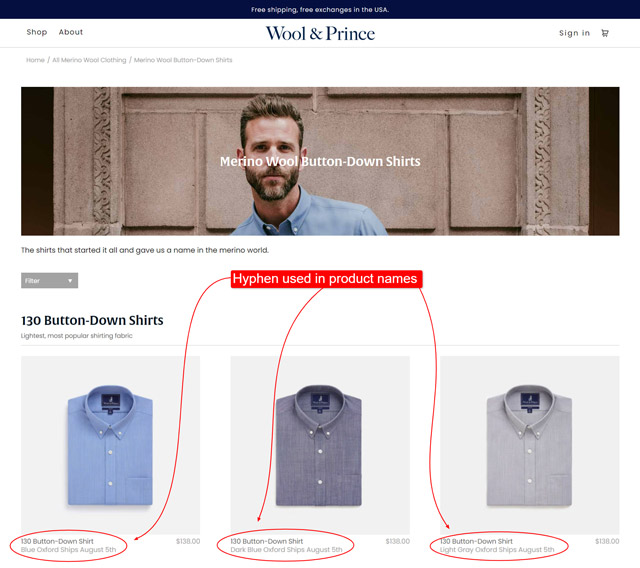 However, it is okay to use a slash mark for denoting a two-tone product (e.g. "pink/silver" in "Chanel Pink/Silver Leather Handbag").
For instance, it's acceptable to write: "Shelta Cottesloe 200cm Beach Umbrella Red/Yellow 98% UV Protection Tilt Top Vent."
On the other hand, you shouldn't write: "Shelta Cottesloe (200cm) Beach Umbrella Red & Yellow, 98% UV Protection! Tilt Top Vent."
Always tend to create clean content and product (or any other) titles and use punctuation only where it makes sense to do so.
All in all, watch your punctuation online! If you follow this link, you'll find some valuable advice on how and why.
Product title syntax. When it comes to syntax, it's crucial that you keep it consistent.
For instance, Write The Product Titles Like This With Uppercase At The Beginning Of Each Word.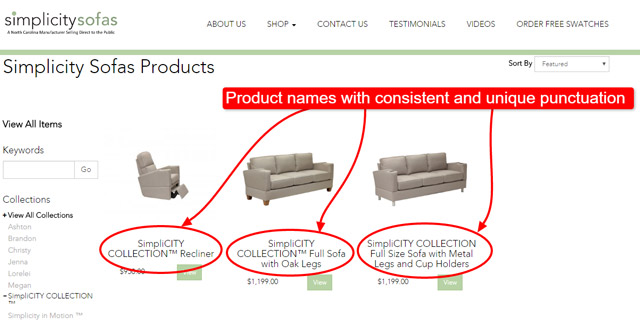 If you are using size, such as 3 metres, keep it consistent every single time. Do not use "3 metres" in one title and "3m" in another.
Good example: OZtrail Deluxe Gazebo 3m x 3m Marquee
Bad example: OZtrail deluxe gazebo
Bad example: OZtrail 2m x 3 metres Gazebo
Make sure you follow your employer's (i.e. store owner's) rules for consistently creating each product title, included in the store's Knowledge Base (if any).
Product Titles That Sell
Here are some more helpful hints on how to write product titles that sell on marketplaces, with special attention paid to what to include and what to avoid in your titles, together with some good and bad examples.
Always remember that a title that sells a product works in two ways:
By creating the first impression about the product from the search results (and about the one who described it)
By providing the main keywords making it easier for the potential buyers to find the product you are offering
Therefore, make sure you include as much as possible of the following into your product title:
The brand name, and/or model name
Some unique characteristics, such as material, size, colour (but don't list too many details)
Use plain, understandable language
On the other hand, here's what you should avoid at all costs if you want to write a great product title:
Punctuation and special characters
Overuse of acronyms
Using email or website addresses
Misspelt words/typos
Using profanity or multiple languages
Exceeding 70 characters
Remembering and following all these rules sounds like a daunting task to you, doesn't it? Don't worry! You'll get the hang of it very quickly. All you need are some examples and a little bit of practice.
Now, let's compare and contrast some good and not-so-good examples of product titles.
Example #1
BAD: Shelta Blue Umbrella
GOOD: Shelta Blue Doppler Long Handle UPF50+ Umbrella For Women
Example #2
BAD: Beach Umbrella
GOOD: Beachkit Maxibrella Royal 240cm Canopy Vent Beach Umbrella
GOOD, but a bit too long: Shelta Cottesloe 200cm Beach Umbrella Navy/Turquoise 98% UV Protection Tilt Top Vent
Can you see the elements of product titles we've mentioned earlier? You can probably notice some crucial elements missing in these bad examples, which makes them less precise and less credible. Think about that.
Adding Value to Product Titles
Sounds difficult? The following examples will aptly illustrate this important point.
Example #1: "Como 8 Person Family Canvas Tent" is more useful to a customer than "Como Canvas Tent".
You see? It's not that difficult! With the addition of descriptive words the customer is able to quickly read that not only is this a tent made of canvas, but it is also suitable for up to 8 people, and that means possibly a family.
However, these are not just random words that have been added to the product title. For example, we would never add "best" or "popular" or non-factual words to the product title. Don't add opinions to titles, just facts.
The most useful "added value" words to add to product titles are keywords. We sometimes also refer to these as synonyms.
A "keyword" is a label used by search engines to categorise all the information on the Internet. In this example you'll notice that we have used both "8 person" and "family". These two keyword phrases could be interchanged as they have relatively similar meanings for the customer.
Example #2: "OZtrail Deluxe Gazebo 3m x 3m Portable Shade" is more useful than "OZtrail Deluxe Gazebo".
By adding in the dimensions "3m x 3m" we are helping customers to understand the size of the product. And by adding "Portable Shade" we are helping customers to understand that this is not a wooden gazebo that sits in the backyard, but is instead a lightweight metal and fabric canopy structure.
This example shows that sometimes it is important to add a keyword/synonym to the heading title in order to give the primary word (gazebo) more context.
Finally, whatever you do, be careful: avoid redundancy! Remember? Do not include too many keyword synonyms i.e "Como 8 Person Man Family Large Canvas Tent Tents". This looks like spam to both search engines and customers.
Avoid Using "New" in a Product Title
Doesn't it feel a bit pretentious when someone describes an item as the best, the most popular, brand new and revolutionary?
For instance, eBay Store Owners will often use "New" in the title to denote that the product is "new" as opposed to being a second-hand item.
This is particularly relevant for the eBay marketplace as it began it's life as a second-hand platform. Not so relevant for an online store with brand new products! So, be careful who you are writing for!
In an online store one might sometimes be tempted to use the word "New" in the product title to show people that these are the latest products in their inventory.
When you include the word "new" a customer will read it as you intended, but the search engines will see it as part of the product name.
Search Engines Don't Like Title Changes
It is important that once you write a product title you either don't ever change it again, or very rarely. Shopping cart software will often use the product title as the basis for the URL structure.
If you do change the product name in order to remove "new" (when it's not longer new!) then the shopping cart software will also update the URL.
Let's take a look at the following example to see the effects of changing the product title/name:
Changing the product title has a cascading effect. When you change the product title then the URL will usually change. This means that the old URL will have been indexed by the search engines.
The next time the search robots visit the store they will no longer be able to find the product with the changed title/URL. The search robots are not intelligent enough to 'understand' that you simply removed the word "new".
How to Get Away With Changing Titles
If you do change the product titles then you will need to set up 301 Redirects in your store. This will help the search engines find the changed pages/URL.
In the above example you'll see that the word "NEW" has been added next to the product title. This store will have used a "tag" to insert the word automatically into the page template, but without connecting it directly to the product title name.
You will need to speak to a Web Developer about updating a shopping cart template with a "tag" in order to achieve this effect.
In Summary
By the end of this lesson you need to understand how important the product names and URLs are. You need to know how to write valuable product names that work well with search engines and customers alike.
Remember that online customers cannot see or touch products. It's up to you to bring them to life, to inspire confidence among customers and to encourage sales. Moreover, you're supposed to do it using only the power of your own words.
To write product titles that search engines would love, make sure you:
Decide on a consistent product title format that you can use for all products in a store
Avoid using punctuation marks in product titles as these are converted into unintelligible sequences of random characters
Be consistent with your syntax
Avoid using "New" in product titles, instead add it as a tag to your product title
Add more value to the title by adding useful details
Be aware of your target audience
Pay special attention to what to include and avoid in product titles
Never forget that an effective title is an advertisement for the product someone wants to sell and you, as a copywriter, are responsible for its efficiency