In the previous lesson about the importance of proactive live chat support and kickstarting a sales conversation while helping customers, you realized how pivotal it is for you as a CSR not only to provide customer support but also to make money to your employer. Right?
Yes, you're there primarily to answer the customers' queries. But if you want to become an amazing CSR who is going to keep that fantastic job for years, you must be able to create sales.
Still can't remember why? Let us remind you.
Because, when you make money for your employer's business, you'll become an immensely valuable person to the company.
OK. But HOW can you PROVE to your employer that you're a truly valuable person?
Don't worry, there are some quite simple ways we're going to show you in this lesson. You just need to understand them deeply and make good use of them later in your online career.
So, let's get started!
How to Track Time and ROI to Prove Your Value as a Live Chat Csr to Your Employer
Mind you – this is a critical lesson for you to understand and learn because your future online career may depend on this knowledge once.
You'll see how your employer can monitor your chat performance, but your primary goal is to learn how to keep track of it yourself so that you can demonstrate your value.
Good news – it's all in your hands! And it's pretty easy to do.
Yes, you've seen it right. It's within YOUR control to show your value to an online business.
Before we start teaching you how, let's first say what ROI is (in case you wondered)
The return on investment (ROI) is a crucial term used by any company or business to measure the effectiveness of the performance of the business to generate sales and support for customers, as defined in Seven Metrics to Measure Live Chat Agent Performance.
Thus, understanding the ROI for live chat is the foundation you need.
(Note: You'll find more sources about ROI towards the end of the lesson. Now it's enough for you to realize what it represents.)
Then, we can demonstrate the whole process.
Check out a real-life example of how Ivy, a live chat agent in an online store, tracked her performance over a period of 16 days (between 26 October 2011 and 2 December 2011).
She created a simple spreadsheet with the basic information included.
Surprised? Don't be! Yeah, a plain spreadsheet would suffice!
Here's a small part of it just to see what it looks like before we dive in:

Now, let's briefly analyze what relevant information she put in it (and how she proved her value to the business with these details):
The date of the chat conversation
The customer's name (when she could find it out)
What product they're inquiring about (because live chat tools usually show you what product a customer is looking at, as you can see from an example screenshot below)
The customer's email address (if they were willing to provide it)
How long she talked to each customer (she could see that recorded on her timesheet)
Whether they bought a product right away
Checked and noted whether they purchased the product one week later (and if they did, she typed in the invoice number and the purchase amount)
The company's share column included the profit her company made from every purchase (in this case, it was 10% so, for instance, when she sold a product worth $299, her company earned $29.90 – see the screenshot below)
Her (the CSR's) cost per discussion (calculated like this e.g. if it took her 0.25 hours to sell a product and her hourly rate was $5.56 (or around $5 – $5.5), it means that her cost for that particular discussion was $1.39 as you can see from the screenshot below)
At the end of a certain period, she would calculate the total purchase amount, as well as the company's share and her total cost for that period as shown below

When you take a closer look at the total amounts calculated here, you can notice what she worked out. With a $5,308.42 purchase (her company had a $530.84 on all of the purchases in that particular period), it actually cost the company $41.26 (Ivy's total cost) to make $530.84, which is a rather high ROI (return on investment).
Of course, it's important that she included in the spreadsheet ALL her conversations with customers, even those with NO purchase.
That's how she made this store owner realize that it cost them $41.26 to make $530.84, which means they had exactly $489.58 left to run the rest of their business.
Isn't that amazing how easily she proved her value in this case?
Such an employer would certainly NEVER ask a CSR like Ivy to leave the company!
You see how she did this very simply by tracking conversation time and back to an order? You can do that, too!
Now, let's take it a step further and observe the tracking from your employer's perspective for a moment, as well.
Get Familiar With How Employers Can Track Your Performance
This is where the things can get a bit more complicated and overwhelming. But, mind you, the purpose of such information is only to give you some basic insights into how that reporting works. So, relax.
Ready?
Top 10 Customer Service KPIs: How to Evaluate Your Live Chat Team Performance reveals how employers evaluate their CS team and individual agents' performance.
As stated in WhosOn's Whitepaper Live Chat Analytics & ROI, KPIs can include contacts handled per hour, successful resolutions and, if possible, conversions to discover the cost per outcome per agent.
Most live chat solutions provide reporting of their own and will plug directly into a company's existing analytics package. This gives the company precise tracking of contacts per hour, successful resolutions, increased order values and conversions.
Take a look at an example of a small part of one such report your employer can get. (Taken from Tracking Conversions Influenced By Live Chat And Email Support Interactions a new conversion tracking feature launched by LiveHelpNow chat tool in February 2018.)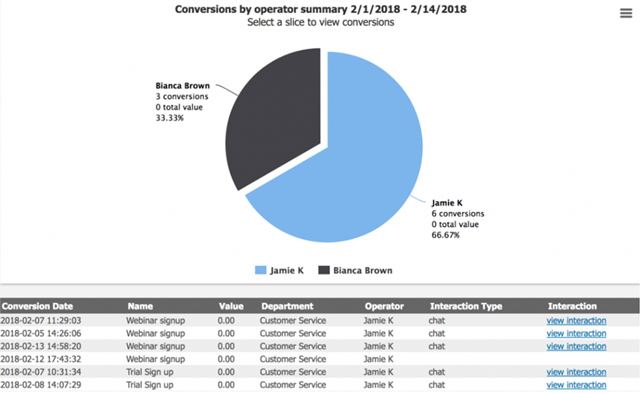 Obviously, there are more sophisticated ways of tracking a live chat agent's time and ROI with UTM parameters and those various integrations with the chat software to the cart software, but let's not bother too much with it right now.
We've provided a couple of resources for you to check just for illustration and better understanding of how these tracking systems work, but you're not expected to gain any deep knowledge on that topic at this point.
So, your goal is to get familiar with these concepts and the basic metrics that make the difference. OK?
There are various tools your employer can use to compare billable and non-billable work done by each agent through reports, analyze time spent serving different customers, and track sales conversions over chat.
Announcing Comm100's Live Chat Conversions—Track How Live Chat Drives Customer Conversions is a feature this tool offers so that businesses can see exactly how their live chats increase their conversion rate, allowing them to demonstrate clear ROI from their live chat solution.
Also, businesses using LiveChat tool can add the Sales Tracker to their product pages and monitor the value of their live chat agents' conversations. Follow the link to see how to install it and how it's used in practice on an example.
Reminder: NO need to memorize everything about these tools, just to keep yourself informed.
Here's where you can find out more about UTM parameters in case you need them in the future or you want to know more about them now:
Also, if you want to take a peek and learn more about:
Tracking your customer journey with UTM parameters and improving ROI
Feel free to follow the links provided.
As Einstein once said:
Not everything that can be counted counts, and not everything that counts can be counted."
This brings us to a few more details relevant for measuring your performance success, so keep reading.
Which metrics actually matter
There are hundreds of support metrics a customer support team can track. But you will only understand how well you're supporting your customers if you are tracking and acting on the right data, as pointed out in The 5 customer support metrics that matter.
So, don't hesitate to go through the articles about metrics linked in this lesson and learn!
For you to be able to understand customer support effectiveness reports, you need to understand what metrics actually matter and what information they reveal to you and your employer or supervisor.
The following sources can also help you with it.
Note: Although they're meant for business owners or CS team supervisors, they're useful for your understanding of some basic live chat metrics. Also, different sources may use slightly different terms for the same metrics. You don't have to memorise them all, just to understand how they work and what they represent.
You can easily judge the performance of live chat on a website by using these 8 Live Chat Metrics every Business needs to Measure.
7 Key Metrics to Measure Your Live Chat Effectiveness also shows you which data you should focus on to find out if you're doing fine, excellent or just above average, and to make the most out of your live chat performance based on that monitoring.
Comm100's article on measuring live chat effectiveness can also help you determine what metrics are critical for your live chat success regarding sales oriented and support focused primary metrics and company goals.
Improving Your Live Chat ROI: 10 Key Metrics discusses the most important live chat metrics for efficiency and satisfaction.
6 Live Chat Metrics for Measuring Customer Support Effectiveness can also come in handy when you need to understand all the customer support metrics that can help you to achieve your goal of offering excellent service.
Do Your Live Chat Agents Measure Up? The 9 Best Key Performance Indicators and How To Use Them article explains how key performance indicators can be used to measure the success of a company's customer service strategy, the quality and effectiveness of its support, how well its agents are performing, and more, so it's also worth your attention.
The 9 Help Desk Metrics that Should Guide Your Customer Support will hopefully aid how you put your stats to use. It gives you an overview of some of most common support metrics used by customer service teams. It not only details the meaning of those numbers, what they represent and what they say about the quality of support users receive, but it reveals pitfalls that come with those metrics, too.
13 Key Metrics for Chat Success shows the main metrics your employer (and you) should consider tracking to ensure customer satisfaction, agent effectiveness, and overall support workflow, efficiency, and cost.
Now you know what are the key metrics to track with live chat? Sure, you do.
In addition, here are some other credible resources you can refer to and find out more about tracking your time and ROI as a live chat agent. Don't hesitate to learn from them!
Further Learning Resources
Roll out live chat and provide proactive customer service is a fantastic and thorough guide to start with. (Although it's meant for employers, you'll find it super handy.) Read all of it, but pay special attention to these topics:
Yeah yeah… you must be tired of reading…
Still curious and enthusiastic to learn?
That's the spirit!
You could perhaps take a sneak peek at a few more sources to discover how your employer gets insights into your chat effectiveness.
Using Chat analytics and overview tools will give you a better understanding of the ways employers who use Zendesk chat and analytics can monitor your chat activities and track your effectiveness. Zendesk is an extremely popular live chat tool, so you may want to explore this further.
Or you might want to take a peek at the Userlike's Analytics tutorials to figure out how precise information about your chat performance your employer can get and how this tool can be integrated with Google Analytics to make Userlike chat events and its tracking data accessible in the company's Google Analytics account.
Next, you may see how employers using Intercom messenger can track their sales team's performance.
Your employer will certainly keep a close eye on your chat success metrics and you should also do so. Thus, always keep in mind this short guide on How to interact with customers on live chat and do your best.
Good luck!
So, let's recap the basics now…
In Summary
Remember – this is a critical lesson to learn!
Make sure that you fully understand HOW to PROVE your value to the employer once you start working as a Customer Service Representative because you cannot be sacked just like that if you're making money for the business.
That's the whole point we tried to teach you in this lesson.
It's vital for you to understand that showing your value to your employer's business is within your control and that there are rather simple and effective methods you can use for doing this.
Don't get distracted by plenty of tracking tools and integrations. Instead, focus on the key metrics, figure out what they represent and learn how they can work for you.
Then, measure your progress regularly and keep track of your stellar performance so that you can prove yourself as a valuable member of a CS team. Got it?
Excellent! You've done a great job!
Now, let's check how well you've understood the lesson.
Frequently Asked Questions
1. How can you prove your value to your employer once you start working as a live chat CSR?
a. Track your time and ROI on live chat and present the detailed data and calculations of how much money you've made to the business to the employer in the form of a simple spreadsheet or by using UTM parameters or some sophisticated software integrations if needed
b. There's absolutely no way to prove anything. Your employer will have to trust you
2. Tracking UTM codes gives you the ability to:
a. Know where a lead came from and what they're interested in, making the whole sales funnel much more efficient and effective
b. Understand your leads and customers interactions with your different channels, products and services
c. Identify sources of conversion and what are the most converting touch points of your customer journey
d. Discover what strategies are working, where to invest the company's money in order to get the most ROI
e. All of the above and much more
3. It's possible for your employer to use tools which provide detailed insights into your (and every other individual live chat agent's) chat performance and engagement. It enables the business owner to analyze how well you and your CSR colleagues manage chats and how much money you make to the business.
a. True, but such tools are illegal
b. False, there are no such tracking tools
c. True, and your future CSR career is very likely to depend on your performance
4. Customer satisfaction drops after 30 seconds of waiting for a live chat agent's response.
a. False. Waiting time has absolutely nothing to do with customer satisfaction
b. True. That's why live chat agents must respond to customers' inquiries as quickly as possible. What's more, the longer the customer waits between responses, the more likely they are of being dissatisfied with the interaction. So, agents should NOT leave their customers hanging
5. The bigger number of concurrent chats one agent can handle, the lower the cost per chat session, which is what CSRs and companies should strive for.
a. True, but this efficiency needs to be balanced with customer perception and satisfaction
b. False. The number of simultaneous chats with different customers one agent can handle does not affect the chat cost at all
6. Average Sales Amount Per Conversion metric provides information on:
a. the average dollar amount per sales conversion
b. opportunities for upgrades or additional items that could enhance the customer's experience with the company's products
c. Whether the sales goals are being met
d. All of the above
7. Lower first response time always means better quality chat support.
a. True. it's the most valuable information which can show the efficiency of a live chat agent
b. False. Time to first response can be gamed easily by CSRs – it can be as simple as answering lots of calls and hanging up immediately or copying and pasting canned responses into messages. Making it the primary target for individual performance isn't wise
8. Customer satisfaction ratings,chat satisfaction or chat conversation ratings can help employers to find the outstanding performers of their CS team.
a. Yes
b. No
9. Which parameter shows the lack of knowledge of the live chat operator – either product knowledge or lack of soft skills?
a. First response time
b. Average sales amount per conversion
c. Number of offline chat requests
d. Average response time
e. Escalated chats or number of chats transferred to second level (supervisors)
10. KPI stands for…
a. Key Product Inspection
b. Key Production Index
c. Key Performance Indicator