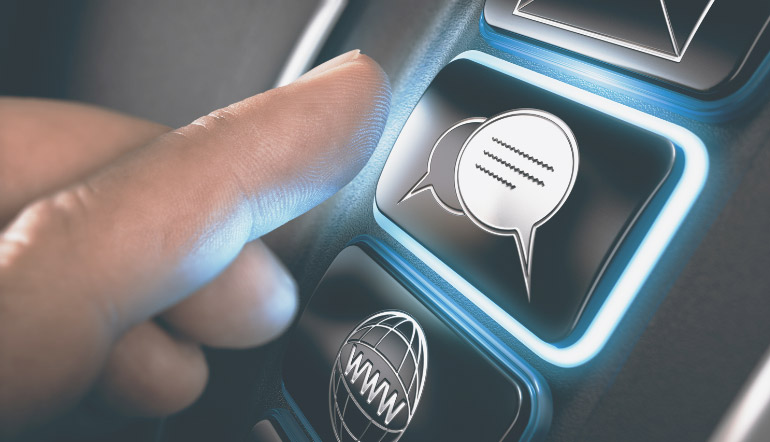 Vineet Gupta, a digital marketing expert, shared this story with the Quora audience in one of his answers to the question "Which live chat software is best for an e-commerce business?":
In the initial days of offering online courses through my website, I only focused on making a detailed course that can help the user in the best possible manner.

My site was ready with all the integrations and it was good to go live. With multiple marketing channels, I even started getting multiple orders. Suddenly, at one point of time, my sales dropped down to null and I had no clue why this was happening.

With God's grace, I received a user's email stating that the payment gateway crashes everytime the user tries to make a transaction.

Though I fixed the issue in some time, I realized that very few people take the pain of writing it down to a company about an issue.

They simply switch to a competitor with a fear of getting their money blocked on your site.

At that point, I decided to implement a support system that can monitor where the user is facing a trouble on a real-time basis."

Vineet Gupta
Guess what that support system is… You're right – it's live chat!
As you can see from this example (and you'll be able to see from the examples to come further in the lesson), it can sometimes make or break an online business. That's why it's highly recommendable to use live chat.
Since you're getting ready to start working for such a business, it's also critical for you, as a future Customer Service Representative (CSR), to know how to handle live chat tools and to be skilled in managing your customers' queries.
Therefore, in this introductory lesson, you're going to get familiar with:
The reasons why live chat support is important for online (businesses, customers, and you as a CSR), as well as
The top 5 live chat tools, their differences, basic features and options so that you know how to use them once you start working.
So, let's see how live chat option can make an online business run better, help YOU succeed and keep your customers satisfied.
What Is Live Chat and Why Is It Critical for Online Business?
As stated in the article Best Live Chat Software: These Are Our 15 Top Tools (with Pros and Cons), at its core, live chat is a simple window that pops up on your website to display text. Users can type in it, and you can see and reply from your own backend. A CSR can also see a list of users on the website and approach them with a question, like in a real store.
For a better overview of these tools and how they work, the author of this article also created a video with some real-life examples, so check it out.
You may want to refer to another article explaining what live chat is and how it differs from instant messenger if you don't feel confident enough.
In addition, there's a perfect explanation in the article Top 15 Live Chat Apps for Your Shopify Store. Thus, we're simply going to cite what's been written there. Make sure you follow the link and carefully read the whole article. Here's a part of it…
Have you noticed this thing they show on many online shops and websites these days?
You've seen this tiny chat button on so many websites now that it's almost ubiquitous to you.
It's the "live chat for website or online store" plugin that this is all about.
Picture this.
John wants to buy a Game of Thrones T-shirt and you sell just the thing.
He googles and comes to your store. He looks around, finds what he needs and is about to make a purchase. But he stops. He wants to know if there's some discount he can use. So he looks for a way to contact you right away.
Your store has a contact form and you've listed an email ID. Great.
But John is not from the 1950s. He's a millennial. He's kind of impatient. So he goes to another store, finds the exact T-shirt (most likely not as good as the ones you sell), and looks to contact the seller to ask for a discount!
And he sees this:
Voila! He starts chatting with a live customer rep and within minutes, he's purchased the T-shirts from the competitor's site.
So what made the big difference?
A simple, humble, chatbox.
Customers to any online store feel a lot more better and willing to purchase from it when they are able to chat with someone on the site and know that there's a real human behind the website.
It's simple, human psychology that we carry over from our days of shopping in the offline, where salespeople are still important when it comes to conversions.
The humble live chat software is this magical thing that can help your shop increase your conversion.
It's the age of conversational eCommerce.
You see?
Hmm… OK. But what can be that magical about live chat at all?
Here's how another article by Zapier explains it from the customer's perspective – The Best Live Chat Apps for Customer Support. Make sure you read the whole article now or at a later point in the lesson.
You're trying to buy shoes online, wondering if they'd feel as nice as they look, when ding a smiling face pops up on the bottom of the page asking if it can be of any assistance. You reply, and your worries are quickly assuaged by a real, live human.
That's the magic of live chat. Online stores can be lonely, impersonal places, where packages arrive in the mail before support emails get answered.
Adding the digital equivalent of a salesperson wishing website visitors a good say can be the difference between a happy customer and another sale lost to competitors.
Live chat makes it easy to help customers faster, and prevents a backlog of delayed answers, angry customers, and lost opportunities.
Still wondering why a live chat is a must-have in any online store?
Here's what the article 5 Reasons Why Live Chat is The Latest "Must Have" for Your Business says.
The importance of live chat cannot be overstated as witnessed by the results of a study by Zendesk, which revealed 92% customers feel satisfied when they use the live chat feature, compared to other communication options like voice (88%), email (85), web form (85%), and social media (Facebook 84%, Twitter 77%).
Moreover, as suggested in 15 Top Live Chat Software Solutions Reviewed, just take a look at the following statistics:
29% of consumers have told friends or colleagues about a positive live chat experience
38% of consumers are more likely to buy from a company if they offer live chat support
51% of consumers are more likely to stay with or buy again from a company if they offer live chat support
It's clear that live chat can have a significant impact on user experience.
That's why more and more online stores will want to use live chat, and you'll have to know how to handle them successfully if you're going to work for them as a CSR.
Also, check out the following articles explaining why online businesses need live chat to get better insights:
You see? The stats prove live chat is necessary for eCommerce businesses, which means it's also necessary for you to know as an eCommerce employee (to-be).
So, let's sum up the main reasons!
Live chat is important for eCommerce because it creates a direct, more personal relationship with the customer. Chatting to a real human instills trust in customers.
The customer can get instant gratification with questions and promptly find out exactly what they need.
There's also a shorter path to the sale in that one-to-one relationship with a customer. This valuable real-time communication tool enables you as a CSRs to engage with the store website visitors who are genuinely interested in purchasing your products, which makes it easier for you to close the sale.
Also, you'll be able to get valuable insights into your customers' needs, wishes and frustrations. This way, you'll be able to stand out by giving suggestions to your employer on how to improve the products based on what customers want and request (such as e.g. more color options).
This will help you get more conversions and repeat purchases and your employer will be delighted.
Also, you'll be more productive and efficient because it's faster and cheaper to chat with customers this way than to resolve their complaints or deal with any other issues they have via the phone or email.
As stated in the previously linked Zapier's article, like email, live chat lets you answer questions. Unlike email, however, live chat lets you engage customers while they're still on your site and ready to make a decision — not hours after they've left.
Live chat works for customer support because it's fast and personal.
And the customers are satisfied when they get immediate response and their problems are quickly solved or questions answered.
Don't hesitate to dive into a valuable Kissmetrics article, 5 Reasons Why Live Chat is The Untapped Potential for Your Business, and learn why live chat is so convenient both for businesses and customers, and much more.
So, everyone's happy! You see?
Apart from allowing you to boost sales and create a good rapport with your customers i.e. making your employer's business more successful, this powerful tool can help your CSR career to thrive by enhancing your customers' satisfaction.
Importance of Live Chat Support for eCommerce Business is another article that shows how critical live chat is for online stores. What's more, it shows how to effectively use this tool to your benefit and to create a superior customer experience, so read it before you move on.
Now, we're going to dig a bit deeper into the top 5 Live Chat tools and introduce them to you so that you're familiar with how they work.
Curious? Eager to learn? That's the spirit!
The Essentials of the Top 5 Live Chat Tools
You're probably aware that there are plenty of different live chat tools out there. Of course, you do NOT need to know everything about all of them because you're NOT the one who's task will be to choose the right tool. Store owners usually do it.
That's why we've selected 5 best and most commonly used tools for you.
Another good news – the differences between all those tools are NOT huge. Quite the opposite!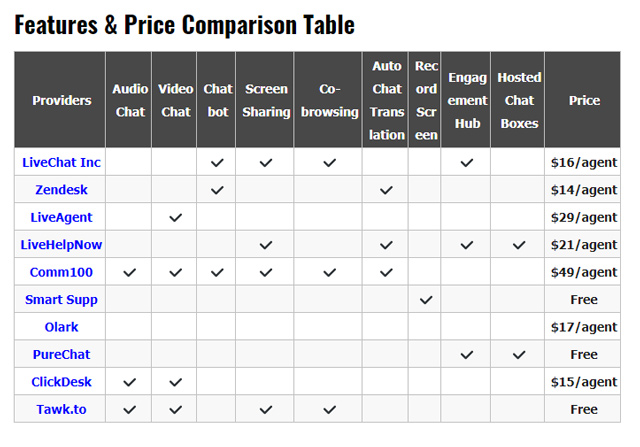 As you can see in the above table from Top 10 Best Live Chat Software Solutions Compared, they mostly differ in pricing, features or integrations. (Refer to the full article for more details.)
For instance, one tool may allow multiple online stores use it for the same price, whereas another similar tool doesn't allow that, but you have to set up individual accounts for each store.
Got it?
Anyway, the essentials are very similar in terms of features, so once you learn how to use the following selected tools, you won't find it difficult to get acquainted with the tool your future employer expects you to use in your everyday work.
Now, let's explore how the top 5 tools work, shall we? Here's a basic tour of their features. Ready?
Here's a quick introduction to Zendesk Chat tool:
This is what Zendesk Chat Help Center looks like:
Go ahead, explore it and learn!
Pay closer attention to the Getting Started section (especially Getting started for agents subsection). It's full of valuable insights which will help you get to know the tool.
This helpful video by ChatToolTester will give you an in-depth look into Zendesk Chat's live chat tool pros and cons, its basic features, and show you how it works.
Getting Started with Zendesk Chat tutorial video will teach you how to:
Embed the Chat Widget
Chat with your Customers
Chat in Different Languages
Create Shortcuts
Browse the Visitor List
Customize the Live Chat Widget
Create Triggers
Add Agents and Departments
You can learn many more useful hacks by checking the full Zendesk Chat Tutorial playlist. Find out how to create triggers, shortcuts, browse the visitor list, chat in different languages with automatic translations and the like.
Have fun learning!
Here's another walk through of ScreenMeet Zendesk Chat Integration for you to check out and learn how to share your screen with the customer.
Here comes another widely used live chat tool.
This video review by ChatToolTester will show you the pros and cons of this popular live chat application.
Further on, How to: LiveChat basics is a short tutorial which will provide a reference point for anyone starting to work with the tool. As they claim, you will be able to find all the necessary information here.
After going through this tutorial, beginner LiveChat users will be able to use the application and understand the information it provides. So, waste NO more time!
Also, make sure you don't miss out on their comprehensive Agent's Handbook because it provides valuable insights into the tool and some helpful customer service tips.
Here's what else you can learn from their Knowledge Base if you're getting started with the tool:
These are only basics, but there's much more information on their Help and Support page/KB linked above.
If you prefer videos, you'll find the following sources useful for learning about LiveChat essentials.
Here's a full product demo of LiveChat software worth watching.
Additionally, you can sharpen your chatting and customer support skills with this LiveChat Tips and Tricks webinar.
If you're extra curious about some technical essentials such as installation and implementing the tool, you'll find the following sources helpful.
This webinar will guide you through installing LiveChat on your website.
Also, Getting started with LiveChat webinar will show you how to add this live chat software to your website and properly implement it.
Remember – you don't need to memorize all this, just to grasp the basic overview information about each popular tool (features, dashboard and the like).
So, let's move on to our next selected tool.
And here's another similar short video introduction to the tool, also demonstrating how it's being used on a website.
This Quick Start Guide can be helpful when getting started with the tool.
f you're eager to further explore this tool, have a look at their Knowledge Base articles, with special attention to the categories Live Chat System and Getting Started (including the subcategories: Installation, Training Resources and Account Setup). You'll find plenty of useful information there.
And if you want to get hands-on experience, then you may start your free 30-day trial or request a demo by following the links provided here.
Let's get to know another nice and simple live chat software, shall we?
Olark is one of the biggest live chat tools worldwide. In the following video by ChatToolTester, we are looking at its strengths and weaknesses.
This two-minute video tour of Olark will help you find out about its basics.
Olark's comprehensive Help Center offers all the necessary information you should know if you want to start using this tool. Here's what it looks like and what you can learn from them: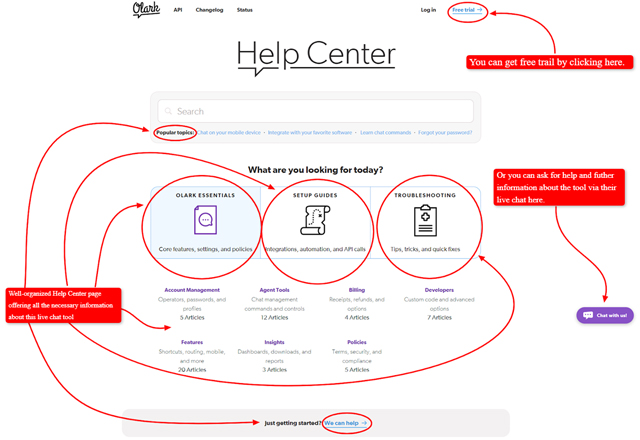 Make sure you thoroughly go through their Getting started guides and learn how to easily install the tool on a website, set it up, customize it, as well as how to proactively engage with the website visitors.
Moreover, New agent training guide deserves your undivided attention because it's a summary of the main points you need to know about this tool. You may also start your free trial and experiment with the tool a bit.
The following video tutorial for those who are tired of reading explains how to install Olark on a website.
Another helpful tutorial shows how to activate Olark live chat feature in WordPress, so you might want to watch it.
And that's enough for start. Let's move on to our last tool.
This is a quick Velaro tour where you'll get acquainted with its basics. Follow the link for more details and take a look at the screenshot below to see where to find the information you need.

The thorough Velaro End User Guide provides step-by-step instructions on how to install, set-up and use the tool on a daily basis.
Another Quick Start Guide will walk you through the steps required to have Velaro up and running on your website.
Also, make sure you dive in their Getting Started Guides such as Agent Quick Reference Guide (and the other useful resources you'll notice suggested on the right when you open the page linked here).
Their website Knowledgebase is also well worth exploring (especially the Getting Started category). So, enjoy the ride and don't hesitate to experiment!
Done with the individual tools?
Great! We're almost there!
To learn more about the tools introduced above, as well as to find out all you need to know about some other useful and more or less popular live chat tools, their features, pros and cons, please, thoroughly read the following articles:
You probably feel overwhelmed at this moment, but you do NOT need to memorize every single detail you've read. You can take your own notes and organize the necessary basic information as you like it. It'll be easier to revise the lesson later in the future when you need it.
So, relax and soak up the knowledge! Isn't learning fun?
Remember, you'll probably NEVER need to choose the tool. Your employer is the one who does that for their store(s) based on various reasons and their business needs.
Thus, you don't have to worry about the criteria for selecting the right tool, fully understanding their integrations or the pricing. Lucky you!
However, you DO need to know that the most commonly used tools are quite similar, what their basic features are and how they work.
Tutorials and lessons are fine but the best way to really master a skill or a tool is by practicing, right?
Then, get your feet wet!
Every live chat tool offers free trial. Try them out risk-free and properly get ready for your prosperous online career.
It's pretty easy to start a free trial, log in and have a look around. Then, when a potential employer asks if you've ever used e.g. Olark or Zendesk Chat, you can proudly say:
I haven't used the tool as a part of my CSR job, but I created an account, logged in, and had a little play around with it, so I'm familiar with its features and I know the basics of how it works."
How does this sound to you?
As an excellent way to get your dream job by showing that you're proactive and eager to gain new knowledge? Exactly!
What are you waiting for?
Oh, you're probably waiting for the lesson summary and quiz. It's OK. You can check out the tools as soon as you're done with the lesson.
It's time to put everything you've learnt here in a nutshell.
In Summary
So far you've realized how important live chat tools are in an online business essentially for:
Getting valuable insights into your customers' needs, wishes and frustrations
Engaging with customers in order to maximize conversions, drive sales, and provide them with seamless shopping experience
Assisting the customers more productively and efficiently so that everyone's happy – you, your customers and your employer
All in all, live chat makes it easy for businesses of all sizes to provide fast, high-quality customer service and personalized shopping experience to every customer.
It means that you cannot avoid live chat tools if you want to pursue a CSR online career. You have to master at least a few of the most popular and most commonly used ones.
That's why it's good to be familiar with the startup tour of a couple of the following tools:
LiveHelpNow
Zendesk Chat (formerly Zopim)
Live Chat
Olark
Velaro
Fortunately, all the top live chat tools most online stores use have a similar concept. It means when you learn how to use some of them, you'll find it easy to handle most of the others.
Good luck and have fun exploring the new handy tools!
But, first, let's see what you've already learnt about them, shall we?
Frequently Asked Questions
1. What is live chat?
a. Live chat is a communication channel that lets customers and businesses converse in real-time directly on a company's website. It usually appears as a small box or window on the page
b. It's when you're having a real-time chit-chat with a real person over the phone
2. Which of the following live chat tools offers more advanced live chat support?
a. Olark
b. Zendesk
3. Most live chat tools include real-time visitor monitoring and visitor tracking features to give you a better understanding of which pages your website visitors access, how long they spend on them, who your customers are and what they're looking for on your website.
a. True
b. False
4. Why is live chat important for eCommerce businesses?
a. It helps them to better understand customers' problems and expectations, as well as to analyze their purchase behavior
b. It can help them drive more conversions and boost sales
c. It saves businesses money by helping their CSRs to engage with the customers instantly and directly, which enables them to provide customer support more efficiently and productively than via phone or email
e. All of the above and many more great reasons!
5. Which of the following live chat tools are currently (April 2018) offering video chat option?
a. LiveChat
b. Zendesk
c. LiveChatNow
d. Olark
e. None of them.
6. Which of the following live chat tools is known to be one of the simplest, most basic and most user-friendly live chat solutions on the market now? It only has four navigation tabs, a simple design, and can be installed in a matter of minutes by copying and pasting a piece of code onto the website. It's known for offering customer surveys, which allow you to ask your customer for feedback at any point in the conversation.Its main downsides are that you have to use the chat platform in another window, you can also only block people for 24 hours, and it doesn't offer co-browsing option anymore.
a. Zendesk Chat
b. LiveChat
c. Olark
d. LiveHelpNow
e. Velaro
7. A live chat conversation can be initiated by…
a. The customer
b. The company
c. Both the customer and the company (or either of them), depending on how the tool is configured
8. Which of these are some of the features of standard live chat support solutions?
a. Chat Tags which allow you to give conversations context
b. Pre Chat Forms which allow you to ask your visitors for their contact information prior to starting a chat, which ultimately helps you to prioritize high-value customers
c. Offline Forms which allow your customers to contact you while you're away
d. Shortcuts which allow you to send pre-made responses to common questions/requests so that communicating with customers is faster
e. Visitor Tracking which allows you to monitor what your customers are doing on your website at a given time so that you can target them
f. Triggers which allow you to send automatically targeted and behavior-based messages to customers based on their activity on your website
g. Team Management options (such as agent groups) and various Reports and Analytics depending on the software
h. All of the above (and perhaps even more depending on the tool)