The aim of this guide is to teach you, step-by-step, how to develop guest post articles that can help grow your audience and sell more products.
The chance to pitch a guest post is just an email away, but you need to do it the right way in order to gain more readers for your own blog and sell products in the long run.
When you are ready to send your pitch to a host blogger, it can be a very exciting and daunting experience at the same time. A first-time guest blogger will always feel the pressure, but with careful planning and preparation, it can be done the right way even on the first try.
Pitching a guest post requires you to master the craft of writing a good email pitch. At the same time, you need to strengthen your credibility by being familiar with the host blog and its audience.
You need to know this guide because the last thing you'd want is to create a bad impression with your guest post.
It starts with the right pitch and idea/s you have for the host blog's audience, so you'll gain new readers that can turn into customers in the long run.
Pitch An Idea First, Write The Guest Post After Approval
For an eCommerce to thrive at guest posting, you should always provide beneficial information to the right audience without the obvious selling. It may be true that some of them are ready to buy a product, but it doesn't mean you have to sell it to them upfront through a blog post.
One common mistake beginner guest bloggers make, that you must avoid, is writing first the guest post before pitching an idea. Even if you've reviewed the host blog's content and have an idea of what the readers want, it's not ideal to have a post already written.
You don't want to pitch an already written post by sending it in or by telling the host blogger that it's just an idea.
The possibilities of being rejected are high especially in guest blogging, so you'd want to prepare guest post ideas first with the goal of getting approved. Writing the guest post only follows after you've been approved as a guest blogger.
You can tell the host blogger that you can turn in the post within a specific time frame (e.g. within 2-3 days, the next day after approval, or within 24 hours – the shorter the time frame the better). Take note that guest when bloggers accommodate your post, most of them use an editorial or publishing calendar.
So it is essential that you send them your guest post article as promised and within schedule. Note down the progress of your guest posting activity on your opportunities spreadsheet to keep you on track.
Step 1: Create A Guest Post Pitch That Follows The Host Blog's Guidelines
Many host blogs usually have a page that tells guest bloggers what to do if they like to pitch in a guest post. It is also possible to find an organized guideline for the pitch and post on the submissions page. Follow these guidelines particularly when creating a pitch, so the host blogger will see that you've spent time in understanding them.
You might find that some host bloggers cull pitches that do not follow their guidelines; hence, making their selection for a guest post easier and faster.
You want to be among those that get picked, so stick with their specific guidelines to increase your chances.
Step 2: Email Your Pitch With An Idea Or Two For A Guest Post
If you have reviewed the host blogs thoroughly, you will have an idea of what their readers want and respond to. But before creating the content of a guest post, it is best to make a list of ideas to present to the host blogger.
Having a list of great ideas for each host blog you're set to pitch will spare you more time than writing the posts beforehand. Host bloggers may need more information after reading your ideas, but it is one way to know if they are interested.
When pitching, make sure to include a brief explanation of what the guest post idea is all about. You may also include a short outline of the benefits that the readers can take away.
Step 3: Review And Follow The Guidelines
Style guides for guest posts can be straightforward and short, or comprehensive and lengthy. It depends on each host blog on your opportunities list, so make sure to follow their guidelines for better chances of getting an approval.
Even if your pitch and idea/s are approved, you have to supply a good guest post that follows the editorial guidelines. The possibility of being culled and rejected is still high especially if your post does not comply.
Short guidelines:
Step 4: Create Unique, Quality Guest Post
Think like a host blogger when writing your guest post. You'd want a post that your own readers will read and engage with, not a boring and irrelevant one that everybody forgets right away.
You want readers to stick around and read some more because you provide beneficial information they can learn from. If this is your first time to write a blog post, make sure to check our guide on blog writing to help you craft a good post.
Here are some useful tips to help you create quality guest posts:
Write guest posts for the readers and not for your e-store or products – angle your posts in such a way that it indirectly promotes your products.
example: if you sell camping tents, create a post about:
the benefits of having large tents for family or group camping in the wilderness, or
how to get ready for school camping that helps children socialize and learn about nature
Write a catchy and interesting headline that makes readers read your post – if you need a bit of help in writing blog post headlines, make sure to check this guide.
Format your guest posts like the ones on the host blogs – follow the use of headers, images, quotes, bullets, etc.
Use a conversational tone and avoid technical or complicated jargons.
Include relevant internal links – to show the host blogger that you know their content and to link to relevant posts within their blog.
Include relevant outbound links to authority sites for reference (if allowed).
If you are allowed to add at least one link to your e-store's homepage or product page, it is best to use it on a relevant keyword within the post, creating a hyperlink.
Stick with the blog's limits and allowances – i.e. word count, number of links going to your site, can/cannot attach product photos, etc.
Provide a relevant photo/image – if product photos are not allowed, make sure to use photos that are free to use. (Check our guide on finding and using legitimate images/photos from the web.)
Step 5: Include A Call To Action (CTA)
CTA is important especially on blog posts because it tells readers to take action or do something after reading the post. This usually compels readers to write a comment or feedback, or share their insights on the post involved.
A CTA is topic-specific. Don't forget to include one on every guest post you'll publish on host blogs to encourage readers' to participate and share their thoughts.
Step 6: Create An Impressive Author Bio
There are some cases where the author bio is the only place where guest bloggers are allowed to add links to their sites.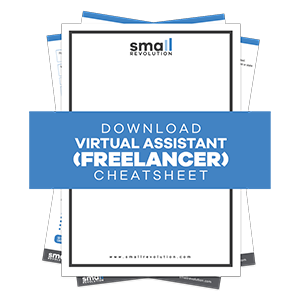 If this is your only option, make sure to personalize your author bio to ensure your e-store is mentioned and linked. Author bios are short and may only consist of two to three sentences.
So make the most out of this section to say what your e-store is about and why it is worth visiting.
If the host blogger allows links to social profiles, make sure to include your Twitter, Google+, and others.
Learn From Others
No two host blogs are the same, so you really need to learn and understand their guidelines in order for you to write a better guest post that will attract their readers.
While it is easier to write a post that clearly promotes your e-store and products, it will be harder for you to gain trust and credibility as a guest blogger.
A strategy is of the essence if you want host bloggers' readers to spend time on your guest post and visit your own blog and e-store after doing so. Your guest post should warm them up, get them to know you as a blogger, and see what you have to offer based on what you are telling them on your post.
If you've heard about 'content is king' over and over again on various blogs and online articles, it is a clear indication that content rules more than a blatant advert.
You can promote your products or e-store without being salesy within the content because your author bio will do the advertising for you at the end of your post.
Below are just a few examples of how you can craft a good guest post with the readers in mind:
Example 1: A guest post that informs readers about necklaces and facial features
This guest post on About Trendy Fashion was written by a blogger who writes for an online jewelry store.
Instead of directly saying that diamond necklaces are for sale on their e-store or readers should buy them because they're a good investment, the guest blogger used a different angle that's indirectly promoting diamond necklaces by listing down different types for different facial features.
Since the author bio or by-line is the only place allowed for a link to the guest blogger's e-store, she made use of the target keyword to link to the specific page of their store.
Example 2: Clever ways to use unlinked product images for branding and keyword linking without an author bio.
The website https://petlovesbest.com/cat/ allows guest posts, but they don't make use of author bios very often, as illustrated here. But there are many great opportunities to use clever branding without directly introducing yourself as an author. 
For example, you can use branded videos or images affiliated from your own website. Including such photos at the top of your guest post is a great idea. 
If a website does not allow any backlinks, you can simply use branded photos on their own. 
Pet Care BD seems to have a strict guideline when it comes to author bio because when you check this guest post, there's no guest blogger info.
However, the photo collage at the beginning of the post has a product mention which is great for branding, even though it's not linked.
A keyword at the end is linked to the homepage of the guest blogger, providing readers easy access to the site.
Example 3: No product photo, block content, with author bio and a link to the site.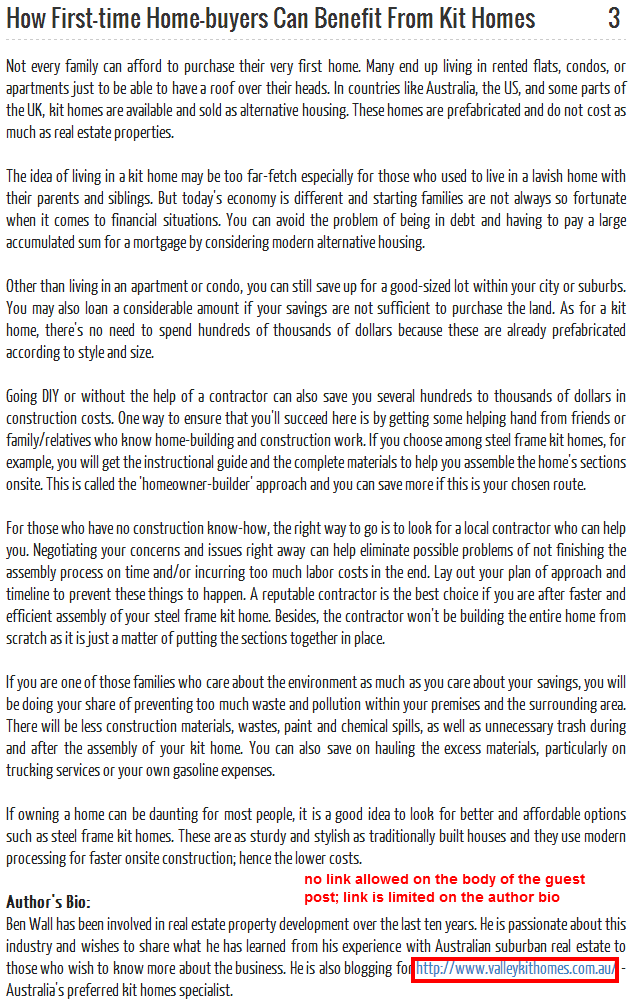 You will encounter host blogs like Save on Money which only allows links on the author bio. Not sure why there's no product photo on this post, but host blogs like this may not be too strict when it comes to photos and content format.
Even so, you can provide a quality post to readers without violating any guideline. As long as it is substantially informative and reader-friendly, there's always a chance for them to visit your e-store and eventually become paying customers.
Final Checklist
Writing your guest post with readers in mind should be your top priority. Including information within the content which hints about your product is a better way to create curiosity and subtly promote what you offer.
Your key takeaway is being able to add a link or two within the post and/or on your author bio which serves as a gateway to your homepage or a specific product page.
Create a guest post pitch that adheres to the host blog's guidelines.
Email your pitch with an idea for a guest post.
Review and follow the guest posting guidelines on every host blog on your list.
Check out the guides on blogging for eCommerce to help you write your guest post.
Write a unique, quality guest post for every host blog you've pitched and got approval from.
Add a call to action that encourages readers' participation.
Create an impressive author bio for each post.
Learn from other guest bloggers' posts – how they angle their posts around the product they're trying to promote.