The aim of this guide is to teach you, step-by-step, how to go through your guest posting opportunity list systematically on a weekly basis.
Guest posting seems easier when you already have a list of relevant, niche-related host blogs you can get in touch with. But this process should not be done in haste and you have to examine what the blog is all about in order for you to craft a better post that will attract its readers.
Your goal each time is to deliver a good post that will get the host blog's readers to visit your own blog and eCommerce store for related products mentioned in your post.
Even if you have a long list of guest posting opportunities, the more serious work begins once you start reviewing their blogs, their approach and voice, and by getting to know their audience.
You need to know this guide because it takes time and preparation in order to succeed at guest blogging. It should be done systematically – with careful planning, observation, engagement, and thoughtful pitching and writing in order to capture host bloggers and their readers.
Guest Blogging Outreach Is A Marathon
As mentioned earlier, your goal is to get a 'yes' from the host blog when you offer a guest post. But it takes time and a good plan first and foremost.
This process starts by choosing a few host blogs on your 'guest posting opportunities' list. You need to start engaging with them on various touch points to show that you are interested, helpful, and no stranger to the community they've built.
It does take time to engage with host bloggers; unless you know other bloggers who can introduce you to a few of them, it can help you shorten the time in engaging and just offer the guest post right off the bat.
To start the outreach process, you will need to follow these steps on a weekly basis for every five host blogs you choose on your opportunities list. This process allows you to get to know them better and for you to build good rapport with the host bloggers and their audience.
We've segregated the steps in four phases in order for you to better schedule and execute each step within the period of one week. Also, for every step, you need to take note of your findings on every host blog on your spreadsheet.
Observe
Step 1: Choose Five Host Blogs On Your Opportunities List
If you have a list of hundreds of potential guest posting opportunities, choose and concentrate on five blogs per week. The rationale is for you to be able to focus on each of them within a week prior to pitching your guest post.
A long list of guest posting opportunities seems overwhelming and may look like a lot of work altogether. But reviewing five blogs per week is a lot easier and will give you time to check each one thoroughly.
Step 2: Read Through Their Posts
Read through each blog's posts if you can. Prioritise posts with more engagement and comments from readers.
See what the posts are about and why they excite and engage readers. Note how they deliver each post – what's the tone of voice; is it casual/conversational; is it interactive with polls, surveys, contests, etc?
Make sure to note your findings on your spreadsheet, so you'll have a record of the host blog's characteristics.
Step 3: Read Comments From Their Readers
Read through the posts' comments to see readers' reactions. This is one way to get to know their readers.
Take note of the most engaged commenters and how they interact with other readers and the host bloggers. See what perks them and makes them excited to share their opinions.
Step 4: Follow Their Social Networks
Get to know the host blogger through their social networks and find out the following:
How they engage with their fans/followers
How they promote their products and posts on their social networks
If their fans/followers are responsive and if they are also engaged on these platforms
Engage
Step 5: Share Thoughtful And Helpful Comments On Some Of Their Posts
Look for relevant posts you can comment on and ensure that you only share helpful and thoughtful comments. This also means that you reply to readers who reply to your comments as this builds healthy discussions and insights among readers.
No matter how engaged the host bloggers and their readers are, make sure that you don't make a pitch on the comments section. This is NOT the right place to do so and you don't want to be 'that guy' who makes relentless pitches just to get noticed.
Get noticed the right way by being helpful and by showing that you know the industry and the readers' needs. Give away something – in this case, your time and insights on certain posts – in order for you to get something in return.
Step 6: Like, Share, And Comment On Their Social Networks
Similarly, you only want to be noticed for the helpful comments and likes you place on the host bloggers' social networks. But you don't have to like and comment on everything they post just to get attention.
Make your presence organic by just liking, re-tweeting, sharing, and commenting on posts that you genuinely like. You can build healthy engagements on social networks by responding and liking other commenters as well.
Review
Step 7: Review Your Guest Posting Opportunities List
Review your findings and gauge them based on your guest posting goals. The primary keys are relevance of the blog and its audience, activeness, and engagement.
Pitch
Step 8: Write A Personalised Pitch
Getting to know a host blog and its audience is, first and foremost, the most important factor that will help you craft a good pitch and guest post. If you are just going to craft a generic pitch after all you've done in a week, you are likely to get a 'NO' from the host blogger.
It is a fact that many high-traffic blogs get hundreds of guest post emails from various bloggers. So you need to stand out when it comes to your pitch because most blog owners don't have time and patience for generic pitches.
Below are some tips to help you create a good guest post pitch:
Make sure to address the blog's owner by name
Do not use a generic pitch
If you'll mention a post that you genuinely like on the blog, make sure to include the title and why you like it (how you benefitted from it, etc.)
If you shared a previous post to your own readers and/or social networks, mention it as well (don't forget the title of the post and link to where you shared it)
Include a headline and brief discussion of your suggested post/s or idea/s in mind
Include a brief background or reference to your writing (if any)
Don't be rude or pushy when it comes to including a backlink to your own blog/e-store – this can be done politely, and even passively
Make sure your pitch has no misspellings and grammatical errors
Length is not a big issue when it comes to pitching a guest post, but it should be substantial enough for the host blogger to understand your request
Step 9: Send Your Pitch To The Host Blogger
After reviewing and proofreading your email pitch, it's time to send it to the host blogger.
It usually takes a few days to more than a week to get a response. Some host bloggers do not respond at all especially if they don't like the pitch.
Learn From Others
It's best to see for yourself what host bloggers are saying about terrible, generic pitches that are thrown their way. You will notice that most of the pitches they get are from people who do not even have an idea of what their blog is about and they've never engaged with them or their readers.
Example 1: The 'No prior engagement with disclaimer' pitch via Blog Paws
Example 4: Everything on this pitch is too generic (a.k.a. may have used a generic pitch template) via Copy Press

Example 5: Irrelevant suggestions from an irrelevant guest blogger via Copy Press
It's also important to note that not all guest post pitches are bad and thoughtless. These are just two samples we found online and they are good to learn from.
Both examples are from Social Media Today.
Example 6: Personalised pitch with a brief outline of the guest blogger's idea. He also mentioned he'd like to include a link to his site without being pushy.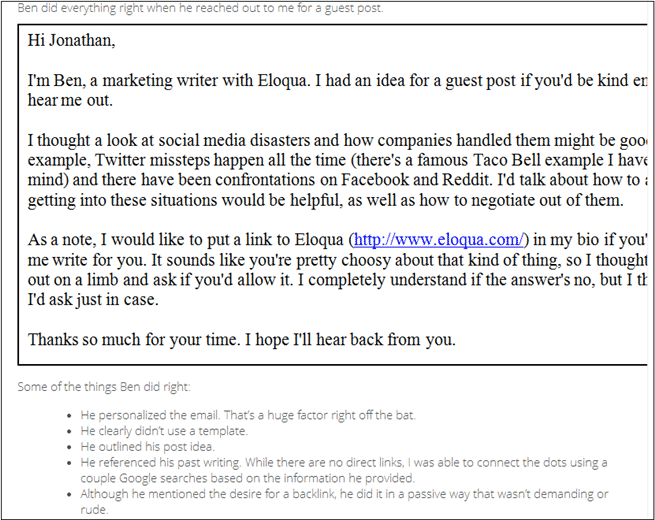 Example 7: Personalised pitch that's short and substantial enough for the host blogger to accept.
Final Checklist
Guest blogging outreach should be done the right way in order to increase your chances of being approved as a guest blogger. It's not enough to have a good pitch to send, which is why it is highly suggested to get to know five host bloggers in a week so you can build good rapport and engagement within their communities.
Choose five host blogs from your opportunities list
Read through their posts
Read comments from their readers
Follow their social networks
Engage on their blogs by sharing comments and replying to readers
Engage on their social networks
Review your opportunities list
Write a personalized pitch per host blog
Send your well-written pitch
Wait for the host blogger's response