Want to know how much money you can make as a copywriter if you live and work in Kenya or the Philippines? Stay tuned.
Today we answer all your burning questions.
As a Kenyan copywriter, you can earn from as little as $3 to as much as $50 per hour, depending on your work experience. Similarly, a copywriting gig in the Philippines can get you an income of between $4 and $28 per hour.
Keep in mind there's a host of factors that will affect your earning power, but more on that later.
While some are still skeptical about whether online jobs pay, others are already making the most of remote job opportunities.
eCommerce is a rapidly growing industry for more reasons than one. But people choose remote jobs mostly because they prioritize flexible work arrangements.
As reported by FlexJobs, remote jobs have experienced a 91% surge in the last 10 years.
This growth can also be attributed to the outsourcing, gig economy. The ability of an employer and employee to leverage each other's economies brings mutual benefits. And according to John McAfee, a British-American software company owner:
The gig economy is empowerment. This new business paradigm empowers individuals to better shape their own destiny and leverage their existing assets to their benefit.
Employers are reaching out to growing gig economy regions, such as Kenya and the Philippines to look for on-demand professionals with relevant skill-sets.
So yes, copywriting is a viable work-from-home career option. It's the job of the future that can offer you financial security paired with sought-after work flexibility.
There are enough jobs to go around. Start at an entry-level position. Then you can work on increasing your earning capacity. There's a bonanza of online job websites where you can try your luck.
This article will teach you:
How much you can make as a junior, mid-career, and senior copywriter.
What factors influence the copywriter's earning power.
What is the copywriter job description.
What skills you need to hone to get your foot in the door.
Where to find good training that can help you chisel away at your writing skills.
How to push yourself forward as a candidate on a copywriting platform.
And much more… So, let's dive right in.
Do Copywriters Make a Lot of Money?
As seen in our ballpark figures above, copywriting can be a rewarding career. Yet, your compensation will depend on a host of factors. The first one, luckily, depends entirely on you – your skill-set and expertise.
It's the same old story. The highest-paying copywriting jobs are reserved for people with the most relevant skill-set.
The online job market is going through a massive shift on a global scale. People who have skills for the future will also have the jobs of the future.
So, before applying for a copywriting job, you'll want to make sure you've loaded up with the fundamentals.
But back to the factors that can affect your earnings as you start to tread your path into the copywriting industry.
Your paycheck will depend on:
Level of expertise
Years of experience in the business
Type of copywriting you specialize in
The clients and/or business that you'll be working for
Regional differences in copywriting rates
Now, let's dive deeper into each one of these factors.
How the Level of Expertise Affects a Copywriter's Paycheck
Having in-demand copywriting skills is critical to your success as a copywriter. Most important of all, this has direct implications on your future copywriter's wage.
As you work your way up the skill levels you'll be able to provide your client with valuable deliverables. And you'll be rewarded for this accordingly.
It's not until you're able to write great copy that your salary will skyrocket. But, there are ways to get there. All you need is a can-do attitude and a knack for lifelong learning.
Learn some of the essential skills needed to be an up-to-date content writer, and you'll already have something to work with. Below are suggested areas of focus:
Refine your writing skills and make your copy web-friendly
Learn how to come up with click-worthy headlines to increase traffic to your website
Learn how to write for the user and satisfy user intent
Now you know where your improvement opportunities lie, all there is to do is to get on with it.
How Work Experience Influences a Copywriter's Salary
Work experience can make or break your outlook for a specific job position as a copywriter. It stands to reason a potential employer will pay you better if you have some background in the business.
Now, let's get a bit more specific.
According to Upwork, the average annual copywriter salary in Kenya ranges between $6,240 at the low end and $104,000 at the high end. The median salary fluctuates around $41,600 a year.
As reported by the same source, Filipino copywriter salary ranges go from $8,320 to as much as $58,240 a year. The median salary usually reserved for mid-level copywriters sits at $39,000.
These are just rough estimates for the Kenyan and the Filipino markets. We'll get into more detail in the sections that follow.
Now, let's dig in a bit more to uncover how work experience impacts your paycheck.
You want to know what's expected from you at each work experience level, don't you?
Read on. We're about to unearth which copywriting skills and behaviors employers expect from you. Then we'll go on to some hard data and explore how much money you can earn at each experience level.
Beginner Copywriters With a Basic Skill-Set Get the Lowest Pay Rate
You don't have a single day of experience as a copywriter, but would die to know how it looks on the other side? No problem. You can break into the business quite seamlessly, as long as you have an unbending will to do so.
However, receiving an entry-level copywriter salary means you'll be paid towards the lowest end of the payroll.
Entry-level copywriters usually come with a package of skills and behaviors, such as:
| | |
| --- | --- |
| Beginner Copywriter Skills | Beginner Copywriter Behaviours |
| Excellent writing skills that imply proper use of grammar, punctuation, and spelling | Usually, they lack a good work routine and see online work as something you do in between the Netflix episodes |
| Produce a concise and useful copy that reflects the client's brand or voice. You could be writing social media posts, blog posts, emails, website copy, etc. | Lack a dedicated workspace. So what they do is improvised. They experiment with anything from the kitchen chairs to the living room sofa |
| Write compelling content that promotes the sale of your client's products and services | They love the taste of freedom that work without immediate supervision allows for |
| Understand your target audience and keep in mind the message of a campaign so you can create a suitable copy | Can't see how their work fits into the big picture and cannot self-assess their work |
Being a junior copywriter means you learn as you go along. There will be concepts you'll have to bend your mind around, so brace yourself for it. But it shouldn't be something that you dread.
You can compare it to covering a certain distance. You go from A to B, and that eventually takes you to become a full-stack writer one day.
Keep investing in your knowledge and you'll be fine.
Mid-Level Copywriters with Intermediate Skills Receive an Average Income
Mid-level copywriters have a decent copywriter portfolio and at least 4 years of relevant online work experience. They've learned from the best. They've developed a good understanding of their job role and are committed to their career.
For obvious reasons, a mid-level copywriter salary is based somewhere along the mid-range.
Fasten your seat-belts. Below are the skills and behaviors you need to add to your CV to qualify for a mid-level writing position.
| | |
| --- | --- |
| Mid-Level Copywriter Skills | Mid-Level Copywriter Behaviours |
| Can use relevant on-page SEO techniques to attract more website traffic | Can set their own short-term and long-term goals and assess their productivity |
| Incorporate social proof into your content to add trust and authority | Embrace learning opportunities by overcoming the fear of failure |
| Master the art of persuasion. Make the product attractive to the readers and learn how to convey emotion in your audience | Know how to create an optimal working environment and minimize distractions at work |
| Cooperate with the team of directors and fellow writers on content strategy development. Can contribute to lifecycle marketing initiatives | Eager to invest in career development and different work tools. They see their future in the copywriting industry |
Now, want to boost your earning power? Rack up the years of experience and beef up relevant copywriting skills. Pursue job specialization and you'll be a candidate fit for higher-paying jobs.
Narrow down your expertise and decide whether you want to be:
A freelance copywriter
An in-house copywriter
An agency copywriter
An advertising copywriter
An SEO copywriter
A technical copywriter
It's easy! Have control over your career development. Latch onto the idea of lifelong learning.
Senior Copywriters with Advanced Skills Earn the Highest Salary
You may be curious whether you have what it takes to go level up to a senior copywriting position. Well, here's what you can't go without: you need to be ready to do extensive job-related training.
To achieve this, you also need to do the legwork and keep yourself motivated in the long run. Nothing a generous pay packet can't redeem, right?
Below are some senior digital copywriter skills and behaviors that go with them.
| | |
| --- | --- |
| Senior Copywriter Skills | Senior Copywriter Behaviours |
| Able to write complex, long-form, SEO-friendly articles and understand SEO concepts in-depth | Reliable, committed workers a client or an employer can rely on. Successfully deals with distractions |
| Can create content that delivers results and boosts conversion rates | Has a dedicated home office. Alternatively, works from a shared office or a co-working space |
| Can track web traffic and conversion rates metrics to improve performance. Can work in Google Analytics, Google Optimize, Hotjar, etc. | Displays a professional relationship with management and other team members |
| Can do extensive industry-related research and identify content gaps | Can present their work and express well in matters related to their area of expertise |
Are you the kind of person that never stops? Then try your chances in becoming a full-stack copywriter and the sky's your limit.
Here's your full-stack copywriter skill-set checklist:
Can write text in an editor
Can upload and publish your work onto a website
Proofread and edit the work of younger colleagues
Produce weekly or monthly content reports
Liaise with designers to create relevant visual assets
Know how to edit basic HTML or CSS
How the Business You Work For Influences Your Earnings as a Copywriter
You're clear on this one. You boost your market worth by providing some high-quality copywriter services. Which is why you need training. But one thing's for sure: you'll need good survival skills as well.
What exactly are we hinting at here?
Your paycheck will depend on your ability to find a sustainable company to work for.
Will you be working for an up-and-coming startup, a large business or a world-class client? Your wallet will be able to tell.
Your chances of a higher pay will depend on the scope and success of the business.
A well-established eCommerce business will be able to pay you way more than a startup that still struggles with its finances. Also, your finances will suffer if you're hired by a local business for maintaining their blog.
Similarly, you'll earn more if you're selling competitive software products than if you're pitching for a crafts shop for an Etsy client.
Want to have a clearer picture of how much you'll be able to earn as a copywriter? Stay with us, we're moving from ballpark figures to some real numbers.
What Are the Beginner, Experienced and Expert Job Salary Ranges for Copywriters?
As we've hinted in the intro, regional differences will impact your copywriting income just as much as your work experience will. So, let's have a closer look at the differences in annual pay rates for Kenya and the Philippines.
An entry-level Kenyan copywriter can expect to earn between $6,240 and $41,600 a year.
Annual ranges for experienced copywriters stretch between $8,320 and $66,560. While an expert copywriter with 5+ years of experience can earn from $6,926 to a whopping $104,000.
Looks like you can make some big money doing content writing, huh? The more you niche down, the more work experience you have, the better.
Now, without further ado, let's look at how much Filipino copywriters can make.
The low-end annual income range for beginner Filipino content writers is between $8,320 and $39,000. As you gain more experience, you can expect your earnings to jump to as low as $10,400 to as high as $39,520. Furthermore, as a copywriter whiz, you can be on a salary band of between $11,565 to $58,240.
Not shabby at all, right? Now, let's zoom in to see the average monthly and annual copywriting salary ranges relative to the years of experience. The table below will show you how much you can make at a glance.
We've collated the data from job boards actual Kenyan and Filipino copywriters use to earn their living. This gives us a truer indicator of the salary rates in those areas. The salary rates are expressed in USD.
How Much Can You Earn as a Copywriter in Kenya?
Experience Level
Years of Experience
Monthly Salary
Annual Salary
KE Copywriter – Beginner
0 – 1 year
$520 – $3,467
$6,240 – $41,600
KE Copywriter- Experienced
2 – 4 years
$693 – $5547
$8,320 – $66,560
KE Copywriter – Expert
5+ years
$577 – $8,667
$6.926 – $104,000
Now, read on to learn some salary information.
This is how much you can earn as a copywriter in the Philippines depending on your experience level.
How Much Can You Earn as a Copywriter in the Philippines?
Experience Level
Years of Experience
Monthly Rate
Annual Rate
PH Copywriter – Beginner
0 – 1 year
$693 – $3,250
$8,320 – $39,000
PH Copywriter- Experienced
2 – 4 years
$867 – $3,293
$10,400 – $39,520
PH Copywriter – Expert
5+ years
$964 – $4,853
$11,565 – $58,240
Essentially, your pay revolves around how much unique value you can provide to an employer. And this value should increase in time. But you can also do something about it.
Now, you may be wondering: How much money per hour can I make if I branch out into copywriting? Or how much can I make as a junior copywriter in Kenya?
We have some hard data to answer your questions.
How Much Do Kenyan Copywriters Charge Per Hour?
The starting pay for a copywriting job in Kenya ranges from $3 to $20 per hour. You can expect the average hourly rates for a mid-level copywriter to stretch between $4 to $32 per hour.
As you uplevel to a senior position, your maximum salary can reach a handsome range of between $33 and $50 per hour.
You can also check out this Daily Nation article that features Kenyan copywriters sharing their first-hand experience and some salary info too.
Kenyan copywriters will often engage in fixed price, project-based contracts. Yet, we did the hard work and scoured the web to look for some rough hourly rates for you.
Now, take a peek at our copywriter hourly range table.
How Much Do Kenyan Copywriters Charge per Hour? (in USD)
Experience Level
Years of Experience
Hourly Rate
KE Copywriter – Beginner
0 – 1 year
$3.00 – $20.00 /hr
KE Copywriter- Experienced
2 – 4 years
$4.00 – $32.00 /hr
KE Copywriter – Expert
5+ years
$3.33 – $50.00 /hr
Care to know how much you can earn per hour as a beginner, experienced and expert copywriter in the Philippines? Let's find out.
How Much Do Filipino Copywriters Charge Per Hour?
Average Filipino copywriting hourly rates for up to 1 year of experience fall between $4 and $18.75. The low-end rate for people with 2 to 4 years of experience is $5 per hour, with $19 per hour on the high end.
The salary for those that hit 5+ years of experience lies within the pay bracket of between $5.56 and $28 per hour.
There's a host of copywriting jobs available online. It's easier than you think!
We've combed through online data to collect the most common lowest and highest Filipino hourly rates. The data is laid out in the table below.
How Much Do Filipino Copywriters Charge per Hour? (in USD)
Experience Level
Years of Experience
Hourly Rate
PH Copywriter – Beginner
0 – 1 year
$4.00 – $18.75 /hr
PH Copywriter- Experienced
2 – 4 years
$5.00 – $19.00 /hr
PH Copywriter – Expert
5+ years
$5.56 – $28.00 /hr
How we came up with our salary ranges:
To get the copywriting salary rates, we used data sourced from the Upwork.com database. First, we pulled the data from freelancer copywriter profiles filtered by region. We then collected hourly rates from existing copywriting jobs. Next, we used this data to get a rough estimation of hourly, monthly and annual pay rates.
Sources:
Upwork Kenya, Upwork Philippines, Hubstaff Talent, Guru, Freelancer
How Does a Copywriter's Paycheck Measure Up Against Other Common Online and Offline Job Wages?
Finally, we're going to take some time to compare copywriting rates to other typical Kenyan and Filipino wages. This will help you understand your options better.
So, how does the copywriting income stack up against those of other online and offline job roles?
For starters, online workers, in general, get a head start compared to retail workers. According to the New York Times, eCommerce workers generate a higher income than people who work in retail.
This is true because:
Skilled online workers are in-demand because they provide more value to the employer.
Scaled online businesses can operate with fewer employees and therefore pay them more.
Let's delve deeper into this. We'll explore the Philippines first.
An average copywriter annual salary can be up to five times higher than the nurse annual salary. A good enough reason to consider a career change, don't you think?
Similarly, you can make $6,090 a year tops as a bank teller in the Philippines, while a copywriting position can get you up to $58,240 a year. Awesome, right?
Now, take a close look at the chart below.
We compared Filipino copywriting rates with typical rates for other common Filipino professions. We also included other typical online jobs emerging in the fast-growing online work industry.
All data is pulled from The Payscale's extensive salary database.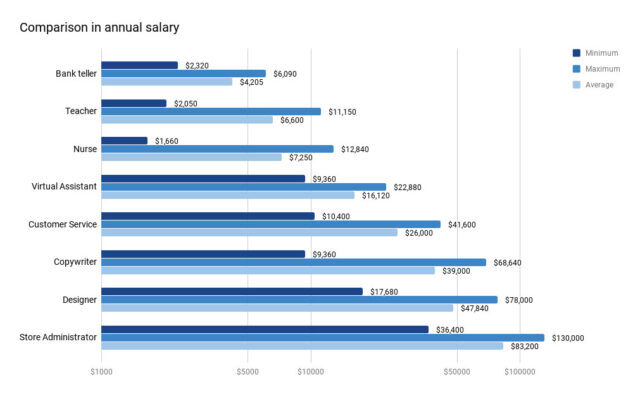 So, there you go, figures don't lie. If you're paid a pittance for your current job role, you can venture into the copywriting career to try your luck. As the data above shows, a career in content writing can bring you an above-average income.
And this isn't exclusive to the Philippines.
For example, a typical Kenyan journalist can make a median salary of $9,000 a year. In comparison, an experienced Kenyan copywriter is worth $41,600 (that's the annual median salary). Impressive, right?
What's more, a freelance writer can earn a median wage of $41,600. This is $24,200 more than the median Kenyan salary across different vocations, which is $17,400 according to the 2019/20 Average Salary Survey.
So, if you feel like taking on a new exciting job role, let it be copywriting. The numbers above are a great incentive to do so.
Get Started
In a nutshell, the online job market is abounding with copywriting job opportunities. So, if you find writing for money as an enterprise worth pursuing, now's the time to branch out.
Working your way up to a steady income isn't easy. But if you have a visceral desire to make this work, you can do it. Naturally, the more advanced copywriting skills you can show, the more money you'll be able to make.
You can work your way up to higher-paying jobs by setting milestones and doing refresher job-related training.
Related articles: