The aim of this guide is to provide tips and expert resources that will assist eCommerce store owners in helping their writers excel.
There is often a misconception that anyone who knows how to speak and write in English will make an ideal copywriter. Knowing the language is one thing, but being a copywriter (or any type of writer, for that matter) requires understanding, training, practice, and continuous learning.
Take for example a dog owner who has had numerous puppies and adult dogs in her care. Even if this person knows how to raise young puppies up until adulthood, this doesn't make her a dog breeder.
Another example is someone who knows and loves swimming. This person trains hard and swims faster than his friends, but that doesn't make him an Olympian.
By now, you may be nodding in agreement with the two examples above. And these analogies should also be used in choosing a writer for your eCommerce store.
While hiring is often the easier part of the process, it is keeping the writer that presents a lot of challenges.
At some point, you may have already experienced scouring freelance websites for possible candidates. Often times you'll see four to five star ratings and self-proclaimed writers, but not all of them can live up to the expectations of their clients.
More often than not, some of these freelancers advertise themselves as writers for hire. But it doesn't mean they will be able to meet certain expectations, accomplish specific tasks, and provide additional help which is not part of their usual routine.
To help you out, here's a short list of ideal characteristics of a good writer:
An ingenious writer can create an imaginative and intriguing angle on a write up – may it be a blog post, an article, or a fictional story. The unique problem-solving approach enables a writer of crafting a write-up with a different angle which helps him/her stand out from an already crowded niche.
A passionate writer is often committed not just to deadlines and the English language, but also in communicating the idea on a specific piece to his/her targeted audience.
A dedicated writer is always serious because writing is not just a job, but a part of daily life. He/she lives, breathes, and eats words for knowledge, for sharing that knowledge, and for continuous learning.
Step 1: Find An Individual Who Has A Passion For Writing
As mentioned earlier, it is often easier to hire than to keep any type of writer. So, make sure that you have a list of qualified individuals first and foremost.
Serious, passionate writers never stop writing even if they've lost a job or a client. They write on their blogs or on other people's websites as guest posters just to share their ideas and opinions on their specific niches.
Passionate writers also seek and value criticism. They treat any feedback as bases for improvement and reasons for continuous improvement.
They also value flexibility because it enables them to write any topic or niche as required.
Step 2: Establish Expectations
As a business owner, you need to set your expectations. While this is considered a standard procedure, many newbie writers are not aware of such expectations until they have left the company.
Doing this will help you determine (at least at this point) if your writers are aware and they understand their role in your business.
Step 3: Set Up Key Performance Indicators For Your Writer/s
While there are others who believe that anyone can be a writer, it can only be proven by setting up metrics or KPI's (Key Performance Indicators) to check the competency of the individual. KPIs go hand-in-hand with training materials and resources that you provide to your writers; since they help you gauge their performance and ability to skill up.
Attached here are two sample sheets for you to use as is or as a template which you can customize based on your preferences.
This KPI-Quality Score Criteria contains the KPIs (a.k.a. scoring criteria) to help you determine the quality score of your writer/s.
This Scoring Sheet contains ready to use cells (with formula). Use this sheet together with the KPI/quality score doc file when checking your writer's work.
You can check the quality scores of your writer/s on a weekly or monthly basis. However, for newbies, it is best to monitor their scores on a per article basis to help you gauge their strengths, weaknesses, and possible areas of improvement.
You can check the article/blog post before publishing to ensure that the quality has been checked and the writer notified if there are errors and edits required.
Adjust the schedule of quality checks as needed.
Step 4: Provide Expert Learning Materials And Resources
One of the perks you can provide to your writers is expert resources and learning materials. Literally, there are thousands of free resources on the web, but hand-picking the best resources will provide the best benefits to your writers in the long run.
For this section, we have a short list of some of the best resources which your writers can use to help them learn and improve over time. We've also provided our insights as to why we chose the material/resource.
Made by Shani Raja (tenured journalist, news writer and editor, lecturer). This is a free video course at Udemy.com which can be accessed via Facebook or +Google login. Once inside, you can download each video, make a comment, and take side notes.
This video course focuses on concepts such as simplicity, clarity and elegance in improving one's writing skills. It is one of those copywriting courses that do not focus on technical aspects but on principles.
You can also download a free complementary e-book which can be viewed via mobile devices (phone and tablet computer).
This course is recommendable for beginner and expert writers who want to polish their skills further.
The only thing we did not like is the volume of the video. You should maximize your computer's volume to hear the lecturer clearly.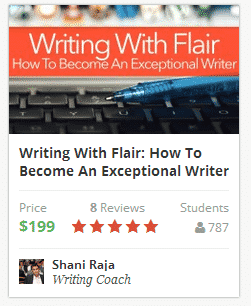 This is a paid video course at Udemy.com which is an extended and more comprehensive version of The Secret Sauce of Great Writing. It has over 31 lectures that will help your writers improve their skills within a few days.
This online course provides lessons on writing in plain English; staying away from weak and redundant words; keeping sentences active; avoiding jargons and clichés; creating an elegant narrative structure; and many others.
Writing with Flair is recommended for all types of writers and enthusiastic learners in any type of industry.
This teaches writers how to be a better writer and gain an advantage in writing copy online and offline. The guide was created for entrepreneurs, marketers, bloggers, founders, and anyone who writes copy to gain a larger audience or to make more money.
The first three chapters alone can help a writer learn and improve his/her basic writing skills in a short amount of time. Those chapters tackle writing headlines and compelling content, understanding customers, and researching.
Copyblogger's two must-have e-books, How to Write Magnetic Headlines and Copywriting 101: How to Craft Compelling Copy, are free expert resources your writers will surely benefit from.
Copywriting 101's lesson titles alone are thought-provoking, witty, and funny at the same time. This e-book is a crash course for writers who would like to learn about copywriting, its importance in the business of selling, and the need to be persuasive in the form of words, among others.
How to Write Magnetic Headlines focuses on the importance, reasons, and benefits of writing great headlines. The e-book also gives advice on writing and experimenting with headlines, as well as practicing and spending time in order to improve one's headline-writing prowess.
This is a 101 list of the good and bad practices that copywriters make. Having this list will enable your writers to focus more on the good while avoiding the bad.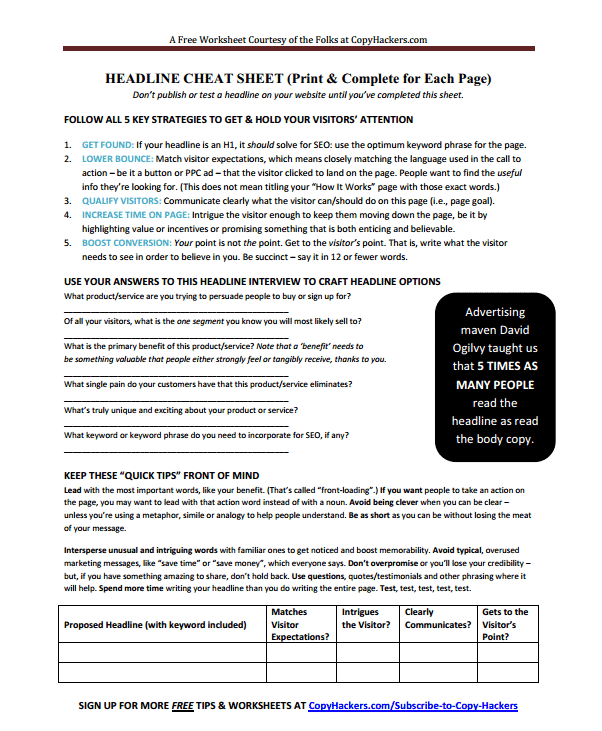 This provides five key strategies to get and retain your readers' attention. This is quite handy if your writer is tasked to produce a compelling piece for your customers.
Content Marketing Institute's various pages/posts and resources on creating content and marketing. These are free additional sources of knowledge for your writer/s to check out and learn from.
These training materials may overlap one another, but at the same time, they can also be complementary. The resource materials from the Content Marketing Institute and Copyhackers can be used as supplemental materials or for 'quick checks'.
Training and resources should be utilized outside of working hours especially if you are to provide them to freelancers. Typically, a freelance writer won't get paid for these training, but it is possible to provide them with bonuses, freebies, paid day-off, or pay raise upon completion.
The rationale behind the unpaid training hours is that it is a free investment for the writer. They can benefit from the training for a long time and they don't have to pay for the paid training themselves; they just need to spend some of their free time.
For paid copywriting training and materials, such as the one from Udemy.com (Writing with Flair), the eCommerce store owner should pay for access. This particular training is paid only once but can be used unlimitedly.
Step 5: Check Your Writer's Progress During Training
It is quite easy for any writer to tell an employer about the status of his/her training. But it is difficult to measure if you will just rely on an answer via email or instant messenger.
A writer can say "yeah, I'm still on it" or "yes, I am almost finished" but you can never be sure if this is the truth. It is also hard to tell if the writer has learned anything if you cannot gauge it.
You can start by asking your writer/s to provide crib notes (the good kind, not the 'for cheating in school' kind) of their training. This can be done on a daily basis at the start of shift (since training takes place after work and/or weekdays).
Here are some 'offline' samples of crib notes to give you an idea (they are also referred to as crib sheets):
Crib notes should contain the lessons learned and/or any bit of information that the individual wants to focus on during the training. In the case of the students who took the photos above, these could be a way for them to focus on the topics that they find difficult or more interesting.
In the case of writers in training, the goal is just the same but they need to jot down the lessons learned to give the business owner an update.
For your writer, since you will require online crib notes, you can use a format similar to the one below, which can be posted on Skype or any instant messenger that you use:
Training name/title:
Chapter/lesson #:
Enumerate learnings:
1.
2.
3.
4.
.
.
.
Enumerate difficulties/challenges:
1.
2.
3.
4.
.
.
.
Number of days/hours left for the training:
Tips:
Ensure that you have an agreement with the writer regarding the duration of the training.
Check the time/duration if it is video training. If it is on-going or a series of lessons, there should be a scheduled date for quality check.
Get one of the latest write up from your blog posts or anything is written by the writer.
Use your KPI/scoring criteria (doc) and the quality score sheet (xls) to check the quality.
Present this score sheet to your writer to help him/her improve what needs improvement and to motivate him/her to do better.
By doing all of these, you are indirectly expressing to the writer that you do mean business and you are serious about the training and seeing improvement.
Step 6: Compare Notes For Quality Checking
Since most of the training provided for writers are on-going or in a series of lessons, you can stop at each lesson and do quality checks. Use the KPI/scoring criteria (doc) and the quality score sheet (xls) to check the quality of articles before and after a specific lesson.
You can do it this way for every writer who is undergoing training. The good thing about quality checks and comparing articles is their measurability because you have numbers (scores) to present to the writer.
It is also possible to tell the writer to "go back to lesson 3 of this training material" if there was no improvement based on the quality checks.
As for the crib notes, those are just for updates to ensure that the writer is really taking the training and learning from it. Unfortunately, it is also easy to lie and write something on a crib note, so the scoring sheet will definitely help you gauge his/her performance and see the difference.
Learn From Others
It is difficult to say that all eCommerce store owners who hire freelance writers are successful in their working relationships. Some may be lucky, some may be not.
There are those who easily move on and hire another writer. But others may experience phobia or even hatred towards freelance writers who left them hanging with unfinished tasks.
We cannot stress enough that it isn't enough to just rely on what the writers have provided on their profiles and portfolios. Talk to them during the selection process and find out for yourself if the person behind the profile is good in speaking in English.
One of the online companies we've talked to would let one or all of their editors interview the writer via Skype call. A surprise or on-the-spot writing exercise would be given to the writer to gauge the English writing proficiency on the spot; copying-pasting from MS word doc is NOT allowed.
If there are a certain number of errors in grammar and/or spelling (let's say more than 10 occurrences in a 100-word write-up, but only 2 errors are allowed as leeway), the editors can make a decision right away. You can do this when hiring writers; just set up your own scores and error threshold for this particular exercise.
You can use Skype, GoTo Meeting, or any instant messaging where you can see the words being typed real-time. The best part about this exercise is you don't need to spend a lot of time in the selection process; once you see an immediate result, it is easier to make a decision.
For training and continuous improvement of writers, you need to make it clear that these are expected and you also want to see results. Writers who stay away from training are usually those who do not want to learn and improve their skills.
In case you have a dedicated and passionate writer on-board, but still needs to learn and improve, it is imperative for him/her to take the training. Establish an agreement and provide the benefits for doing so.
Final Checklist
Finding an exceptional writer 100% of the time is rare.
You will come across an applicant who seems better than the last writer you've got, but after a few weeks, the quality of work deteriorates. This is why training and continuous learning are important for both your eCommerce business and writer.
You can provide training materials that are carefully picked and reviewed before recommending them to your writer. And to help you gauge his/her performance, you need to set up expectations and KPIs based on your business needs.
Look for a writer who is passionate about his/her work and values quality over quantity.
Make sure to set expectations and KPI's.
Do your part by searching and providing quality copywriting training materials like e-books, video tutorials, and podcasts.
Have an agreement with your writer that you are serious about the training and you will be checking his/her progress regularly.
Provide insights and recommendations for the quality checks.
Emphasize to your writer the importance of KPIs and quality checks, and their relation to the training you provide.
Emphasize to your writer the impact of his/her performance to your eCommerce business.
Emphasize the value of copywriting training and why they are not paid or not taken during work time but are considered perks for freelance writers.