Everyone fails sooner or later. It's an undeniable life fact, so let's face it. The only difference is that some people stand up and keep moving forward while others choose to stay down.
Another truth is that almost everyone's road to success is undoubtedly meandering and bumpy.
The problem is:
It's common to observe failure as the worst situation that can happen to someone on their way to the top in today's overly ambitious world.
And what is the solution?
Instead of seeing our failures as insurmountable obstacles, it's wiser that we welcome them as invaluable growth opportunities.
Yeah, we know how hard it is to overcome certain failures. There's NO one who hasn't been there at least once in a lifetime, remember?
And we know it always hurts when you fail no matter how small failure it is and what it is about.
Still, you must be aware that overcoming your weaknesses and coping with your failure successfully is not rocket science.
Quite the opposite:
It's a skill everyone can hone!
Isn't it fantastic?
Now, you're about to learn several powerful strategies for dealing with failure and turning it into a win in a healthy way.
1 – Learn How to Emotionally Deal With Failure
When going through failure, we all take it to heart regardless of the opposite advice we get. That's natural.
For confident and strong personalities it's easier to cope with failure than it is for sensitive ones especially when they're not adequately equipped for the battle.
It takes time to heal when failure happens.
A Swiss physician and researcher Elisabeth Kubler-Ross, described the stages of emotional and psychological response to grief known as the Kubler-Ross grief cycle, which shows what every individual is going through.
Here's an explanation of the key emotional responses that people are likely to feel when they fail.
It's important to realize that failure is nothing bad and to allow yourself time to process it emotionally stage by stage because suppressing your negative feelings has much worse consequences on your health.
Here are a couple of tips that can help you speed up the healing phase:
It's great to act immediately, but if you can't, take your time to grieve.
Ensure you don't get back to the situation before taking a risk and experiencing failure because it's moving backward not forward.
Don't idealize things but be completely honest with yourself.
Reflect on past success for encouragement.
Reassure and reward yourself.
Now, let's take a bit deeper dive into what else you should do to skillfully cope with failure.
2 – Always Acknowledge and Accept Your Failure
When you encounter failure, don't pretend as if nothing happened because ignoring problems is never a solution.
Simply, do your best to accept failure as an inevitable part of life and acknowledge it. The sooner you do that, the quicker your recovery will be.
Identify your weaknesses in that specific situation and focus on overcoming or minimizing them in the future. Consider the situation from different angles and see what conclusions for the future you can draw from it.
However, be careful NOT to dwell on the failure, or to take it too personally, that is to say, to identify yourself with the failure just because you didn't manage to do something correctly.
Having a setback does NOT mean YOU are a failure!
So, no labels, please. Be gentle to yourself and don't let the failure bring you down.
Also, remember that you'll fail again sometime in the future, probably when you try to grow by stepping out of your comfort zone, which is perfectly fine.
Not only is it fine – it's more than welcome as Lisa Evans explains in her article Why You Need to Step Out of Your Comfort Zone.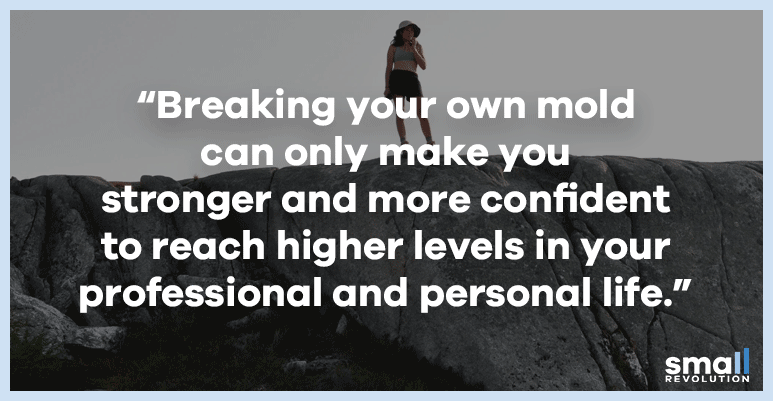 3 – Take Responsibility for Your Failures Instead of Blaming Others
A typical instinctive reaction of many people when experiencing failures would be to place the blame on others or unfortunate circumstances.
This may be a bit relieving at first because it can help you get rid of fear usually accompanying failure, BUT there's no long-term gain for you if you do it.
Even worse – it will prevent you from learning from your mistakes.
What will be beneficial for you, in the long run, is to identify your role in a particular situation and accept responsibility for what you did wrong that caused the failure. That's what will make you appear as an accountable individual with integrity.
Bear in mind that the key is in accepting an appropriate amount of responsibility. So, don't fall into a trap of blaming yourself for everything including what wasn't up to you.
A healthy approach is to seek reasons for the failure, i.e. explanations instead of excuses so that you can figure out what you can do better next time you find yourself in a similar situation.
4 – Remember That Failure Is Not the End of the World
When you experience failure, remind yourself that no matter how huge it seems at that moment, the failure is not the end of the world.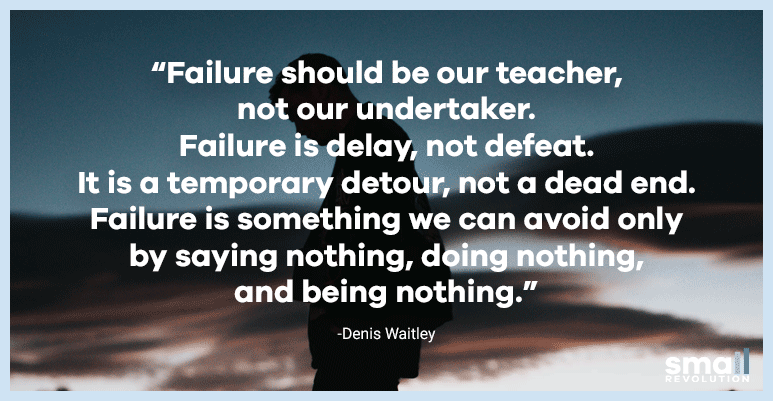 Even better:
Compile a list of all the times when you succeeded and place it prominently to remind yourself that you're highly capable of success.
That's how you'll combat the feeling of worthlessness and keep motivation.
Also, think about the large failures you faced in the past and remember how you always managed to overcome them and grew stronger.
You've done it hundreds of times before, haven't you?
So, what is different now?
That's right – nothing. You CAN and WILL do it again.
5 – Shift Your Perspective and Learn From Your Failure
Failure feels sooooo bad and is extremely discouraging, isn't it? That's because we see it as losing.
Well, everyone feels like that.
But, that awful feeling doesn't prevent some people from moving on while others often get stuck.
Wondering how come?
That's because those individuals are clever enough to view failure as a massive learning opportunity in disguise. So, they change their perspective and see failure in another light.
What's more, they value failures as invaluable blessings!
They use failure as an effective means for growing and developing their skills, which will eventually lead them to their life goals.
It's also scientifically proven that failure can enhance your brain and trigger growth.
Here are five ways failure can help your career just to see how it's possible.
People who choose to learn from failures ask themselves why they failed and many other difficult questions, such as:
What did I learn from this unfavorable situation?
What are at least two possible positive outcomes?
How has this failure brought about my personal growth?
Upon analyzing the situation rationally and being brutally honest with themselves, they figure out what actions to take so that they don't repeat the same mistakes over and over again.
So, embrace your failures as indicators of what needs your closer attention, harder work and more effort if you want to achieve your desired results.
6 – Turn Your Failure Into Success
Once you've mastered the previously discussed approaches to failure, you'll be able to transform it into success quickly no matter how big it is.
You can do that by simply getting back to the very beginning of a particular journey and figuring out what exactly didn't work.
Then, you can think of ways to fix things by replacing wrong moves with more appropriate and better actions.
It's very likely to require a lot of tremendously hard work you won't feel motivated for at first, but this change is well worth the effort.
So, reflect on what happened, discover what did and what didn't work, and come up with a plan of remedial actions. Then, ACT as quickly as you can!
Time for You to Take Control
Now that you know all this, whether you'll perceive failure as daunting or not depends on which approach you choose to tackle it.
Whatever you do, remember:
Even the richest, brightest and most successful individuals in the world have experienced setbacks and colossal failures on their slippery road to the top.
Take a look at Quick Base's infographic on How 10 Billionaires Faced Failure:
There are many other famous people who experienced failures and faced numerous barriers but thought of them as stepping stones to success, so they were more determined and motivated to achieve their goals with every failure.
It's up to you to regain full control over your emotions and life while riding on the rollercoaster of change.
And even if you fail, choose to fail successfully because failure is NOT the opposite of success but a part of it.
Best of luck on your way!
Shareable Image