WordPress is a content management system (CMS) powering over 400 million websites.
It enables anyone to build and manage a website.
You can make a WordPress website for your:
Portfolio
Business
eCommerce store
Personal blog
Many companies prefer WordPress as their CMS because not only is it easy to use, it's free and so are most of the plugins.
This means that learning basic WordPress skills can open up many employment opportunities online.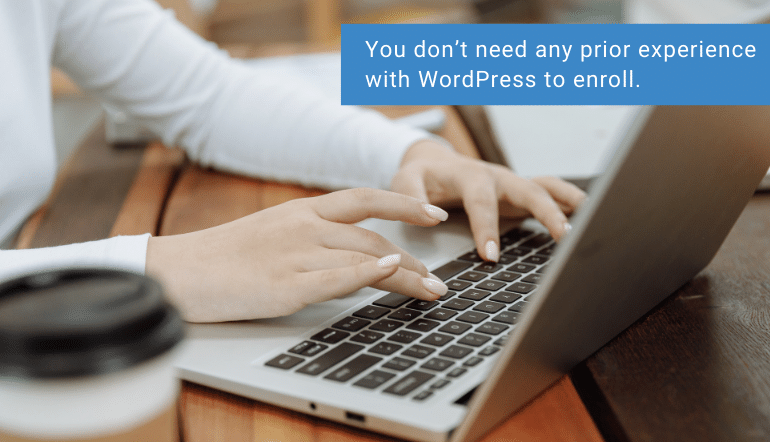 In fact, as more and more businesses move online, acquiring the skills of a WordPress developer is among the most in-demand and well-paying online jobs.
If you have an interest in acquiring WordPress skills but aren't certain about enrolling in a paid course, we've compiled a list of four absolutely free courses.
You don't need any prior experience with WordPress—all you need is commitment and willingness to learn.
Course 1: WordPress Academy: Learn WordPress Step By Step
The WordPress Academy: Learn WordPress step by step course is one of the best WordPress courses on Skillshare.
The course is taught by Chris Dixon, a top online teacher and web developer from the UK with over 20 years of experience.
Taught with as many practical examples as possible, this course is the ultimate step-by-step guide that starts with the basics and progresses to intermediate skills.
The course is eight hours long and consists of 84 lessons in total.
The table below gives a summary of the subtopics you'll cover during this course.
| | |
| --- | --- |
| Subtopic | What You'll Learn |
| The WordPress dashboard | The multiple options on the dashboard and their functions |
| Creating a website | How to build a website from scratch through simple step-by-step instructions |
| Adding visual elements | How to add images and videos to your posts in order to improve the user experience |
| Search engine optimization (SEO) | What SEO is and how to optimize your site to rank in search engines |
| eCommerce website creation | How to create and configure an online store |
| Themes | The importance of themes and how to install the best one for your site |
By the time you've completed this course, you'll have created three websites, each using a different skill.
There are also downloadable resources for you to assist you further in mastering WordPress.
Over 26,000 students have already completed the course.
This class exceeded my expectations! If you're starting to learn about WordPress, this is the best course I've ever taken.

Juan Antonio
Note: To get this course for free, you have to enroll in Skillshare's one-month free trial. You must commit to finishing the course in 30 days, or you'll be charged Skillshare's subscription fee.
To register for Skillshare's free 30-day trial, you need to create an account with your name, email, and credit card or PayPal information.
Course 2: Become a Junior WordPress Developer: LinkedIn Learning
The Become a Junior WordPress Developer is a course on LinkedIn Learning that covers the basic fundamentals of becoming a WordPress Developer.
The course is covered in 12 lessons taught by seven of the best web developers and designers on LinkedIn.
The table below shows what learners cover in this course.
| | |
| --- | --- |
| Subtopic | What You'll Learn |
| Building a website | How to create a website using the self-hosted WordPress version |
| WordPress site administration | How to incorporate different themes and plugins in the site |
| Cascading Style Sheets (CSS) | The foundational concepts of CSS |
| HyperText Markup Language (HTML) | HTML fundamentals and how to do SEO on a real-life project |
| JavaScript | Scripting and how to configure objects, variables, and more |
Once you're done with the course, you'll receive a certificate of completion that you can display on your LinkedIn profile.
Note: The course is free on the LinkedIn Learning free trial that only lasts for 30 days. If you're not done in 30 days, you'll have to pay the yearly subscription to continue.
Course 3: Create a Website Using WordPress: Coursera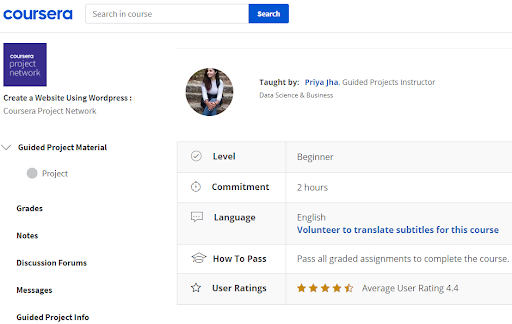 The Create a Website Using WordPress is a short but information-packed course on Coursera. It's taught by Priya Jha, a projects instructor, specializing in data science and business.
The course is a free, guided project where you get to build a website with a free domain and hosting.
In this two-hour-long course, you'll get to:
Learn how to get a host and a subdomain for your website
Learn how to work with themes, plugins, and permalinks on WordPress
Build a professional-looking medical business website from scratch
The course is only two hours long and very beginner-friendly.
In a split-screen video, the instructor guides you, and you get to see the step-by-step instructions.
Over 26,000 people have already completed the course.
Well explained, easy to follow and the result is very nice. Totally recommended.

Georgina P.
All you need to enroll in this course is your name and email.
Course 4: How to Make a Beautiful WordPress Website: Udemy
The How to Make a Beautiful WordPress Website is a short course on Udemy that is created with the absolute beginner in mind,
This short tutorial will help you create a website using Elementor and Envato plugins.
The course was created by James Stafford, founder of Websites Made Easy and creator of at least 37 courses on Udemy.
Here's what you should expect to learn in this short course:
How to create a website and launch it online, from start to finish
How to customize the visual theme builder and other areas of your website
More than 80 design elements
How to use tools that help you generate traffic, leads, and conversions
By the time you're done with the course, you should have your website set up and live.
The course is one of many free courses available on Udemy. It bears a 4.5-star rating, which is pretty outstanding.
Over 7,000 students have already taken the course.
After finishing your course, I actually want to start honing my skill in WordPress and dig deeper.

Jeaneah B.
Advance Your WordPress Skills
If you're considering building a website, or you'd like to start your journey as a WordPress developer, the courses we've covered are ideal to get you started.
There are more free courses on Udemy which are also absolutely free.
To access them, go to Udemy and browse what you'd like to learn—in this case, WordPress.
Check the free box and press enter. This will show you all the free courses on that topic.
And if you like what you're getting, you can enroll in the paid Udemy courses, which will earn you more advanced WordPress skills.
Share on Facebook: