So what are the best online jobs for Kenyans who want to work from home?
Glad you asked, because…
There are indeed the best online jobs that you, as a Kenyan, can do and earn a decent amount of money from the comfort of your home.
Whether you are in Nairobi, Mombasa, Kisumu, Nakuru or Eldoret – as long as you have a reliable internet connection, you are good to go.
Sounds too good to be true? Not at all.
We'll show these best online jobs we're talking about in a bit. We'll also provide insightful answers to the questions you may be asking yourself regarding these online jobs.
No doubt about it dear Kenyan, it is now your time to find your best online job on an online job board such as KaziWork, among others.
Ready Kenya? Let's get started:
1. General Virtual assistant
As online businesses grow, work volume increases. At some point, each business owner will need a virtual assistant to offer a helping hand – more like a personal assistant in the corporate world.
Let's find out more…
What Exactly Does a General Virtual Assistant Do?
First off, it is important for you to know that there are different kinds of virtual assistants. They include:
Social media/digital marketing virtual assistant
Real estate virtual assistant
Virtual research assistant
eCommerce assistant
Virtual bookkeeping assistant
Product launch virtual assistant
Administrative/ General virtual assistant
Technical/ WordPress Virtual Assistant
But for now, we'll zero in on the general/administrative virtual assistant. And here are the tasks that you can expect to do on a typical day:
Email management
Report preparation
Taking minutes
Blog moderation
Communicating with customers
Appointment booking and calendar management
This is to name but a few. Find out 23 ways you can earn more money as a virtual assistant.
What Skills Does a Virtual Assistant Need?
You are right to think that you need skills to be a topnotch virtual assistant.
So without further ado, let's discover those skills that you need, okay?
Have good computer knowledge
Be internet and software savvy
Be approachable and friendly to talk to
Be able to manage your own feelings, emotions, and moods
Have excellent verbal and written skills
Did we mention that getting certified gives you an edge over the other virtual assistants? You should seriously consider learning how to become a virtual assistant.
After getting certified, you'd want to earn a mind-blowing salary as a virtual assistant, right? Here are the secrets.
Before we go on, we'll show a benchmarking graph on Kenya's business internet usage courtesy of the Kenya ICT Authority.
Isn't Kenya really making a mark on the business internet space?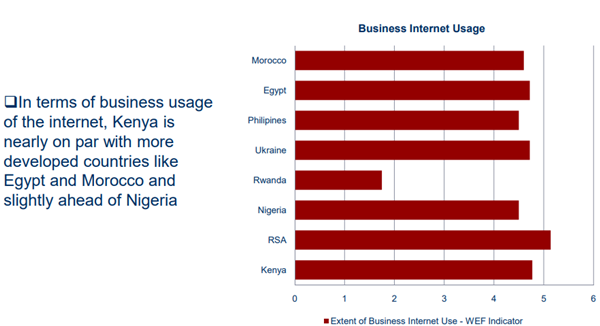 2. Social Media Marketing
Can you imagine living without Facebook, Twitter, Instagram, YouTube, and other social media channels?
Honestly, social media has become part of our lives. And businesses have not been left behind. Companies use social media to reach prospects and customers.
What Does a Social Media Marketer Do?
To answer your question, we'll show you a chart of what social media marketers are working on today.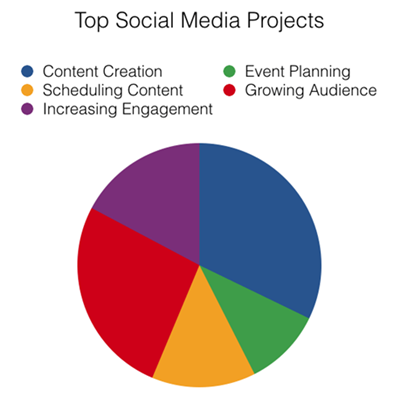 Help! How Do I Become a Social Media Marketer?
So you are excited and ready to become a social media marketer? Good choice.
Here's how to kick start your career:
Start by picking three social media platforms and get to know them well. Be a specialist. LinkedIn, Facebook, and Twitter are a good start
Research your customer base depending on the industry you want to specialise in
Curiously observe how the companies you look up to are carrying out their social media campaigns. Learn from them
Get active. Start posting and updating regularly on social media. You can start with your personal account. Practice makes perfect, remember?
Intern or volunteer to build your experience. You'll quickly learn what works and what doesn't from the experts
For more tips read this:
3. Virtual Bookkeeper
As a virtual bookkeeper, you are not location-dependent. Instead, you work remotely.
You will use the internet and computerised bookkeeping software to complete your tasks.
Let's now find out which roles you can expect to carry out as a virtual bookkeeper, shall we?
What Is the Role of a Virtual Bookkeeper?
You may work on accounts payable, payroll processing, financial reporting, among other bookkeeping tasks.
You will maintain records of financial transactions by establishing accounts; posting transactions; ensuring legal requirements compliance.
Let's simplify that further.
When you wake up and power up your computer ready to work, here's what your typical tasks include:
Maintain an orderly accounting filing system
Issue invoices to customers
Pay supplier invoices in a timely manner
Pay any debt as it comes due for payment
Process payroll in a timely manner
Provide clerical and administrative support to management as requested
Check out this bookkeeper job description for more bookkeeping tasks.
How Much Do Virtual Bookkeepers Make?
According to Salary, the pay rate for a bookkeeper is Kshs. 1800 – Kshs.2300 per hour
According to Zip Recruiter the salary of a virtual bookkeeper is Kshs. 4,068,400 per year
According to Small Business Cost Helper, the hourly rates for an outside bookkeeping service is Kshs. 2000 – Kshs. 5000 an hour: depending on the complexity and location
Help! How Do I Get Started as a Virtual Bookkeeper?
Good question. Watch this video to learn how to get started.
4. Customer Service Representative
As a customer service representative, you will be dealing with customers on behalf of the company that has employed you.
What Is a Customer Service Representative?
As a customer service representative, you are the frontline of support for clients. You'll help ensure that customers are satisfied with the products, services, and features that your company offers.
You will serve customers by providing product and service information; resolving product and service problems.
You will provide customers with helpful information, answer their questions, and respond to complaints.
What Are the Duties and Responsibilities of a Customer Service Representative?
Wondering what you will be waking up to do as a customer service representative?
Here's a quick breakdown of your duties and responsibilities:
Promptly respond to customer inquiries e.g. email, live chat
Always maintain a positive, empathetic, and professional attitude towards customers
Communicate with customers through various communication channels
Acknowledge and resolve customer complaints
Be knowledgeable about the company products and services so that you can answer customer questions correctly
Process orders, forms, applications, and requests
Keep records of customer interactions, transactions, comments and complaints
Communicate and coordinate with colleagues as necessary
Provide feedback on the efficiency of the customer service process
What Are the Skills of a Customer Service Representative?
Now that you know the duties and responsibilities that await you, let's take a look at the skills you need.
Communication – in a clear and easy to understand manner
Empathy – you may be dealing with frustrated or unhappy customers
Patience – customers may ask several questions or ask you to repeat yourself
Technical knowledge – you need industry knowledge to solve customer problems
For more skills, check out the most important customer service skills according to data.
Help! How Do I Get Started as a Customer Service Representative?
You are excited to get started on a CSR role, right?
Do this:
Get customer service representative skills
Start pitching for clients. Here's a complete online job board list.
Get this:
Since you will be interacting with customers on behalf of your company, you need a stable internet connection.
Can you really afford to go offline (because of unreliable internet) while still speaking or chatting with a client?
Not so much. It will ruin your professional reputation – especially if it happens often.
Let's help you get a reliable internet connection so you can do your CSR job efficiently.
How to Get a Reliable Internet Connection in Kenya
No doubt about it, working online means that you will rely heavily on the internet to get the job done.
And there is nothing as annoying as working with slow and unstable internet.
Luckily, Kenya has a well-developed internet structure. It is even said to have the fastest internet in Africa and the Middle East.
Now, all you need is a reliable internet service provider (ISP). To help you skip the guesswork, we'll highlight the top Kenyan internet service providers in no particular order.
Keep reading and pick your best as ISP as we go along.
Zuku claims to offer the fastest internet speeds in Kenya – up to 250 Mbps.
You can run a speed test to confirm your internet speed using this link.
For your home internet, Zuku offers free installation, free wifi modem, and a free digital TV decoder. That means you get the internet, TV, and phone services bundled together.
However, Zuku is not available all over Kenya. Therefore, before you subscribe to their internet services, you have to check that Zuku has coverage in your area.
Here are the Zuku home internet rates: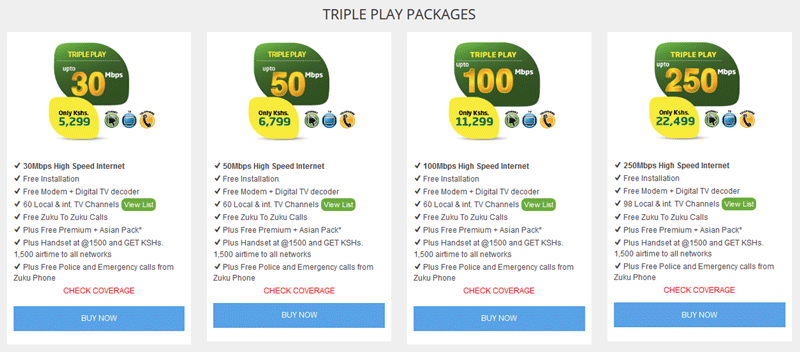 Safaricom claims to be Kenya's strongest data network. They offer the following data bundles plans to compliment your lifestyle:
All in one bundles
Daily data bundles
Weekly data bundles
Monthly data bundles
90-day data bundle
You must remember that Safaricom is recognised globally for inventing M-PESA, a digital wallet that lets you receive money, pay bills, and transact easily, safely and conveniently.
Safaricom has also partnered with PayPal (you may need PayPal to receive your pay while working online). Thanks to PayPal and M-PESA partnership, it will take you only 2 hours to receive your money on your mobile phone.
Impressive, right?
Spoiler alert: Orange is not a fruit. Rather it is a telecommunication service provider in Kenya.
Orange offers the following internet services:
Stay Woke: This is a 5GB data bundle allocation available for use between 12am and 6am every day at KSh. 30 daily.
Home Plans: This may be the most suitable plan for your online work. Here's an overview of the home plan pricing:
Faiba from Jamii Telecoms offers home internet packages ranging from 30 mbps to 125 mbps.
That includes the:
Of all these, we think you'd be interested with the Faiba Home plan (since you'll be working from the comfort of home). Here's the pricing plan. Take a look.
5. Copywriter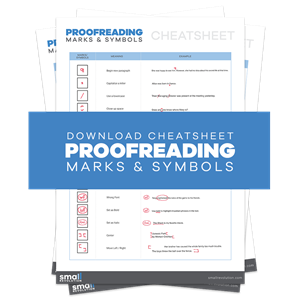 eCommerce website owners need content on their websites. Mainly to engage with their audience and promote their products or services. As a Copywriter, you write the content.
You may be wondering…
What Exactly Does a Copywriter Do?
Basically, as a copywriter, you write copy (often for advertising promotional material).
Copy is broad. It can be any of the following:
eBooks
Newsletters
Testimonials
Case studies
White papers
Resource centres
Comparison sheets
Customer success stories
Product content and guides
User guides/user manuals
Frequently Asked Questions (FAQs)
Blog posts, e.g. How-to blogs, listicles, step-by-step guides
What Skills Do You Need to Be a Copywriter?
There are essential skills you need to master to become a successful copywriter.
Here they are:
The ability to write well
Excellent research skills
Ability to create something new (even if it is old)
A clear understanding of user experience
Ability to write with empathy (touch a reader on an emotional level)
What next?
Start polishing your copywriter skills.
Did you know that the Daily Nation featured some Kenyan writers in one of their newspaper articles? To find out how much these writers earn, read the full article.
What is the salary of a copywriter?
The average rate for an entry-level copywriter is Kshs. 600 – Kshs.1500 per hour. You can also get an idea of how much you can earn as a beginner, intermediate, or expert copywriter using the table below.
Pay Rate For Virtual Assistant with Copywriting Skills – Kenya/Africa
| | | |
| --- | --- | --- |
| Beginner | Intermediate | Expert |
| Kshs.600 – Kshs.1500 per hour | Kshs.2500 – Kshs.3500 per hour | Kshs.4000 – Kshs.5000 per hour |
6. Proofreader
Got excellent spelling and grammar skills? And you effortlessly notice typos, grammatical, and spelling errors on anything with a printed word? Certainly, working as a proofreader will turn out to be a very promising career for you.
Sounds good? Keep reading to learn what the proofreading job entails.
What Is the Work of a Proofreader?
An employer will take you on as a proofreader so that you ensure that the final written documents are error-free, consistent, and accurate.
That means you check that:
The text matches them with the original
Spelling and style are correct and consistent
Page numbers, headings, and captions are correct
Photos and illustrations are correctly captioned
Here's a complete proofreading checklist to help you out. Click here to download!
How Much Does an Online Proofreader Make?
A survey done by the Common Cents Club revealed that proofreaders earn an average of Kshs.2500 – Kshs.4500 per hour.
The pie chart below paints a clearer picture:
The truth is: you can get paid a decent sum of money to point out mistakes in:
Online articles/blog posts
CV/Application letters
Academic papers
Novels
Your Working Options as a Proofreader (or Online Worker)
Let's face it: sometimes, it can get boring (read lonely) working indoors. And you may want some human interaction while you work.
A great idea is to look for a coworking space. And here are some of the coolest coworking spaces in Nairobi:
If you want to work at a coworking space that blends with the natural environment, then Ikigai is the place to be. You can go to Ikigai Westlands (garden) or Ikigai Lavington (commercial).
Nairobi garage is located at Kilimani, Westlands, and Karen. Depending on your preference, you will find a package that suits you.
Here's a highlight of Nairobi Garage packages:
Day-pass at Ksh.2000 per day
Flexi package at Kshs.20,000 per month
Fixed package at Kshs.25,000 per month
iHub is located on the 6th Floor of Senteu Plaza, Galana / Lenana Road Junction – in the upmarket Kilimani neighbourhood.
For Kshs. 15,000 per month, you will get a semi-permanent office and locker. However, membership runs for 12 months.
Here's a map to help you get to iHub.
The Mint Hub offer a coworking space with added benefits such as a fitness centre, refreshments, storage lockers, among others. All their services are accessible 24/7.
Take a look at their pricing plans:
Please note that the mentioned co-working spaces are available within Nairobi. Therefore, if you live outside Nairobi, you may have to discover the co-working spaces within your location.
In case there are no dedicated coworking spaces, look work from a suitable cafe or recreational park. You'll see, it will be fun working outdoors.
Still need more coworking spaces in Kenya? Check out the hand-picked selections at Coworker.
7. Transcriptionist
There's demand for transcriptionists all over the world. And the demand is rapidly increasing. Sceptical? Here's the proof.
So what will you be doing as a transcriptionist? Keep reading and you'll find out.
What Does a Transcriptionist Do?
You will work as a professional typist. Meaning, you will listen to recorded or live audio files and type (in text format) what you hear.
You can be a transcriber in any of the following categories:
a) General transcription. It includes:
Data entry
Legal transcription
Financial/corporate transcription
Offline captioning
b) Real-time transcription
Communication access real-time translation (CART) reporter
Court reporter
c) Medical transcription
d) Verbatim, Edited, and Intelligent Transcription
How Long Does it Take to Become a Transcriptionist?
Luckily, there are many online courses you can take and learn how to transcribe like a pro.
Therefore, depending on your learning speed and the category of transcription you choose to specialise in, give yourself one to three months.
While at it, you need the following skills for a successful transcription career:
Have a good typing speed
Have excellent English grammar and punctuation skills
Have a keen ear to listen to audio
Be able to sit for long periods of time
Be committed to excellence
Be self-motivated
Plus, you need the right transcription tools.
What Are the Best Transcription Companies That Pay Well?
Be careful when looking for a transcription job because some companies pay way below a living wage.
The good news is we've picked out the ones that pay well in the transcription industry. Please use the currency converter to get the figures in Kenya Shillings.
Here we go:
Where to Get Transcription Training in Kenya?
Nelly Mutua is one of the best transcribers in Kenya. She offers purely online training and her e-Guide goes for only Kshs.1500. Check out her transcription training course available at Freelancer Kenya.
You may also find this article on transcription work useful.
8. Graphic Designer
Got a flair for art? Are you handy with a pencil? Stop doodling and start drawing a decent paycheck working as a graphic designer.
If you have no idea who may hire you as a graphic designer, here's a clue:
Cartoon and game creators
Businesses (small and large) in need of branding, rebranding, or establishing their brand identity
Individuals who need their personal brand represented in original graphics
Book publishers
Advertisers
Product design teams or website and mobile applications owners
Diverse agencies and organizations who need posters, stickers, labels and the like for their events, campaigns, offices etc.
Educational institutions for creating various graphics with educational objectives (classroom posters, printables, handouts, toys and games images etc.)
Television studios and video production companies
With that in mind, let's see what you will be doing for these establishments.
What Is the Work of a Graphic Designer?
As a graphic designer, you will be creating ideas that are visually communicable and pleasing to consumers or customers.
A typical day may entail:
Meeting with clients to establish the scope of a project
Advising your clients on suitable strategies to reach their desired audience
Discerning the message the design should portray
Creating images that identify a product or convey a message
Developing graphics for websites, product illustrations, and logos
Selecting suitable colours, images, text style, and layout
What Qualifications Do You Need to Become a Graphic Designer?
Have this in mind: good qualifications might get you an interview, but a good portfolio will get you the job.
Here's an infographic with a guide to being a successful graphic designer. (By the way, this infographic is the work of a graphic designer).
What Work Tools Do You Require to Work Efficiently as a Virtual Assistant?
Without reliable, good-quality tools it will be difficult for you to maintain a high level of productivity, true?
Therefore, we'll do an overview of the tools that you need to work efficiently as a Kenyan online worker.
Uncluttered Desk
Oh! The mess that comes with a cluttered desk!
Mark you, an uncluttered desk may be:
A desk that has unnecessary items that don't really need to be there
Or, a completely messy desk chock full of used dishes, papers, among other piles of clutter
Aim for a clutter free desk by having only what you need to use on your desk.
Your uncluttered desk should be in a quiet part of your house. Or, in your own home office.
Also, ensure that you are working from a well lit area with lots of natural light – natural light improves your performance.
Comfortable Chair
You will be sitting for long (long!) hours working – that's for sure. And without a good chair (one that supports your body in the correct posture), you are risking your health.
To help you understand how to pick the right ergonomic chair, here is an insightful video. Watch.
Wondering where to buy an ergonomic chair in Kenya? Have a look at these stores:
Reliable Computer
You may prefer a laptop or a desktop, but the bottom line is: your computer should be reliable and efficient.
A computer with a large monitor that enables you to see your work clearly and in a large format is a good choice.
Yet, buying a good quality computer can be overwhelming. Therefore, we'll give you some tips to keep in mind:
Computer Unit
Windows PC
Apple Macintosh
Operating System
Minimum: Windows 8.1
Best: Windows 10 Home or Pro
Macintosh OS 10.12 or higher
Processor Type
Minimum Intel Core i5
Best Intel Core i7 or AMD Ryzen 7
Minimum Intel Core i5
Best Intel Core i7
Memory
Minimum 8GB RAM or Higher
Minimum 8 GB RAM or higher
Hard Drive
Minimum 250 GB
Best 500 GB or higher
Do not buy 128 GB HD
Minimum 250 GB
Best 500 GB or higher
Do not buy 128 GB HD
Graphics Card
512 MB Video Memory or higher
512 MB Video Memory or higher
Warranty
4-year parts and labour
3-year parts and labour AppleCare
Over to You
You now have every reason to work from home, right?
Having read through all these best online jobs for Kenyans, which one piqued your interest?
Get started with your online career choice today. Don't procrastinate.
"Procrastination is the thief of time, collar him." Charles Dickens, David Copperfield
For helpful tips about working online, check out Small Revolution.
Photo by senivpetro