Listverse is "the internet's original top 10 site." The site publishes fascinating articles by contributing writers.
Listverse's content is varied, but all articles stick to the basic top 10 format. Furthermore, they're all interesting, unique, and focused on original concepts.
Listverse pays contributing authors $100 per article. Anyone is free to try their luck submitting an article—are your writing skills up to the task?
Choosing to Write Articles for Listverse
For freelance copywriters and content writers, there are countless platforms to consider. It's not easy to find the corners of the internet that will reward your efforts with steady opportunities, fair pay, and stimulating work.
It's especially difficult when you're first getting started. The truth is, being a good writer isn't enough. You also need to know how to market yourself and where to find the best fitting gigs for your talents.
Most freelancers have a few sad stories about clients that made unreasonable demands. That, or they disappeared when it was time to make payment.
For many, the entry point into freelance writing is through low-paying "content mills," where there's lots of work—along with lots of competition and disappointing pay rates.
If you're a good writer, and you stick with it, you'll learn the industry. You'll find the clients and platforms that are fair and high-paying.
In that search, if you scour the internet for the best freelance writing jobs, you'll likely come across Listverse.
Depending on your pay rate standards, Listverse might be an early stop in your writing journey. Or it may be a goal destination that you work your way up to. Either way, Listverse is a great spot for earning $100 per article.
Learning to Meet the Listverse Writing Standards
There are no guarantees that Listverse will accept your publications. However, if you meet their quality standards and get a feel for what it is they're looking for, Listverse can become a steady source of income.
Want to give yourself the best possible shot at success when submitting your work to Listverse? Let's cover a few basic Listverse Dos and Don'ts.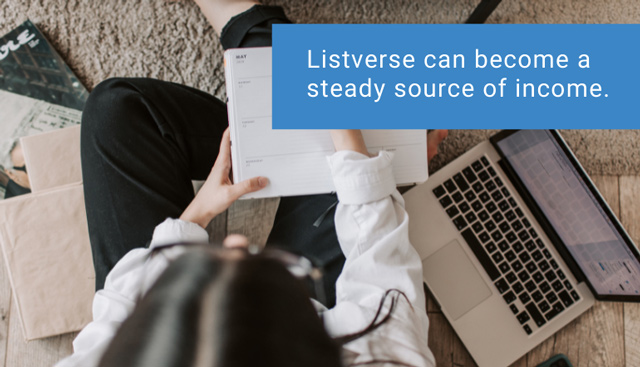 Do: Make Sure You're Located in an Approved Country
The only technical limitation for submitting to Listverse—and yes, it's a big one—is geography. Listverse only accepts articles submitted from one of these seven English-speaking countries:
United States
United Kingdom
New Zealand
Ireland
Canada
Australia
South Africa
Provided you're located in one of the above, you're eligible to submit an article to Listverse.
Do: Read the Listverse Author's Guide
Listverse has lots of specific requirements for article submissions. Fortunately, they explain their stylistic needs quite clearly in the Listverse Author's Guide.
If you submit an article to Listverse without first reading the Author's Guide, your work has virtually no shot at acceptance.
The Author's Guide lays out the basic prerequisites, like what subject matter is encouraged and what topics are off-limits. The guide then gets much more nuanced, providing a description of the specific sorts of knowledge and humor that Listverse readers are drawn to.
Be sure to thoroughly read the guide—word for word—before you start working on a Listverse submission.
Don't: Write the Wrong Type of Article
Listverse is looking for a certain format, a certain style, and a certain set of topics.
For format and style rules, you'll need to read through the Author's Guide. Here are the key points: your article needs to be between 1,500–2,000 words, be proofread to perfection, and must consist of a top 10 list.
Regarding subject matter, your topic should fit into one of these categories:
Bizarre
Entertainment
General knowledge
Lifestyle
Science
Society
There are subcategories within each group. For example, within Society, articles are grouped as either pertaining to crime, politics, or religion.
Simply fitting into a category isn't enough. The subject matter needs to be brand new. You can't rewrite your own version of an existing list found elsewhere online.
Most importantly, your topic needs to be fascinating. Listverse favors lists that are wacky, surprising, and fresh. The standard sort of articles that we're used to in blogs—like basic travel recommendations or health tips—aren't a fit for Listverse.
For example, travel is an acceptable topic (it's within the Lifestyle category). However, you won't find lists like "Top 10 Beautiful Waterfalls." Rather, Listverse travel articles tend to have titles like "10 Times Terrible Tourists Were Arrested."
Coming up with a truly unique and captivating article idea isn't easy—but it's necessary when writing for Listverse.
Earning $100 Payments from Listverse
There are some terrific advantages to writing for Listverse. It's a very flexible arrangement—you don't need to be "hired" to submit an article.
Nor will they reject your work based on your qualifications. No matter your experience or education level, you're welcome to try your luck.
Listverse is an exciting platform for writers because you get to pick your own topics. Plus, you'll build your public portfolio, as Listverse provides a byline for each article's true author.
The Listverse pay rate is also quite good. At $100 per article, here's what it looks like as a per-word rate:
Listverse Per Word Pay Rates
Word Count
Total Pay (USD)
Pay Per Word (USD)
1,500
$100
$0.067
1,750
$100
$0.057
2,000
$100
$0.050
Once you learn the dos and don'ts, writing for Listverse can be a profitable endeavor for copywriters and content writers.
To keep moving forward on your writing journey, visit Small Revolution. Our SEO Copywriting Course is a powerful resource for launching a freelance writing career.
This scholarship will enable me an easier transition into an online copywriting job which will enable me an opportunity to work at home. That will also give me a chance to explore other things that I like to do. Things like blogging and writing as I will be able to be in control of my schedule at all times.

Alvin M.
For more insights on the craft and business of writing, visit our blog.
Share on Facebook: