Imagine this: You roll out of bed in the morning ready to face the dreaded commute to school. A journey littered with chaotic traffic or just takes way too long.
On the other hand, imagine waking up and hopping directly onto your laptop, and voila, you're in class!
Wouldn't that be an actual game-changer?
Well, you don't have to imagine anymore. This can be your reality when you make the wise choice to enroll in an online course.
Online learning, sometimes referred to as e-Learning, is a system where everything that pertains to a course is instantly available over the internet. This ranges from a 40-minute tutorial on how to bake a cake, to a three-year degree in literature.
What beats that?
In this article, we discuss statistics about online learning that will give you an understanding of why:
Online learners record better retention rates
Online learning will save you money
There has been a huge increase in enrollment
In the following table, we compare traditional learning to online learning to give you an overview of both.
| | | |
| --- | --- | --- |
| Concept | Traditional Learning | Online Learning |
| Role of students | Listener, receiver, more passive | Very active |
| Learning | Instructor-led | Self-study |
| Role of teacher | Manage and lead | Facilitate and monitor |
| Learning environment | At-school/ synchronous | At-home/ asynchronous |
| Overall cost | Extremely costly | Extremely affordable |
Statistic 1: Online Learners Have 25–60% Increased Retention Rates
Statistics show that learners engaged in online learning have up to 60 percent higher retention rates compared to their on-campus counterparts.
It's long been ingrained in us that the traditional classroom is a much more communally structured environment to thrive in, but here is why online learning is better:
1: Enjoy a Flexible Schedule
We all love flexibility and therefore need to strike a balance in all areas. As an online student, you can choose to access your course at a convenient time for you.
This gives you the freedom to be with your family and make time for other commitments.
2: Access Individualized Attention
Many online classes are divided into smaller class sizes. This ensures that the student-instructor ratio is more favorable compared to in-person classes.
Instructors are not overwhelmed and hence give you the kind of support that you deserve in the course of your program.
Most online programs also offer personalized learning techniques.
This personalization ranges from course materials to mode of delivery. Curating a system that is unique to you not only makes the learning process enjoyable but also helps you retain information better.
3: Access a Wide Range of Learning Resources
Online learning platforms such as Small Revolution and Udemy provide access to a wide range of learning resources.
Small Revolution, for example, offers courses and a library designed to help you develop the technical and behavioral skills to secure a long-term and reliable career.
These resources are often rich and engaging materials curated with you in mind. They're designed to be enjoyable, accessible, and hands-on.
Udemy fit us like a glove. Their team curates fresh, up-to-date courses from their marketplace and makes them available to customers.

Varun Patil, Senior HR Manager
Statistic 2: Saves Costs of up to 70% Compared to Traditional Learning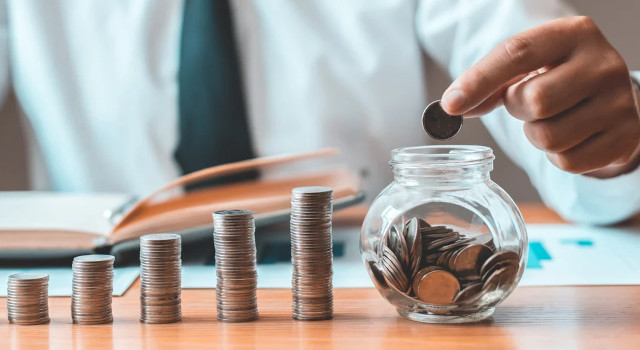 Most times, the cost of getting an education can be daunting. A degree of any kind can cost you an arm and a leg.
It may, then, interest you to know that on the other side of the coin, online learning can slash these costs by a considerable amount because it allows you to:
1: Save On Commuting and Relocation Costs
Getting your classes done online means doing so from the comfort of your home.
No long commutes to campus, and most importantly, no moving houses, towns, or even continents. You get to save on all these costs which we all know can put a dent in your pockets in a major way.
2: Enjoy Lower Tuition Fees
Many online courses offer lower tuition fees compared to the traditional learning model.
Here at Small Revolution, you can access our free courses in Virtual Assistance, eCommerce Copywriting, and many others.
Education programs offered by universities and colleges via online learning are also done at a lower cost. The table below is a simple comparison of tuition per credit hour as researched by the Education Center Initiative.
Online Learning Tuition
On-Campus Learning Tuition
Public four-year online
$321
Public four-year on campus
$491
Private four-year online
$505
Private four-year on campus
$2,163
3: Save On Learning Materials Cost
Online learning can and will save you on costs related to learning materials.
Sign up for an online course and gain access to digital resources, online libraries, and publications. You'll not only save your hard-earned money but also have access to updated and diverse resources at little to no extra cost.
4: Continue Working While Studying
By enrolling in an online program, you can enjoy the freedom of choosing your hours.
No need to take study leave. Online learning gives you the freedom to continue making money while still studying.
Statistic 3: 13% Annual Increase in Online Courses Enrollment
Online learning has seen a steady increase in enrollment.
Students are joining online programs for their degrees and diplomas. Professionals are signing up for online courses in a bid to future-proof their careers.
Enrollment numbers doubled in 2020 and grew by 32 percent in 2021 with over 190 million people taking some sort of course.
According to Global Market Insights, the online learning market surpassed a whopping $315 billion in 2021. This number is projected to grow by over 20 percent by 2028 for many reasons, such as:
1: Advancement in Technology
As of 2022, research shows there were over 5 billion internet users worldwide. This is well over 60 percent of the world's population.
Long gone are the days when technology was the preserve of a few. Today, with the click of a button, you have instant access to a worldwide pool of knowledge.
With many people accessing the right technology and the right internet speed, online learning is fast becoming a desirable option for most.
2: Increase in Awareness
With the advancement in technology, many people are now privy to the many options available to them.
There's barely anyone who'd pass up the chance to finish a course in 40–60 percent less time, let alone do it from anywhere, anytime.
As online learning grows in popularity, many people are taking advantage and joining the bandwagon.
3: Advancement in Career
Online learning is becoming a much more convenient pathway to upskill.
The current job market is forever evolving. It's therefore necessary to acquire new knowledge and skills to stay abreast in your career.
These career advancement opportunities can easily be accessed by taking an online course relevant to your desired skill.
Need to learn transcription? Udemy has this Step-by-Step Transcription from Home course. Do you want to become a Virtual Assistant? Enroll in a Virtual Assistant Course of your choice.
With over 130,000 online courses, enrolling in Udemy guarantees that you'll find the right course tailored to your exact needs.
… Udemy has been central to everyone's ability to learn and grow both professionally and personally.

John Gaunt, Chief Human Resources Officer
Join the Online Learning Community
If there is one thing online learning promises and delivers, it's the reclamation of your life.
In this fast-paced world, getting a chance to have control over your life shouldn't be taken for granted.
These statistics prove that online learning is a transformational move beyond the in-person classroom, and one you must fully embrace to reap the many benefits that online learning has to offer.
Throw away all the logistics and the headache. That course that you've been wanting to start is only a click away.
All you need is to sign up on Udemy, find a course that suits your needs, and join the many students who are already bettering their lives.
Share on Facebook: