Whether you're a beginner creating your first spreadsheet or an intermediate looking for advanced skills to become a master, these Google Sheets courses will come in handy.
You might be wondering about:
The advantages of taking a Google Sheets course
Whether you'll get a completion certificate
The expertise of the course instructor
The course's flexibility
Today, we're going to address all these issues.
1: Doing More with Google Sheets (Coursera)
Doing More with Google Sheets is a free online course from Google that gives you an overview of Google Sheets.
It's a good course for tech-savvy beginners who want to learn what Google Sheets has to offer.
Your instructor for this course is Malia, a tech worker from Los Angeles who specializes in a wide range of technology topics such as Google Sheets, Facebook chatbots, and Excel.
In this course, you'll learn spreadsheet essentials such as aligning text, conditional formatting, and merging cells. Malia will also show you how to use advanced features like Google Translate.
The table below summarizes the course's primary lessons and takeaways:
Lesson
Key Takeaways
Introduction to Google Sheets

The fundamentals of making a spreadsheet
Editing your spreadsheet in a variety of ways
How to print or post it on the internet

Working with functions and formulas

Different methods of importing data
Data analysis and organization
Using functions and formulas

Data-driven storytelling

Exploring Google Sheets innovative features
Creating spreadsheets with the goal of highlighting trends
Creating spreadsheets that are both instructive and appealing

Boosting the performance of your spreadsheet

How data can be detected and visualized
How to create pivot tables and charts
How to create data reports that can be shared with others

Google Sheets collaboration

How to work on a spreadsheet in real-time
Sharing data with others
How to use advanced options to keep modifications to a minimum
Key Benefits of Taking This Course
The course offers flexible deadlines. You can even change the deadlines to fit your schedule.
Upon completion, you will receive a printable certificate. It will give you an edge over the competition when looking for work.
The course is 100% online, so you can get started right away.
It's free and welcoming for beginners.
2: The Complete Google Sheets Course: Beginner to Advanced! (Udemy)
The Complete Google Sheets Course: Beginner to Advanced! is a Udemy course created by Evan Ramsey and the company Sansone Partners. Evan is a tech professional with an economics degree from Harvard, while Sansone Partners is a consulting firm specializing in operational excellence.
In this course, you'll learn the fundamentals of Google Sheets like adding and subtracting. You'll also be taught how to develop a spreadsheet toolkit. The toolkit includes arithmetic functions like AVERAGE, SUM, and COUNT, beautiful visualizations, and advanced charts. Utilizing these tools will make it easier for you to arrange data into tidy columns and rows.
If you're looking for a detailed guide to Google Sheets, this course is specifically designed for you. By the end of the course, you'll be conversant with more than 50 Google Sheets functions and you'll be a master in no time.
The following table highlights the course's fundamental lessons and takeaways:
Lesson
Key Takeaways
Create appealing spreadsheets

How to pick a good font
How to tint rows for readability
Using grids sparingly to align data

Manipulate text in formulas

How to use the CTRL+H shortcut
How to explore formulas
How to modify text

Connect several Google Sheets

How to use the IMPORTANCE function
How to transfer data
How to connect Google Sheets

Analyze data

How to use formulas
How to use function
How to examine data sets
Key Advantages of Taking This Course
It is highly comprehensive. You'll have the chance to hone your skills and broaden your knowledge.
With over 9,000 students, the course is a highly acclaimed best-seller.
You will be given a certificate of completion, which is very useful in the job market.
A 30-day money-back guarantee is included with the course.
3: Google Sheets: Advanced Formulas and Functions (LinkedIn Learning)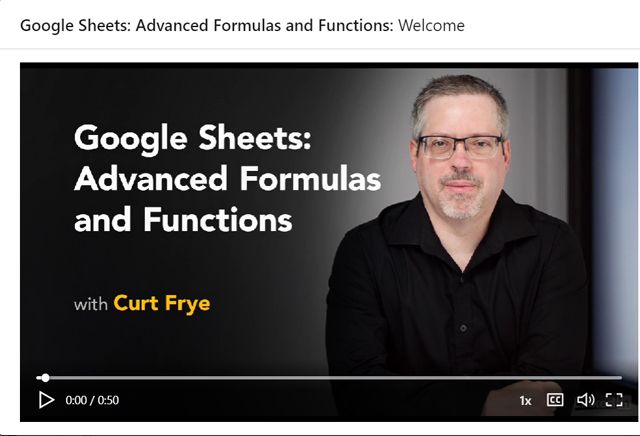 LinkedIn Learning's Google Sheets: Advanced Formulas and Functions provides a comprehensive overview of the core Google Sheets strategies that beginners and intermediates can use to master their profession.
Curtis Frye, a Microsoft Excel expert who has authored more than 50 courses on both Google Sheets and Excel, will guide you through the intermediate and advanced functions for running statistics, summarizing, and analyzing financial data.
You'll learn how to use named ranges and references, as well as how to count, multiply, and round numbers using mathematical functions. You will be able to do extensive statistical and mathematical calculations using this information.
This is the course for you if you want to learn how to utilize Google Sheets to analyze financial data or perform general data analytics.
The table below summarizes the most important lessons and takeaways from this course:
| | |
| --- | --- |
| Lesson | Key Takeaways |
| The fundamentals of constructing functions | How to use SUM, AVERAGE, and SUMIF & COUNTIF |
| Familiarizing with arithmetic functions | How to use + (Plus), – (Minus), / (Divide), and * (Multiply) in more advanced ways |
| An overview of statistical methods | Learn about data ranking and normal distribution |
| Evaluating standard financial calculations | How to use GOOGLEFINANCE to perform typical financial calculations |
| Using cutting-edge techniques | Learn about linear regression |
Key Benefits of Taking This Course
You'll be awarded a completion certificate.
You'll have access to a dedicated learning group that will provide you with ongoing support.
You'll learn from a highly experienced instructor. You are guaranteed professional skills after the course.
Covers advanced topics within 3 hours. You will master advanced functions in a short time.
Expert Tip: Learn and use keyboard shortcuts, as well as Google Translate. It will make working with Google Sheets a lot easier.
4: Google Sheets – The Comprehensive Masterclass (Udemy)
Google Sheets – The Comprehensive Masterclass on Udemy is an online course established by Leila Gharani, a Microsoft expert who is dedicated to assisting you in creating outstanding reports in Google Sheets.
This course will teach you everything you need to know about automation, data collection, visualization, and data analysis. You will be able to handle sophisticated data analysis with ease once you have completed this course.
Robin, one of the students, had this to say about the course:
The course is more in-depth than I expected. Very comprehensive and easy to follow.

Robin
The following table outlines the most essential takeaways and lessons from this course:
| | |
| --- | --- |
| Lesson | Key Takeaways |
| Handle real-world spreadsheet issues | How to avoid data and equation errors |
| Create interactive dashboards | How to navigate through open reports |
| Discover hidden features | How to use simple shortcut key combinations |
| Import and append data | Learn hacks and hidden Google Sheets features |
| Automate your work | How to computerize your work with Google Apps Script and Macros |
Key Advantages of Taking This Course
You'll be an expert spreadsheet user in no time
You'll be able to manage complex data analysis with ease
You'll create dynamic and appealing dashboards in Google Spreadsheets
You'll know how to handle a challenge appropriately
Enroll in a Google Sheets Online Course Now
With the help of these 4 beginner-friendly courses to learn the fundamentals of Google Sheets, you'll be well on your way to a more productive work life.
There's always room for growth, even if you're a Google Sheets expert.
It's important to stay up to date on trends in order to avoid being lost in the sea of changes since Google Sheets techniques are constantly changing.
While you are here, check out Udemy's top Google Sheets courses.
There's a course for everyone, regardless of skill level—beginner, intermediate, or expert.
Sign up now to get started.
Share on Facebook: