Do you ever get the feeling that everybody suddenly has an online job these days? Could be a Pinterest VA, Copywriter, Graphic Designer, Social Media Manager, among other online workers.
It's not a fad.
We're talking about solid, money-making careers, that people have working from home.
It is far more than a trend. It is a big shift in the economy. Simply put, the way we earn our money and the way we prioritize our work and domestic life, have changed. The Internet has revolutionized the way we work and the way we live. And for many people, this is a change for the better.
There are many reasons why people decide to work from home. They want to spend more time with their children, want to work for themselves, or simply dread the idea of leaving their children with a nanny.
They might not also want to commute, or they don't want to be tied down to one employer. There are also people who have medical issues which make the daily commute much more difficult than it is for the rest of us.
Becoming a virtual assistant can be your first step toward shifting towards an online career. Great, right? You may be wondering what is it that a VA does. Well, you'll get a ton of different answers to this question.
Generally, a virtual assistant should take care of all administrative and organizational tasks for a company. That's a bit of a broad description, isn't it?
That's because every eCommerce store, or any other sort of online business, has a different structure. And that's why the responsibilities and duties will differ from one company to another.
The best way to position yourself on the job market is to become a specialist VA. More precisely, you should look into becoming a Pinterest VA.
Why Should I Become a Pinterest VA?
Everybody (and their mother) are working online and most of them are virtual assistants! To most people who want to pursue an online career, this is their way in.
This means that thousands of people are trying to find their next client and their next VA job.
That's a lot of people, isn't it? Just take a look at guru.com. Search "virtual assistant" and see what you find. We just did it for you. Here's what the search results were: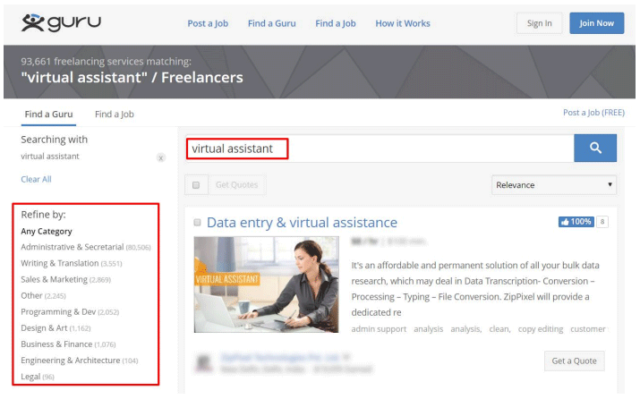 That's more than 80,000 virtual assistants!
Take another look. Those are 80,000 virtual assistants that listed their skills as administrative and secretarial. It doesn't really get more general than that, does it?
Now, take a look at other categories. Each of them have drastically fewer candidates in it. It means that it's much easier to land a good job if you have some sort of specialization, rather than just general administrative skills.
Pinterest is fun and interesting and not that hard to master. It makes for an excellent specialization for VAs that like to dabble with design.
How Do I Learn Everything I Should Know about Pinterest?
OK, becoming a Pinterest VA is reasonably easy to do.
Where do I start?
That's the first step on your journey to a successful online career.
What makes a great employee? Good training + experience. However, in order to get experience, you'll first need to understand the nuts and bolts of your job.
Yes, learning by 'doing' is the best, and fastest way to get something done. But you'll hardly be able to learn by' doing', if you've got no idea what you are 'doing'!
So, there has to be some theory or at least some show-and-tell before you give it a go.
You can Google Pinterest and see how things are done and learn from there. The good thing about this approach is that you can get all that information for free and you can learn at your own pace.
The downside of this approach is that you won't really be able to tell what is a high-quality source and what isn't. As far as you're concerned, it's all new to you.
Weeding out the good from the bad takes time and you're probably not even sure you'll have done it correctly. That's why the best way to go about this is to simply take a reputable course. And while you'll pay a small fee, you'll save time.
Moreover, you will be much surer that the information you're getting is accurate and has been put into practice. There is another perk of completing a Pinterest VA course – you can use it as proof that you have got some training when you talk to potential clients.
Put yourself in your client's shoes. If you were to pick a Pinterest VA for your business, which of these two sentences would sound better to you?
I'm a good Pinterest VA because I read about it on the Internet.

I am a good Pinterest VA because I've done some high-quality training through a course.
Take a good Pinterest VA course and jump start your career. Once you're done with the course, get a client (or two) to get some hands-on experience. Why not even run your own Pinterest account as a demonstration of your skills?
What Does a Pinterest VA Do?
As a Pinterest VA, you will be in charge of setting up and managing a business Pinterest account, according to the company's goals. You'll need to know how to do the following:
Setting up a Pinterest Account – Everybody knows how to set up a personal Pinterest account. It is not that difficult. Creating a business account is easy too. Somebody has to do it and somebody has to remember to do it.
You can even upgrade your personal account to a business one in just a couple of clicks. This is important to do because you'll get access to rich pins, promoted pins, and Pinterest analytics which you otherwise don't with a personal account.
To get a business account, you'll need to connect it to the website of the business in question.
Creating Pins – Of course, you need to create a set of pins for your account to be relevant on Pinterest. You can create pins that are meant to extend your reach and to be shared and repinned.
Your other option is creating pins that are meant to attract click-through. Some pins will do both. Either way, you need to learn how to create attractive and interesting pins that people love.
Setting up Tailwind – Just like every other "trade", being a Pinterest VA means you need to use some tools. Tailwind helps you schedule pin publishing, and boost your Pinterest performance. There are other scheduling tools, but this one is one of the most commonly used ones.
Analyze Pinterest Metrics – The only way you can tell whether your strategy works or not is to analyze the Pinterest metrics. Screenshots of your good metrics can also help you find clients as you can use it as a part of your portfolio. Analyzing metrics is also a part of any good Pinterest VA course.
That is how you make money as a Pinterest VA. You get some training and then you land some paying clients. You can find the clients by creating profiles on Upwork, Guru, Freelancer, Indeed and many other platforms.
You can even create a nice website and portfolio and approach the clients directly. Either way, start today by getting some training and you'll be earning from Pinterest in no time.
Shareable Images