Whether you're looking to increase your chances of getting a job, advance your career, or run a successful business, learning Excel can help you in organizing, calculating, and evaluating quantitative data.
The best part is that you don't need to take a formal class to learn Microsoft Excel thanks to all of the free learning courses available online.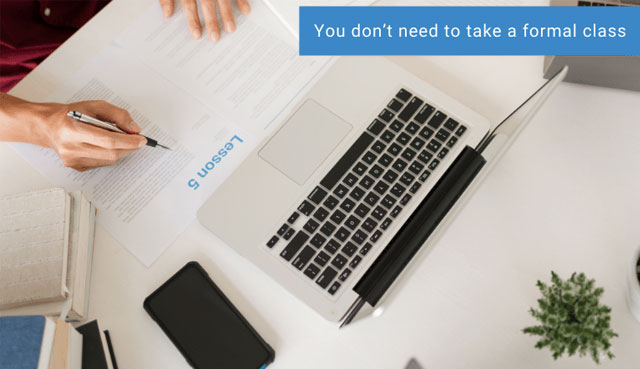 Here are some of the best free online Excel courses you can enroll in from the comfort of your home:
Microsoft Excel Bootcamp-Zero to Hero Training (Skillshare)
Excel Quick Start Tutorial: 36 Minutes to Learn the Basics (Udemy)
Introduction to Data Analysis Using Excel (edX)
Excel Skills for Business Specialization (Coursera)
These courses are tailored for both beginners looking to learn the basics of MS Excel and experts who want to brush up their skills.
1: Microsoft Excel 2016 Bootcamp – Zero to Hero Training (Skillshare)
Microsoft Excel 2016 Bootcamp is designed for beginners who want to become experts in Excel quickly. The course is structured into modules, each containing a variety of tutorials, exercises, and overviews.
Some of the modules covered this course include:
Adding borders and lines around cells
Displaying dates correctly
Adding text to Excel quotes
Using pre-made templates
Cleaning up messy spreadsheets
Creating graphs and charts
Using formulas to calculate quotations or invoices
Adding images or logos
By the end of this 1-hour-54-minute project-based course, you'll have learned skills such as:
Data entry
Task management
Financial analysis
Making charts and graphs
With these skills, you'll find it easy to get a job in:
Accounting
Business analysis
Insurance and risk management
Investment banking and stockbroking
Daniel Scott, an Adobe Certified Trainer and digital designer, is your instructor for this course. He has over 15 years of experience teaching people how to use the latest software and technologies, such as Adobe Photoshop, Dreamweaver, and Microsoft Office.
Skillshare offers a 1-month free trial that allows you adequate time to complete this course and provides lifetime access to the training. To get started, just download and install Excel or Microsoft Office 365 to your computer and sign up for the course.
★★★★★ This class exceeded my expectations! This is such a good beginner's course! I have learnt things I have never even heard of and using them will save me so much time in the future!

Kieran MP.
Extra Tip: If you sign-up for Skillshare's free trial, make sure to cancel before the trial period ends to prevent being charged.
2: Excel Quick Start Tutorial: 36 Minutes to Learn the Basics (Udemy)
This course will teach you how to use Excel in a business setting, as well as evaluate and prepare simple sales analysis reports. This course is perfect for anyone who is:
Starting their first office job
Preparing for an interview
Looking to kick-start their career
Uncertain whether Excel is right for them
Although you may complete the course within a short period, there's a lot to learn because it includes two case studies on sales analysis and reporting. The tutor, Jeff Knowlton highlights each analysis step, clearly explaining what he's doing and why he's doing it.
Jeff Knowlton will take you through the following:
Entering and editing Excel data
Making simple pivot tables and charts
Creating simple Excel formulas
Filtering and sorting lists of data
Using Excel functions to de-duplicate data
You'll also learn when, why, and how to use functions such as VLOOKUP and IF in business analytics. However, it's important to note that the course is only a starting point and won't make you an expert in Excel or business analytics.
To get started you only need a copy of Excel on your computer and then sign up for the course.
★★★★★ The course outlay was simple and methodical, easy to follow. Keep up the good work!

Didymus
Note: The course is completely free, but you won't receive a certificate upon completion.
3: Introduction to Data Analysis Using Excel (edX)
With built-in pivot tables, Microsoft Excel is one of the best tools for data analysis.
Whether you're a finance manager, marketing analyst, operations research specialist, or just need to crunch some numbers, this course will help you unleash the power of any organizational data.
Besides creating pivot tables, charts, and dashboards, you'll learn Excel tips and tricks that will make you a master of Excel for your company. Your instructors, Dany Hoter and Jonathan Sanito will walk you through:
Creating flexible data aggregation using pivot tables
Representing data visually using pivot charts
Filtering data using slicers in multiple pivot tables
Creating aggregate reports using formula-based techniques
Calculating margins and other common ratios using calculations on pivot tables
Each module contains:
A lecture video
Extra reading material
Graded quizzes
Lab exercises
There is also a discussion forum where you can interact with your tutors and other students. What's more, this self-paced course takes you about 4 weeks to complete, after which you can upgrade to the more advanced course: Analyzing and Visualizing Data with Excel.
4: Excel Skills for Business Specialization (Coursera)
Excel Skills for Business Specialization is designed for anyone not comfortable navigating the Microsoft Excel interface, particularly entering, manipulating, and formatting data.
By the end of the course, you'll be able to handle basic business problems, such as:
Creating budgets and forecasts
Managing schedules and records
Tracking inventory
The course is offered in four segments that will take you from basic to advanced. Here's what you'll learn:
Creating easy-to-use spreadsheets
Validating data by finding and correcting errors
Creating charts and tables to summarize raw data
Automating choices and data lookups using functions
Analyzing data and presenting results in a user-friendly way
Using formulas and functions to perform calculations on data
Your instructors are Nicky Bull, Professor Yvonne Breyer, and Dr. Prashan S. M. Karunaratne.
If you're willing to dedicate 5 hours each week, you should be able to complete the course and obtain a certificate in around 6 months.
This Coursera course stands out because it includes subtitles in Arabic, English, French, Italian, Vietnamese, Russian, Portuguese, Spanish, and Hungarian, allowing you to learn in your preferred language.
The table below shows other free online Excel courses you can check out:
Automate Your Workflow With Excel
Microsoft Excel can be used for various purposes, from simple household budgeting to complex financial analysis.
Whether you're a beginner or experienced user, these courses will help you get the most out of Excel. Every concept you learn will improve your skills and help increase your productivity.
For more information on how to boost your productivity, secure an online job, or excel in any career path, visit our page.
Share on Facebook: