Microsoft Office tools have become the backbone of many corporate operations, including communication, advertisement, organization, data functionality, and financial transactions.
While many of us are familiar with the basics of Microsoft Office, there are many features and functions to be learned that make working with this software even easier.
Fortunately, online Microsoft Office training courses exist to help you learn the basic and advanced features of this software and put it to use in your work life.
The courses include:
Microsoft Office Essential Skills (Udemy)
Microsoft Office – The Basics (CreativeLive)
Microsoft 365 Essential Training (LinkedIn)
Microsoft Office Fundamentals: Outlook, Word, and Excel (edX)
Microsoft Office Suite (GoSkills)
1: Microsoft Office Essential Skills (Udemy)
The Microsoft Office Essential Skills course provides you with the necessary information and skills to use MS Office more confidently and implement best practices at your workplace.
You'll be guided through the course by David Millard, a certified Microsoft trainer who has taught over 3,000 students.
In this 3 ½ hours long on-demand video course, you'll learn:
The fundamental concepts of Microsoft Office
MS Office workspace, including Word, Excel, Outlook, and Powerpoint
How to apply the best practices for your work
In addition to videos, you'll have access to downloadable resources to help you practice even more.
This course is available on Udemy for a limited time at a discounted price that includes lifelong access. You'll also be awarded a certificate of completion, which can be shown to future employers.
To apply, all you need is a laptop, a copy of Microsoft Office 2010 or later, WiFi, and a desire to learn.
Here is what one student had to say about the course:
★★★★★

This course was exactly what I needed. After completing it I feel ready to hit the ground running. I can also see the programs I want to learn more about. Thank you sincerely.

Elizabeth M.
2: Microsoft Office – The Basics (CreativeLive)
This course is designed to help you use Microsoft Office for Mac more intuitively, efficiently, and faster; whether you're venturing into business accounting, administration, project management, or sales.
You'll start with the fundamentals of Word and work your way up to working with large documents, style sheets, tables, and more. You'll also cover Powerpoint, Excel, and Outlook themes.
Your tutor, Alicia Katz Pollock (a partner at Royalwise Solutions, Inc.), holds a Master of Arts in Teaching, is a creator of several Microsoft Word courses, and a member of the Apple Consultants Networks.
The course has 33 HD video lessons that give you the most realistic learning experience possible, as well as exclusive bonus content.
Once you enroll, you're offered a limited-time discount and lifetime access to the course.
Note: You can stream this course on desktop and mobile browsers. You can also use the CreativeLive app to sync classes offline on your iPhone or iPad.
3: Microsoft 365 Essential Training (LinkedIn)
Microsoft 365 Essential Training is a course designed to provide professionals and administrators with the skills to work efficiently with Windows 10, Office 365, and Enterprise Mobility + Security.
It's a 3 ½ hour intermediate level course that teaches you the most in-demand features, capabilities, and opportunities of Microsoft 365. By the end of the course you'll be able to synchronize your calendars, use apps efficiently, collaborate with others, and work from anywhere.
The instructor is Ed Liberman, a technical author and qualified IT instructor with 20 years of expertise in the IT industry, who has helped thousands of learners advance in their professions.
In this crash course, you'll cover the following topics:
Microsoft 365 overview
Configuring Microsoft 365
Managing users and identities
Microsoft 365 Device Management
Managing Microsoft 365
Microsoft 365 Security and Data Protection
Microsoft 365 Threat Protection
Microsoft 365 Compliance and Reporting
Supporting Microsoft 365
You'll be given quizzes at the end of each module to help you assess your progress and challenge yourself to study more.
LinkedIn offers a 1-month free trial for this course and a shareable certificate upon completion. You can access the course via your tablet or phone, and even study while offline with the LinkedIn Learning app.
4: Microsoft Office Fundamentals: Outlook, Word, and Excel (edX)
Microsoft Office Fundamentals is an introductory training designed to teach you the basics of Word, Outlook, and Excel.
This course takes about 6 weeks and lets you set your own pace for learning—casual (1 day per week), regular (3 days per week), or intense (5 days per week).
Your instructor, Robert Deupree Jr, senior content developer at Microsoft, will take you through:
Word Fundamentals
Advanced skills in Word
Excel Fundamentals
Advanced skills in Excel
Outlook Fundamentals
Advanced skills in Outlook
This course is available online and allows you to learn at your own speed through engaging videos, practice exercises, downloadable reading materials, and module assessments. You'll also receive a Microsoft-verified certificate.
5: Microsoft Office Suite (GoSkills)
This course is suitable for anyone looking to advance their skills and get a better grasp of commonly used MS Office tools.
In this self-paced course, you'll be taught by GoSkills's award-winning tutors. Some of the topics you'll learn include:
Microsoft Access – Basic
Microsoft Excel – Basic and advanced concepts
Microsoft Outlook
Microsoft PowerPoint
Microsoft Word – Basic and advanced courses
Microsoft Project
Microsoft Publisher
Typically, you'll start with basic skills and later upgrade to the more advanced ones.
GoSkills provides a 7-day free trial of personalized learning (premium videos, unlimited tests, and quizzes). You can access the lessons and learn using your mobile phone or laptop.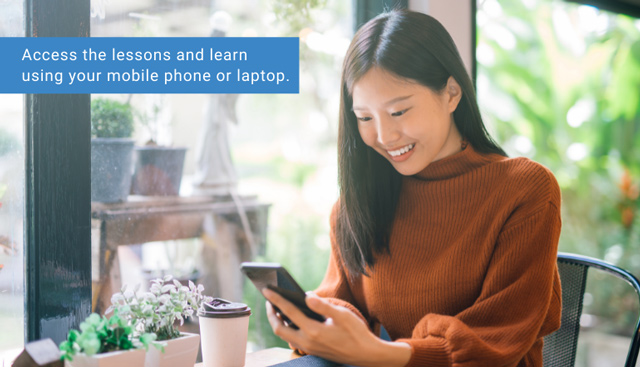 The table below outlines some other Microsoft Office training courses for you to try.
Increase Your Work Efficiency Today
With these 5 beginner-friendly courses to learn the core concepts of Microsoft Office tools, you'll be well on your way to a more efficient work life.
Whether you're looking to increase your productivity in your current role or move up the corporate ladder, these courses will help.
While you're here, check out our page for information on careers and areas that require Microsoft Office experience.
Share on Facebook: