Wouldn't it be great if you could succeed at your remote customer service position from the comfort of your home?
"I have the basic skills but I'm not making much progress at remote customer service work," you might be telling yourself.
Quite frankly, at-home jobs aren't for everyone. Not all who aspire to work remotely will succeed. Whether you're getting started at remote work for the first time or you're already working in customer service, chances are you want to stand out from the rest. You want to be GREAT in your role as a work-from-home customer service representative.
Here's how you can succeed in the rapidly-evolving field of customer service while working from home.
1. Shift your Mindset
Once your mindset changes, everything on the outside will change along with it." – Steve Maraboli
Working from home as a customer service representative might just be the perfect decision to match your lifestyle. There's no doubt you have the communication, critical thinking, empathy, and problem-solving skills required for the job.
However, if you're looking to succeed at your work-from-home customer service job, the first thing you need to adjust is your mindset.
You should still think of yourself as "going to work" every day. It's not a good practice to spend the day in your pajamas. How you dress for work will determine your mood and performance. Your pajamas will make you feel anything but professional.
If you want to be professional, make sure you look the part.
Having a 'work mindset' will help you stay focused and productive each day. Dress professionally, as you would when going to an office job.
2. Create the Right Work-From-Home Setting
Companies recognize that 86 percent of customers are willing to pay more for more personal and engaging customer experiences.
Creating the right environment for your remote position will help you provide a better customer experience. This translates to an improved ROI for your company. Follow these concrete steps to nail your home-office atmosphere: :
a. Invest in a strong internet connection
Poor internet connection will affect the efficiency of your service.
Imagine this: you're talking to a call center representative about an issue with your newly installed plumbing system. Suddenly, you're disconnected. The customer service representative gets back to you an hour later. But it's too late – you're already dealing with costly property damage.
Speed and efficiency are the most important aspects of successful customer service. That's why you need a strong internet connection.
b. Create a consistent, comfortable workspace
You need to establish a pleasant workspace that will keep you in a professional mindset.
You can't commit to part-time or full-time home customer service jobs and expect to work from your bed or kitchen.
The last thing you want is to form an unhealthy association between these relaxing spaces and your work stress.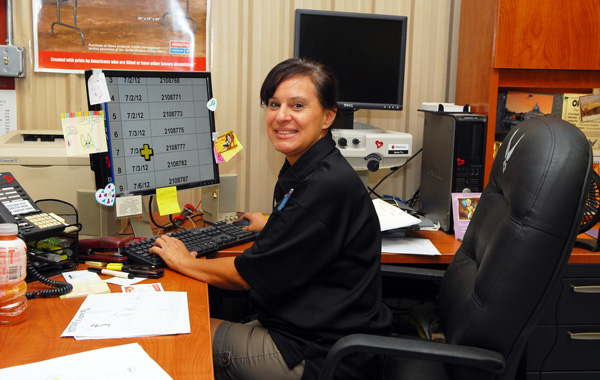 c. Align your home workspace
Furnish your home workspace with everything you're likely to have in an office.
Your home office should provide you with a quiet space to concentrate and stay productive. Consider using two monitors to boost your productivity.
Invest in a quality table and comfy office chair. If you're using a laptop, connecting it to a monitor can improve your visibility.
3. Establish a Routine
"Get fully ready for the day and pretend you're going to work. Otherwise, you might find yourself back in bed." -Anna Faber-Hammond
Set the scene: No one's watching. There are no coworkers to remind you of your duties. And you have no communal obligation to perform specific tasks.
See how easy it is to become your own worst enemy while working from home? Establish a routine as follows:
a. Clearly define your work hours
To stay organized and avoid distractions, clearly define your work hours. Make sure you communicate the same to your family or housemates so they respect your workday. Remote customer service jobs require efficiency and the last thing you want is interruptions from family.
b. Get started early
You'll feel tempted to let morning sluggishness take away your focus and motivation. This happens more often than you think. The good news is, you can overcome it. Simply get started on your customer service tasks first thing in the morning. This will bring consistency and structure to your day.
c. Set your goals for the day
Set yourself a maximum of five goals for the day. Make sure they are realistic and take care not to overwhelm yourself. Google Calendar is a great tool for creating reminders that inform you when to start on specific tasks and events.
d. Handle harder tasks during peak productivity
Some customer support tasks are challenging. Save the tough stuff for your most productive time of day – usually mornings for most people. Save calls and other collaborative tasks for the afternoon. Working from home requires an understanding of your peak motivation and focus times. Plan your schedule around these hours.
4. Network Outside of Your Comfort Zone
Working at an office allows you to interact and network daily with your coworkers. This is not the case with work-from-home jobs, as you may feel cut off from the rest of the company team. This doesn't have to be your experience. Here's what you can do:
Use video conferencing, instant messaging, and other tools to network with other employees at the company. Not only those in customer service.
Reach out to and approach people in coworking spaces. This will remind you of the importance of your work and how it's contributing to the big picture. It will also help you concentrate and stay focused.
Ultimately, these interactions will help you succeed in customer service jobs while working from home.
What Kind of Work Can I Do from Home?
Remote jobs have become pretty common as employers increasingly turn to a remote workforce.
Remote customer service jobs are in high demand these days. As a customer service representative, your role will involve working directly with customers and businesses of all kinds.
The kind of work you can do from home may include:
Helping customers with questions and complaints
Reaching out to customers with product news, preemptive solutions, new offers, and more
Helping current and prospective customers understand more about products or services
Taking orders and processing returns from customers
Making reservations for travel services on behalf of customers
Providing technical support services
Communicating and coordinating with other employees as necessary
Providing customer support and ensuring customer satisfaction
As you may have noticed, these are the same duties in-office customer service professionals perform.
The difference is that you do your part-time or full-time job from home or other remote locations.
Can You Work for a Call Center From Home?
Absolutely!
In your role as a remote call center agent, you handle inbound and/or outbound telephone calls from your home office. You may also provide tech support, telemarketing, chat, and email services as well.
Most companies use phone interviews, video interviews, and online skill assessment tests to hire work-at-home call center agents. Face-to-face interviews are rare.
Don't worry about your lack of prior customer service experience as it's usually not a requirement. However, some companies may need you to have previous experience in telephone customer service.
The greatest requirement for virtual call center agents is usually a high school diploma.
Other qualifications and competencies include:
Ability to talk and write efficiently
Ability to maintain a calm and professional demeanor when working with people
Experience and comfort using computer tools, internet, and telephone
Self-motivation and problem-solving skills
Keyboarding skills
Interpersonal skills
Organizational skills: ability to juggle a lot of data and information in a customer service setting
What Are the Highest Paying Customer Service Jobs?
A recent study indicates that the skill requirements for customer service jobs are the same across the different job titles companies use.
However, the highest-paying customer service jobs are those that use a more sophisticated job function like customer service advisor, customer engagement representative, or customer experience associate.
If you're looking for more lucrative customer service job opportunities, this might be the time to expand your job vocabulary. Consider making the thesaurus your friend. Include words like "experience," "engagement," "associate," and "advisor" in your job search.
Customer service job titles that use slightly-less-traditional terminology are less likely to attract many job seekers and are likely to have higher pay. The core skill requirements and responsibilities may be the same as the standard "customer service rep" position, however.
Positions that require a specialized skill set will still use the standard "customer service rep" but have a word or two suggesting specific skills.
For example, bilingual customer service rep, retail customer service rep, and customer sales and service rep job ads require specialized skills or deeper customer service work experience. These positions are likely to earn you higher wages.
Master Excellent Customer Service Today
Work-from-home customer service jobs allow you to maintain autonomy and flexibility. You get paid to help customers with questions and complaints, among other tasks. You need the right resources and support to succeed in your remote job as a customer service representative.
Enroll in Small Revolution's Customer Service Assistant Course to learn how to become a great customer service representative. And reap the reward of lucrative and meaningful employment.
Photo by Jopwell / CC BY