Plagiarized content promises adverse consequences for students, writers, and website owners.
For students, plagiarism might lead to low grades, automatically failing a course, academic probation, or even expulsion.
For business owners, an instance of plagiarism might be a copyright violation that results in fines and lawsuits. When plagiarism rises to the point of duplicate content (copying entire blog posts and web pages), it can also affect how your site ranks.
Google will have to choose between the two similar versions and remove one from search engine results. This will result in the deindexed version missing out on the opportunities that come with a strong rank on search engine results.
The good news is that there are multiple plagiarism checkers out there, most of which you won't have to pay a dime for. Whether you're a teacher, student, writer, or website owner, here are five free plagiarism checkers you can start using today:
1: SmallSEOTools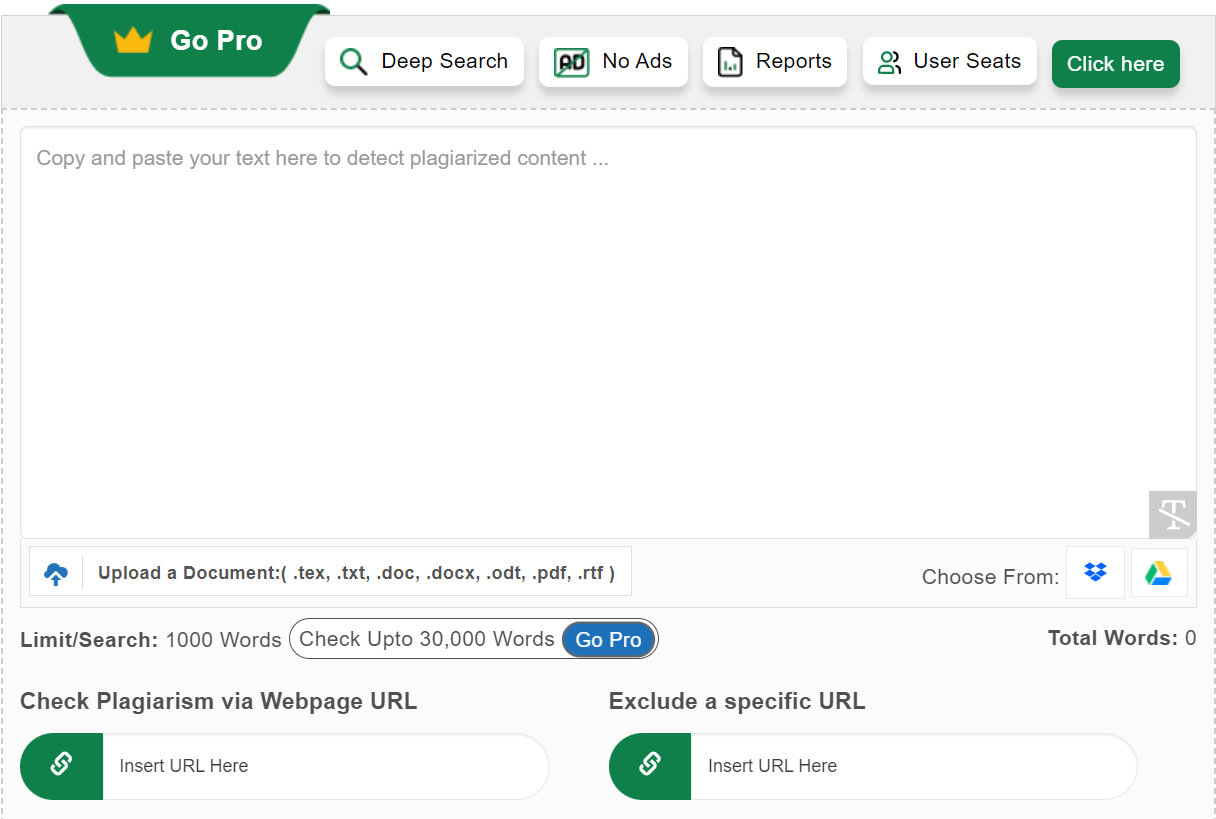 SmallSEOTools is a swiss army knife for website owners and writers. Besides offering a free plagiarism checker, it features various website optimization tools, including a:
Spell checker
Backlink and keyword analytics tool
Text case changer
Article rewriting tool
The SmallSEOTools free plagiarism checker will allow you to scan up to 1000 words of content as many times as you like.
You can upload your content from Google Drive, Dropbox, or your local drive. It supports multiple document formats including .rtf, .pdf, .docx, .txt, and .od. Alternatively, you can paste a URL into the site to scan it for plagiarism.
Pros
Cons

Accurate
Integration with Dropbox & Google Drive
Unlimited searches
Shows plagiarized matches
Can upload .rtf, .pdf, .docx, .txt, and .odt files

Limited to 1,000 words per search
Site features ads
Here's what Avishek Maity had to say about this tool:
I have to go through multiple assignments on a daily basis, ensuring their authenticity is a tough job to accomplish. The detailed reporting option offered by SmallSEOTools Plagiarism Checker eases out the entire process.
2: Plagiarismdetector.net
Plagiarismdetector.net is an amazing tool for writers, teachers, students, and website owners. Its free version allows you to scan up to 1,000 words of content for plagiarism at a time, and there are no limits to how many times you can run the scan.
Its paid version, however, has no word limit. Unlike the free version, the premium version is also ad-free. The pro version is divided into three price plans: student ($20/month), institute ($40/month), and enterprise ($80/month).
The tool looks for plagiarism through word choice, matching phrases, and lexical frequencies.
It allows you to upload content in different formats including .txt, .doc, and .docx. You can also upload text directly from Dropbox or scan content straight from a URL.
Its biggest downside is the 1,000-word limit per search. This limit can complicate how easily authors and teachers can scan complete content for plagiarism.
Pros
Cons

Accurate
Unlimited number of checks
Can upload multiple file formats, including .doc, .pdf, and plain text
Allows you to check plagiarism through a URL

Free version limits each search to 1,000 words
Site features ads
Here's what Uridah CA had to say about this tool:
This is the best plagiarism checker… helps me a lot in my assignments and daily tasks as a student.
3: DupliChecker
DupliChecker is targeted at website owners, marketing agencies, and writers. It features a free plagiarism checker that allows unlimited document scans. The tool caps each scan at 1,000 words.
You can paste content directly into the tool, paste a URL, or upload content from your local drive, Google Drive, or Dropbox. It supports multiple file formats, including .rtf, .pdf, .doc, and .txt.
Just like SmallSEOTools, this tool features multiple website content optimization solutions, including a:
Grammar checker
Spell checker
Sentence case changer
Pros
Cons

Accurate

Unlimited searches

Supports multiple document formats

Has additional website content optimization tools

Integration with Dropbox & Google Drive

Each scan is capped at 1,000 words

Site has ads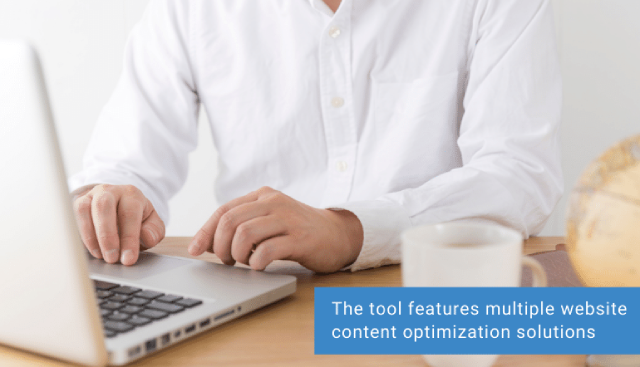 Here's what Salvatore Balboni, a reviewer, had to say about the tool:
Duplichecker might not have the fancy additional features that other sites in this domain have, but it always delivers on what it promises. It is especially useful for plagiarism detection.
4: SearchEngineReports.net
SearchEngineReports.net is a great tool for teachers, students, writers, and website owners who are looking to rid their work of plagiarism. Unlike the tools we've mentioned so far, this one allows unlimited scans with an upper limit of 1,500 words per scan. It also features a grammar checker.
The tool lets you paste text or upload your documents directly from your local drive or Dropbox. Besides supporting multiple document formats, the tool allows you to check for plagiarism in 16 different languages.
Pros
Cons

Accurate
Supports 16 different languages
Has a grammar checker
Supports .doc, .pdf, .plain text and other file formats
Can download reports
Up to 1,500 words per scan
5: Plagiarism Checker X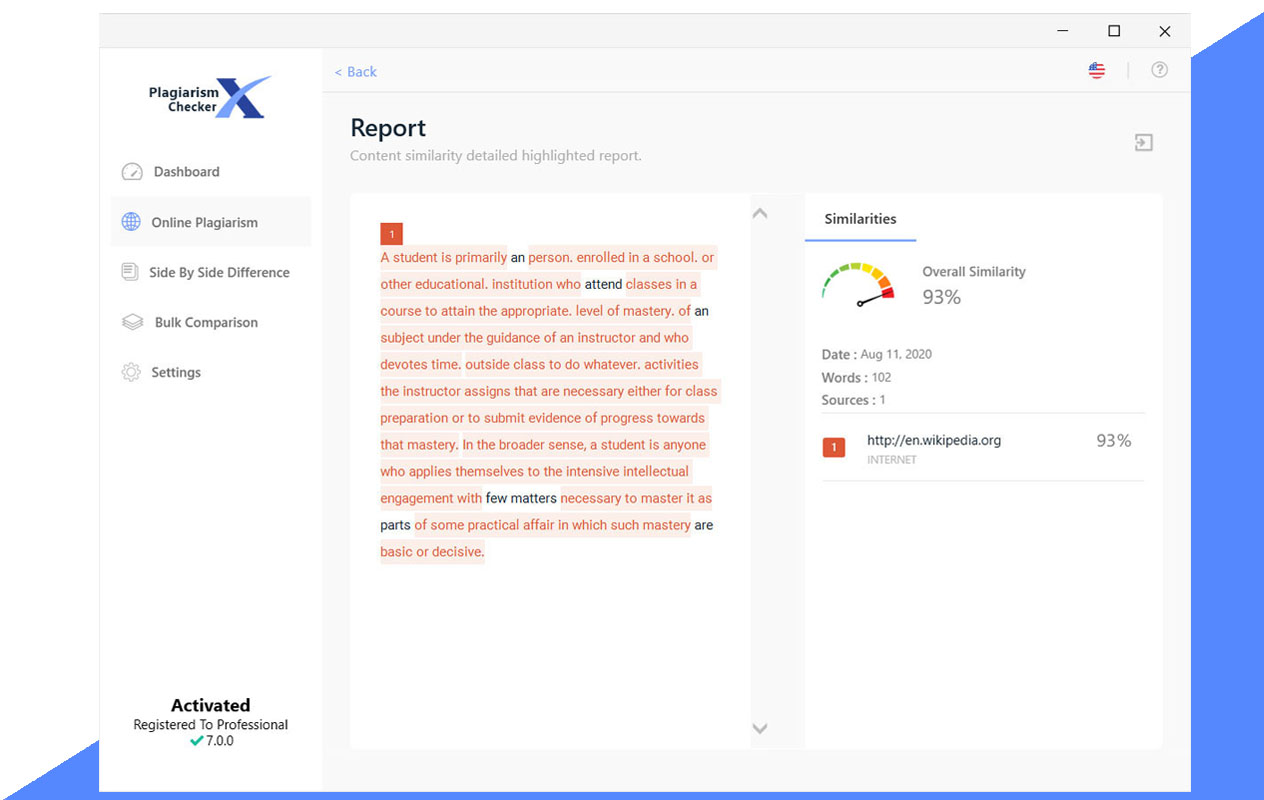 Plagiarism Checker X is ideal for students, teachers, writers, and business owners. Unlike the other plagiarism detectors on this list, it's a tool that you'll have to download onto your device.
The software features a side-by-side comparison, content similarity detection, and bulk cross-comparison. This last perk makes it ideal for teachers looking for plagiarism between students' work.
Plagiarism Checker X supports plagiarism scans in seven languages, including French, German, English, Spanish, Italian, Portuguese, and Dutch. You can also scan for plagiarism using multiple file formats, such as .pdf, .doc, and .rtf. The free version allows up to 30 daily free scans, each one capped at 1,000 words.
The tool also offers two lifetime premium versions: a professional plan at $39.95 and a business plan at $147.95. The business plan includes all professional plan features with the addition of four more users, branding reports, priority support, and spreadsheet support.
You'll only need to pay a small yearly maintenance fee after this.
Its biggest downside is that it's only compatible with Windows. Mac users will have to look for alternatives.
Pros
Cons

Accurate
It's a downloadable tool
Supports multiple document formats including .pdf, .doc, and .rtf
Supports 7 different languages

Limited to 30 daily scans of not more than 1,000 words
Only compatible with Windows
Here's what Surajit Maity, a reviewer, had to say about the software:
The software offers comprehensive reports for all your scans… The best part is its bulk search feature that can be used by teachers, researchers, and students for checking multiple documents.
Pick a Tool That Works for You
Plagiarism will always threaten your work, whether you are a writer, business owner, or student. Choose any of the tools above to check your work for plagiarism before publishing or submitting it. Best of all, some of the tools offer multiple solutions that can add even more value to your writing.
Share on Facebook: