College can be financially draining. Most students will want a source of additional income to cover tuition, textbooks, and spending money. There are many websites and online platforms offering online jobs to students.
Online jobs such as editor, freelance writer, web designer, and online tutor can earn a student anywhere between $2 and $50 per hour or even more. You, too, can make money online starting today, working as few or as many hours a week as your college life allows.
Types of Jobs Available for College Students
In this guide, we're sharing some of the best online jobs you can start as a college student. For each job we mention, we'll include a rough estimate of market rates and how to find and apply for the best opportunities in that role.
You don't need a bachelor's degree for any of these online jobs,and you already have the skills to handle most of them.
However, to get started and grow those skills, you can enroll in online training with platforms such as Small Revolution.
Freelance Writer
Freelance writer jobs are some of the most in-demand jobs on the internet. According to one survey, over 59 million Americans freelanced in 2020, earning more than $1.2 trillion in income. If you know how to write persuasively, you too could make money:
Copywriting
Content marketing
Blogging
Social media marketing
Script-writing
You could easily earn anywhere from $15 to $100 for a 1,000-word article as a beginner. Seasoned writers can earn in excess of $200, $500, or even $1,000 for high-converting sales copy.
Start by writing samples and creating a profile with a reliable freelance writing agency. If you want to escape the bottom-feeder trap, it is better to work with reputable agencies such as Small Revolution.
Bidding sites offer some of the lowest rates for beginners, so you'll want to avoid those. You can also pitch local businesses and magazines to write their online content.
Editor
Editor jobs are in many ways similar to freelance writing jobs. In most cases, an agency would first take you on as a writer before promoting you to an editorial position.
If you're a detail-oriented person with above-average writing skills, an editorial job can be fulfilling and a lucrative way to make money online. Your job will entail fact-checking, proofreading, and rewriting segments of other writers' work.
Editors typically get paid per hour rather than per word. Bidding sites may offer rock-bottom rates such as $5 per hour while agency sites can pay an average of $12 per hour.
Private Tutor
Since you've qualified for college, you have already demonstrated academic prowess. You can tutor high school or college students in the subjects you specialize in.
For example, STEM tutors are in high demand globally, with many college and high school students needing help to master difficult concepts.
Online tutors are not limited to STEM subjects only. You can tutor in virtually any subject taught in high school and college. In some cases, you may also find work tutoring pre-high school students.
Online tutors can charge per hour or per session. Rates range from $5 to $60 per hour. Arts subjects often attract the lowest rates while subjects such as high school calculus or SAT Prep fetch mid-range rates. Post-graduate biology, software development, and engineering attract some of the best rates for online tutors.
Graphic Design
Most clients need a graphic designer for a specific project rather than long-term engagements. This makes graphic design one of the ideal online jobs for students seeking part-time work.
According to the US Bureau of Labor Statistics, graphic designers in 2020 earned a median annual wage of $53,380 or $25.66 per hour. You can specialize in:
Illustrations
Advertising
Merchandising
Packaging
Web page design
Game machines
Social media posts
Where Students Can Get Online Jobs
In many instances, working with an agency is the best choice for a student just starting out. Agencies help you grow your skills, guide you through client briefs, and ensure quality control.
Additionally, when working full-time or part-time with an agency, you don't have the stress of constantly looking for clients. The agency takes care of marketing, signing up clients, and payment processing.
| | |
| --- | --- |
| Agencies | Content Mills (Bidding Sites) |
| Steady supply of ready assignments | Constant bidding to get online jobs |
| Standardized rates | Fluctuating rates aimed at attracting the lowest bids from freelancers |
| Smooth payment processing | Payment not guaranteed, even with escrow |
| Detailed instruction brief | Risk of scope creep |
| Offers skill improvement training | Little or no training or onboarding. |
| Timely support for both clients and freelancers | Frustrating customer support with a bias towards only supporting clients |
Table showing differences between content mills and freelance agencies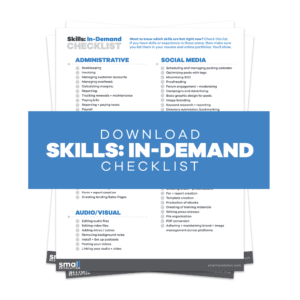 As a beginner freelancer, your portfolio is your most important asset. Like a resume, your portfolio highlights your skills and sets quality expectations for potential clients looking to hire you.
To position yourself as a skilled online freelancer, you will have to demonstrate your expertise. Start by creating a winning profile on sites such as LinkedIn. Market your skills by writing about your experience on sites like Medium. Most clients will give precedence to freelancers who have their own self-hosted blogs, too.
While there are a myriad of ways to get online jobs for college students, you don't want to get stuck competing for peanut rates at cut-throat content mills and bidding sites. Seek out professional agencies such as:
Small Revolution
One of the best agencies for college students to find fulfilling online jobs is Small Revolution. Each week, the agency recruits the most promising candidates to serve their ever-growing list of clients. According to the Small Revolution website, they only hire freelancers who "show an above-average aptitude and suitability to online work."
To register as a freelancer you need to provide your name, location, preferred hourly rate, and preferred monthly wage. To set yourself apart, start by making your online profile as professional as possible.
Work on your LinkedIn, Twitter, Facebook, and Instagram profiles. If you have a blog which highlights your skills, update your content and include the URL in your registration. Typical rates range from $15-$30 per hour.
CopySmiths
CopySmiths offers the perfect start for college students seeking a writing or editorial position. The agency hires periodically and selects the best candidates to join their team.
Once your application is accepted, you will have to undergo extensive training in writing and SEO before you're assigned a trial assignment.
At CopySmiths, you'll be a part of a team that guarantees quality output for clients. There are smooth workflow processes and, as a new hire, you'll enjoy the support of more experienced team members when you encounter challenges.
Writers earn varying amounts depending on experience and job difficulty. You can also earn bonuses for complex jobs with urgent turnaround times.
Contently
Contently is an Enterprise Content Marketing Platform with a global network of clients and content creators. The site has access to over 16,000 writers, graphic designers, filmmakers, and editors.
You can be part of the Contently network of freelance professionals by registering through their freelancer portal. Through the portal you get to create a freelancer portfolio to attract clients within and outside the Contently network.
What Are Your Next Steps?
College students are in a unique position to excel as online freelancers. You're bursting with fresh ideas, you know your way around the internet, and you likely have a vibrant social media presence. Use all these to your advantage by creating professional profiles.
To attract the best jobs for college students, seek out jobs that match your skills. While you can apply directly to clients, working with professional agencies such as Small Revolution positions you for fast skill development.
Such training can aid your career growth long after graduating from college.