Do typos, dangling modifiers or missing commas jump out at you whenever you scan a passage of text?
Simply can't resist the urge to pick that magical red pen every time you read a misspelled word?
If this is you, then you might have what it takes to work from home as a proofreader. But hold your horses. 
Proofreading isn't a task that just anyone looking to make a few extra coins can do. 
Contrary to public opinion, it requires a deep understanding of different styles of grammar. And dare we say even up to two years experience.
Alina James, a professional journalist, has plenty to say about this.
"Nowadays it's a common misconception that if you read and have great spelling, you're ready for a job as a proofreader. They're hired by publishers, newspapers and other places that rely on perfect grammar in printing. 

Typically, proofreaders will receive copy and note any changes needed for writers, typists or editors to change. Proofreaders need to make sure every comma is in place and every word is spelled correctly. There are also people who can mess up a sentence such that the meaning changes. I'd say that proofreading is a good profession for people who've completed their bachelor's degree"
Ever considered proofreading as a job?
Well, you should. Especially considering proofreading is a well-paying side hustle that can grow into a lucrative long-term online career. 
These statistics on Occupational Employment and Wages compiled by the US Bureau of Labor Statistics reveal the employment of proofreaders and copy markers by state.
Here's a list of the top-paying states for one of the most convenient home jobs.

What's more, proofreading also opens the doors to many other types of careers such as:
copywriting
graphic design
project management
publishing
virtual assistance
many other related online jobs
Nowadays, many people globally work at home as proofreaders or copy editors.
The following companies offer either occasional or ongoing work to people in search of online proofreading jobs.
All these companies provide legitimate job opportunities but bear in mind that most of them require some years experience.
1. ProofreadingServices.com
ProofreadingServices.com offers part-time and full-time remote jobs to home-based proofreaders and editors in all time zones. Their team members have the flexibility to choose when they want to work.
If you start working as a home-based proofreader for this company, you'll get the chance to earn between US$19 and US$46 an hour. 
Your hourly rate depends on your skillset, turnaround time and urgency of the assignments you get.
Now you might be wondering what's the catch?
You must pass their Preliminary Applicant Test and your time is limited to 20 minutes.
Here's some good news for newbies who'd like to kick-start their online proofreading career. ProofreadingServices welcomes entry-level proofreaders to their team if they pass the entry test.
They offer flexible work hours, competitive pay and the opportunity to work in an award-winning team of experts. 
This proofreading business also welcomes part-time and full-time proofreaders who demonstrate exemplary proofreading and editing skills.
Sounds like a wonderful opportunity to find a scam-free work at home proofreading job huh? 
All this regardless of your professional experience provided that your skills are remarkable. It takes many years experience.
Follow this link to learn more about the company. You'll find information about:
what types of documents they proofread
what style guides they use
deadlines
where their clients are from and
what other types of work they do
2. EditFast
This platform connects online proofreaders with clients and wants to hire top-quality, skilled proofreaders, editors and writers.
Rates for proofreading work at EditFast vary by project and take note that you may NOT be offered consistent proofreader jobs by this company.
This is how it works:
As a home-based freelance proofreader, you bid on projects. If you get them, when you complete your part of jobs, you receive 60% of the earnings from each job via PayPal while the company gets the remaining 40%.
Your tasks as a freelance proofreader at EditFast may include:
advertising copy
web documents
technical manuals
product packaging and manuals
financial reports
business documents
contracts
novels
personal letters
(text) books
educational material, essays, graduate papers, scholarly journal articles and other types of writing
Besides proofreading or editing experience, a university degree, strong command of English, you're expected to have specialized knowledge in fields like finance, medicine, literature, law, and science to get the job.
To be certain whether you're eligible for remote proofreading jobs at EditFast, carefully study all the content here.
Looks like a perfect job opportunity for you?
Here are your next steps:
Use their Resume Builder to submit your resume
Pass a few of their editing tests
Create your own page through the EditFast Web Page Builder, and
Submit a non-disclosure agreement
It takes a while for your profile to get approved and activated. When/if that happens, you're ready to book several online proofreading jobs.
Getting the company's approval typically lasts between a single day and two weeks.
3. Scribbr
The essential requirements for getting home-based proofreading work at Scribbr are:
You're a native English speaker with a bachelor's degree, who is curious about different subjects.
You have a reliable Internet connection and MS Word 2010 or later.
You're available for at least 10 hours per week, particularly during the busiest months (May and August) when you're invited to work full-time.
You're experienced in editing academic texts and are reliable, responsive and able to meet deadlines.
If you succeed at becoming a proofreader and editing at Scribbr, the following language checks will be within your scope of duties: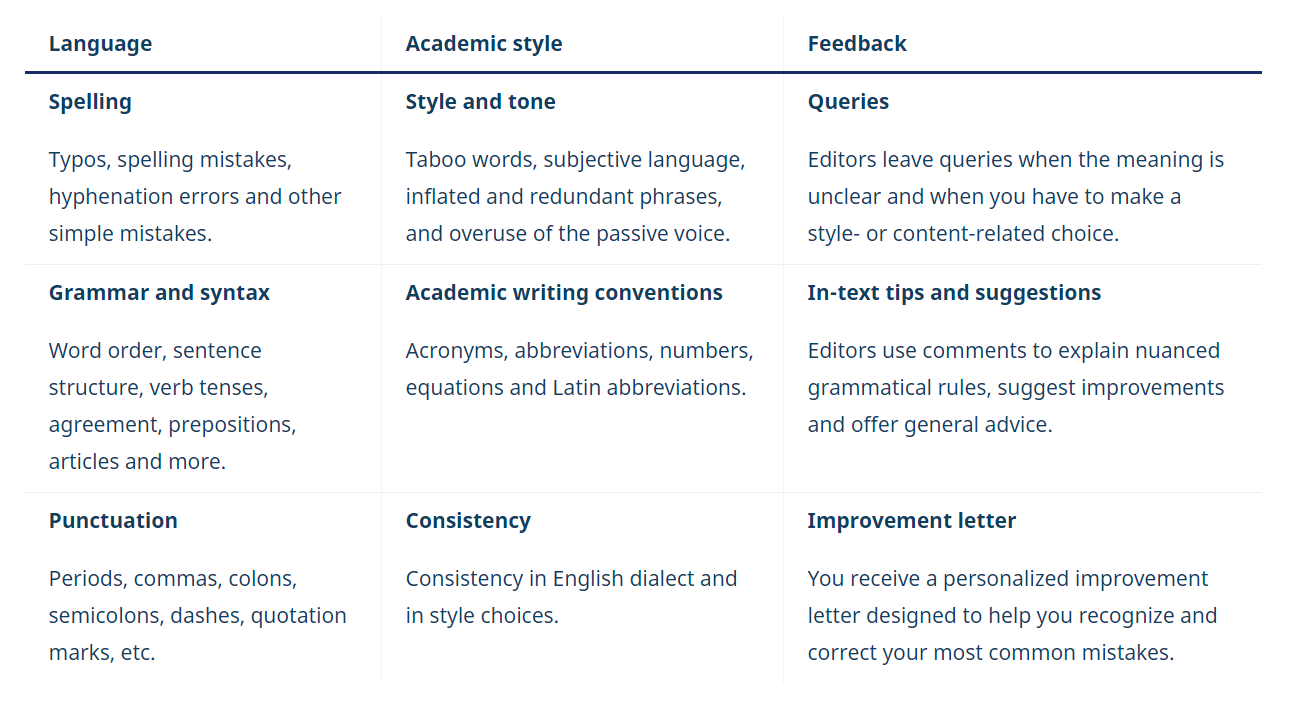 Also, here are some of the benefits of working for Scribbr as listed on their website:
Freedom to design your own work schedule
Work online directly from home or any other place you may choose.
24/7 assistance from the company's support team
The company handles the clients and logistics so that you can focus on your part of work – proofreading and editing
Perfect your skills and learn how to work more efficiently thanks to the exclusive resources, targeted tips and personalized feedback you'll receive
Join their exclusive Slack community where you can discuss language issues and exchange ideas with other Scribbr editors and proofreaders
If you'd like to join their team, here's a step-by-step guide to becoming a Scribbr editor.
Also, follow these links to see how the whole application process works and find some of the most common related FAQs answered.
Their employees get paid twice a month and can earn, on average, between €20 to €25 per hour.
4. WordsRU
WordsRU is seeking remote proofreaders and editors from all over the world.
To get a work at home proof reading jobs at WordsRU, you must at least:
hold an MA or Ph.D. degree (or equivalent professional experience in any academic discipline)
have a minimum of two years of experience as a proofreader or (copy)editor
be familiar with the basic style guides (APA, MLA, Chicago, Turabian, Harvard)
have a stable and fast Internet connection
be proficient in MS Word, (i.e. its tracked changes feature in particular) and some other applications necessary for the job (find out details by following the link above).
If you meet the requirements and would like to join WordsRU proofreading and editing team, don't hesitate to email your resume or CV and cover letter to jobs@wordsru.com.
5. Gramlee
This is the opening statement on the Gramlee jobs web page:
"We are always looking for exceptional editors!

Can't stand poorly structured writing and mistakes? If you're the type that has an itch to fix errors when you see them, Gramlee may be the perfect medicine for you! Our editors are absolute grammar fanatics who shudder at the thought of poor writing. Does that sound like you?

We're always looking to add people to our team."
How's that for a welcome?
If this job appeals to you, you can submit your employment application here.
This company doesn't expect its proofreaders to make drastic changes to sentences because those detailed, radical changes related to copyediting are tasked to an editor.
Still, your chances of getting a home-based proofreading job at Gramlee will increase if you're also familiar with editing documents for:
readability
clarity
structure and
brevity
However, this is what Gramlee's proofreaders are expected to check for:
spelling
punctuation
verb-tense consistency
grammar
pronouns
capitalization
spacing and
formatting consistency
It's wonderful that Gramlee seems to welcome talented grammar aficionados to the team no matter how (in) experienced they are.
6. Scribendi
Scribendi is another legitimate online company that offers plenty of freelance home-based proofreading opportunities, as well as in-house, full-time positions that include free web-based training.
Although there isn't much about Scribendi's pay rates online, Glassdoor reveals a few editors at the company earn $25 an hour.
You're eligible to apply for a freelance proofreader or editor job if you have:
a university degree
at least three to five years of editing experience, writing, document production, or language teaching
native-level English proficiency
excellent reading comprehension skills
the ability to proofread or edit at least between 1,000 and 1,500 words per hour
sound knowledge of at least one style guide (APA, Turabian, Chicago,)
advanced level of computer literacy
to be Internet savvy
reliable high-speed Internet connection
a PC equipped with MS Word 2010 or later (the use of a Mac/Apple computer is NOT acceptable)
Here's a sample of their proofreading work:
In case you need more reasons why you should work as a freelance editor with Scribendi, here's a convincing infographic.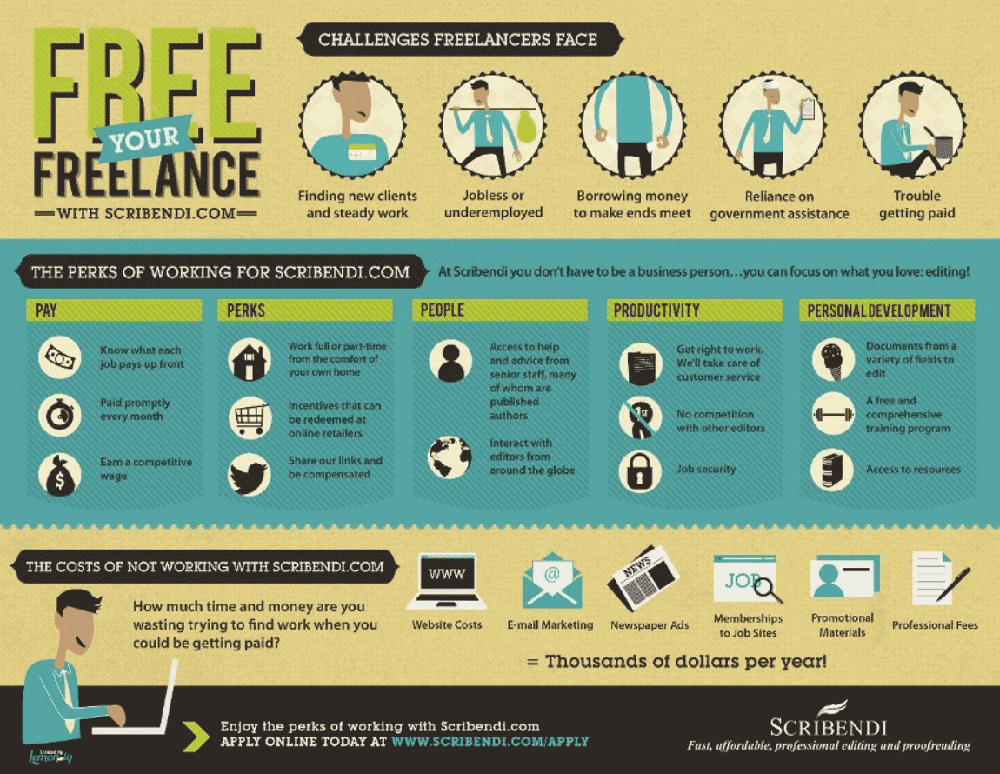 This company offers its freelancers:
the opportunity to work from the comfort of their home
a flexible work schedule
the ability to choose assignments based on their interests, skills, and availability
a wide array of document types to work on
competitive, secure and regular payments
taking care of all the hassles of a traditional freelance job (e.g. billing, customer service, advertising, marketing) instead of their workforce who only needs to focus on the tasks at hand
While allowing for a flexible work schedule, Scribendi usually gives preference to candidates who are available full-time.
If you'd like to work at Scribendi and you meet their requirements, complete their questionnaire and apply.
Before making your final decision, learn more about the company. Carefully read the in-depth instructions for submitting your application on their Jobs page and their freelance FAQs.
7. ManagedEditing or Wordfirm
In addition to other publication professionals, such as indexers or graphic designers, this company occasionally searches for highly-skilled freelance editors and proofreaders to join their team as remote independent contractors.
Your location and time zone don't matter, as long as you:
Have a reliable and fast Internet connection
Are at least five years of professional experience
Have a university graduate degree
Are conversant with referencing styles such as APA, Chicago, AP, AMA, and others
Fill in their comprehensive online Independent Contractor Application if you'd like to apply for freelance work.
On passing the initial job tests, successful applicants are able to choose the content categories they would like to do proofreading or editing.
Ready to get started with your work-at-home proofreading job?
If work-at-home proofreading is a profession you'd like to pursue, we've got some great news.
The demand for online proofreading jobs (including proofreading uk jobs) has risen sharply in recent years. And it's easier than ever to find legitimate opportunities to kick-start your online career. 
These statistics on Occupational Employment and Wages compiled by the US Bureau of Labor Statistics reveal the industries that are looking for your proofreading business.