The aim of this guide is to help you decide whether you need to watermark your photos or not. If people share your product photos on Pinterest and Facebook, without including your store's URL, how will they trace the image back to you? If you do decide to do so, then we show you which software you can use and how.
Watermarking a photo is a process whereby you add a logo or other identifying mark as an overlay to a product photo.
You may have gone to the trouble of taking unique photographs of a common product, or photos of your own handmade product. The last thing you want is for competitors to take your photos and use them as their own.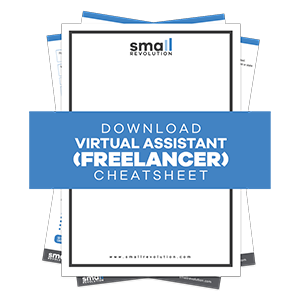 Placing a watermark on a photo allows you to brand your photos, protect them from theft, and if the photo is isolated from your online store then it can provide a compass for customers to follow to get back to you.
Watermarks are usually a light grey colour. Even if you are using your logo as the watermark element you would convert it to grayscale and also possibly add a transparency to help lighten its effect on the product photo.
Depending on your market you need to decide whether a big, obvious watermark or a subtle, unobtrusive version is better.
Advantages of Watermarking
it is a good for promoting your brand, particularly in image search engines
it protects your image from online theft
products will look more finished
it will give credit to you as the owner of the product
it adds a small level of copyright protection
it helps visitors to easily remember your store
Disadvantages of Watermarking
it might distract your customer from seeing fine detail in your products
image appeal might be affected by the watermark
it might reduce social sharing if the product is heavily watermarked
To deal with these disadvantages, always see to it that adding the watermark will not obscure the photo's appeal. Watermarks should not be too large too cover large area of the image or too small to be easily removed.  It should be simple, concise and easy to read.
Examples of Watermark Placement
Following are samples of the different ways in which online stores watermark their photos.
Example 1: Add store address
Adding your website URL gives people a way of finding you quickly online. Although in this case the font is not super-easy to read, so people might have trouble reading it. In this case, because the watermark is outside the rectangular boundary of the image it can easily be cropped out.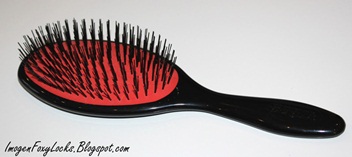 Example 2: Add logo and lines
This image is taken from a stock photography gallery. Not only do they add a prominent logo over the top of the image, but they also add two faint lines. Adding the logo on top of the product can make some product details difficult to see.
Example 3: Background tile effect
Adding multiple instances of the logo means there is more branding. The logo however has been placed 'underneath' the product image meaning that it doesn't interfere with the actual appearance of the product.
Example 4: Subtle shape mark
Rather than placing a logo over the top of the product, these people have instead placed a faint shape. Using a shape, rather than text, is not quite so disruptive for the viewer.
Example 5: Plain branding
The logo is prominently placed at the bottom of each product photo. It is large enough that we can read the writing and know who is selling the product. Placing the logo at the bottom of the image means that the customer's view is not as disrupted.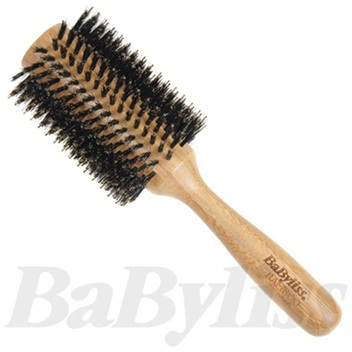 How To Add Watermarks To Your Photos
Option 1: Picmonkey
You can work with a professional photo retoucher to add watermarks to your photo, or use a free tool like www.picmonkey.com
1. Go to www.picmonkey.com and click on Edit icon.

2. Browse your computer for the product photo that you want to add with a watermark.
3. Add your watermark.
If you already have a watermark image, you may add it as an Overlay.
Then on the left Menu panel, click on the Overlays icon which is the Butterfly icon.
Then click on My Own button and select My Computer.  Then browse for your watermark image.
Place your watermark to where you want it to be. Then adjust the Fade to blend it with the photo's background.
Then save it to your computer.
You can also add a watermark as Text.
Click on the Text Icon which is a Tt icon.
Select the font that you want and click on Add Text.
Add your watermark text and style it with the Text options at the side bar.
Then save it to your computer.
Option 2: PhotoScape
Or you can also use free photo editing software like PhotoScape to do this for you. To add a watermark using PhotoScape, refer to the following steps:
1. Open PhotoScape Editor on your computer.
2. Browse for the folder location where the image is stored.
3. Click the image to open it on the Editor.
4. Click on the Object option at the bottom of the screen. To add a watermark you can either use texts or photos.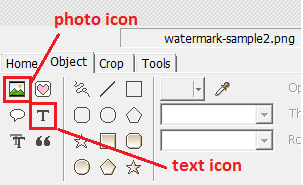 Text Additions. Use the Text icon ("T") when you don't want a background on your watermark. It will appear neatly on the photo. It will have the same background as the photo. Make sure to adjust the text size, opacity and color to blend it in.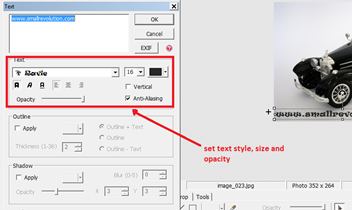 Photos. You can use the Photo icon (picture of a mountain and sun) if you already have a personalized logo (with the address), this is really good for consistency and identity. Click the Photo icon and browse for the location of your logo. Once it's loaded to the photo, adjust its opacity, size and position.
5. Once you're satisfied, click on Save. You can save the photo and back up the original image, save in the designated folder or save as a new file name.
Final Checklist
If you decide to use a watermark on your photo, you should take the following steps:
Decide which kind of watermark to use: store address, logo and lines, background tile, subtle shape, plain branding.
Choose how to add watermarks to your photo.
Decide how to add watermarks to your photo. Do you want to work with a professional photo retoucher?
If you want to add watermarks yourself, download a free tool like PicMonkey or Photoscape
Edit and save your watermarked image for future use.