You're in the market for a job. Maybe you're a fresh graduate about to launch a new career or a student just looking for a side job. Either way, you probably have the technical skills necessary to succeed in your chosen field.
And one way or another, you landed here because you understand the value of developing the right soft skills for today's marketplace. After all, 85% of job success will come from your soft skills, with technical skills only accounting for 15%.
But even though 97% of employers believe that soft skills are just as critical or even more important than technical skills, 54% of employees don't list soft skills on their resumes.
And considering the fact that those same employers believe that only 31% of their entry-level employees have the right set of soft skills for the job, it's easy to see how listing some on your resume will separate you from the multitude of eager job seekers.
Besides standing out from the pack, learning essential soft skills will:
Boost your productivity
Improve your self-confidence
Increase your level of job satisfaction
Enhance your creative and critical thinking abilities
So, where do you learn soft skills? Are these skills even learnable?
These three fantastic Udemy soft skill courses will make you a more attractive candidate to employers and set you up for career success.
In this 4-hour course, the instructors—Dr. Roy Naraine and Jimmy Naraine—touch on all aspects of communication, including:
Verbal and nonverbal communication
Presentation skills
Public speaking
Charisma
The teaching style is down-to-earth and straightforward, and the material contains several anecdotes and examples from the instructors' personal lives. So, the course content is engaging and easy to digest.
You'll learn:
The ins and outs of business interaction
How to draw and retain the attention of your audience
How to turn body language into your superpower
But why is this even important?
Because it might be more important to possess stellar communication skills than to have the right amount of experience.
In a 2022 survey of corporate recruiters, GMAC found that 73% of corporate recruiters feel confident about hiring fresh MBA graduates—despite their lack of experience—because of their strong communication skills.
Besides, the market also seems to reward strong communication skills. Watson Wyatt's communication survey for 2009/2010 showed that companies that were effective communicators saw a 47% higher return to shareholders over the trailing 5-year period.
And finally, according to results gathered from the National Association of Colleges and Employers Job Outlook 2019 survey, 82% of employers want employees with excellent written communication skills, while 67.2% want employees with strong verbal communication skills
That makes sense, seeing as business communication these days is narrowly more likely to be written than verbal, whether via:
Email
Slack
Shareholder newsletter
Over 22,000 students have enrolled in this course, and it boasts a 4.5-star rating across more than 6,500 ratings.
But that's not why you should get this course.
You should get it because the course creators have extensive experience in the field and know exactly what they're talking about.
Dr. Roy Naraine has over 20 years of experience coaching, counseling, and training high-performers and teams to become their best selves. He's worked with myriad international corporations and has served as an interviewer for multiple companies, which means he knows exactly what makes for an attractive job candidate.
The other instructor, Jimmy Naraine, is an entrepreneur and top-rated speaker with over 350,000 students online and 67,500 testimonials. He trains Fortune 500 companies across the globe and has appeared in global publications like Forbes, Entrepreneur, and Business Insider.
In other words, these guys know their industry, and you should listen to them.
Here's a testimonial from one of the course's students:
This course was excellent. The amount of information and tools they provided was wonderful. The course instructors show great knowledge and professionalism.

Anchula Naveen K.
All that said, it's not all fine and dandy. Here are some pros and cons of the course.
Pros
It offers a solid overview of effective workplace communication
The material is full of anecdotes and examples from the instructors' personal lives
The teaching style is down-to-earth and simple
Cons
While it does a fine job of touching on the basics, four hours are just not enough to cover everything there is to know about communication skills for the workplace
You must consume the "Audio Section – Downloadable" section to complete the course, despite being just an audio-only repeat of sections 1–6
The "Audio Section – Downloadable" is not downloadable, which is frustrating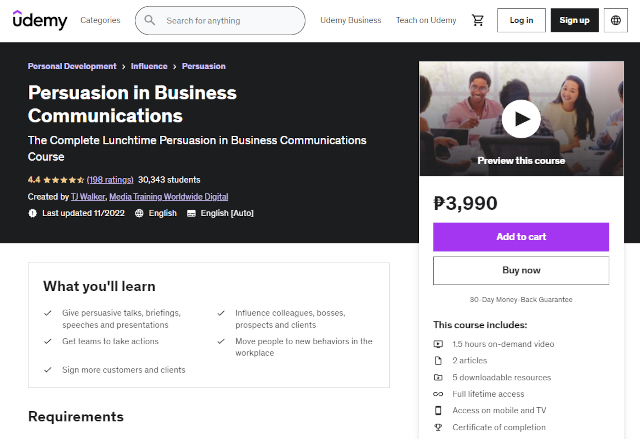 In this course, TJ Walker teaches the fundamentals of persuasion in 1.5 hours.
Persuasion could be one of the most underrated life skills. Every day, we spend a significant portion of our time trying to persuade people to:
Buy our products
Work with us
Validate our idea
Grant us a raise
Therefore, it makes sense to spend time studying the art of persuasion itself.
One great thing about this course is that, unlike several other Udemy courses, the instructor shows his face and doesn't hide behind slides, slick animations, editing, or robotic voices. In fact, one might argue that the presentation is decidedly bare-bones.
The instructor, TJ Walker, is a prolific course creator, boasting over 1.5 million students across dozens of Udemy courses on subjects like:
Public speaking
Media training
Personal development
Presentation
Communication
As the founder of a global public speaking training company, TJ Walker has trained world leaders, Nobel Prize winners, Miss Universes, and Super Bowl winners.
The course boasts a staggering 30,000 students and a 4.4-star rating. It's chock full of practicable advice with quick tips and anecdotes delivered in an up-close-and-personal style.
For example, if you'd like to meet someone face-to-face and can't for some reason, Walker recommends sending custom video messages where you address the prospect by name instead of sending an email.
That's something most people won't think of. A customized video that took extra effort to create would feel more personal and would therefore be far more likely to convince than a simple email.
A student had this to say about the course:
Through common sense lessons, TJ Walker teaches you how to deal with major mistakes in a presentation and speech.

Luca Elisa
Pros
The instructor adopts a personal teaching style and doesn't hide behind slides
The course offers solid fundamentals
The instructor took the time to respond personally to every review. Talk about a personal touch
Cons
No additional teaching aids (such as slides and on-screen text). Even though we like seeing the instructor's face, it still helps to have slides
The course focuses on pitching and not much on negotiation, which is a crucial element of persuasion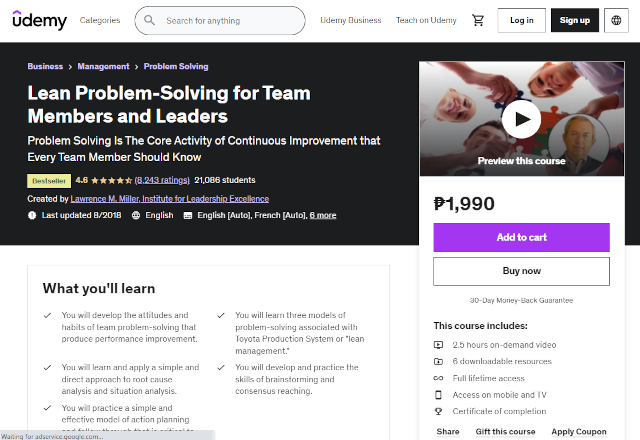 It is impossible to exaggerate the value of problem-solving abilities in the workplace. Every industry, business, and job role will have its problems. Every employee, from entry-level hires to senior staff members, encounters problems they cannot solve with a quick Google search.
That's why 86% of employers now prefer to hire people with problem-solving skills, especially for roles involving complex business challenges, tight turnaround times, and rapidly changing variables.
Boasting over 21,000 students, 8207 ratings, and a 4.6-star rating, this short course by Larry Miller explains the basic skills and philosophy behind effective problem-solving.
With 40 years of experience consulting with major corporations, Larry Miller has created numerous best-selling books and Udemy courses teaching all he knows.
In this course, he draws from 45 years of experience in implementing lean management—or the Toyota Production System—to teach a unique approach to problem-solving in a friendly, principle-based, and highly effective fashion.
See what someone had to say about the course:
This course had solid info that I found useful and applicable with real-world examples–it wasn't just "Hypothetical Company A wants to build 'Widget B' and sell them" type of theories and lectures discussed in a vacuum.

Daryl F.
Pros
This course offers a rather detailed breakdown of problem-solving models and the general mindset
It provides an in-depth exploration of Toyota's lean problem-solving methodologies
Cons
The delivery is a bit dry. But increasing the playback speed could solve this problem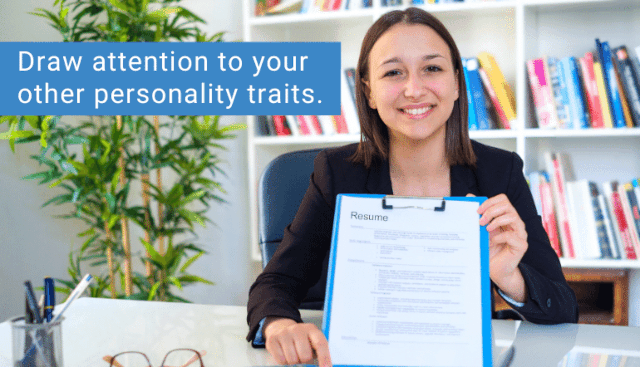 Build Valuable Soft Skills With Practical Udemy Career Courses
Ian Siegel, CEO of ZipRecruiter says, "93% of employers say soft skills play a critical role in their decision about whom they want to hire."
Therefore, on your resume, highlight your GPA, academic distinctions, and professional background. But also remember to draw attention to your other personality traits in your resume and in-person interviews.
Renata Dionello, Chief People Officer at ZipRecruiter recommends that "if, as you browse the requirements in job postings, you realize you missed out on some class you should have taken in college, don't despair. Find an inexpensive, engaging, self-paced online course, and ace it. Or watch a YouTube tutorial series. Then put it on your resume. Employers like self-starters who are not afraid to learn new things."
The bottom line? If you need to learn a soft skill today, check out Udemy. It's packed with low-cost, high-value courses that could supercharge your career in no time at all. It's tough to beat.
Share on Facebook: