To the layman, it may not be obvious how you can forge a profitable career from transcription.
But think about all the news panel conversations. The movie dialogues; the speeches. The court hearings; the research interviews. Think of all the auditory content that's churned out daily. This audio will often need to be made available in print and online media.
Who does the work of penning down the audio in text form?
Yep. The transcriptionist.
People have been transcribing since the ancient days. But there is more to be said now – in the information age – than ever. Companies increasingly require transcription services. They're opting to outsource the job to people who will work from home.
In this article, we've compiled some important tidbits about transcriptionist jobs done from home:
1: Transcription Alone Can Earn You a Living, But It Takes Dedication
Most companies offer their transcription remote work on an audio-hour basis. This means the more hours of footage you transcribe, the more money you make.
On average, it takes 4 hours to transcribe an hour of audio footage. But that's only if you've been at it long enough to know the tricks.
PayScale places the average pay for the transcriptionist working from home at $15.08/hour.
From this, it does seem plausible that one could sustain a work-from-home transcription career. However, the precise amount of money you stand to make depends on a variety of other factors as well.
For example, the company you'll work from home for, the amount of available work, and your accrued experience.
Experience? Yep.
Your accrued experience impacts two things:
Your prospective employer's assessment of your value as an employee, and
Your output.
With hands-on knowledge, it's more than possible to land one of the many transcription jobs out there.
2: You Need Good Gear: Both Software & Hardware
Transcriptionist jobs from home can be taxing if you're not equipped with the right tools. A laptop and a pair of headphones might do. But then again, that might not be enough. Other must-haves:
A Reliable Internet Connection
The only way to sustain remote work from home is to maintain a reliable connection to your employer.
You'll need solid Wi-Fi to:
Download and upload audio
Research new terms & names
Communicate with clients
The internet is pretty much the backbone of your work from home environment. Nothing fancy needed; 2 Mbps should do it.
Audio Editing Software
Some of the audio – perhaps most – you'll have to work on will not be in ideal condition. You'll often encounter noisy, poorly-recorded, or sometimes even rather disturbing footage.
And you'll need to decide how to deal with it.
From noisy news footage to medical interviews involving multiple speakers. Expect anything.
VLC Media Player is usually a decent start. But if you're up for a challenge and are willing to deal with tougher audio, you should install Adobe Audition CC. It allows you to alter audio every which way you please if it is wanting.
You can gain volume, alter pitch, and lower noise, among many other alterations.
Transcription Software
A dedicated transcription jobs app will significantly simplify your work.
Transcription software tracks and guides you along as you type out the audio you hear. Installed within the software is a storage allowance to store your personalized shorthands.
FTW is well-known with Windows and Mac transcriptionists; its trial version proves adequate for the beginner transcriptionist. But ExpressScribe is universally preferred.
Not only will you be able to automatically stamp problematic timepoints without having to stop. It integrates seamlessly with your computer's file management.
A Foot Pedal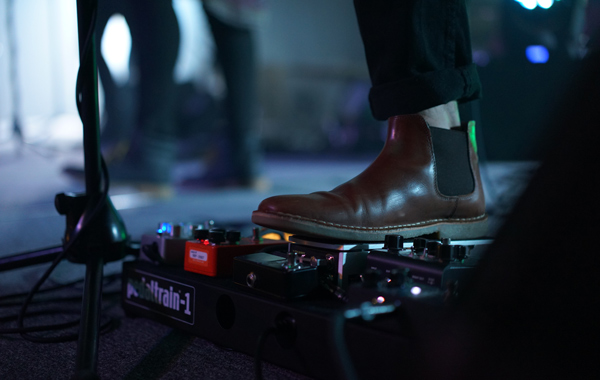 If you're serious about output and want to work in transcription long-term, invest n a foot pedal.
Budding transcriptionists often manually skip back through the audio. They do this to check what was heard. With the foot pedal, this process is significantly hastened.
An Ergonomic Chair & Workspace
Transcription requires concentration. And concentration requires focus.
We're talking about the prospect of dedicating consecutive hours on end to working on audio.
To ensure a comfortable and long-term transcription career, invest in:
A silent desk area, preferably near a view where you can rest your eyes occasionally.
An ergonomic desk chair with lumbar support that reinforces the spine's natural curvature.
Hand and wrist protection, e.g., a wrist brace.
Eye protection, e.g., anti-glare flap, matte screens.
What Are the Best Companies to Work For?
There are tons of companies currently in the market for remote transcriptionists. The three most commonly used are: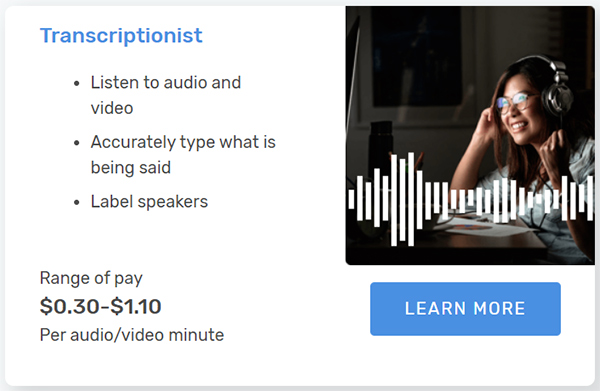 Perhaps the most renowned online company hiring transcriptionists to work from home.
To start your Rev application, you need to open an account. Then you'll be required to sit for a short grammar test. After which, upon success, you will be able to decide which jobs you'd like to take on.
Some other things Rev offers the aspiring transcriptionist who wishes to work from home:
Easy test and constant influx of available work
Large variety of audio to choose from: technology, news, media interviews
Realtime support from Rev customer care
Secure payments using only PayPal

Currently the best paying transcription website online. TranscribeMe imposes little on its applicants in the way of requirements.
There is a test, true. But once you're in, you have access to the entire work catalog.
Their catalog consists of short clips as opposed to huge blocks of footage. This makes the work all the easier and faster for transcriptionists.
Here are the important features of TranscribeMe:
Impressive payouts of $15 to $25 per audio hour of work.
Offers significantly more pay to legal and medical professionals
No membership fee levied to remote workers
Offers jobs in short clips, which makes for a manageable workload
A global transcription website that also allows access to large pools of work.
They pay out an average of $0.60 per audio minute. But the best transcriptionists make slightly over $1200 monthly. GoTranscript primarily hires people working from home.
The features you can expect from GoTranscript:
Offers secure weekly payments using PayPal & Pioneer
No geographical constraints on remote workers, unlike Rev
Room to rise up the transcription rungs into high-level pay work
The Key to Getting Better Is Time Management
Transcription, while being lucrative, can tend to require quite a bit of effort on the transcriptionist's part.
It can prove tedious, especially for beginners, with a lot required in the way of concentration and typing speed. But like any other craft, getting better at it takes practice.
Some important tips and tricks that will help you:
Keep It Moving
The way to make the most use of your transcription schedule is to avoid skipping through the audio as much as possible.
The way to achieve this is to:
Skip inaudible sections of audio. Mark them for later; meanwhile, keep it moving.
Not look at the keyboard while typing & don't use apostrophes.
Slow Down the Audio using VLC; but if your audio needs work, consider Adobe Audition.
Institute a shorthand system, e.g., xpld (explode); govt (government); 10k (10,000); 25p (25 percent). If you have decent transcription software, it will automatically correct them for you.
Choose Transcription Jobs Wisely
Verbatim or non-verbatim? Specific or general? These are the sorts of decisions you'll have to make while you sift through the stacks of available work.
Reputable transcription job websites allow their hired transcriptionists to examine audio footage. So you're usually not under any obligation to take up poor quality audio transcription jobs.
But here's the catch: mediocre audio gigs pay higher on average.
So do discipline-specific transcription jobs. Accordingly, medical and legal practitioners are well-advised to pick up medical and legal transcription work.
Hone Your Skills
If you're wondering what your next step is – it's relevant training. Small Revolution is an online learning platform that will help you start and maintain a thriving remote transcription career.
Over 10 years in the training business, we have expanded from eCommerce training into virtual assisting training. A good part of which includes transcriptionists working from home.
Get started by enrolling in our language training to build your vocabulary. While our Successful Behaviours and Habits course will equip you with the discipline and ethos necessary for a transcriptionist working from home.