Careers that need you to accurately type at speed are becoming increasingly common. Whether you're an experienced freelance writer, or a beginner copywriter, knowing how to touch type helps you improve your productivity.
For example, a touch typist with an average speed of 60–90 words per minute will only use 25 minutes or less to type a document of 1,500 words.
If you can write this fast, there are several other benefits that come with it:
Less fatigue — You're spending less time and writing more, meaning you're less likely to get exhausted.
Increased productivity — Since you're writing faster, you have more time to engage in other work-based tasks.
You write with better posture — In the long term, this is beneficial for your overall health, especially the backside.
More opportunities — With increased writing speed you'll be able to expand your horizons and land more demanding jobs that pay more money.
A good online course can help you learn touch typing.
Here at Small Revolution, we've done the heavy lifting and compiled the 3 best touch typing courses to help you improve your productivity.

Created by Thomas McDonald, this course teaches you how to type correctly and efficiently. It's perfect for anyone who wants to improve their typing skills, including both beginners and experienced typists.
Touch Typing Mastery is a top course on Udemy, attracting over 12,000 successful students with a rating of 4.4 out of 5. The course has 12 easy lessons that take you from letters to sentences to numbers, and finally, to special characters.
The course also comes with 1.5 hours of on-demand video and 12 downloadable resources.
This course helps to eliminate bad habits such as looking at the keyboard and typing inaccurately, increasing your word-per-minute count.
Touch Typing Mastery has several other benefits, including:
A one-time payment with full-time access
A certificate of completion
Access on both mobile and TV
I felt that the course was taught at a comfortable pace and with good clarity and organization.

Stephanie T
Touch Typing Mastery provides excellent value for your money, since you get lifetime access to all of these lessons through a simple one-time payment. You also get a large amount of actionable resources that will eventually pay for themselves should you find a career in touch typing.
Requirements for this course include a computer, an internet connection, and a keyboard only. No prior experience in typing is needed.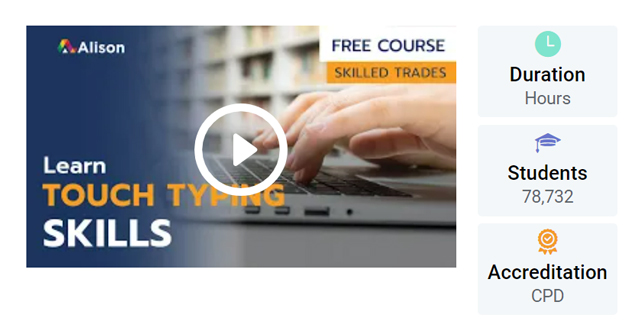 Touch Typing Training offered by Alison learning platform is designed to teach you how to type reflexively while keeping your eyes fixed on the text in front of you. This course has had over 75,000 students and offers a certificate of completion to all of those who take it.
Touch Typing Training is divided into six modules, each with its own set of lessons and activities:
Module 1: In this first module, the training focuses on your right and left index and middle fingers. You'll practice mainly easy-to-type words and phrases such as "dog", "log", and "fog".
Module 2: This module provides insights on how to improve your touch typing skills, focusing on difficult words involving both your right and left little and ring fingers.
Module 3: These 11 practice exercises focus on capital letters so you become accustomed to typing them quickly.
Module 4: Punctuation, numbers, and emoticons, such as :), are the focus of module 4.
Module 5: This module improves your mastery of the home, top, and bottom row words.
Module 6: Finally, module 6 consists of practice exercises on English words, the alphabet, and more numbers.
This course is simple straightforward and very detailed.

Sandra O
The benefits of enrolling in this course include:
Free lessons and practice exercises
A certificate of completion when you finish the course (you can share the certificate with potential clients)
The course is good for both beginners and expert typists.
Learning Typing is yet another best online touch typing course that will help you improve your productivity as a writer. Anson Alexander created this course in 2014 with the aim of helping people learn how to type fast.
Learning Typing (2014) is divided into six lessons that begin with typing fundamentals as the first. The next five lessons are:
The home row and thumbs
Letter keys
Number and math keys
Additional keys
Numeric keypad
This course is good value for money as you get full-access for a one-time payment, but it also has a one-month free trial that allows you to try the course without paying.
The course is available on both web and mobile platforms so you can learn how to type anywhere and at any time. The lessons are well-structured, easy to follow, and comprehensive.
To improve your productivity, this course will:
Help with finger positioning: The course has lots of practice exercises for finger positioning that will help you familiarize yourself with the keyboard.
Offer visuals: The course uses unique visuals to help you see the instructor's fingers at work and understand how to type properly.
Focus on speed and accuracy: The lessons are designed to offer speed and accuracy training to help you become a better typist.
Like the previous courses, Learning Typing (2014) has its advantages, including:
A certificate of completion that you can share with employers
Game-like, interactive exercise files to practice each typing lesson and gauge your improvement
Free lifetime access to future updates
Below is a table showing the differences of each of the three courses so you can make an informed decision.
Are Touch Typing Courses Worth It?
Yes, touch typing courses are definitely worth it. We live in a digital age, and typing is an essential skill for most online jobs and personal use. Whether you want to quickly reply to an email, engage on social media, or type up a school paper, touch typing can help you do so much more efficiently.
A good touch typing course will help you with the following:
Confidence: Completing a course in touch typing will give you a sense of accomplishment. Moreover, being able to type quickly and accurately will make you feel more confident in your abilities as an employee or student.
Posture: Typing careers often require people to sit for long periods of time. This can cause back pain, neck pain, and headaches if your sitting posture is poor. Touch typing helps you maintain a good posture by ensuring your shoulders are relaxed and the spinal curve is normal.
Speed: In a fast-paced world, the hunt-and-peck method will not cut it. The hunt-and-peck method involves pecking at the keyboard while hunting for the keys with the two fingers.
With touch typing, your fingers will move more fluidly across the keyboard, increasing your speed.
Accuracy: Good memorization of the keys is essential to being able to type correctly. Touch typing helps you learn the placement of each key and then type without looking at your fingers. This is a much more efficient way of typing, resulting in fewer typos.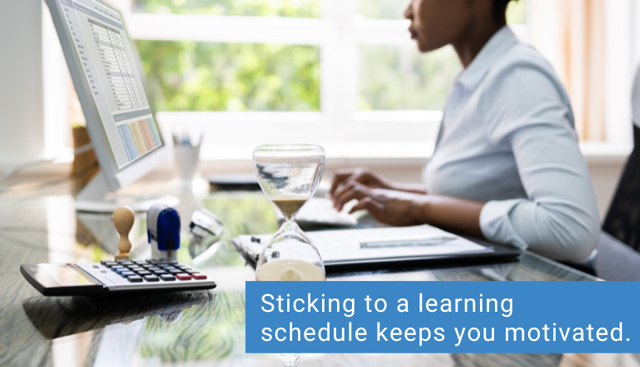 Tips for Getting More Out of a Touch Typing Course
After enrolling in a touch typing course, it's important to ensure you get the most out of it. Here are some tips:
Practice, Practice, Practice!
The best way to get the most out of your touch typing course is to practice as much as possible. You'll notice that you get better with each passing day. Set aside a few minutes every day to exercise.
Practice will help you build muscle memory and increase your speed.
Stick to a Learning Schedule
Use a learning schedule to help you stick to your goals. A plan will ensure that you complete the course on time.
Take a look at this video below, which shows you how a touch typer stuck to a schedule and learned touch typing in 30 days.
Complete the Course
Even if you're getting the hang of touch typing, it's important to follow the course to completion. Finishing the course will help you master all the techniques and skills involved in the course—including some you may not have known about if you leave early.
Check for Updates
You'll most likely find that new updates are released on your course frequently. Make sure to check for updates regularly so that you can take advantage of the latest techniques and improvements.
You can also read the latest developments in touch typing by looking for thought leaders in the industry (check resources such as LinkedIn or follow the course creation experts).
Use a Comfortable Keyboard
A comfortable working keyboard will make a big difference when trying to type quickly. You will not have to worry about non-responsive keys or frustrating key sizes. A good keyboard will also help you take advantage of the latest features, such as backlit keys.
An example of a comfortable keyboard for a writer is the mechanical keyboard, which uses individual switches on every key. Because of the switches, the keys require less pressure to register a keystroke, unlike on a membrane keyboard, which might sometimes require a hard press to register a keystroke.
Touch Type Your Way to Success
Productivity is one of the most important aspects of any job. Since most jobs today involve using a computer, one of the best ways to improve your productivity is with touch typing.
Touch typing helps you get more done in less time, which is good for anyone with a busy schedule. You'll be able to respond to more emails, write more reports, complete more projects, and even enjoy more time off.
Remember that touch typing is not just a skill for people who work in an office environment. Learning how to type without looking at your keyboard can still be valuable, even if you're a stay-at-home parent or generally work from home.
Udemy houses more than a dozen touch typing courses that aim at improving your typing skills. The courses cater to typists at all stages, including beginners, intermediate, and advanced. Take your time to visit Udemy and learn how to touch type.
Share on Facebook: