Yes, we got it. Who's going to think about self-care when there are reports to be done, budgets to be calculated and a workplace to be run? There are not enough hours in a day to squeeze in all the points from your agenda.
You're scrambling to stay on top of your schedule enough as it is.
Well, you better find a way to squeeze in some me-time as well. Placing yourself last leads to a long list of conditions and ailments.
To tell you the truth, taking good care of yourself during the work week doesn't have to take up much of your time. Quite the opposite. Pepper your work responsibilities with acts of kindness towards your hard-working self.
Contrary to conventional wisdom, we advise you to mix business and pleasure. The weekend is too far off to wait for, anyway.
Below are six self-care tips you can practice at work.
1. Begin and End Your Day With What Feels Good
It's hard to break free from habits that do us more harm than good (more on that later), but whatever your modus operandi is on a workday, there's a hack you can use to brighten up the day.
Instead of dragging yourself to work clueless about why the heck you woke up in the first place, kick start your day with what makes you feel good!
Take a good 10 minutes or even less, before and after work, to create your sacred personal space. Schedule it just to know when it is so you can ease into it and create a habit out of it. Do whatever makes you happy!
Put on your favorite song and belt that note you love, take on a few Jagger moves, treat yourself to a home spa experience or pick up that book. You can even give a proper closing to your day by snort-laughing over your favorite sitcom.
Knowing that you marked your day with what matters to you will make all the difference in the world. It won't be just another day that passed along unnoticed.
2. Keep Your Work-Life Volume in Check
You chase off to meet with some friends after work and then run back home to cook some healthy lunch for tomorrow. Next, you sit down to read that book before bed on the off chance you'll make it. But you don't. Not even a whole paragraph. You're well into the REM phase after just a few lines.
Now:
If you're full of stories like these, you're rife for a reality check.
Against all expectations, the more you try to do, the less you accomplish. According to a registered nutritionist, an author, and a speaker, Claire Turnbull, most times it's the sheer volume of responsibilities (both at work and at home) that keeps weighing us down.
"Sometimes we are that donkey. It's not that we are actually struggling with Life-Work Balance. What we are really struggling with is Life-Work Volume. There is simply Too Much Stuff going on." Source: claireturnbul.co.nz
So, what's the catch? You need to be ruthless when it comes to trimming off that do-to list. Some of the less essential items need to go. You'll be surprised to find out how many trivialities you can do without!
3. Don't Take Lunch Break Too Literally
You cherish your lunch break more than anything in the world, but it never turns out the way you want it. Whatever you do, you can't seem to pack your eating and your de-stress activities into a one-hour time slot.
And strangely enough, you always end up eating longer.
Yet, the solution to a wasted lunch break is downright simple. Who says lunch break has to be all about food? So, make a few tweaks to it and see how it plays out for you.
The solution to a wasted lunch break is downright simple. Who says lunch break has to be all about food? So, make a few tweaks to it and see how it plays out for you.
Click To Tweet
Surprise yourself every day by trying new ways of practicing self-care at work.
Treat yourself to coffee in a nearby cafe hugged by walls of lush greenery.
Grab a book and head out for an enjoyable read in the park.
Hop on a 30-minute bike ride if you have access to a shower.
Meditate. Breathe. Do whatever works for you.
Because you can always eat at your desk.
4. Solicit Feedback From Your Boss
A massive part of work-related stress is due to the feeling of uncertainty when it comes to your work performance. Being in the dark about whether your core competencies are up to the mark or whether your supervisors are happy about your learning curve is NOT a good place to be.
So, muster the courage and solicit some feedback from your boss. This will not only dismantle your subconscious fears, but it will also help you:
Avoid misunderstandings and save you and everybody else valuable time.
Get on the right track and give you the tools for your career self-improvement.
Create a feasible plan on how exactly to hit the mark and meet your boss's expectations.
Note that this will take you nowhere if you don't act upon it when you do get the desired feedback. So, get down to work, set your goals, set up a timeline (say, 30 days from now) and hone those skills.
5. Be Proactive About Your Work Responsibilities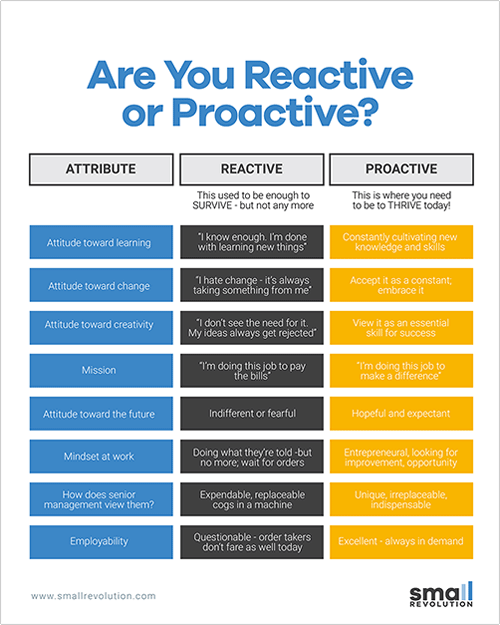 Beyond doubt, getting honest feedback will empower you to get where you want to be professionally, and so will being proactive about your work responsibilities. This brings us to a slightly different topic.
Why assume a passive role, letting the job weigh you down when you can boost your morale and bring a lot more to the table? If your job is remotely interesting, you can make this work! All it takes is some fine-tuning of your attitude to work.
Trust us, this changes everything from the root.
If you have a supportive work environment, your chances double from the get-go. But you can get your mojo back on your own devices, too. Which makes the victory all the sweeter when it's scored.
Invest some can-do attitude and some ironclad determination. You'll be back in the game in no time. Your proactive approach will get you to handle all your tasks with much less effort than before. And did we say your reputation within the firm will skyrocket once they spot your improved attitude?
Point is, you're NEVER going to get there until you do it in your head first. So, do it.
6. Ask for Working Conditions That Will Improve Your Well-Being
Are you ready for some self-care negotiation at work? If not, you should be. Of course, we're talking reasonable requests here.
A recent study by Mercer finds that commitment to health and well-being is one of the top three factors most employees are looking for in a company.
So, if your work conditions are poor, don't hesitate to stand up for yourself. Whether it's poor lighting, non-ergonomic chairs or desperate washroom hygiene. Vocalize your concerns to whoever is in charge and make requests that will keep you happy and healthy while you work.
Show Some Real Professional Self-Care
And now, let's give you one last piece of advice: Take this friendly reminder and make it count!
It's dead hard to remember to practice some self-care at work in a world where everyone's sending you signals that you have to work your head off to be successful.
The story goes like this: You keep your focus on work alone (and other chores) until it gets you to the point where you can no longer process any information. That's where you hit a dead-end.
By contrast, implementing self-care in the workplace will help you stay grounded and able to make good sensible decisions. Try them now!