As a college student, you're immersed in the pursuit of knowledge. Your mind is in its academic prime, and you're becoming more and more "book smart" every day.
If you're looking for part-time income, why not share some of that knowledge? College students are perfectly suited for work as online tutors. Tutoring jobs are rewarding, flexible, and lucrative.
Is Online Tutoring a Good Side Hustle for College Students?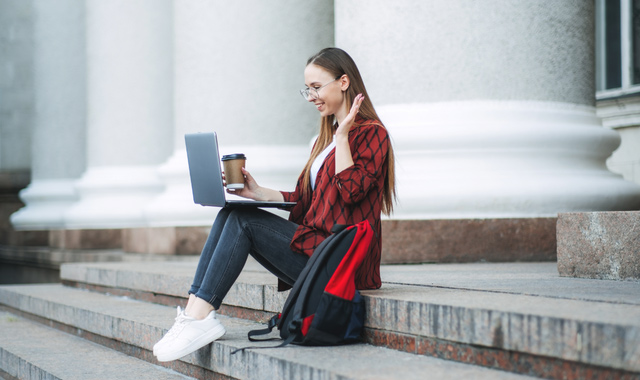 More and more workers are clocking in and out remotely. This has become the case for students from grade school to grad school.
Collaborative software and video conferencing programs have come a long way in a short time to meet the demands of the work-from-home and learn-from-home movements.
Thanks to these social and technological shifts, online tutoring has emerged as a popular side-hustle.
While teaching or tutoring online is a full-time career for many workers, it's a flexible industry. So, tutoring is an ideal gig for part-time work seekers such as college students.
Every job is different, but these are the basic prerequisites for tutoring jobs:
Reliable high-speed internet
Webcam and a professional home office setting
Specific knowledge of an academic subject and the ability to provide instruction
Some employers will require certain degrees or certifications. However, many tutoring platforms will simply request evidence that you're capable of providing value to students.
Let's review three of the most common types of online tutoring work.
English Language Tutoring
If English as a second language (ESL) is your teaching niche, your potential student body will be made up of English learners from all over the world.
English teaching or tutoring is not easy, but it's a very accessible industry to break into. There are countless platforms for becoming an English tutor, and many do not require a bachelor's degree or teaching certification.
That said, you should consider earning an online ESL teaching certificate if you're interested in this sort of work. You'll gain teaching skills and improve your chances of getting hired.
While online English teaching may require lesson planning, grading, and so on, English tutoring can be quite simple and flexible.
Platforms like Cambly allow tutors and students to log in, connect, and perform informal conversation practice. Tutors are paid an hourly rate for their time and can work as much or as little as they please.
Subject-Specific Academic Tutoring
What subject do you know best? That's the one you should be tutoring. Maybe it's your major, your minor, or just a subject that's always come easy to you. Your academic strengths represent your job skills in the tutoring profession.
Use your expertise to work with students one-on-one in subjects that they struggle with.
Lots of great tutoring companies will hire you without a bachelor's degree. Some require that you're enrolled in college or that you can demonstrate proficiency in your preferred subjects.
Here are a few reputable tutoring companies to consider:
Some tutoring platforms function as an employer/employee relationship. You might receive training, scheduling, and appointed students. Other tutoring sites are more like freelance platforms, allowing students and tutors to form their own connections with minimal oversight.
Alternatively, there's always bona fide freelancing. You can advertise your services on social networks like Facebook, Reddit, or LinkedIn.
Freelancing means you're on your own in terms of procuring clients and creating lessons, but you won't have to shell out any commission payments.
Standardized Test Prep Tutoring
Standardized test prep is a challenging but lucrative tutoring niche. Many high school students (and their parents) are quite serious about scoring as high as possible on the SAT, Advanced Placement (AP) exams, and other standardized tests.
Some major tutoring companies offer standardized test prep as a subject area. Students and tutors can join Wyzant, Preply, or other platforms to work specifically on preparation for a certain test.
A few tutoring firms, such as The Princeton Review, are known for specializing in standardized test prep. Test prep tutors for the Princeton Review earn over $32/hour, and a college degree is not required.
Princeton Review: Average Pay Rates for Tutors
Instructional Tutor
$24.34
Test Prep Tutor
$32.47
Source: Indeed
Fortunately for online workers, the days of students meeting their test prep tutors in the library are mostly over. Today, all of the major tutoring platforms will arrange for online connections, thus vastly increasing your potential clientele.
If you'd like to be a tutor for a standardized test, the standard expectation is that you yourself scored in the 90th percentile on that test. You should have expertise on the test topic and a general aptitude for standardized testing.
Standardized test prep is one of the highest-paying tutoring categories. You may be working with high-income families, so remember to present yourself well when meeting with potential employers or clients.
Improving Your Earnings Potential for Online Jobs
Tutoring is one of the best online work categories available for college students. You can make your own schedule, earn great wages, and continue to advance your own academic knowledge. Teaching is, after all, one of the best ways to solidify learning.
For many college students, there's no single side hustle that serves as their total income source. Rather, a variety of part-time gigs is what works best.
At Small Revolution, we provide resources and training for online workers. We're an online learning platform, an article library, a bookshop, and a community.
If you're interested in advancing your online earning potential, check out one of our certification courses.
The Small Revolution SEO Copywriting course has helped me push my writing out of my comfort zone. It offers a depth of insight into how copy works.

Darja, Professional Copywriter
For more online work insights and job guides, visit the Small Revolution blog.
Share on Facebook: