You're a student beginning to master the value of independence. It feels great—and you've already homed in on that by exploring viable online job options that suit your knowledge, skills, experience and interest.
In this digital era where traditional jobs are declining, you will be relieved to know that there's an increasing demand for individuals looking for online jobs.
These freelancing jobs suit any student who craves the flexibility to work from anywhere while having enough time to focus on other areas of his life.
With basic computer skills, a reliable internet connection, and simple specific-job skills, you are good to go. So, don't fret about an empty work experience section in your resume.
Working online will be a perfect opportunity to learn invaluable skills that will brace you to tackle life's challenges.
All you need to do is strive to excel in skill training and always put your best foot forward when working with clients.
Treat each job as a challenge rather than a mundane undertaking.
Which Are The Online Part-Time Jobs?
Most job sites don't take chances—they thoroughly vet applicants before approving their applications.
Instead of rushing to make that quick buck, do some research and learn some critical skills and tools used by successful people in each specialty.
Ready?
Let's delve into some part-time online jobs for students:
Become a Freelance Writer
Many businesses, websites, and bloggers are looking for freelance writers to craft high-quality content that adds value to their audience and boosts their brand loyalty.
Writing is an extensive field. You need to explore various types of writings to know what you can do best.
Writing  jobs include copy, content and creative writing.
If you're an avid writer, you can find these jobs on freelancing sites like Upwork, Fiverr, and Indeed. You can also find clients via cold-pitching, social media and subreddits.
Simply sign up, complete your application, and post your resume on these job boards.
For writing samples to support your application, use keyword research tools and blog idea generators like keyworddit, answer the public and HubSpot to find topics you can write about.
Each type of writing requires a specific skill set. Copy and content writing, for instance, require strong SEO, research, and editing skills. Always use tools that will refine your skills, e.g. grammar and spelling checkers, and keyword research/SEO tools.
Learn to write fast, concisely and effectively with Small Revolution's Writing Course and stay ahead of the competition.
Though technical, you can start a blog and monetize it by integrating Google Ads and affiliate links. For this, you will need a deep understanding of social media and marketing strategies.
Become a Freelance Editor
Do you have a good eye for flaws in texts? Do you love reading?
Well, editing jobs may be perfect for you. Companies and websites need impeccable content that will appeal to their audience, get them to take a desired action and drive business growth.
As an editor, clients will task you with polishing and refining content to ensure it adheres to a specific style before it goes into your client's website.
You may need to go through chunks of text correcting grammar, spelling, and punctuation errors, and fixing sentence structure. Therefore, pay attention to every detail.
Editing tools like Grammarly, and ProwritingAid will come in handy.
Find editing jobs on freelancing sites and job boards like Indeed.
Take On Transcription Jobs
There's a rising demand for individuals who can convert audio and video files to text. All you need is to thrive in listening, typing speed and research skills.
As a beginner, aim at a speed of 50 WPM. Work on your research skills since you will encounter strange terms and brand names while listening.
You will transcribe lectures, interviews, webinars, medical, or legal files.
One note is that, unlike writing, transcription sites have site-specific transcript guidelines that you must strictly adhere to. So, don't use GoTransript's guidelines in TranscribeMe. It will affect your metric score.
To apply, register and take tests on any transcription site. If you pass the test, huge earnings may just be a few tasks ahead.
Get yourself a high-quality headset and get started.
Data Entry
Did you know you can monetize your basic Microsoft Word and Excel skills?
Companies have lots of documents and information that need to be keyed into a computer database and submitted in a structured manner and design.
As a data entry clerk you will perform tasks such as filling forms, reformatting documents, filing documents, and surveys.
A typing speed of about 40WPM and attention to detail will be good for a data entry beginner.
There are many data entry jobs in freelancing sites and job boards like Indeed, Listiler and Craigslist.
Design Graphics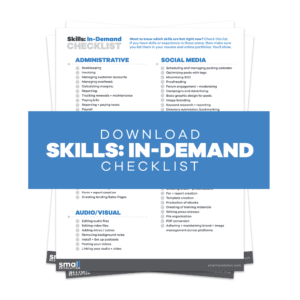 Are you creative and artistic?
Graphic designers will be in high demand for many years to come.
Try your hand at creating images, videos, logos, and illustrations for companies and websites.
Companies need visuals on fliers, brochures, business cards, stationery, and ads to entertain, persuade and appeal to their customers. Attractive designs reinforce a brand's identity and lead to business growth.
As a graphic designer try to master tools like Canva, Snappa, Giphy, and Stencil. With these you can easily find highly paying gigs on freelancing sites, social media, and YouTube.
Connect with other designers on sites like Dribble to learn how you can improve your skills.
Work as a Virtual Assistant (VA)
If you love getting organized, there are companies and individuals looking for people to help them be more productive.
Virtual assistants help with time management, reply to messages, make phone calls, manage social media profiles, file taxes, and schedule appointments.
Sounds good?
Excellent communication skills combined with skills like copywriting, graphic and web design, research, and SEO, can earn you a lot more than a typical virtual assistant.
Familiarize yourself with productivity tools like Trello, Asana, MS Office Suite that enable you to manage tasks and share progress with your clients.
Find assistant jobs and help clients stay on track amidst their crazy schedules.
How Much Can You Earn?
Here's how much income these online jobs can earn you as a beginner:
| | |
| --- | --- |
| Job Type | Expected Earnings |
| Freelance writing | US$5–$20 per task |
| Editing | US$5–$20 per task |
| Transcription | US$0.3–$1.25 per video/audio minute |
| Data Entry | US$10–$26 per hour |
| Graphic design | US$9–$24 per hour |
| Virtual assistant | US$3–$60 per hour |
Sources: PayScale, Glassdoor, Small Revolution.
You Have More Than Enough Income Ideas
The internet is flooded with opportunities that students can make a decent income from.
However, securing these jobs will take effort and dedication. Remember, there are people with better skills who make these jobs competitive.
What now?
Build your skills and reputation steadily and always strive to deliver pure gold to clients.
Small Revolution's intensive training will start you off on the right foot. Also, check out plenty of jobs on the site that can land you your first gig.
What's more?
Create an excellent resume, build your portfolio, stay updated on new technologies and trends in each job.
Venture into these online jobs with enthusiasm and purpose. Initially, you may earn a very low income, but as your expertise takes shape, you may end up with a stable client base.
Be wary: Online scammers are pooling into job sites. Always confirm the authenticity of each job.

Photo by wayhomestudio / CC BY