You're here because you want to find a job as soon as possible, and you'd like an opportunity to work from home.

Whether you're setting out to:
Build a flexible career
Make extra money
Work around other commitments
You'll be happy to know your desire may be more than just a pipe dream.

The online space is a promised land of opportunities, and they're available right now.

"… But what if I don't have experience?" you ask.
Frankly, it doesn't matter. Entry-level, work-from-home jobs are a real thing.
And, more than that, they're available in abundance. All you need is access to a computer and a sound WiFi connection.

Let's look at where you can find a home-job with no experience.
How Can I Work From Home With No Experience?
If you think your lack of experience will prevent you from securing work-from-home jobs, think again.

There are many online jobs available, and experience isn't the main factor you need to consider when looking for work.
As an entry-level worker, you can find a job and begin working from home right away. And just to make it even more tempting, you don't need to search online for hours on end to find companies that hire.
There are freelancer platforms out there who've done the search for you.
The concept is simple: companies post jobs, and freelancers bid to work on them.

These forums provide quick solutions for businesses whilst providing opportunities for people like you.

Why does it work?

Because businesses don't have to search long to find good quality hires and the candidates get to secure a job on their own terms while they work from home.

It's a win-win.

Let's break down some of the platforms you may wish to use.
Fiverr
A gig is bought every 4 seconds through Fiverr, which means they provide a plethora of opportunities to work from home.
It's a great place to:
Build your work portfolio
Find jobs quickly
Offer any service you want (as long as it's legal)
With no joining fees, no vetting process, and an 'everyone is welcome' approach, you can start working right away.
They charge a 20% flat fee per gig.
Freelancer.com
With tons of work from home opportunities available, Freelancer is another good choice for those who don't have experience but who want to work online.
Joining Freelancer.com means you can:
Start work straight away
Gain access to thousands of easy-to-do jobs
Pay low fees for the jobs you do
There are no joining fees and no vetting process.
Charges on gigs are on a sliding scale:
Fixed price jobs — 10% or $5 (whichever is greater)
Hourly projects — 10% flat fee
Services — 20% fee
Upwork
Connecting freelancers directly to businesses, Upwork focuses on offering in-demand talent.
Upwork is good for:
Finding larger projects
Building long-term client relationships
Securing high-quality jobs
You will undergo a vetting process, which immediately notifies you whether your skills are in demand.
Then, once you're in the door, you can get started right away.
Upwork offers a sliding scale for fees, with incentives for securing repeat customers:
20% on the first $500
Dropping to 10% once over $500
5% on anything earned above $10,000 with a single client
These are three of the most popular platforms online, but there are more available — all of which will allow you to work at home without experience.
What Is the Easiest Job to Get Hired For?
From web design, data entry, freelance writing, or voice-over work, people carry out an array of tasks on a remote basis at a higher rate than ever before.
But with a nearly infinite list of work at home jobs available, it may be difficult to decide.
To get yourself working quickly, you should consider what is in most demand.
Virtual Assistants
This highly versatile role applies to almost every industry, and that means there is a demand for VA's right across the board.

A VA may carry out many of the jobs that an office-based assistant would typically do, such as:
Social media engagement
Data entry
Customer service
Finance
Marketing
Website
Emails
Sales
Online chat
Screening phone calls
The only difference between the two: the place of work.

Instead of trailing into the office on a daily basis, the role of a VA allows you to work at home while carrying out all of the same duties you would in an office.

Whether coming in at entry-level or as a seasoned pro, one thing is for sure — you have a great chance of getting hired.
Plus, in addition to the ease of finding work, it turns out you may get paid pretty well too.
What Salary Can You Earn as a Virtual Assistant?
Payscale.com carried out a review and determined that the average hourly pay for a VA in the USA is $15.74.
There are varying factors that determine what you could earn, which differ depending on the country you work in and the level of experience you have.

For more insight into your potential earnings, we've put together a definitive guide that covers, in detail, the rate of pay you can expect as a beginner.
How Do I Become a Virtual Assistant With No Experience?
Taking a leap into something new can be daunting. Especially if you're a novice.
But regardless of experience, there are steps you can take towards finding work as a virtual assistant.
To help your online job search:
Work With What You've Got
The likelihood is, you already have skills that will help you in securing work immediately.
Do you know Outlook like the back of your hand?
Can you type at the speed of light?
Do you have a penchant for data entry?
Are you a social media whiz?
Chances are, there are companies desperate for those skills right now.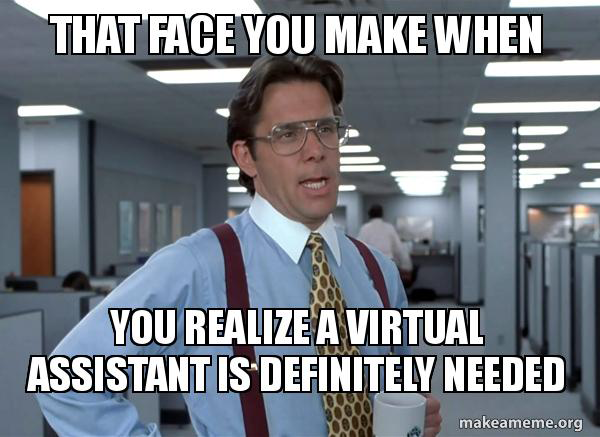 Up-Skill to Secure Work Faster
Your best opportunity to secure work immediately, without experience, is to up-skill as much as possible.
And though VA jobs are available in mass, so is the competition.
Whether you're wanting to get in the door quicker or would like to know more about what being a VA entails, you may want to look at training.
(We're not sure Ben was referring to life as a VA, but still, he's right.)
Some of the most rewarding investments we can make are those that improve our skills. Nowhere is that truer than setting out as a freelancer.
But you don't want to waste your time and money on courses that don't give you related skills — to move closer to your home working ideal, finding great training is key.
Before you begin your search, we may be able to help.
Get the Right Training
Ready to get started working from home as a VA?
Before you do, it's best to be prepared to excel at the online job you're looking for. And what better way to do so than enrolling in a course that gives you in-depth knowledge about your intended professional field?
Small Revolution provides you with the skills, tips, and techniques to thrive in your remote work — no matter your experience.
Invest to succeed in working jobs at home. Enroll in Small Revolution's 'Become A Virtual Assistant' course today.