The aim of this guide is to help you LEARN more about the different outsourcing services available, and to choose which one is BEST SUITED to use when FINDING and MANAGING contractors.
Finding and managing reliable staff members to work for you online store is a fairly difficult task if you don't know where to look. Luckily there are plenty of outsourcing services available online to help you with this problem.
But there are a couple of things you SHOULD KNOW before diving right into it and hiring someone to be a part of your staff to work for you.
So read on and let's get started on it!
Step 1: Learn The Intricate and Subtle Differences Between The Most Popular Outsourcing Services
So what exactly is an outsourcing service?
It is actually an online market place wherFreelancer-project-add-ons1.pnge employers and contractors come together to work for each other.
So in essence, outsourcing services serve as the vehicle for communication and management, and some of them even offer a mode for exchanging money between the two parties.
The internet is a big place and that means there are many online outsourcing services available for you to choose from. But there are only a few that really stand out from the rest and from there you can start on learning more about which one is best for your online store.
There are two main types of online outsourcing services to choose from, namely the task-oriented type and the ongoing employment type.
Both of them offer different and unique experiences for employers and contractors alike.
Task-Oriented Services Are Useful For Single Jobs
These types of outsourcing services cater particularly to one job or just a handful that need to be done instead of hiring a long-time employee who may complete a wide range of work.
One of the main features of a task-oriented outsourcing service is that the work is done quickly and in some platforms you have a choice of using competitions to attract workers.
Task-oriented outsourcing services are generally used for simple tasks or one-time jobs that don't need a long-time employee.
For example, if your online store focuses on articles or written content and you need a new logo or illustration, then you won't necessarily ongoing services from a graphic designer.
Ongoing Employment Is Better For Full-Time Services

In our experience, ongoing employment outsourcing services usually offer better-trained staff and professionals, especially when you're just starting your venture into an online store.
It is better to opt for outsourcing service simply because there is a lot of work to be done and it will be many months or even years later that you can safely say your online store is successful and profitable.
Not to mention that you'll be building a good working relationship with someone who will make you and your business grow along with themselves as time goes on.
Step 2: Discover If Task-Oriented Outsourcing Services Is Best For You
As mentioned earlier, there are plenty of task-oriented outsourcing services to choose from if you're looking to have specific work done in a short period of time.
Note that they are usually paid for a FIXED PRICE depending on the outsourcing service themselves.
Using Fiverr To Get Simple $5 Tasks Done Quickly
Fiverr is one of the most popular choices when it comes to task-oriented outsourcing services because of its $5 minimum fee for a variety of services:
Graphic design
App development
SEO
Content writing
And many more
The great thing about Fiverr is that thanks to its many gimmicky services being offered, you can find something unique from the interesting ideas that the contractors offer.
In our experience, there are only a small percentage of reliable or effective professionals in Fiverr that you may or may not encounter at all.
So how do you find these reliable and effective contractors in Fiverr?
There are a couple of things to take into account when looking for a contractor in Fiverr such as:
The overall quality of the work they do?
How many positive reviews the contractor has
The average response or delivery time for the project to be completed?
What kind of quality will the basic $5 project give you?
Are the gig extras competitively priced?
Do the gig extras actually offer better quality work?
In our experience in using Fiverr, the work that gets done with the minimum $5 fee sometimes isn't enough to satisfy our needs or preferences.
So when you find a great high-end professional contractor in Fiverr, you should check what they offer on their package deals or "gig extras".
Note that different contractors will offer different gig extras or packages depending on their services being offered and quality of the work. It is entirely up to you if you wish to opt for the extras or just use the basic gig quality and quantity.
If you compare the total price you'll need to pay on Fiverr with the total price on a different platform you may find that you're not saving any money. So, despite the entire concept of Fiverr being based around 5 dollar gigs, they rarely end up actually being 5 dollars!
Get Fresh and Unique Ideas With 99Designs
Much like Fiverr, 99Designs is a task-oriented outsourcing service that offers a myriad of services that you can go for when searching for specific tasks such as:
Web and app design
Business and advertising
Clothing and merchandise
Art and illustration
Logo and Identity
And many more
But 99Designs is more expensive than Fiverr when it comes to their pricing and it will depend on what categories you are going for and the quality of work you expect.
Note that the pricing can go as low as $200 and as high as $1000 as you can see below. Expect to spend at least $300.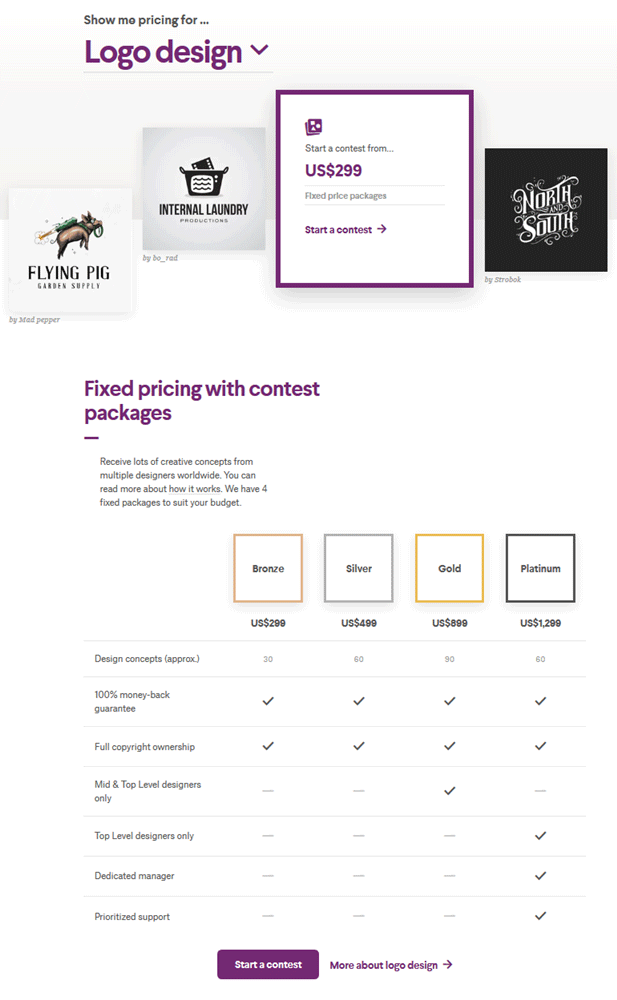 Although 99Designs' pricing is expensive compared to the previous outsourcing services, the quality of work does get better when you opt for the more expensive packages. But for us, we only use 99Designs to get fresh and unique ideas for our online store.
For example, we want our online store to get redesigned from time to time to keep our visitors and customers interested in us. So what we did is make a small competition in 99Designs to redesign our store. We got a lot of interesting and unique redesign submissions from different contractors.
We didn't actually use any of the redesign submissions but instead we used the various unique and interesting ideas that we liked and forwarded them to our web developer to implement into the actual redesign of our online store.
But take not that in most cases 99Designs only offers little oversight on the quality of the work being done. The results you will see are very similar which are not unique nor interesting and not to mention they are usually low quality. This leads to copyright disputes between contractors because of plagiarism.
So we would only recommend you to use 99Designs to get unique and interesting ideas or concepts for your store like an entire redesign of the site or new logo, and so on. Then you can use those ideas and concepts to forward to your ongoing staff members to implement.
Step 3: Decide If Ongoing Employment Outsourcing Services Are Best For You
As you might have noticed, task-oriented outsourcing services are not always viable if you're looking for contractors to give you good quality of work at a decent pricing.
Using ongoing employment outsourcing services instead have better chances of finding high-skilled contractors that are looking for long-term employment thus helping your online store business get started off the ground.
Ongoing employment outsourcing services also typically offer various communication tools which mostly can't be found on task-oriented services.
Don't Get "Nickle and Dimed" By Freelancer
Freelancer.com enables you to hire long-term contractors for a fixed or hourly rate, or through a contest similar to what you see on 99Designs.
The great thing about this is that you have a higher chance of getting high-end professionals and contractors here compared to the previous ones stated.
But Freelancer has a lot of major issues that can't be overlooked as an online store owner. The features that should be standard are instead "nickel and dimed" in Freelancer and are offered as add-ons to your subscription.
Features like being featured on the first page which costs around $29, marking your job posts or contest as 'Urgent" which costs an additional $9, and even privacy from search engines or NDA are also hidden behind a pay-wall which can add up to a hefty amount.
So if you were to hire a full-time contractor in Freelancer for a fixed-price of $250-750 (small project) and would want to have all the features included on their add-ons then it would cost you an additional $314.
Why We Use UpWork 90% of the Time

UpWork, formerly known as oDesk, is probably one of the best ongoing employment outsourcing services available. You have the option to pay your contractors at an hourly rate or per-job they do.
Unlike the previous outsourcing services mentioned, UpWork doesn't offer some sort of 'contest' option thus they do not need to have to do oversight on the quality of work.
We ourselves have been using UpWork for a solid 7 to 8 years now and have spent a good amount of money on it to find, hire, and manage around 150 contractors.
It might seem like having no oversight over the quality of work sounds like a bad idea, it really isn't because UpWork encourages interaction and communication between the employer and contractor with the use of many features being offered.
UpWork is is very popular because it recently purchased Elance so the chances of hiring high-end professionals is very high.
Not to mention that not having important standard features locked behind a pay wall also helps attract more employers and contractors to use UpWork.
Another great feature that UpWork offers is payment or billing method where you can choose to send it directly to local bank accounts, credit or debit card accounts, and even through a PayPal account.
Contractors have the freedom and option to choose how often they wish to get paid (weekly, monthly, bi-monthly, and quarterly). They can also choose to get paid on their own terms instead of adhering to the scheduled dates.
The Work Diary is a very helpful feature for online store owners to use to track the progress of the work being done which also provides time tracking and screenshots.
Some people don't like the idea of being watched by their boss all the time and gives off a "Big Brother" feel which isn't exactly the point of it. For us, it is just for transparency and trust between our employees to ensure that the quality of work is being maintained and nobody is being taken advantage of.
This is especially a great tool for starting online store owners since you need to nurture the relationship and trust between you and your employees to get tasks done.
But don't worry about the privacy when using UpWork since everything very discreet and private and you don't have to pay for these features.
You might be thinking that UpWork sounds too good to be true. So what's the catch?
The pricing fee for UpWork is simply 10% of the payment for the contractors are deducted and there is a $3/hour minimum as well. This is because Freelancer and UpWork are competing against each other to be the top outsourcing service which leads to an increase in competitive pricing.
The reporting features of UpWork is good but lacks clarity when trying to manage and keep track of multiple staff and businesses.
The live chat support of UpWork is amazing and they usually help you get answers and solve issues when using their services and this isn't something you see very often nowadays.
For us, UpWork is definitely the best outsourcing service that we could recommend you with its abundance of useful features, user-friendly interface, and helpful live chat support at reasonable prices, which almost none of the previous outsourcing services have yet to have offer it all in one complete package.
Using OnlineJobs.ph
Another great ongoing employment outsourcing service is Onlinejobs.ph which has a few of similarities to UpWork but is mainly used for finding and hiring contractors in the Philippines.
Onlinejobs.ph doesn't have contractor managing features apart from basic messaging and the time proof software.
You can post jobs in Onlinejobs.ph that range from:
Graphic design
Webmaster duties
Content writers
Virtual assistants
PHP developers
And many more
As mentioned earlier, OnlineJobs.ph also lets you search for high-skilled Filipino professionals who specialize in different fields.
The great thing about outsourcing Filipino workers is that they are relatively more affordable while still offer the same expertise as any other contractor from other countries.
OnlineJobs.ph have also updated many of their verification process and policies to ensure that the contractors that post their resumes or CV are genuine and aren't scammers or untrustworthy to be part of your online work staff.
The pricing for employers to have access to features such as job posting, contacting contractors, ability to read worker reviews, and marking workers hired start at $49/month.
The great thing about this is that there are no other subscription offers that have additional features and instead they offer cheaper alternatives like paying a set amount of money every quarter or per year as seen below.
As you might've notice, OnlineJobs.ph is probably the cheapest when it comes to just finding and hiring skilled Filipino contractors for your online store.
The only downside to using OnlineJobs.ph is that it just focuses on finding and hiring contractors and only offers basics messaging features.
If you want to try it out for yourself, check out our guide on How To Find and Hire a Brilliant Writer using Onlinejobs.ph.
Final Checklist
Choosing the most effective outsourcing service that fits what your online store needs can be a difficult task.
But as we mentioned earlier, you have to first know and truly understand what your online store needs when you start and what your budget will allow.
So here is a final checklist on what you deciding which outsourcing services you should opt for when finding, hiring, and managing contractors.
Set the budget for your potential contractor. This will help you decide if you should go for task-oriented or ongoing employment outsourcing services.
In our own experience, getting a job done is 90% relationships with your employees and 10% of actually getting it done. In this regard having an ongoing or full-time contractor is definitely beneficial for any start-up online store owner.
Consider how you want to manage your contractor and what kind of transparency you want. Trust is an important part of hiring an outsourced contractor and it needs to be addressed immediately.
Compare the various outsourcing services with each in terms of pricing and features being offered.
Even though we highly recommend choosing ongoing employment outsourcing services, you should still weigh the advantages and disadvantages of the task-oriented outsourcing services

They also give a whole different "can of worms" so to speak when it comes to what results you can achieve by opting for them.

Learn how you can fully utilize ongoing employment outsourcing services such as UpWork and OnlineJobs.ph when finding, hiring, and managing contractors for your store.
Also a great idea is try to use both at the same time using UpWork as your contractor managing service while OnlineJobs.ph can be your search and hiring service for new employees.
Photo by peoplecreations / CC BY