A Skillshare Premium membership is a tempting purchase for anyone looking to tap into their creativity, learn a new hobby, or pick up new career skills.
The premium membership comes with multiple advantages over the regular unpaid package, including:
Access to all the 30,000+ expert-led classes and updates
Multiple networking opportunities through small and large communities of like-minded learners
A chance to participate in real-time discussions on boards with up to 10,000 participants where you gain feedback and valuable advice
Learning about trending topics like NFTs and cryptocurrency
Learning from expert non-celebrity instructors from diverse backgrounds
Learning real-world creative skills by attending workshops and live sessions
Executive discounts to some of your favorite creative services
No strings attached with the membership
With Skillshare Premium, you'll also appreciate an advertisement-free learning environment to prevent unnecessary interruptions to your deep learning sessions.
You will also be able to download the Skillshare app on your iOS or Android device. With the app, you get to enjoy such features as offline viewing, downloadable classes, and access to related content and supporting documents.
However, you must be ready to part with at least $157 a year to enjoy these perks and bear the loss of all access to the platform when your subscription lapses. Another bummer is that even after paying the subscription fee, you won't earn a certificate to display on your LinkedIn or resume.
Fortunately, there are various ways you can access Skillshare Premium for free and enjoy all its benefits.
Below are the top four ways you can get Skillshare Premium for free, whether you're looking to completely avoid paying for premium membership or you want to try out the platform before committing.
Tip 1: Get Up to a Month Free as a New Member
Every new Skillshare Premium member gets to enjoy anywhere between the first 7–30 days free. This offer is perfect for new members who aren't certain about the value they'll get by signing up for the platform.
On Skillshare you can discover classes that are completely new to you or new aspects that can boost your skills and knowledge.

Emma Matrixa
The free trial period gives you enough time to explore the platform and even try out a few courses.
It's a non-committal offer that lets you cancel the trial before it ends. Skillshare will send you an email 3 days before the end of your trial to remind you to either renew or cancel your subscription.
Plus, there are no hidden contracts or fees.
Here's how to unlock your free trial:
Create a Skillshare account using your Google, Facebook, Apple, or email account.
Select a payment method, either PayPal or a major credit card provider, to have on record.
With that, you automatically start your free trial.
Expert Tip: Your free trial will automatically renew as an annual subscription if you don't cancel it on time. However, even then, you can get a refund if you contact Skillshare within 7 days of the deduction.
Tip 2: Receive One Month Free for Every New Referral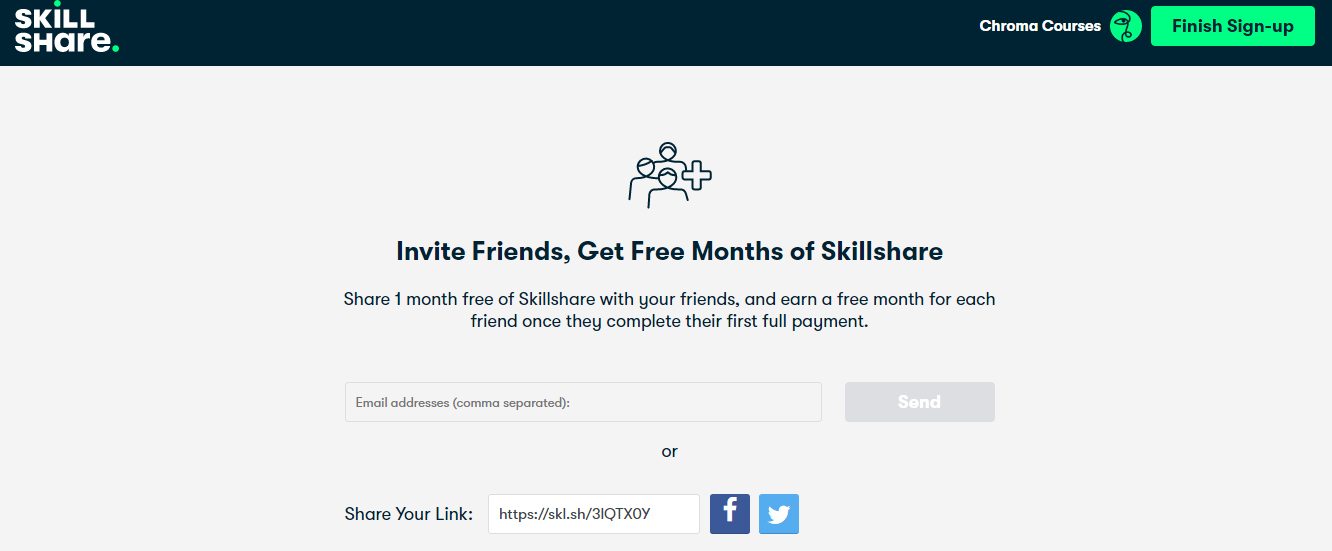 Do you know someone who's also interested in building their creativity and learning new skills? They could be your ticket to a month of free membership.
Refer a friend to Skillshare through the "Refer a Friend" section of your account. When they join Skillshare following that referral link and pay for their first full premium subscription, your account will be credited with a one-month premium subscription.
You can refer as many friends as you like and get an extra month free when they subscribe to a full premium membership.
Tip 3: Apply for Skillshare Scholarships
Skillshare aims to support global citizens and give back to the community with their diverse scholarship programs. Some are exclusive to college and university students and require you to have an active .edu email address.
Normally, Skillshare offers students meeting the eligibility criteria a 50% discount on Skillshare Premium annual membership. Additionally, every month, 10 lucky students who apply for the scholarships get a year of free premium membership.
Economic status is another qualifier for scholarships on Skillshare. You can apply for standard, new, or active scholarships, explaining you are incapable of raising the pay rates.
To apply for Skillshare scholarships:
Scroll to the bottom of any Skillshare page.
Select Scholarships from the banner menu.
Browse through the various scholarships taking note of what's available and what's not.
Read through the brief description of the scholarships you are interested in before choosing the best fit.
Tip 4: Become a Teacher's Assistant
Skillshare has a teacher's assistant (TA) program, which has many benefits, including free access to the full suite of Skillshare courses.
The teaching assistant program is for students who want to give back to the community. As a TA, your responsibilities will include:
Taking classes on behalf of instructors and sharing projects on the video portals
Providing students with feedback and starting discussions on the portal
Taking note of technical issues and any misconduct
Participating in contests
Do the above, and you'll enjoy access to all other courses for free for the duration you are a TA on the platform.
You're also among the first to receive news and updates.
Learn From Celebrities on MasterClass
While Skillshare offers quality courses, it does not compare to the A-list celebrity-taught classes offered by MasterClass.
On MasterClass, you'll find a variety of classes skillfully taught by renowned celebrities, such as Alicia Keys, Stephen Curry, Gordon Ramsay, and Shonda Rhimes.
The classes are in-depth and practical as instructors share their individual workflows and philosophies. You'll also get PDF workbooks and assignments to help you learn the practical application of the skills you learn.
Unfortunately, MasterClass doesn't offer free membership, and the subscription cost is quite high. The table below highlights the three pricing models for MasterClass.
| | | | |
| --- | --- | --- | --- |
| Plan | Cost | Number of Devices | Offline Access |
| Individual Plan | $180 per year | One | No |
| MasterClass Duo | $240 per year | Two | Yes |
| Family Plan | $276 per year | Six | Yes |
A MasterClass subscription is, nevertheless, a worthwhile investment if you'd like to learn from the crème de la crème.
But what happens if you don't like what they offer? If you realize MasterClass is not for you after you've signed up and paid the subscription fee, you can request a refund.
MasterClass offers its students a 30-day money-back guarantee that you can access by letting them know via email that you'd like to cancel your subscription.
You can start by enrolling in some of the most popular classes with more than 15 million views, such as, Neil deGrasse Tyson Teaches Scientific Thinking and Communication, or Chris Voss Teaches The Art of Negotiation.
Share on Facebook: