If content is king, then content creators are the kingmakers of the modern world, and there's never an easy road to the crown.
In the same way, there's a lot to take into account if you want to generate awesome content ideas for your eCommerce blog. You need to consider what your customers search for, what your competition does, as well as what industry experts say.
It helps to use strategies that have been proven to work. For instance, knowing the websites your customers visit for advice will help you generate brilliant and relevant content ideas. Knowing how your competition structures their content will let you know what's already working, or not working.
As we delve into these strategies, you'll also learn:
How to find the specific pain points of your customers
Tools you can use to generate the best content ideas
How to generate quality content ideas that trump the competition
1: Keyword Research on Q&A Sites Like Reddit and Quora
Q&A sites are where most people look for advice and recommendations on virtually any topic. According to EnterpriseAppsToday, Quora's users ask an average of 3,000 to 5,000 questions every day spanning across 400,000 topics including business, marketing, music, philosophy, and everyday life.
Yet the most important statistic might be that 63% of Quora's traffic comes from organic searches. This means that Quora can give you the specific, long-tail keywords and phrases your customers are using to search for your content. To illustrate, we'll search for the keyword 'eCommerce website' in Google and then in Quora and compare the results.
Comparing the images above, it's clear that Quora is better at phrasing the pain points of your customers more than Google.
For instance, the keyword 'Magento' appears twice on the Quora results, letting you know that it's a common question your customers have.
From Quora's results, you can derive high-buyer intent content ideas that target customers who are ready to make a purchase.
4 Magento Alternatives for your eCommerce Website
6 Low-Cost eCommerce Websites you Can Emulate
Use This Fool-Proof SEO-Strategy for your New eCommerce Site
5 Magento Extensions for your eCommerce Websites
These are diverse topics which can yield even more content ideas. You'll notice that Google's suggestions are not as diverse or as detailed.
Google offers low-purchase intent content suggestions such as:
What is an eCommerce Website:
Top 5 eCommerce Websites in 2023
How to Create an eCommerce Website on a Budget
4 Types of eCommerce Websites and How to Choose the Right one For You
Is eCommerce Still Profitable in 2023?
While Google offers great suggestions, they mostly target customers who are at the beginning of your sales funnel. These are customers who are just starting out and are looking for general information about eCommerce—they are not ready to purchase your products yet.
On the other hand, Quora's content suggestions reflect the specific pain points of customers at all levels of your sales funnel—those who are starting out and those who are looking for additional resources for their already established sites.
Using Quora to generate content ideas for your eCommerce blog is likely to give your site more authority and domain expertise because you'll create content that:
Targets buyers at all levels of your sales funnel
Uses industry-specific terms to solve unique pain points
Keyword Research on Reddit
Like Quora, Reddit is also a goldmine for user-generated content.
Harvard Business School did a deep dive on Reddit in 2017 which revealed the existence of over 10,000 communities (subreddits). Not only that, these interest-based communities are powered by highly active and trend-spotting users who cast more than 21 million 'upvotes' and 'downvotes' per day.
A deep sense of belonging inspires Redditors to share authentic content on the platform. You can find images, questions, links, personal stories, videos, recommendations, and so much more.
Using the same example keyword as above (eCommerce website), Reddit yields the following results: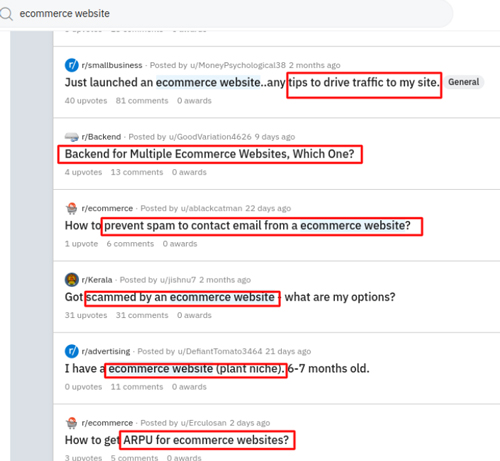 From the Reddit search results above, you can derive content suggestions such as:
5 Effective Tips to Drive Traffic to Your eCommerce Site
Top 3 Backend Frameworks for eCommerce Websites
Real vs Fake eCommerce Websites: 5 Ways to Spot the Difference
Top 3 eCommerce Websites in the Plant Niche
6 Ways to Increase ARPU for Your eCommerce Website
Just like in Quora, each content idea from Reddit offers unique solutions to specific problems that customers have. These content ideas yield bottom-of-the-funnel content that encourages readers to purchase your products.
Expert Tip: Prioritize questions that are frequently asked, and questions with the most followers or upvotes because they are likely the most urgent or most common pain points that your customers have.
2 : Use a Content Idea Generator
Content idea generators can help you whip up creative headlines for your blog posts as well as optimize those headlines for search engines.
All you need to do is key in a topic and let the generator do the rest, but there's a catch—not all content generator tools can give you good ideas. For instance, content idea generators like Fat Joe and Tweak Your Biz only give you title suggestions based on a keyword.
When you input a keyword into CopyCount, you'll get blog title suggestions, an analysis of the content that ranks for the keyword, as well as a list of Google's suggested words that can enhance your title and content.
Google's suggested keywords are relevant to your search intent and can give your blog posts better placement on the search engine results page.
CopyCount's recommendations for the overall structure of your blog posts include features that can make your article more engaging like tables, backlinks, and images. 
A deep analysis of the top 20 results from Google looks at the average word count, number of paragraphs, images, quotations, links, lists, and tables in each article—letting you know what Google considers important for your keyword.
The following images show a CopyCount analysis for the keyword 'eCommerce website.'
The image above shows that:
Google considers internal links, lists, and images essential when ranking for the keyword 'eCommerce website'.
Articles that rank for the keyword 'eCommerce website' have upwards of 2,000 words, 48 images on average, and up to 168 lists.
You can incorporate these elements into your eCommerce blog posts for higher search engine results page (SERP) rankings.
With CopyCount, you don't need to manually open each top-ranking article on Google to understand why they rank highly.
Additionally, CopyCount gives you over 50 additional keywords that Google considers important for your content. You can use a combination of these words to generate catchy blog titles for your eCommerce blog. Here are the related words we get from CopyCount using the keyword 'eCommerce website':
Using these keywords, you can generate descriptive blog post titles such as:
4 Easy Ways to Market your eCommerce Website.
Building a Free eCommerce Website in 5 Easy Steps.
8 Successful Shopify Stores to Inspire Your Own.
5 Amazing eCommerce Websites Designs in 2023.
Finally, CopyCount publishes the keyword frequencies for the top 20 keywords based on your search. It's easier to create content that aligns with your customer's needs when you know the exact and most common phrases they use to search for your products.
It's never been easier to generate content ideas for your eCommerce blog. 
CopySmiths (the parent company for CopyCount) can also help you write engaging content that satisfies the search intent of your keywords and headlines. Simply reach out to us for timely and high-quality posts that will propel your eCommerce blog to the top of the SERP.
"Working with CopySmiths has been nothing short of excellent. They were able to write several batches of well-written, genuinely informative content related to our products and industry with minimal guidance or training on the product itself." – Eileen Shaw, MVP Visuals
3: Analyze the Competition's Blog
Study your competition's blog to find out what works for them, but don't recreate their content word-for-word on your blog.
Instead, improve on their posts by incorporating more information, adding images, or going into detail.
The table below illustrates a three-item checklist that can help you get useful insights from your competition's blog:
| | |
| --- | --- |
| What To Look For | Description |
| Quantity | How many blog posts do they publish per month? |
| Frequency | How often do they publish blogs? |
| Quality | Is their content relevant, accurate, helpful, and relatable? |
Blog Post Quantity and Frequency
Hubspot says the quantity and frequency of your blog posts depend on your marketing goals.
To grow organic traffic, you need to post as much as possible, 3–4 times a week for small blogs and 4–5 times a week for large sites. For brand awareness that calls for more specialized content, small blogs can post 1–2 times per week and large blogs 3–4 times per week.
Looking at the quantity and frequency of your competitor's posts will give you an idea of what works for your industry. Review at least four competitors with varying domain expertise so you have solid data to make conclusions.
Blog Post Quality
Quality matters the most when it comes to generating content ideas for your store's blog.
When reviewing the quality of your competition's blog, pick as many as 10 posts that are popular as well as diverse. Look for high-ranking posts with the highest views, most comments, or the most social shares. Diverse posts that cover a variety of topics will give you the full picture of your competition's content strategy. 
You can find competitor data using tools like Semrush, Ahrefs, and Spyfu.
Consider the following questions to inspire your own content:
How factual is their content and how accurate is it in terms of spelling and grammar?
Does their content go in-depth or does it leave some questions unanswered?
Do they structure their content well for readability using lists, bullet points, useful headings, images, and tables?
These questions can help you learn your competition's weaknesses, which you can improve on, as well as strengths which you can emulate. 
Identify posts with the most engagement and rewrite them for your audience as you add a unique perspective to the content. Go into detail on posts that provide surface-level information, and replace any false information on your competitor's blog with backed-up facts.
With this strategy, you don't even need to come up with new content ideas. You can use the same ideas as your competition and make them unique, more informative, better structured, and more detailed.
Your posts will rank highly for topics that your audience is already searching for.
Get the Best Content Ideas for Your eCommerce Blog
Even with straightforward methods like competitor analysis and keyword research, we understand that generating the best content ideas for your eCommerce blog takes time; a resource that you may not have.
That's why we built a quick solution, CopyCount, which is available for free. You can get SEO-friendly, relevant, and engaging headlines for your eCommerce blog within seconds.
Finally, don't hesitate to contact CopySmiths for help generating content ideas and crafting original posts for your eCommerce blog. We can handle the whole process from content ideation, writing, and quality control right through to publishing.
"We have used CopySmiths on several occasions to assist with blog content or our website. Their approach is strategic and SEO results-driven, which is exactly what we needed." – Chris, Red Kite Design