Don't you sometimes think that running a business would be much easier if it weren't for all those customers? Well, every business owner thinks so from time to time.
Providing 24/7 customer support in different time zones even during holidays is a daunting task especially for a small online business. Still, keeping customers happy and satisfied is vital for your business success, isn't it?
In case you're not 100% sure why customer service is so critical, check out the following video in which an expert David Brownlee explains the essentials of superb customer service.
Did you know that 82% of consumers have stopped doing business with a company because of bad customer service according to Zendesk research reported in 100 Customer Service Statistics You Need To Know?
Feeling even more overwhelmed now? Don't worry!
You can easily improve your customers' experiences with the help of an affordable Virtual Assistant with the Customer Service training and special skills. Here are some of the activities such a professional can do for your business success:
Responding to customers' queries via phone or other means of communication quickly so that they're not left hanging, as well as directing important calls to you
Making outbound Skype calls
Returning phone calls on your behalf, possibly guided by the scripts you prepared in advance
Checking voicemail and responding to it
Creating, proofreading and editing email responses and various email templates (e.g. thank-you emails, welcome emails to your new subscribers, customer feedback and other survey forms etc.)
Receiving, reading, filtering out and filing i.e. managing customers' emails for you so that you don't have to bother checking your inbox more than once a day and responding to every single email, just the ones that really require your attention
Engaging with customers and prospects on social media platforms, monitoring and replying to their comments and messages
Setting up support desk and website chat
Creating tickets, responding to them and closing them upon completing the tasks
Answering customers' questions in real-time via live chat to encourage and reassure those who are nearly ready to make a purchase by providing human support (yes, chatbots can come in handy at times, but they have their limitations and human support is still irreplaceable)
Guiding customers through the sales process via live chat while they're on your website to increase conversions.
44% of online consumers say that having questions answered by a live person while in the middle of an online purchase is one of the most important features a website can offer, as reported in a study quoted by Kissmetrics.
Identifying opportunities for upselling and cross-selling while interacting with your customers via live chat during the sales process
Creating 'Frequently Asked Questions' section on your website and updating it
Replying to the comments on your business website blog and moderating them
Building and nurturing strong relationships with your long-term customers or clients by sending them birthday greetings, Christmas cards, gifts or thank-you notes from time to time to keep in touch
Keeping track of all the important dates for your customers to make sure that you don't forget to send them greetings and gift cards mentioned above
Tactfully handling customers' complaints
Pacifying irate customers
Resolving escalating cases or forwarding them to the next person in charge taking special care not to irritate the difficult and dissatisfied customer further
Responding to positive or negative reviews
Processing customers' requests for refunds or discounts
Dealing with lost shipments
Smoothly handling exchanges and cancellations
Creating a welcome pack for new customers
Keeping neat records of all your customers containing necessary details
Managing orders and keeping an eye on tracking information
Creating surveys and sending them to your customers or clients to acquire their honest feedback on their experience with your business
Displaying positive customer feedback on your website
Providing you with a report containing summarised survey results your marketing team can use in the future
Following up with every customer after making a purchase from you, which is essential to keep them coming back
Reaching out to new prospects, leads or potential customers and partners via email, phone or social media to draw their attention to your business and providing reports to keep you in the loop
Liaising with suppliers
Helping customers to troubleshoot their accounts (for example, by resetting their passwords) and managing their accounts
Recording all or the most common customer complaints in order to learn how to avoid them in the future and to improve customer experience, as well as to measure the CS success
Creating and updating your business Knowledge Base and Standard Operating Procedures when it comes to resolving particular customer's issues based on the previous experience to ensure better customer support in the future
Managing CRM (Customer Relationship Management) systems
Helping you to automate some of your customer care systems by integrating certain tools into your website
Creating and setting up autoresponders
Doing any other necessary tasks to ensure customer satisfaction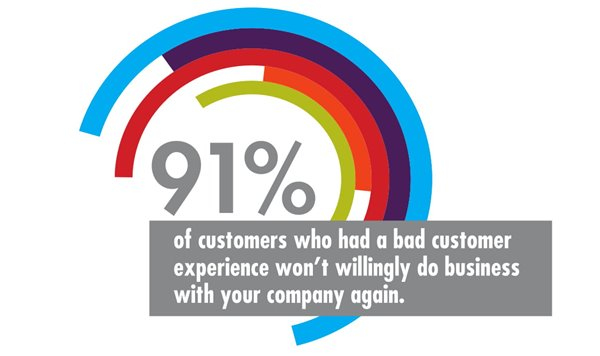 If just thinking of the daily tasks listed above, as well as of responding to all those customers' questions via phone, email, live chat or social media can trigger a headache, not to mention complaints, it's high time you found a good VA who can cure your inbox anxiety.
Yes, keeping your customers happy is extremely important but excruciatingly time-consuming at the same time.
After all, conducting all your business communication personally will become impossible eventually when your business expands.
Then, isn't it wiser to hire a seasoned and trustworthy Virtual Assistant with exceptional Customer Service skills to provide expert Customer Support on your behalf and under your supervision?
Making a customer experience investment should not be considered a business cost, but a sales opportunity. The pennies that go into developing a better customer experience will come back to you ten times over in sales.

Counting the Customer
Not only will a professional maintain solid long-term relationship with your customers to make them want to come back to your business, but that's also how you'll free up enough time in your daily schedule to devote to your business growth and development strategies.
So, outsource your Customer Service tasks to a competent Virtual Assistant to ensure your customers feel special so that they always choose YOU over your competitors.