In the U.S., there are many jobs available for those who wish to work virtually.
Whether you're an at-home parent juggling your children's needs, a current assistant seeking a new approach to your career, or looking to make extra income to supplement your household — there are many opportunities available for aspiring workers at any experience level.
As working remotely continues to increase in demand, one of the more interesting and rewarding jobs is working as a virtual administrative assistant.
How Much Does an Administrative Assistant Working Remotely Make?
The national average of a virtual administrative assistant salary can vary greatly, especially if you include factors such as experience level.
A majority of workers can expect a salary between $28,000 – $73,000 annually, according to Small Revolution.

The average administrative assistant per-hour salary has increased steadily from $16.15 in 2010 to $19.08 as of 2021 in the U.S, making it one of the more competitive jobs you can apply for.
Note: This is based on statistics gathered at Indeed, one of the largest aggregate job finding websites in the world.
Virtual Administrative Assistant Salary
| | | | | |
| --- | --- | --- | --- | --- |
| Salary Range | Hourly Rates | Weekly Earnings | Monthly Earnings | Annual Salary |
| Low-End Income (Entry Level) | $13 | $538 | $2,333 | $28,000 |
| Average Income | $28 | $1,100 | $4,767 | $57,023 |
| High-End Income | $35 | $1,404 | $6,083 | $73.000 |
How Does the Salary of an Administrative Assistant Compare to Other Jobs?
One of the more interesting aspects of this job is that virtual assistants make more than other comparative assistant salaries — based upon the aforementioned sources.
In fact, they're on par with the national average salary.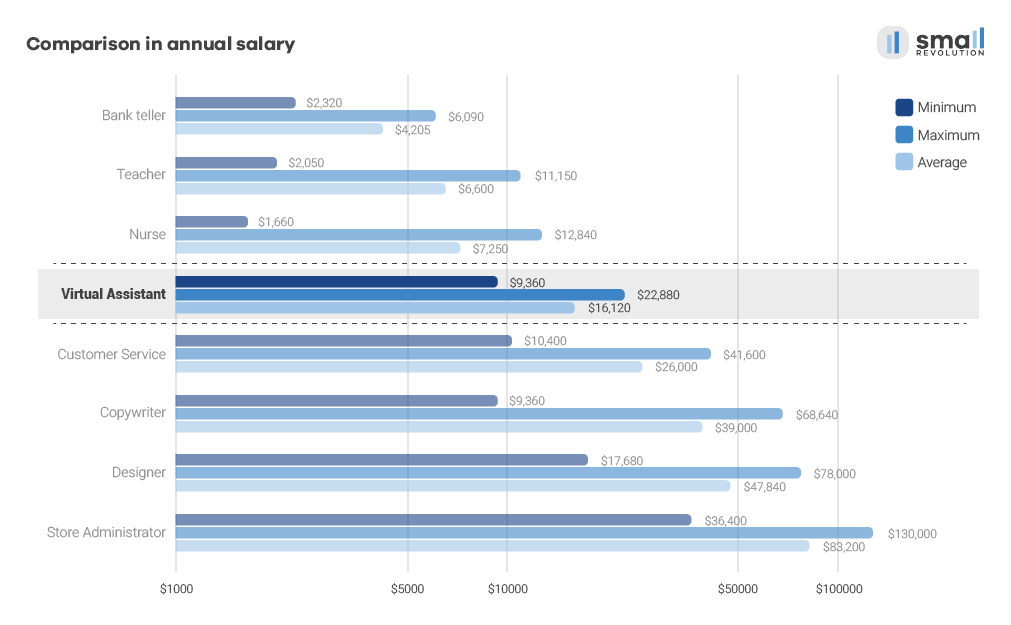 Administrative assistants even fare well in salary compared to nurses, teachers, and bank tellers, as well as with customer service representatives and other industry professionals — making it a competitive and well-paying job.

The salary makes this a very viable and lucrative field for many. Working as an administrative assistant is a great alternative to other similar assistants roles, allowing workers to benefit from good salaries while working at home.
Speaking of benefits…
What Are the Benefits of Working as an Administrative Assistant?
Often, we have to weigh the pros and cons of our work to balance our lives. But you may be surprised to know some of the benefits of being an administrative assistant.
Besides competitive salaries, these jobs regularly allow flexible hours, development assistance (training), parental leave, and employee discounts.
Administrative assistants can expect relatively lenient hours across the board. This is useful when you have to load your screaming children into a car for baseball practice, locate your missing cutlery, or deal with your neighbor's desire to have band practice during late hours.
It's true! No longer are you required to live in a big city or move states to reap the benefits.
Whether you're cooking, on vacation, moving, or in a coffee shop, you'll always have the ability to earn money while working from a laptop or personal device as an administrative assistant.
In our high-speed lives, this offers us the ability to work flexibly and as necessary, allowing us to multitask.
What Skills Do I Need to Be a Virtual Administrative Assistant?
While assistants benefit greatly in our ever virtualized economy, there are considerations when applying for such a position.
Virtual administrative assistant jobs may need various skills — especially if you're looking to increase your salary.
If this is a career you're interested in, you may want to consider having the following skills:
Being able to utilize various Microsoft Office products, such as Word, or their cloud-based equivalents, such as Google Docs.
A strong command of English, including grammar and spelling.
Communication skills, to be able to clearly and concisely converse with various members of the organization, their clients, and their customers.
A high degree of knowledge in document format and layout, or in what may be typical for the industry.
Higher than average typing skills (professional typists can type upwards of 65 words per minute).
The ability to collect in-depth data and research, and conduct basic analysis.
Versed in scheduling tasks.
Time management.
A high level of organization.
Being able to provide administrative support as necessary for client needs.
What Tools Do Administrative Assistants Need?
While the breadth of the skills you need may vary, there are some necessary tools beyond a cup of coffee and writing utensils.

Tools you need for an Administrative Assistant Role include:
A laptop or a desktop, and/or equivalent personal device such as a smartphone or tablet.
A webcam for virtual meetings.
Web conferencing and communication software, such as Zoom, Skype, Google Hangouts, or others (depending on organizational needs).
Microsoft Office or their equivalents (note: these may be provided by the company itself).
Is Working as an Administrative Assistant Right for Me?
At this point, you may be asking yourself if you'd like to become a virtual administrative assistant. But, the answer may not be straightforward.
Besides the tools and skills listed above, which are not terribly hard to acquire, assistant jobs may need a more open schedule depending on your employer's needs.
You'll sometimes be required to be flexible with your hours, providing administrative support and other functions as necessary to be a valuable asset.
Beyond having a decent starting salary compared to the national average, the job will allow you to work from nearly any city and state while also allowing you some freedom for your life.
The factors of whether this is the right job for you come down to commitment and necessity for your particular needs. This makes the job of a virtual administrative assistant compatible with at-home parents, those who are disabled, or those looking to supplement their income.
The ability to work off-site gives workers the ability to pursue other jobs, hobbies, or support their home economic needs, and this leads to higher job satisfaction.
Combined with a good average salary, being a virtual administrative assistant can be a challenging and rewarding career for those who seek flexibility in their home and abroad. Indeed, many administrative assistants often work while traveling or during free time from their main income source.
You don't have to live in a big city to take advantage of these benefits.
It is projected that in 2027, 86.5 million people will be freelancing in the United States and will make up 50.9 percent of the total U.S. workforce.

Source: Statista
How Can I Get Started Today?
While there are a myriad of websites where you can look for a job as a virtual administrative assistant, you might want to consider further educating yourself and developing your skills further.
While keeping an eye on your email job alerts, you can learn more about job salaries, education levels, positions, and other facets of administrative assistant jobs at Small Revolution.
Beyond offering a better understanding, the website also provides online courses at an affordable rate for those looking to further their knowledge on becoming an administrative assistant. Plus, Small Revolution will help improve your chances of success for being hired and bettering your salary.