Videos are becoming a good tool to catch the attention of potential customers in the eCommerce industry. Videos are more interactive than a simple banner, a product photo or an advertisement.
Since online customers are unable to touch, smell or taste the products they like, it's an excellent idea to include videos on product pages and ads so they can see the products in real life conditions.
It's also important as there are online visitors who simply don't like to read long texts.
Aside from that, human voice filled with feelings and emotions can convert information into meaningful content than plain texts. With the fast growing technology today, we can now present high-quality and sensible videos easily.
To assist you on making quality videos to add to your eCommerce stores, here is a list of video editing apps.
Make use of these accessible and easy to use applications to create stunning and useful videos for your customers.
1. ReelDirector
ReelDirector is a fun and easy to use video editor designed for Apple products. It is powerful enough to give you full control of your video editing.
It is said to be the 1st and the most feature rich video editing app for iOS. It produces high quality HD videos which can be re-compressed if necessary.
ReelDirector is a powerful, easy-to-use, and fun iPhone app for creating videos with titles and effects. – tuaw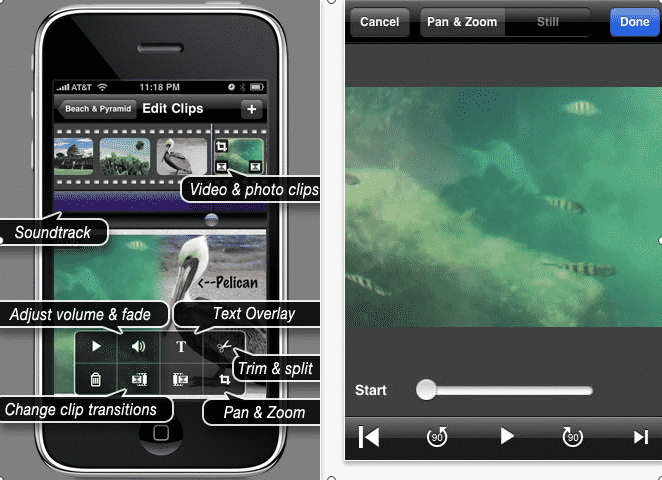 File this one under "sent from the future". ReelDirector is a pretty full-featured movie editor" … "a quite amazing demonstration of the march of technology." – Wired.com Gadget Lab
By: Nexvio Inc.
Price: $1.99
Get it here: Apple iTunes Store
Tutorial: Learn how to use ReelDirector
2. VidTrim
VidTrim is a great video editor that you can also use as organizer for Android. It has a lot of editing features like trimming, framing, real effects, transcode and converting options.
THIS IS THE BEST APP EVER!! Not only does it trim, but it can rotate, merge (audio and video), save as mp3 and more! When you press save, it dosen't take two hours like other apps, plus, it's all free! I recommend this app to everybody on any device (iOS, Android, Chromebook, etc) This was writen on a chromebook btw, but i'm 99% sure it'll work on the other devices that you can use. P.S there is one ad per use. Other apps do like 73 but this one, heck no! Only one! But i get it (money lol). – Aiden Lafleur
By: Goseet
Price: $4.21
Get it here: Google Play Store
3. Instagram
Instagram is not only a great way to capture and share photos. It can also be used to make your videos special by providing options to customization and beautiful effects.
Features include breathtaking cinematic stabilization for video recording, and linear and radial tilt-shift blur effects for extra depth of field.
By: Instagram, Inc.
Price: Free
Get it here: Google Play Store Apple iTunes Store
Tutorial: Learn how to use Instagram
4.  Splice
Splice lets you combine HD photos and videos with ease. You can edit your videos, add tracks, you can even add your own voice in your video. Now, it supports HD videos, and has an advanced audio editing feature.
It's said to be the most advanced portable video editing and audio production app in the market today.
"With all the…not so great apps out there…it was a breath of fresh air to try your app." – AppAdvice.com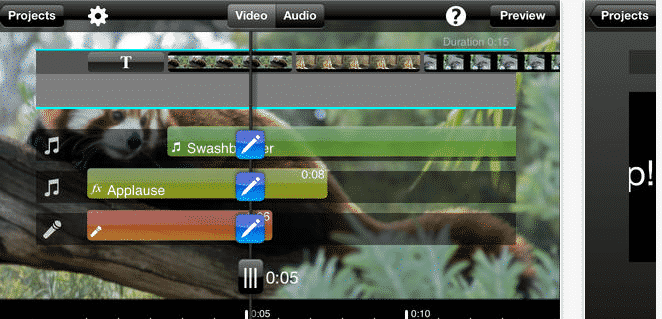 "Basically amazing! Love everything about this game. The complexity, the graphics, even the music! It all comes together to provide a FINE gaming experience for your mobile. Easily worth the money, hands down." – Steve Le
By: Path 36, LLC
Price: $3 for Android, Free for iOS
Get it here: Google Play Store Apple iTunes Store
Tutorial: Learn how to use Splice
5. MONTAJ
Montaj is a free video app available for iOS that allows you to make video storytelling accessible and easy. Features include shuffle clips/audio by sharing the phone, rearrange clips, and add soundtracks from iTunes.
"The MONTAJ app is a really strong application for video editors and Filmmakers looking to shoot quick, strong videos via their mobile device. Editing and sharing clips is fast and easy thanks to the streamlined editing system embedded into the MONTAJ App. Capturing videos clips is also easy thanks to the quick one button set up to record and capture. This is an app for skilled videographers working on their iPhones or novices just beginning their filmmaking" – Xay90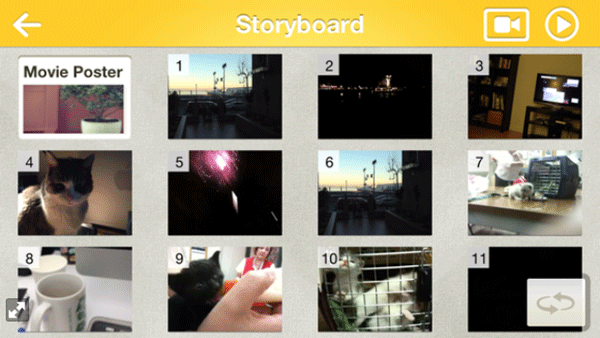 By: Montaj, Inc
Price: Free
Get it here: Apple iTunes Store
Tutorial: Learn how to use MONTAJ
6. Magisto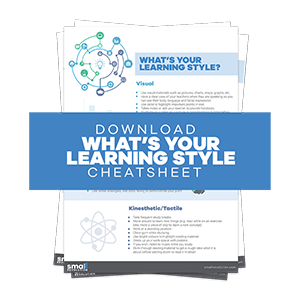 Create stunning and beautiful edited movies from your video clips and photos packed with music and creative effects.
Magisto has a fun and easy to use editing features so you can share these videos to social networking sites.
Features include video camera stabilization, filters, effects and transitions.
You will also enjoy different editin styles exclusive for account owners.
"If you want a cool fresh perspective on some of your video clips, done in a very unique way, THIS IS THE APP. Although it doesn't have as many custom editing features one could want, this app makes up for it with the look and feel. I just downloaded it 30min ago, and I was blown away. I'm going to get creative and see how far I can push this app! It also renders in the background and already has a community of different videos from other users, to view. GET IT!" – MusicFeel&Vision
"Greatest video app I love this app!! So easy and fun and then you have all these awesome videos!! I definitely recommend this app!!!" – Pentak Karter
By: SightEra Technologies Ltd.
Price: Free
Get it here: Google Play Store Apple iTunes Store
Tutorial: Learn how to use Magisto
7. Viddy
Viddy lets you capture, create and share short mobile videos over the social networking sites with ease and simplicity. It has an advanced video camera where you can pause and resume recording to capture multiple clips of up to 30 seconds.
"I'm into Viddy because I can just be me and show my fans the fun parts of my day." -Justin Bieber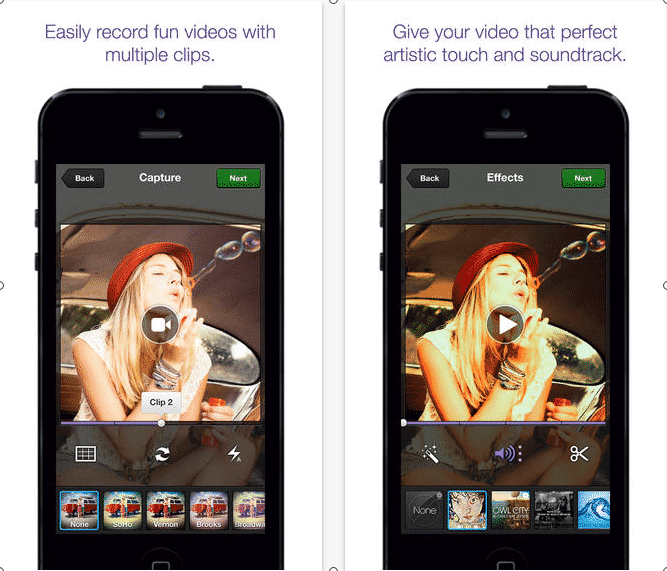 "If you've seen what Instagram has done for phone-shot photos, you can imagine that Viddy may soon do the same for videos." -NYTimes
By: Viddy, Inc.
Price: Free
Get it here: Apple iTunes Store
Tutorial: Learn how to use Viddy
8. Cute Cut
You can create your own movies in an instant just by dragging and dropping video clips using Cute Cut video editing app. It has a user friendly UI with 30+ drawing tools, brushes and editable effects.
Plus it support adding 6 types of media into movie – video, photo, self-draw, text, music and voice.
"Awesome !!! I used 3 diferents editors including magisto, and that one, was the only capable to give you a real professional result, I recommend, seriously guys, great work!" – Pedro Bittencourt
By: YU BO
Price: Free
Get it here: Google Play Store Apple iTunes Store
Tutorial: Learn how to use Cute Cut
9. FilmoraGo
FimoraGo is a free HD video maker and editor. Some of its features includes audio, special effects, different filters, background, sticker, and a whole lot more.
It is also a video app that can automatically and intuitively syncs your videos with others' footage altogether to create one seamless video.
I'm considering Filmora X for some professional projects that I intend to work on, and thought I would see how their mobile editor fares, to get an idea of how their software compares to others. My conclusion, after a short time browsing and trying out its functions, is fairly positive. It is nicely designed, and competent for throwing together a simple edit, but overall underwhelming. Hopefully, the developers will continue to bring new features to the app, and expand on its current capability. – Marcos Moya
By: Filmora Wondershare
Price: Free
Get it here: Google Play Store
10. Lapse It
Lapse It is an intuitive, powerful but easy to use and app that you can use to capture amazing time lapse and stop motion videos.
Unique features include the use of camera Full Sensor, stunning different filters, square formatting, adjustable focus, white balance and exposure and a well designed user interface.
It is an award-winning app that was featured on the English TV Show "The Gadget Show"
"Lapse It is by far the best time lapse application I've come across so far" – Robert Iagar, AppStorm
"Looking to do time-lapse with your mobile device? Lapse It is a very appealing option" – Erez Zukerman, PCWorld
By: Interactive Universe
Price: Free
Get it here: Google Play Store Apple iTunes Store
Tutorial: Learn how to use Lapse It
11. Socialcam
Socialcam lets you capture and create unlimited video length and share your videos. Now it's now improved with vintage video filters, custom styles and soundtracks. Plus you can store unlimited videos to their cloud.
"Super. Social cam is awesome. It allows you to post videos add titles and captions on the go." – Cephus Harris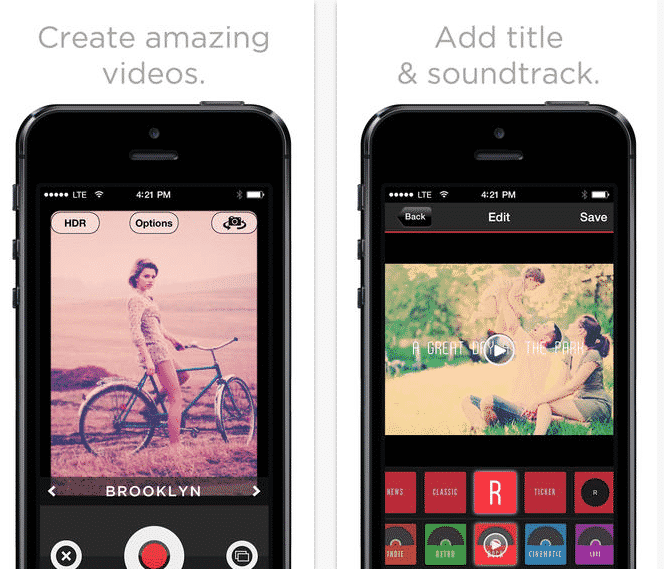 "Very nice app its easy to uploading the videos Its easy to uploading the videos since Long time people are waiting for like this App thanks to creater" – Salahuddin Kaleem Qureshi
By: Autodesk Inc.
Price: Free
Get it here: Apple iTunes Store
12. VivaVideo
VivaVideo is free video maker app available to both Android and iOS users. Some of its amazing features are video trimming, merge, and cut with music. You can also edit your videos for your YouTube channel.
It also has several effects, stickers, and music that will help enhance your video.
If you have to edit any photos or videos for personal or professional purposes use this app. This is the best easiest most economical editor I've used for my YouTube channel. Rodney and Jonelle. I record and edit all from my phone. This app has made editing and uploading so simple. You can trim, split, add music add video over video, picture over video, FX, text, gifs, emojis, and so much more. This app is everything to me. It's so worth it just using it for free. – Just Jonelle

By: VivaVideo
Price: Free
Get it here: Google Play store & Apple iTunes store
13. Vine
Vine is a great app that lets you create short, beautiful and looping videos in a simple and fun way. With Vine you can instantly post your videos to social networking sites plus it has free unlimited uploads.
"The best thing that ever happened to me I love this app I think the person that made vines is a genius" – Tupou Latu
By: Vine Labs, Inc.
Price: Free
Get it here: Google Play Store
Tutorial: Learn how to use Vine
Photo by Negative Space