Transcription is a challenging professional field, especially if you're working from home. You don't have access to the equipment, software, and support of a dedicated office.
Except that you do.
In today's digital world, all the necessary tools are affordable and available to you online. You simply need to know what to look for.
Transcription tools can boost your productivity and make your transcription jobs much easier. They're a great way to gain an edge over the competition.
Curious about how to take your home transcription career to the next level?
Find out the big secret by reading our list below.
9 Essential Tools for Transcribing at Home You Can Try Today
Foot Pedal
The foot pedal can be set up to play, pause, and rewind audio files using your feet. This way, your hands can focus solely on typing.
A foot pedal is an essential tool for a work at home transcription professional. Most transcriptionists use one to save time and increase productivity.
Purchasing a foot pedal will make every transcription job much faster and easier.
Noise-Canceling Headphones
Noise-canceling headphones are essential if you work from home. They'll help you focus if you need a way to deal with distractions.
Noise-canceling headphones have numerous other benefits as well. For one, they provide higher audio quality. This is crucial for excelling at your transcription jobs.
Solid headphones aren't a necessity if your transcription work is only part-time. But investing in a pair will skyrocket your productivity.
Express Scribe
Express Scribe is a must if you're serious about your transcription jobs. It is an audio player designed specifically for transcription.
Express Scribe is used to improve the quality of poor audio files.
And improving audio quality is every transcriber's dream. It will significantly decrease the work you invest per audio hour.
This software is also compatible with your keyboard and foot pedal. It enables you to create customized hotkeys for your transcription work.
Grab this tool and you'll increase your earnings per hour.
Audacity
Audacity is another cross-platform audio software. One of its most significant advantages is that it's completely free.
You can use it to record and convert, but most importantly – to clean up audio files. This is especially handy if you're stuck with low-quality audio files.
As a work from home transcriptionist, you don't want to be stuck trying to decipher unclear audio. This will significantly increase your work per audio hour.
Audacity also enables you to merge audio recordings, which is a requirement in most transcription jobs.
FX Sound Enhancer
As the name suggests, FX Sound is a specialized audio enhancer tool. In comparison to Audacity, this software is strictly for enhancing audio quality.
FX is widespread among transcriptionists who work from home. It is especially important for low-entry transcription jobs. This type of transcription work often comes in a low-quality format.
FX can reduce background noise, increase audio volume, and give your files a crisp quality. If you're planning to work for a company from home, they'll likely require a dedicated audio enhancer.
Download FX from the company website to get started. There's a free version, but you'll have to pay a small fee to unlock all the features.
Remember that sound quality will improve even the most tedious transcription jobs. Invest in a professional audio enhancer and it'll save you valuable time while working from home.
Dictation Software
Dictation or text-to-speech software is widespread among work from home professionals. Transcriptionists, copywriters, and virtual assistants use it to make writing easier.
As a work from home transcriptionist, you're hammering away on your keyboard most of the day. This can lead to several repetitive stress injuries.
Dictation software is a great way to prevent strain. This will give your hands a break while your tool converts your speech to text.
Using dictation and keyboard typing interchangeably will boost your well being and your productivity.
If you're only looking to work as a part-time transcriber, a free tool should suffice. We suggest using the voice typing option on Google Docs. It will serve you well as long as you have a strong internet connection.
On the other hand, if you work from home as a full-time professional, Dragon by Nuance is a good upgrade pick. If you're committed to working hands-free, it's worth the investment.
It's widely considered one of the most accurate dictation tools on the market.
Text Expander Tool
Word expanders enable you to set hotkeys for your most commonly used phrases. You can even include entire chunks of text.
These are a great tool for work at home transcriptionists. When used correctly, it serves as a crucial time-saving app. It can significantly reduce your work per audio hour.
When it comes to a text expander, you shouldn't be paying for the service. Free tools like Text Blaze or AutoHotkey work just fine.
WinZip
WinZip is an essential tool for work at home professionals. This software is used for compressing files.
As a work from home transcriptionist, you receive all your material online. Your clients will often create a ZIP file from multiple recordings. You'll need WinZip to access the compressed files.
WinZip offers a free 30-day trial, but you'll have to pay an annual subscription afterward. This little piece of software is mandatory, regardless of the company you work for.
Grammarly
Last but not least, there's Grammarly. This is one of the market's leading grammar check software. Grammar is key for work at home transcriptionists, especially in legal transcription.
Submitting your projects without grammar errors is fundamental for your work. Sending an erroneous text will ruin your reputation with any company. It might even stop them from working with you in the future.
Grammarly is particularly useful if you're using dictation software. It'll help you spot the most basic mistakes instantly.
To get started, you can download Grammarly's Chrome extension for free. The company also has a premium version, with more advanced grammatical suggestions.
How Transcription Tools Can Boost Your Productivity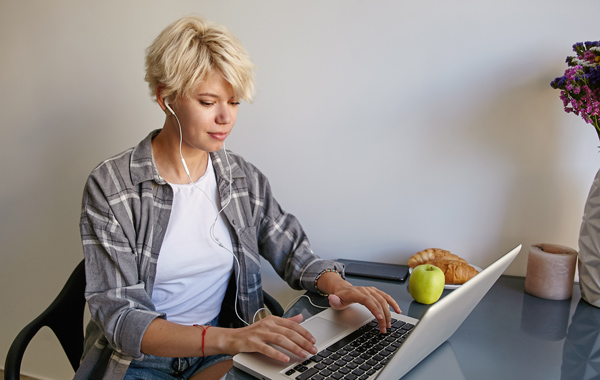 Working with transcription tools can boost your performance and execution speed. They can also make your audio recordings much easier to understand. This will help you complete your projects faster.
The right tool can also help you artificially enhance your typing speed. You no longer have to have an 80+ wpm rate to be able to cope with your workload. Don't work harder, work smarter. Our tools will empower you to do just that.
Transcription is like any other craft. You need the knowledge and the corresponding tools. You can't repair a bike without a toolbox. Just like you can't complete a transcription project without the right software and a good internet connection.
Boost Your Productivity Today
You might have just started working with your first company. Or maybe you're a seasoned transcriptionist. Either way, enhancing your productivity will always boost your career.
At Small Revolution, we aim to give you a leg up. Our courses will make you the most valuable asset for any transcription jobs.
We have a catalog of work from home courses created by industry experts. Enroll now and watch your transcriber career take off.