You're reading this because even though you know how Udemy Business works, you're not sure what advantages you stand to gain from the platform.
Udemy Business is one of many e-learning solutions for companies on the internet today, among big-name platforms like Coursera and LinkedIn Learning, helping companies train their employees.
But unlike other platforms, Udemy Business offers several benefits that make training easier and cost-effective.
If you're in doubt, perhaps the CEO of SMART Technology can convince you.
We looked at a wide range of providers, including LinkedIn Learning, but it was clear from the off that Udemy Business felt like a partner. Udemy Business worked with us on our needs and considered our budget. What's more, the diverse courses offered by the platform reassured us that our people could always find what they need.

Albara Bahjatt
It's not just SMART Technology. Other popular companies using Udemy Business include Accenture, Lyft, and Bloomingdales.
So why do these companies use Udemy Business to train their employees? Why, compared to other e-learning platforms, is Udemy Business worth it?
In this article, we explore:
The advantages of Udemy Business's analytics tool for companies.
Why the platform's wide range of courses is a great resource for employee training.
How course instructors and customer support benefits companies and their employees.
1: Unlock Insights Into Employee Progress With Powerful Analytics and Reports
One of the major benefits of using Udemy Business is its in-depth analytics tool.
The Reporting and Insights section on the platform allows you to download reports that provide a detailed overview of your employees' activities, including:
The courses they register for on the platform.
The number of courses they've completed.
How they engage with their instructors and other registered users.
How they perform in course assessments.
This analytics tool also gives insight into your employees' strengths and weaknesses by dividing their skills into four proficiency levels, spanning a 0–200 percentile:
The Limited Level: Covering a range from 0–49, it indicates that the user has demonstrated little to no basic knowledge on the course. This is the lowest performance level.
The Developing Level: This level spans the 50–99 percentile, expressing that the employees within this level possess a basic understanding of the course material, but still have a long way to go.
The Established Level: For employees who fall within the 100–149 scope, it shows they have a more advanced understanding of the training and may require a little boost in learning to advance to the top level.
The Superior Level: Covering the 150–200 percentile, employees within this range exhibit the highest degree of knowledge and understanding of the course material.
By separating your employees' performance into levels, not only can you easily evaluate their skills and identify areas for further development, but also get ideas on ways to encourage improvement in future assessments.
Udemy Business's analytics tool also gives you insight into the trending courses on the platform within your business interest. This allows you to understand:
What other employers utilize to upskill their employees.
If their strategies are working.
How to replicate their successful strategies.
While any e-learning platform gives you access to your employees' learning activity, Udemy Business's Reporting and Insights takes it further by providing more in-depth data analysis.
In the following table, we compare Udemy Business to another popular virtual learning platform, LinkedIn Learning, to help you see the difference in their data analysis capabilities:
| | | |
| --- | --- | --- |
| Item | Udemy Business | LinkedIn Learning |
| User Activity | Provides user updates several times a day | Has a predetermined or custom date range, starting from 48 hours or over |
| User Adoption Funnel | Allows you to track how many and which user has signed into the Udemy platform | Only lets you know how many people have signed into the LinkedIn Learning platform |
| Group Insights | Offers you a perception of which users in your organization are performing well and which ones require more help | Does not provide much insight |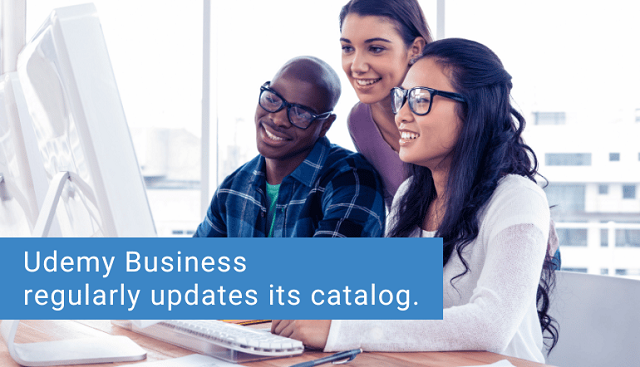 2: Discover a World of Unlimited Knowledge With an Extensive Course Catalog
With Udemy Business, there's no need to hop from one platform to another looking for relevant courses for your employees. With more than 15,000 courses on the platform, Udemy Business's extensive course catalog provides you with all the learning your employees need to improve their skills.
Udemy Business includes a wide variety of courses for all types of career fields. You can find courses in:
Science
Accounting
Marketing
Tech
Creative industries, etc.
It doesn't matter what type of business you run because you can get plenty of employee training in your field.
These courses are personally vetted by the Udemy Business team to ensure your employees are exposed to only the best learning resources on the platform. That's why the reviews on the available courses are 4 stars and above.
Aside from being a great resource for hard skills development, Udemy Business also offers courses for soft skills, which makes it easier for your employees to provide efficient and effective service to your business and your customers.
On the platform, you can find training for skills like:
Problem-solving
Teamwork
Time management
Critical thinking, among many others.
Additionally, Udemy Business regularly updates its catalog with the latest classes to keep your employees aware of the changes, recent developments, and trends in your industry.
For companies with a diverse workforce or if you're a foreign business worried about the language barrier, Udemy Business's multicultural course collection is a great asset. It allows your employees to learn in a large variety of languages beyond English such as:
German
French
Mandarin
Korean
Spanish, and more.
3: Elevate Your Employees' Learning Experience With Access to Qualified Instructors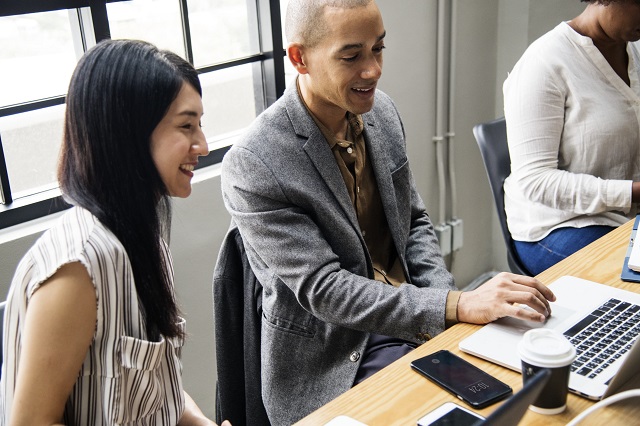 Another interesting Udemy Business trait is providing learners with qualified trainers who can answer the tough questions in their respective industries. These experts arm your employees with valuable knowledge that they can apply, improving the trajectory of your business.
Learners in a course can engage with their course instructor during the general Q&A session, which is a great way to get quick solutions to questions they may have when going through the course and its materials.
This interactive advantage allows the learners to have meaningful conversations and bounce ideas off their course instructor-and other learners-while helping them understand the training materials. The instructor also uses this opportunity to correct misconceptions and reiterate points that may have been missed.
However, if learners require a more detailed explanation without the need to disrupt the flow of the lecture, they can choose to send the instructor a personal, private message.
This means of communication allows your employees to:
Have a one-on-one conversation on certain aspects they don't understand.
Share their fears, doubts, and opinions without fear of being judged by their peers.
Request feedback and ways to improve on their knowledge.
However, one major drawback to using this method is, unlike the general Q&A access, the course instructor can respond to a private message at their convenience, meaning they can choose to respond immediately or much later.
Tip: You can access your instructor's information from the overview option below the course player.
4: Get Prompt Assistance Anytime With 24/7 Live Support
Udemy Business functions so well across all platforms that you may never require external help. However, in the rare instance that you might need assistance, Udemy Business provides 24/7 support for your needs.
Once you sign up for Udemy Business, you are assigned a learning consultant. A learning consultant is an Udemy Business support manager dedicated to ensuring your employees enjoy a seamless learning experience throughout their use.
A learning consultant is different from a course instructor. While a course instructor is responsible for teaching the employees and answering their questions, the learning consultant is solely responsible for your employees for the course duration.
Some of the responsibilities of a learning consultant include:
Informing your employees of any important updates from the instructors.
Recommending other great courses relevant to your industry on the platform.
Helping your employees with concepts they find difficult during the learning process.
Reminding your employees to work on overdue assessments.
Your employees can take advantage of the services of their learning consultant to resolve any learning difficulties they encounter, even in the absence of their course instructor.
In addition to the learning consultant, Udemy Business's tech support is always available to promptly resolve any technical issues or glitches on the platform. You can contact them at any time to get a reply within no more than two days.
Experience the Full Benefits of Udemy Business
Overall, Udemy Business is on a mission to relieve businesses of the pressure of training their employees.
There are so many other advantages companies stand to gain from Udemy Business but the above-listed advantages should convince any business owner to purchase a plan from the platform as soon as possible.
Share on Facebook: