Do you remember the last time you experienced a feeling of bliss?
You might have been on a vacation or a getaway. Everything felt different. The air was fresher, the sun a little brighter, and even the food tasted better. You probably went through your day humming your favorite song. It was all so refreshing and fulfilling at the same time.
Well, you don't have to wait for your next getaway to experience inner calm and tranquility. Taking a mindfulness course will help you sustain the feelings of bliss and tranquility in your everyday life.
Mindfulness will teach you to calmly recognize your feelings, thoughts, and emotions instead of running on autopilot, as we are so often prone to do.
So, instead of rushing through your workday to catch a 10-minute break, mindfulness will help you relieve stress during your workday.
Practicing mindfulness can also help you:
Reduce anxiety
Enhance your creativity
Improve your interpersonal relationships
Increase productivity in your work
Get inspiration from these online mindfulness courses to uncover these and more benefits and thrive while navigating life.
1: Mindfulness and Resilience to Stress at Work by edX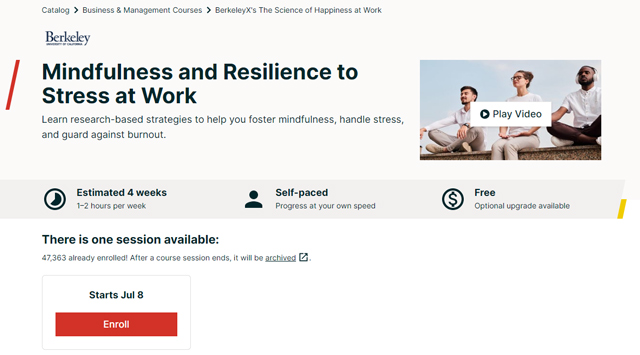 You cannot avoid stress at your workplace, but you can learn ways to de-stress and maintain your work performance even with intense stress.
The Mindfulness and Resilience to Stress at Work course explains the biological and psychological effects of stress on your brain to help you identify harmful and beneficial stress at work.
Lessons in the course further expound on how mindfulness can help you manage stress at your workplace and beyond.
You'll learn how mindful practices will help you sharpen your attention, enhance memory function, and develop an optimistic outlook toward your work.
By the end of the course, stress and burnout will be a thing of the past thanks to the proven methods you'll learn to enhance your ability to cope with stress. You'll learn mindfulness practices such as walking meditation, self-compassion breaks, and mindful breathing.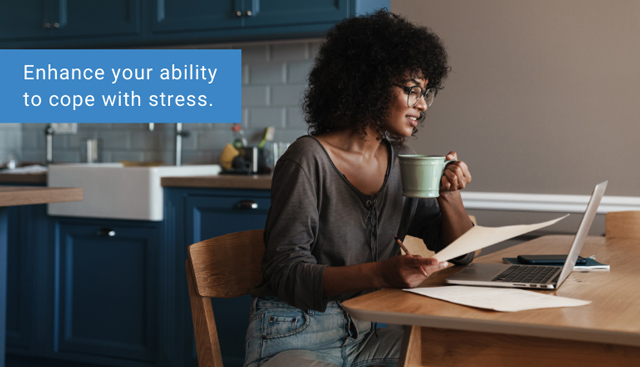 Course Modules
Sub-topics
The landscape of stress at work

Key contributors to stress
How stress affects your work performance
How to deal with stress at the workplace

Building resilience to stress with mindfulness

Meaning of resilience at the workplace
What mindfulness is and how it works
How mindfulness practices work

Forms of mindfulness at work

Mindful attention and concentration
Relational mindfulness
Challenges to mindfulness at work

Creating a mindful workplace

Practicing mindfulness at work
Avoiding common pitfalls for mindfulness
Building a mindful culture at the workplace
The instructors of the course: Dr Dacher Keltner and Dr Emiliana Simon-Thomas are both directors at the Greater Good Science Center, UC Berkeley.
With at least 2 hours of learning every week, the course should take you a month to complete.
Join the over 45,000 students enrolled in the course and learn for free on the edX platform.
2: De-Mystifying Mindfulness by Coursera
In the past, mindfulness was only seen as a mystical practice originating from the middle-east. However, research completed in recent years has proven that mindfulness can be used as a tool to enhance well-being and happiness.
De-Mystifying Mindfulness from Coursera seeks to destabilize some popular misconceptions about mindfulness and help you make your own judgment on mindfulness.
You'll explore the origins, benefits, and philosophy of mindfulness in the course. You'll also learn why mindfulness practices are used as therapeutic practices in psychology and neuroscience.
Chris Goto-Jones is the instructor of the course and a professor of philosophy at the University of Victoria. He is an experienced mindfulness and meditation teacher and doubles up as a supervisor of other mindfulness coaches.
Chris will also teach you:
How mindfulness affects political issues
How mindfulness relates to trauma and social justice
How mindfulness practices will shape you in the future
How mindfulness relates to nature and land
The 4-week course has quizzes and downloadable resources you can keep after completing the course.
Upon completion, you'll receive a certificate that you can share on your LinkedIn profile.
3: Online Mindfulness-Based Stress Reduction (MBSR) by Palouse Mindfulness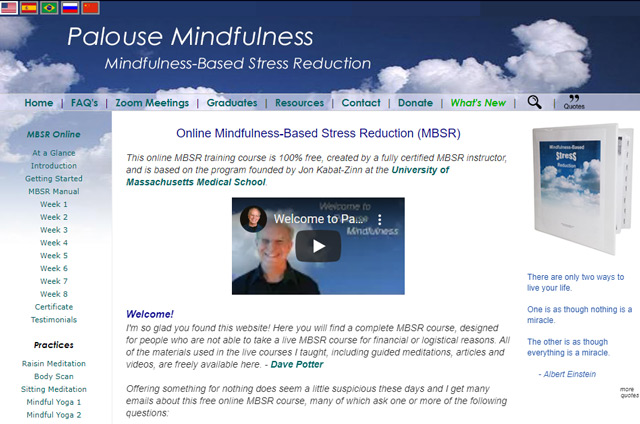 Dave Potter, the creator of the course, is passionate about creating a mindfulness course freely accessible to everyone. He is a fully certified Mindfulness-Based Stress Reduction(MBSR) instructor from the University of Massachusetts Medical School.
Dave incorporates resources from mindfulness experts such as Jon Kabat-Zinn, Thich Nhat Hanh, and Pema Chodron in the course to create a comprehensive course for learners of all levels.
Through the MBSR course, you'll discover how to cope with stress and pain, deal with hard situations gracefully, and be fully present and focused in the moment.
The course will help you incorporate a daily practice of meditation, body awareness, and mindful movement.
Some mindfulness practices taught in the course are:
Raisin meditation
Body scan
Mindful yoga
Mountain meditation
Lake meditation
The course should take 8 weeks, but you can learn for a longer or shorter time and understand its teachings and practices. It is also available in Spanish, Portuguese, Russian, and Chinese languages.
Expert Tip: Join other students in the Palouse Mindfulness Facebook group and ask questions about the practices covered in the course or share your experiences with others.
4: Mindfulness for Wellbeing and Peak Performance by FutureLearn
To achieve peak performance in your work and personal life, your brain should be at its best. But stress and anxiety directly affect your brain and, as a result, your productivity.
Research shows that stress can kill your brain cells and cause a shrinkage in the size of your prefrontal cortex—the part of your brain responsible for memory, learning, judgment, and creativity.
The Mindfulness for Wellbeing and Peak Performance course will help you reverse these harmful effects by training your mind to focus on the present.
This course designed by Monash University in Australia will teach you practical skills such as cognitive practices, efficient attention switching, and mindful meditation to improve your productivity.
You'll also learn mindfulness as a way of life by exploring:
How self-compassion improves your performance and wellness
How to understand and control your emotions using mindfulness
How to apply mindfulness in everyday activities like eating
How to enhance your creativity through mindfulness
Here's what one of the over 300,000 learners who've completed the course had to say:
Great content, provoked interesting discussions and some great techniques I will take forward in my work and life.

Bryony P
The course is freely accessible for its four-week duration on the FutureLearn learning platform.
Achieve a Zen State of Mind With Mindfulness Courses From edX
Mindfulness is a way of life and not a separate activity from the rest of your life.
To make mindfulness a part of your life, keep training and practicing. You can do so by turning routine activities, such as ironing or folding clothes, into mindfulness sessions.
Learn more mindfulness exercises to practice with authoritative and comprehensive courses from edX, designed by Ivy-League Universities.
By purchasing an edX course, you will get to download videos and reading materials you can refer to long after you complete a course.
Share on Facebook: