Editorial jobs in huge media brands like The New York Times are very desirable.
Why?
The New York Times pays tremendous amounts to their editors.
A while ago, the most coveted editing jobs were found in New York, Boston, Los Angeles, Chicago, San Francisco, and Philadelphia.
But now, the best editing jobs go to people with quality writing skills and those adept at editing digital content. Editors with proficient online and internet skills work remotely and earn decent salaries.
Applying for editing jobs online is easy, but how do you identify the most suitable?
Before you send a potential employer an application, consider these five factors. They'll give you the best chance of getting the most suitable editing jobs.
When Were the Editorial Jobs Posted?
When selecting editing jobs, it's important to check the job posting's date.
In job boards, you can filter editing jobs by their posting date. New jobs will appear first when filtering the search.
Go for jobs posted within the last five days and avoid jobs that are over two weeks old. The job application period may have expired, and your chances of landing those editing jobs will be minimal.
When you've selected a few potential jobs, look at the skills factor.
Are Your Skills Matching the Editing Jobs?
Is it a copy editor, proofreader, editorial assistant, or content editor position?
You should also check the job type. Is it a freelancer, part-time, or full-time position?
After selecting those suitable for you, look at the job description.
Analyze the Job Description
Apart from the required skills, unique information may be included in the description. So you have to be keen while analyzing the details.
For example, we'll analyze the description below for a content editor role.
The company wants a skilled editor who knows about cybersecurity, website building, and digital marketing. They also need an editor with extensive editing, proofreading, and project management experience.
They want an editor who can work with a team of content writers.
It's also important to note that it's a freelance position, but the company offers wonderful opportunities for growth.
Note that this is not a copyediting/proofreading position…" is the unique information included.
The company then explains why that is so. So if you were looking for a simple editing job, this job would not be suitable for you.
If your skills and experience don't match the job description, check out other editing jobs. If you're a suitable match, then look at what they are paying.
Is the Pay for the Editing Jobs in Line With Industry Standards?
Is the pay matching the industry standard?
According to PayScale, the average salary for a copy editor is $19.69/hour and for a proofreader it's $18.39/hour.
Some job ads don't include the salary of the advertised job. So knowing the industry rates will give you an edge when quoting your price.
We've provided the figures for the different editorial positions.
| | | |
| --- | --- | --- |
| Editorial Job Position | Pay per Hour | Pay per Year |
| Editor in Chief | $20.35 | $71,484 |
| Senior Editor | $25.68 | $70,453 |
| Managing Editor | $23.13 | $64,069 |
| Content Editor | $18.72 | $48,534 |
| Editorial Assistant | $16.60 | $36,911 |
These rates may change with time. So before quoting your price, be sure to research the current industry rates.
For example, we'll analyze the sample below and compare it to industry rates.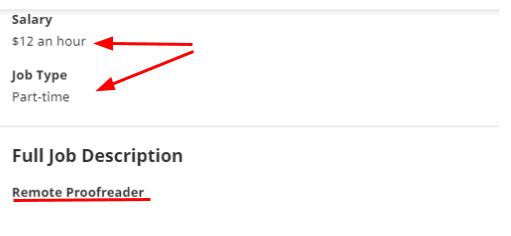 This is a part-time remote proofreader position offering a salary of $12 an hour. According to the industry rates, this figure is below average ($18.39/hour). So you may want to select other editing jobs that have better rates.
However, the editorial job's pay may vary according to three factors:
Industry
An editor working for a digital media company and an editor in a public school may edit the same amount of work.
However, the digital media editor will earn more because a digital media company makes more money through digital advertising, eCommerce sales, affiliate linking, and subscriptions, and so are likely to pay their editor more.
Education
In publishing companies a relevant bachelor's degree may raise your pay and allow you to hold a higher position.
Experience
An editor with a proven track record in editing jobs may earn more than an entry-level editor.
Despite these factors affecting the rates you see on job ads, as an entry-level editor, try to avoid selecting editing jobs that pay below the industry rate.
You need employers that value your skills and work. You don't want to be working hard for peanuts, do you?
What Is the Company's Industry Niche?
When you establish that the pay adheres to industry rates, move a step further.
Check the company's website and understand its products and services.
Which industry niche is it in? Health, finance, law, media?
This is crucial because you must know the terms and practices of the industry you're applying to.
What Is the Application Process for the Editing Job?
This is the final factor to consider. Check the procedure given for applying.
Are you applying on a job board, emailing the company, or applying on the company's website?
Also, are there editing tests given as part of the application process?
These are important points to note. They may make or break your chances of getting the job. Employers love an applicant who is a self starter and follows instructions.
If you're emailing the company, you'll need to send a well-crafted email. Follow any instructions given such as format, tone, or including keywords (one employer asked applicants to include the word horse somewhere in their application). So follow instructions as given.
Finally, check the documents they need from you (for example, a resume, academic certificates, or links to your samples).
Additional Factors to Consider
When your resume fits the bill, also consider these factors for the best job experience:
Work-life balance — Will the role afford you an opportunity to balance work and personal life?
Work schedule — Is the editing role flexible or is it a 9-to-5 role?
Workflow — How many articles will you be editing per week?
Payment methods — How will they be paying you? And how often?
Communication channels — Do they use emails or phone calls? And how often do they communicate?
And Now Over to You …
When selecting editing jobs, consider these factors to get a suitable editorial job.
You should also subscribe to job boards' email lists to receive job alerts and messages when they post suitable editing jobs.
Also, do you want to demand a higher salary from your job? Or be the preferred candidate on employers' lists in every application?
Then enroll in Small Revolution's courses to increase your chances.
Remember, you stand out from the competition by polishing your skills. And you'll also have an edge when applying for editorial jobs.