The aim of this guide is to help store owners understand why blogging is important for their eCommerce business.
Part of an eCommerce store owner's responsibilities is to build visibility for his store. Yours may be getting quite a few from Google by now, but you can improve your e-store's visibility by creating a blog and writing posts as soon as you launched your store.
If you haven't started blogging, you are truly missing out on the possibilities of getting more visitors (a.k.a. potential customers) to your store. Blogging has become a part of many online businesses' regular activities because it helps improve website traffic and visitor engagement.
If you are new to the term 'website traffic', technically, these are website visitors or people who are searching online via Google search. Every website needs traffic in order to thrive and it also tells Google and other search engines (i.e. Bing, Yahoo, Ask, etc.) that there's activity on the website.
Comparatively, if you'll look at traditional ways of getting 'traffic' to, let's say, a new baking tools store in your neighborhood, it will take a lot of word of mouth and hundreds of flyers distributed to uninterested people on the streets. eCommerce blogging, on the other hand, is about creating posts or articles that will help draw these people into your online store without spending a lot of money on flyers and other traditional marketing methods.
Why Blogging Matters For Your eCommerce Store
Generally, blogging helps create connections between businesses and people. This connection starts when people research for items they are looking to purchase online.
According to HubSpot 79% of online shoppers spend at least 50% of their time researching the web for products. This means that Google and other search engines are the places where prospects go first in terms of finding things they want to buy, as shown below.
Blogs have also become the go-to place for customers who want opinions and recommendations. This study conducted by BlogHer shows that 87% of their own sample made a purchase based on blog recommendations.
The graph below shows a huge difference between companies that blog and those that don't. You'd want to be among those that do blog because there's a lot of opportunity to get leads (that can possibly become customers) via the search engines.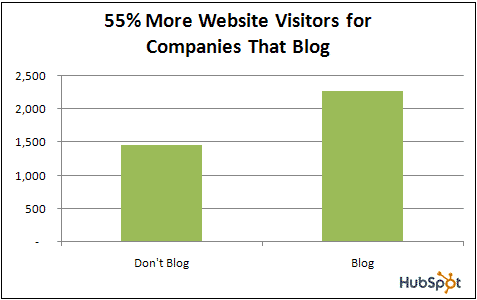 As per HubSpot's ebook mentioned "Small businesses with blogs get 55% more website traffic, and that number goes up exponentially whether you post once a week, twice a week, and then up to several times a day – wherein you become a thought leader in your field. Our advice? Blog as often as you can while keeping the content valuable for your prospects."
By having your own blog enables your eCommerce store in getting a portion of the people who are searching online for certain products. It will be helpful for first-time visitors to your site, as well as your returning customers to learn more about the products they like without leaving your website. Of course, in time and with numerous quality blog posts, your blog can become an authority on your niche that customers trust.
If you are just about to start your very first blog post, here are the steps you need to take to make your blogging more effective for your eCommerce business:
Step 1: Learn About Keyword Research
Bloggers and online marketers use keyword research to find the best suitable keywords or keyphrases that are being searched by online users. This allows you to know what people are exactly searching and how you can use high-demand keywords in creating great blog posts.
Learn about keyword research and data trends to help you craft a great blog post for your products based on what people are searching for and how in-demand those relevant keywords/phrases are on the web.
Step 2: Learn About Blog Writing Basics
Read our step-by-step guide on how to write blog posts for your eCommerce store. You'll learn tips and tricks on how to write a good blog post that you can use as a marketing tool to get more visitors to your e-store.
Step 3: Learn About SEO For Bloggers
Search engine optimization plays an important role in every website's performance and success online. There are SEO experts and companies that specialize in this field, but as a blogger, you should learn the basics in order to apply the strategies on your own without hiring and paying an expensive service.
Below are some of the top sources we've picked to help you get started:
For a new blogger, what better way to learn about blogging and SEO than from a blogger like Jeff Goins. His two SEO guides for bloggers are reader-friendly and easier to understand than those of HubSpot's and SEObook's.
HubSpot's' approach is a little friendlier than SEObook's and it offers a lot of tips and strategies which can help you boost your blog in the search engines
SEObook's page about blogging and SEO is more comprehensive and quite technical for a beginner. But we've included this resource in case you want to increase your knowledge and apply it in your future blogs.
Step 4: Learn About Social Media Marketing For Bloggers
Social media and blogging are a perfect combination especially if you want to reach more visitors to your blog. Social networks are ideal places to get like-minded people who have the potential to become customers. Take note that not all social media users are bloggers or business owners, so this is a great strategy to get additional leads.
Learn social media marketing for bloggers with Pro Blogger Darren Rowse. He provides a list of pages where you can learn social media marketing tips in growing your blog traffic.
http://www.problogger.net/using-social-media-sites-to-grow-your-blogs-traffic/
Mashable has its list of ten social media marketing tips for bloggers. This is a straightforward list of tips and tricks that you can quickly visit and refer to once you are familiar with social media tools.
http://mashable.com/2012/02/17/social-media-bloggers-tips/
Learn From Others
There are eCommerce store owners who are daunted by the idea of blogging. It is not a scary thing to do for your e-store. In fact, it is a great way to share your own takes on products that you sell.
You can be informative, personal, entertaining, and educational in your angles. The most important thing to remember when you start blogging for your eCommerce store is to direct the information to your blog readers; otherwise, they might leave your blog without getting the information that they came for.
Here are three examples of eCommerce blogs that you might find interesting and useful when you start blogging: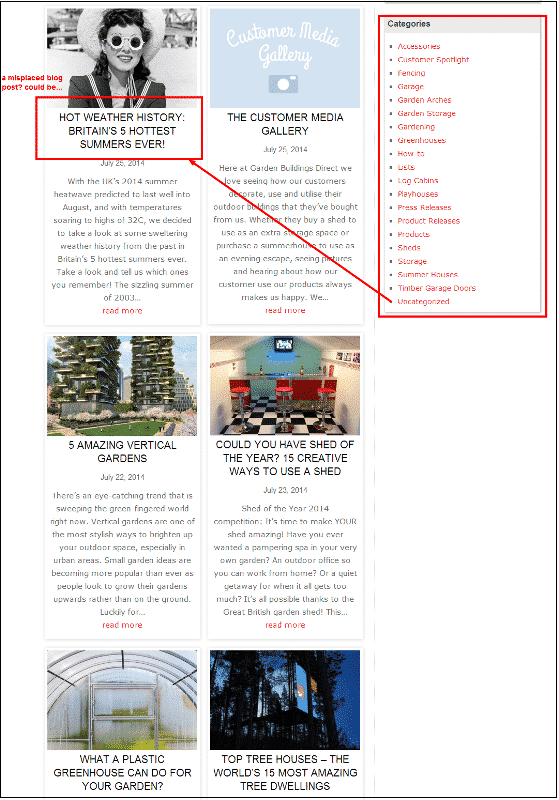 Garden Buildings Direct is an online store in the UK that sells garden sheds/buildings, garden furniture, storage, green houses and anything that can be used in a garden or lawn. The problem with their blog is that there's a post about the hottest summers in the history of Britain.
As you can see on the above screenshot, the other posts are relevant to the products they sell. It would have been a very informative blog overall if there's no post about the hottest summers.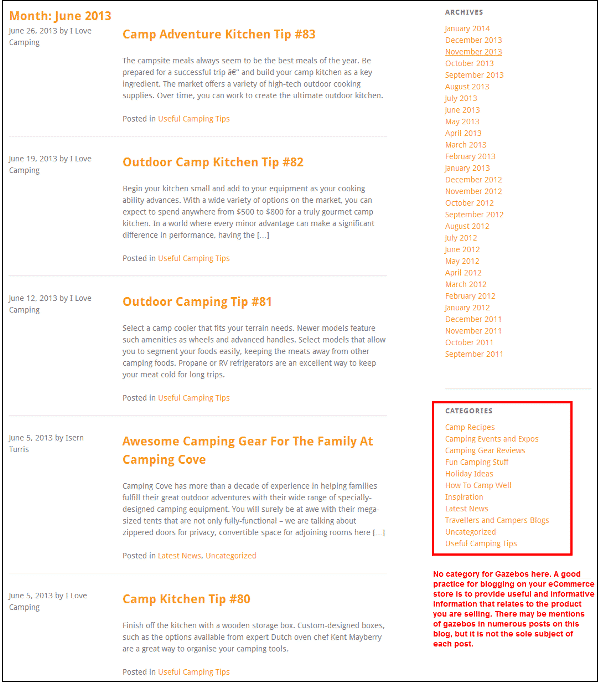 I Love Camping is Gazebo Australia's blog that features posts mainly about camping and the outdoors. Judging from the title of each post, they are not using the blog to 'sell' their gazebos, but rather provide useful information that relates to their products.
If this is the approach you'd like to use on your own blog, it is best to mention (and link to) the products that you sell within the posts as necessary.
If you are an authority on certain products like GoldeNet, which sells loose diamonds and jewelry, you'd want to showcase your knowledge by writing posts that are educational and informative to your readers.
The above screenshot is just an excerpt of a long blog post that explains the pros and cons of different ring settings. The store owner uses his blog to educate readers not just about the technical aspects of buying and getting to know diamonds and jewelry, but also the aesthetic aspects of his products.
Final Checklist
If you've been in the eCommerce business for a while and still gaining traction online, then it's time to start blogging. Now is the best time to do so because you need to learn and implement a number of tactics on your own e-store's blog. What we have provided here are expert resources that you can learn from, as well as a couple of our own how-to guides to help you get started.
The key is to understand that blogging is not just for hobbyists or teenagers who have all the time their hands. Blogging has become an essential tool for businesses, big and small. So, you need to do your part in order to gain the necessary knowledge that you can use on your own eCommerce store to improve traffic and potentially gain more customers.
Do not be afraid of blogging – it is a useful and creative method of gaining more customers for your eCommerce store.
Learn about keyword research to know the top keywords/phrases that are related to your products.
Learn about blog writing via our own how-to guide.
Learn about SEO for bloggers by the experts.
Learn about social media marketing for bloggers by the experts.
Learn by example to see the best practices.