Copywriting is an art like no other — intricate, deliberate, and enchanting.
Imagine weaving a story, a compelling story, that makes someone take action immediately. That's what great copywriters do. They take information and can draw a specific reaction from the target audience.
Leo Burnett, the renowned advertising executive, summarises copywriting in the best way possible, without missing a beat.
Make it simple. Make it memorable. Make it inviting to look at. Make it fun to read.
And to be like the best, you need to learn from the best. Imitation certainly is the best form of flattery. The copywriting industry has indeed been an art canvas in history, boasting some of the most brilliant ideas, methods, and ads to grace our time.
We've curated a good number of these examples, both past and more recent, to spark something in you. We hope this helps you tap into your creativity and craft words that make a mark wherever they are inscribed.
Here we go:
Copywriting Example 1: Miss Clairol
Miss Clairol was a popular hair colour created in the 1950s and was a favourite because of how natural it made hair look. They chose to write a short narrative — a copy elevator pitch explaining how great of a product it is and why anyone reading should try it.
Weaving qualities of Miss Clairol hair colour, such as how easy it is to use and how natural it is, within a narrative, makes the product more believable. Everybody loves a good story, and you, too, can incorporate short anecdotes and narratives to make your copy easier to understand as well as more entertaining.
Sometimes the audience doesn't want hard selling in their face. Lace your messaging in the copy and watch them take it all in like you've never seen before.
Copywriting Sample 2: Innocent Drinks
Innocent Drinks consistently knock it out of the park with their copywriting, and this sample above is a perfect example.
The company prides itself on being a pure fresh juice brand with no additives, hence the name Innocent. The product in itself is revered, but what mainly captures the heart of its loyal consumers is the brilliant copywriting behind it.
This sample cheekily lists ingredients as other brands would, but they only have one ingredient: fresh fruit (ta-da?!). This alludes to the fact that their juice is fresh and natural, unlike other brands with a long, winding list of ingredients.
You can mirror this in your copywriting by finding metaphorical ways of saying how your brand stands out. The copywriters didn't have to say, Our product is free of additives," they just showed it. So, remember to show in copy, not to tell.
Copywriting Sample 3: Clare Barry
Clare Barry is a senior conceptual copywriter who grabs your attention with just one glance at her website.
A sentence in a huge font on the landing page says, "I write down ideas for money." That's just a few words to say that she's a copywriter. From reading that alone, you can tell that she's witty and a bit sarcastic.
This is an essential lesson in copywriting: tone. Your tone matters because that's how you sound to the reader as they read your copy.
The tone you use makes them form perceptions that eventually become decisions about whether they are interested in the product/service or not.
As you write, seek to develop your tone. Ask yourself:
Who do I need to sound like for this copy/project? A nurturing mom, a nutty professor, or a laid-back but wise grandma sitting on the porch?
What do I naturally sound like when I talk? Can I write like that?
Finding a balance between how you write copy and what the client wants you to relay is important. This way, you retain your authenticity while still clearly communicating to the target audience.
Copywriting Example 4: Trello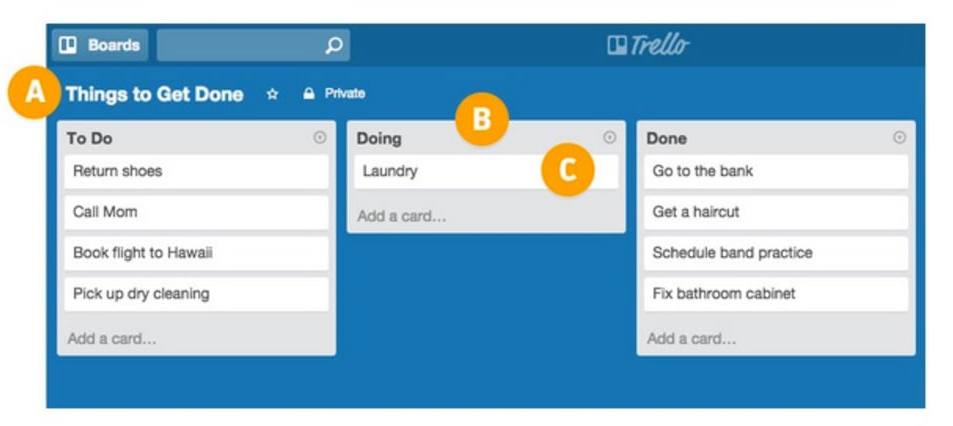 Trello believes that they're super helpful as a project management tool. Project management is just a fancy word for a detailed to-do list. To break it down, what did they use in this sample?
A to-do list.
Why?
Because it's more relevant to the audience to write good copy and embrace simplicity. They broke down an idea that was a bit specialized, but made everyone feel like they could use it by writing it in the form of a to-do list with everyday things like laundry and running errands.
So if the audience sees how it can work for the little things, it can definitely work for the big ones. They can schedule meetings, delegate tasks, and run an office — all from the comfort of their home.
Jargon and big concepts are not always practical. Just KISS. (Keep It Simple, Silly).
Copywriting Sample 5: Rolls Royce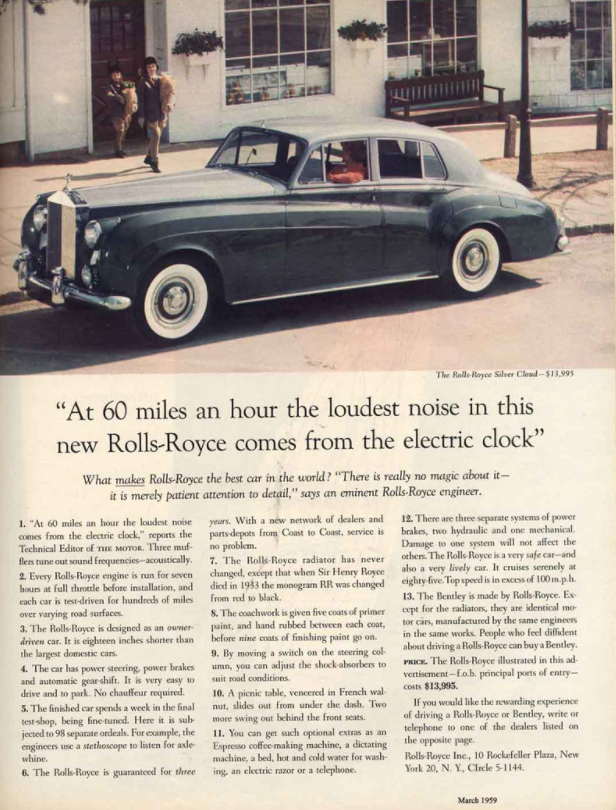 Rolls-Royce has been a luxury brand in the automotive industry for many years now, and back in the day, one of their engineers explained that all it takes is patient attention to detail.
In the sample above, the headline reads, "At 60 miles an hour, the loudest noise in this new Rolls-Royce comes from the electric clock." In short, that's how quiet the engine is when the car is running.
It gives an air of sophisticated effortlessness. And now, even I want to buy a Rolls-Royce of my own, sit in it, and just listen to the electric clock tick.
After that, the writer lists not one, but thirteen exciting facts about the car, drawing the reader in to learn more and more about the product without it feeling overbearing.
Sometimes you can brag a bit about the product you're writing about. Study it and find out what makes it unique from any other product in the market. Then write about it like you genuinely believe in it.
Your audience won't be disappointed, and your client will be pleased with your copywriting.
Copywriting Example 6: Smirnoff Vodka
This sample is by Smirnoff Vodka, and their tagline is: It leaves you breathless.
In this specific ad, the copywriter used an expression, and the graphics backed it up. The reader is asked to come out of their shell and take a shot (or 10) of Smirnoff Vodka. It induces the Fear Of Missing Out (FOMO) by listing all the ways that everyone is drinking vodka.
To top it off, the process of making Smirnoff is explained in the ad copy (they filter it through 14,000 pounds of activated charcoal), enhancing admiration for the craft that it takes to make the drink.
This sort of enticing approach can work because when you finish reading, you want to get off work at 5 p.m. and dash to your nearest bar to have a dry martini with Smirnoff and a shot or two (to see if you can get a lick of that charcoal).
Make your audience want to try out your product, inject a sense of adventure, and watch them follow your cues from the beginning of the copy down to the call to action.
Sample 7: Kiwi Shoe Polish
Kiwi Shoe Polish is a global brand that used a unique approach towards this particular copywriting sample campaign: influence and inspiration.
They picked out heroes and tried to imagine how walking in their shoes was, from Muhammad Ali to Ernest Hemmingway. Then they centered the stories around shoes and how walking in these legends' shoes could have been. Remember, they are a shoe polish company, so they hit the nail on the head.
The tagline was along the lines of taking the first step; the original shoes of these icons took the first steps that led to them being the great people they were.
Inspire your readers and show them how, in one way or another, the product or service you are writing about somehow changes their life or gives them an edge over life that they didn't have before.
Human beings are always subconsciously in the business of becoming better, so if using shoe polish that tugs at their heart a bit gives them an extra push because they admire Florence Nightingale or Abraham Lincoln, let them have it.
Copywriting Sample 8: Tuft and Needle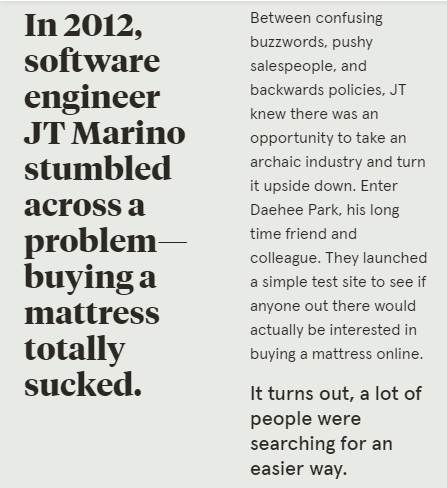 Tuft and Needle is a brand that specializes in making mattresses, bedding, and furniture.
Their "About" page is a fine piece of copywriting because it highlights one of the most important things to any consumer: the pain of the problem.
The founders went through so much just to get a decent mattress, and that's what they wanted to take out of the equation. In addition, highlighting that they are solving an existing problem they too had creates a rapport between them and their target market.
As a copywriter, never forget that any product or service solves a problem, and if you can show your reader that you understand their situation, you're halfway there. The other half is in convincing them that you're the best person to solve the issue.
With Time and Practice, You Will Write as Well as These Copywriting Examples
Excellent copywriting is achievable, and these copywriting samples are a testament to that. However, it takes time, patience, and most importantly, education.
This is where Small Revolution comes in. We have a comprehensive course that teaches a combination of different approaches, from email marketing to more classic examples, all the way to ecommerce — the future of copywriting. Also, we have loads of helpful content on our blog.
To awaken the sleeping giant inside you, ready to churn out the best copy you have yet, enroll today.