Udemy is a renowned and acclaimed hub for self-learning courses. The free courses on Udemy will provide you with value for your time and dedication.
Whether you want to study digital marketing, personal development, or programming, Udemy has what you are looking for.
Enrolling in Udemy's free courses will provide you with current industry experience, though you may not earn a certificate of completion, and your assignments may not be graded.
We have scoured Udemy's website to find some of the best free courses that don't require a certificate or graded assignments. The best way to figure out which one best suits you is to consider:
What content is included in the course
The skills you get from taking the course
Who can take the course
Today, we outline the best courses on Udemy with no entry requirements and why you should take them.
1: A Mini Course on Time Management by Brandon Hakim (Insider School)
A Mini Course on Time Management by Brandon Hakim was born from a reawakening moment Brandon had in his friend's car. His friend quipped at how so much had changed for him that year, yet for Brandon, nothing had changed.
So, he sought to find the reason. He clearly was wasting time while his friend was making the most out of every opportunity. The key, Brandon found, was effective time management.
Now he is an acclaimed time management specialist and the creator of Insider School.
Brandon took his lessons and curated them into this special course. He promises that by the end of the course, you'll be more productive than ever.
The course's goal is to help you skyrocket your productivity by compressing the time required to complete a task. For instance, in a lecture titled "How To Set Up Your Work Time," Brandon explains how to do 3 hours of work in 1 hour.
Impressive, right? The perks don't end there. Through this course, you'll understand the actionable steps you can take to make time management effective.
Brandon's free course is endearing. Personal development coaches strike gold with every eBook or course they churn out.
By the end of A Mini Course in Time Management, you'll have learned why your New Year's resolutions don't always come to fruition and how it's never too late to amend this.
If you're a chronic procrastinator or never meet deadlines, this free course should be on top of your list of personal development courses to take.
2: Hyperthinking: Improve Your Day-to-Day Learning and Creativity by Philip Weiss (ZN Digital Masterclass)
Have you ever felt like the world was just passing by you? It's as if you exist in a vacuum where time is of no essence. You just trudge through work and life.
Philip Weiss, the founder of ZN Digital Masterclass, has the perfect free solution to get you out of this rut: Hyperthinking.
Hyperthinking is changing how we think depending on (and to fit with) the situations we find ourselves in.
The world is changing, with new technology cropping up every so often. Philip Weiss intends to expand and shift our thinking into a more agile concept with the following core themes:
HyperShift, which involves coming up with new ways of seeing the world
HyperLearn, which suggests that our education system is too rigid for the present world. We need to be creative and continuous self-learners
HyperLink, which bridges new ideas and new solutions
HyperAct, which will now cause us to put into practice these new changes and adapt to the reality we live in
The course is best for individuals who want to overhaul their general life motions and practices. If you want to improve your conflict resolution strategies or maximize your potential, this course is just for you. It's also effective for digital consultants.
3: Job Interview Skills Training Course by TeachUcomp
A typical job interview will last between 45 and 90 minutes, depending on the complexity of the job. Out of this, you only have 7 seconds to make a lasting good impression.
This is the precise reason why TeachUcomp's free course is both relevant and effective.
The course covers the basics from the moment you receive an invitation to interview, to when you step out of the interview room, and even after that. In addition, you'll learn how to make body language a strong point.
The instructor will take you through the best answers to give when asked common questions, such as "What are your weaknesses?"
You'll learn why you need at least one business suit, regardless of your occupation, and why it needs to be neutral-colored at that.
The course is best for individuals at any point in their career, whether they're beginners, experts, or looking to rebrand themselves. It's especially best for HR professionals and new job seekers.
Expert Tip: TeachUcomp is an authority in teaching people how to use their computer software. Their clientele ranges from lawyers to software engineers to doctors. Their expertise in dealing with different careers is why you must take their interviewing course seriously.
4: Best Practices for Working Remotely by Shelley Osborne
Working From Home (WFH) has taught us how to always turn on the mic when we want to start speaking, and how to be prepared with quick apologies for when the kids start running around (even when you've clearly told them not to). The good news is that there is a free course on Udemy by Shelley Osborne that tackles all things WFH.
The course takes into account the qualitative benefits of remote work, and how to continuously improve upon them. Shelley is an expert on learning and development, and her core task is to impart the lessons she has learned about remote work to her students.
You'll get more than fifteen years of experience in her quality-packed course. Besides, who wouldn't want to learn from the Vice President at Udemy?
Shelley might not have a permanent solution to kids and pets running around mid-video, but she'll give you actionable steps to avoiding distractions.
The course is about 1 1/2 hours long and takes you through the best practices for working remotely aptly divided into the following lessons:
Running virtual meetings: You'll learn how to set up constructive meetings via Zoom, Google Meet, and other video conferencing tools.
Effective communication and accountability with colleagues: Learn how to make virtual team communication more authentic and interactive, yet still professional.
Improving productivity while Working From Home (WFH): Shelley understands that your productivity may be hampered by the comforts of working at home, or worse still, you may have the wrong perception of how productive you are. 
Proper time planning and management: You'll learn how to effectively structure your day to maximize productivity while doing the things you love most.
5: Master a Financial Management Habit & Worry No More by Eric Poulin
Is your wallet like an onion, and opening it makes you cry? If that was a bad joke, then this is a sign to start taking financial management seriously. Eric Poulin's course promises to ensure your money doesn't end up the boss of you.
If you want to learn how to save, plan and budget better, or if you need to keep your credit score in check, with this course you'll join over 17,299 students in their quest for financial freedom.
The best perk of Eric's course is a software tool called CalendarBudget that helps you set your financial priorities in order. In fact, the course is like the app's manual.
CalendarBudget helps you with:
Setting up your daily, monthly, and working budgets
Clear visuals on your spending patterns
Accurate account balances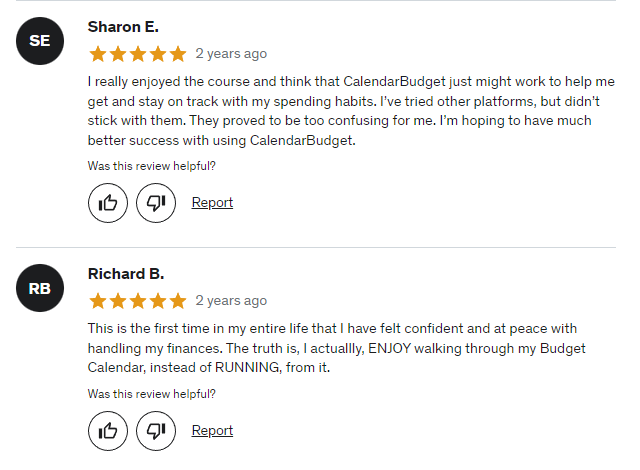 Are Free Courses Worth It?
Yes, free courses are definitely worth it.
Enrolling in these and other free courses will avail you expert tips from Udemy's pool of qualified instructors and a community of like-minded students. The best thing about online courses is that they're tailored to your needs and availability.
Imagine learning how to code from the comfort of your home, or learning the valuable skill of financial management so you don't misuse your money. The possibilities are endless.
The table below outlines how well these courses are performing.
| | | |
| --- | --- | --- |
| Course | Star Rating | Number Of Enrollees |
| A Mini Course on Time Management by Brandon Hakim | 4.4 | 285,565 |
| Hyperthinking: improve your day to day learning and creativity by Philip Weiss | 4.3 | 100,429 |
| Job Interview Skills Training Course by TeachUcomp | 4.5 | 186,570 |
| Best Practices for Working Remotely by Shelley Osborne | 4.5 | 79,540 |
| Master a Financial Management Habit & Worry No More by Eric Poulin | 4.4 | 17,299 |
The skills you get from the courses listed above are effective and will help you stand out. You'll have better time management skills and know how to maximize productivity through hyperthinking while working remotely, courtesy of Udemy.
Truthfully, these courses deserve to be upsold to paid courses, but having them for free is what makes Udemy's free courses the crowning jewel.
Share on Facebook: