Today, you can study, work, take care of your family, and explore your hobbies simultaneously— without worrying about dealing with daily traffic or moving across the globe.
Online job courses allow you to log in for only a few minutes whenever you can and, in the end, get a certificate that unlocks new possibilities career-wise. These possibilities could be a job promotion, venturing into a new field, upskilling and proving competence, or securing your first post-grad job.
So what fields can you find amazing free online certifications in that are profitable both now and in the future?
Digital marketing
Cyber security
Data science
Computer science
Programming
Content writing
Virtual assistance
Software engineering
Customer service
Expert Tip: Other course specializations you can find online with paid or free certifications are in social sciences, humanities, business, health, and medicine.
We want to point you towards 45+ best free online job courses to help you realize your next career move. The courses discussed are from high-rated providers, taught by industry experts, and have attracted thousands of learners.
Learn Without Limits on Coursera
Coursera is a transformative learning platform that provides learners access to courses and degrees from leading universities and organizations.
How to Get a Free Certificate on Coursera
The online university offers all kinds of learning opportunities, from certification courses and diplomas to bachelor's and master's degrees. However, it may be difficult to locate top free courses on the platform because of the diverse course catalog.
Some courses on Coursera come with free digital certificates.
You can also secure a free certificate by applying for financial aid. Or, get a Coursera Plus monthly subscription, which offers you a 7-day free trial that allows you access to 7000+ world-class courses and unlimited printable certificates.
| | |
| --- | --- |
| Certification Payment Options | Courses |
| Free guided projects | Use Canva to Design Digital Course Collateral |
| Use 7-day free trial on Coursera Plus | |
| Seek financial aid | |
1: Use Canva to Design Digital Course Collateral
Rating: 4.6
Enrollment: 23,817
Duration: 2 hours
This course teaches beginners, intermediate, and expert-level learners how to use the free version of Canva.
It's a free Guided Project, meaning you learn and practice in-demand Canva skills like creating:
A course promo graphic
A fillable PDF
A course checklist
A digital course worksheet
A digital course certificate
In a split-screen environment, you will learn how to incorporate images, color schemes, and other design elements into the collateral you create.
2: Machine Learning
Rating: 4.9/5
Enrollment: 4,748,067
Duration: 61 hours
The Machine Learning course is an extremely popular course with over 5 million enrollments. Stanford University offers this course through Coursera, and it aims to introduce you to machine learning, data mining, and statistical pattern recognition.
It's a great introductory course to the world of human-level AI. The course draws inspiration from case studies and practical applications, contributing to the successful outcomes: 17% of learners acquired tangible career benefits, and 11% started a new career after completion.
Unlike "Use Canva to Design Digital Course Collateral," you need to pay to earn a certificate and access graded assignments. However, there's an option to seek financial aid to get the certificate for free.
3: Build a Full Website using WordPress
Rating: 4.4
Enrollment: 87,912
Duration: 2 hours
This course takes you through everything you need to create an attractive and user-friendly website on WordPress. As an advanced-level course, you need basic web design knowledge and familiarity with using the WordPress content management system.
The course teaches:
How to create a website on WordPress that utilizes themes and plug-ins
How to edit images, links, and website content on WordPress
How to add and organize widgets on WordPress web pages
4: Programming for Everybody (Getting Started with Python)
Rating: 4.8
Enrollment: 2,513,601
Duration: 19 hours
Python is currently the fastest-growing programming language, given its widespread use in various business sectors.
Having a Python programming certificate under your sleeve could help you secure a job with some world-renowned companies, like Google, Netflix, Amazon, and NASA.
This course teaches the basics of Python programming, which include:
How to install Python and write your first program
The basics of Python programming language
The fundamental programming tools, including loops and functions
The syntax and semantics of Python
How to use variables to store, calculate, and retrieve information
You can complete this course with the 7-day Coursera Plus trial period when you have access to graded practice quizzes, assignments, and a shareable certificate.
5: The Science of Wellbeing
Rating: 4.9
Enrollment: 3,886,739
Duration: 19 hours
The Science of Wellbeing is a top-rated Coursera by instructor and Yale University Professor Laurie Santos.
This personal development course debunks the myths we've learned about happiness, the features of the mind that influence our thinking and reasoning, and how we can overcome our biases to be better and live happier lives.
The main reasons to enroll in this course include:
It teaches you how to be more productive
It equips you with practical skills to increase your happiness
It teaches you how to nurture social connections
Additionally, learners of the course reported experiencing greater mental health benefits than those learning the basics of psychology. In fact, 18% of learners enjoyed tangible career benefits from the course.
You can apply for financial aid offered by Coursera and its partners to get a certificate at the end of the course.
Acquire Professional-level Training from Google
Google has several pieces of training, in-person workshops, and partnerships with learning platforms like Coursera to help you unlock the power of technology for your business or career.
The Anatomy of Google Certifications
Grow with Google is an initiative that helps you acquire skills to grow your business and career. Four of the courses by the initiative are offered on Coursera, and they come with a Google Career Certification charged at $39 per month.
One of the courses—the Associate Android Developer Certification—is hosted on developer.android.com, where the exam and certificate cost $149.
Rating: 4.8
Enrollment: 500,000+
Duration: 140 hours
This course is taught by top-rated instructors on Coursera—Google Career Certificates. It sets you up for a successful career as a project manager by teaching you in-demand industry skills in less than 6 months.
The knowledge relayed through the course covers:
How to utilize project management tools, software, and templates
Foundations of Agile project management
Creating effective project documentation and artifacts
Strategic communication, stakeholder management, and escalation management
Why this course? Project management is an in-demand skill with an average entry-level salary of $59,000. Additionally, like other Google Career Certificate courses, graduates of the course stand a 75% career improvement.
Rating: 4.8
Enrollment: 397,000+
Duration: 140 hours
This entry-level course will give you a soft landing if you're thinking of getting a job as a professional user experience (UX) designer.
The Google UX design Certificate course curriculum is designed with input from top industry employers and taught by industry leaders. It takes you through the most fundamental topics of UX design using interactive content in the form of regular assignments and quizzes, hand-on projects, peer reviews, and discussion forums.
Some of the job-ready skills you will acquire when you enroll in the certificate program on Coursera include:
Empathizing with users to help you develop personas and user stories
Creating prototypes and wireframes
Carrying out usability studies
Testing designs
Building a professional portfolio
Other than the certificate, at the end of the course, you get access to the Google employer consortium, where over 150 recognizable employers come searching for non-traditional entry-level talent.
We need more people with UX skills in tech and this is a great avenue for people to start a new career in this field or make a career change.

Catherine, Vice President of Design at Google
Android is currently the most widely used operating system for smart and mobile devices. Therefore acquiring Android development skills could land you a job that pays an average of $81,940 per year.
Google's android development course is suitable for novices and expert developers because the course material is well segmented. When you enroll for the course, you get to learn how to:
Create fully-featured apps for mobile devices
Schedule and perform storage retrieval in a mobile environment
Understand essential debugging tools
Test and find errors in running programs
Upon completion, you'll be featured on the official Google Developers Certification directory, where potential employers can find you. You also get free access to interview tips, resume-building workshops, career coaching sessions, and mock interviews.
Rating: 4.8
Enrollment: 727,000+
Duration: 140 hours
The shortage of data analysts around the world is almost a crisis. Therefore, training as one could attract a fat paycheck and handsome benefits even at entry level.
The Google Data Analytics Certificate equips you with all relevant skills to prepare, process, analyze, and make recommendations based on business data.
The hands-on curriculum teaches you how to use top analysis platforms and tools, like:
Microsoft Excel
Google Sheets
Tableau
Kaggle
RStudio
Google Slides
Powerpoint
You'll also learn:
Key analytical skills, like data exploration, data cleaning, analysis, and visualization
Data analysis with open-source programming language
Analyzing data to answer questions and make data-driven decisions
With the certification, you can work in all kinds of organizations, including finance, tech, entertainment, and health.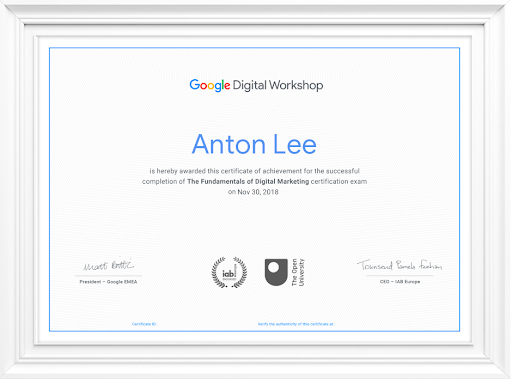 This course is available under the Google Digital Garage initiative. It's completely free and offers a certificate upon completion.
It's a great course for anybody looking to venture into social media marketing, digital marketing, or SEO copywriting. The course is taught by Google trainers and packed with real-world examples and practical exercises.
You'll gain skills in:
eCommerce
Business strategy
Analytics and data insights
Content marketing
Email marketing
Display advertising
Search Engine Optimization (SEO)
Search Engine Marketing (SEM)
At the end of the 26 modules, you get a free certificate uploaded to the Google Fundamentals of Digital Marketing course landing page. You can access it whenever and you can even download and print the PDF version.
Upskill with Courses on LinkedIn Learning
Upgrading your LinkedIn account to premium gains you access to more than 13,000 LinkedIn Learning courses. You access these courses for free during your free one-month subscription trial.
How to Get Certified on LinkedIn Learning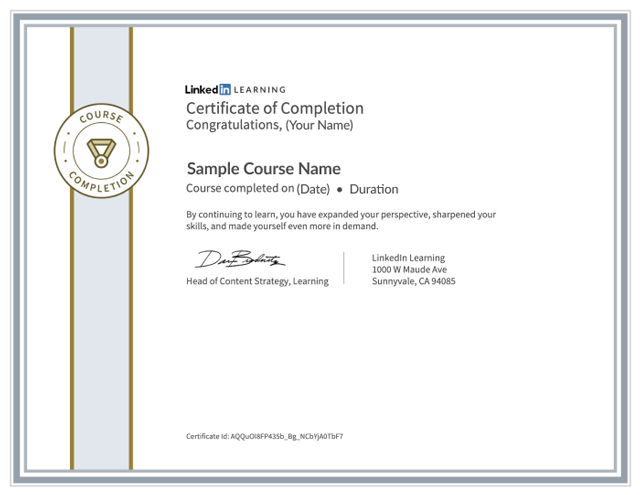 With a LinkedIn Premium subscription, you get a Certificate of Completion when you complete all the videos on a course. The subscription packages cost between $29.99 and $139.99 per month, and you get the first month free, which comes with access to all courses and certifications.
The certificates are automatically updated to your LinkedIn profile.
Starting a career as a sales rep can be quite intimidating, considering the high turnover rates and targets you're expected to meet. However, gaining insight into what's expected and meeting your targets will put you on a clear path to success marked by a high salary and commissions.
The Become a Sales Representative course on LinkedIn Learning teaches you the core principles and skills you need to succeed as a sales rep. These include:
Sales foundations, like prospecting and product positioning strategies
Developing an effective sales process
Asking excellent sales questions
Building soft skills
Effectively handling sales objections
Sales negotiation and closing strategies
The course is taught by industry experts, ranging from sales and leadership coaches, business strategists, consultants, and authors.
As the most preferred spreadsheet application, Microsoft Excel knowledge is a highly sought-after skill for many employers. You can learn how to be an excel power user by enrolling in this course and earning a certificate of completion to prove your expertise.
The Master Microsoft Excel course teaches you:
The features and functions of Excel
How to use Excel formulas
How to use advanced formatting techniques
How to add visual appeal to your workbooks and spreadsheets
How to analyze, summarize, and sort PivotTables
The course is based on Excel 2016, and it's taught by an Excel expert with 25+ years of experience and a Microsoft certified trainer.
Rating: 4.7
Enrollment: 343,000+
Duration: 85 minutes
Many business projects fail because the project managers lack an understanding of stakeholder requirements. Learning business analysis foundations equips you with the skills needed to increase efficiency and streamline business processes and systems.
The skills you'll need to perform exemplarily as a business analyst include:
Identifying and validating stakeholder requirements
The steps of an effective business analysis process
Understanding a business's strategic goals and requirements
Planning and organizing a business's architecture
Familiarizing yourself with business analytic tools, like My SQL, Excel, and Tableau
The course is part of a learning path, which also includes the Become a Business Operations Associate course.
You could also consider other professional certifications that are industry approved and prove your competency in the field like:
International Institute of Business Analysis (IIBA)
National Association of State Boards of Accountancy (NASBA)
Project Management Institute (PMI)
Rating: 4.7
Enrollment: 165,000+
Duration: 87 minutes
Learn how to write copy that engages, entertains, informs, and converts site visitors to leads on LinkedIn Learning. The instructor, Ian Lure, takes his students through how to write compelling copy that tells the story behind your brand, product, or services.
You'll also learn:
The different types of copywriting
General rules of copywriting
The secret behind drafting on paper
Optimizing copy for different platforms
How to manage an editorial calendar and a copyediting team
Having this certificate on your LinkedIn profile and resume makes you more competitive for jobs and potentially increases your earnings.
Ian is a fantastic teacher. I could tell that he was speaking from a place of experience with the intention of giving his learners the best start into copywriting.

Stephanie Merritt
Rating: 4.7
Enrollment: 16,000+
Duration: 85 minutes
Affiliate marketing is a great way to earn passive income if you own a blog, website, or online property.
This course takes you through the fundamental principles of affiliate marketing to help you create an appealing online brand, select amazing affiliate programs, and build affiliate marketing campaigns that deliver a great ROI for your clients.
Some of the topics covered include:
Driving quality traffic as an affiliate
Types of affiliate products to promote
Types of affiliate offers
Link tracking and cloaking for affiliate
At the end of the course, you'll have gained credible knowledge on converting your followers into affiliate sales for clients, and you'll get a certificate of completion as proof.
Get a Fully-Sponsored Nanodegree on Udacity
Udacity is an online university with more than 200 free non-certification courses and about 70 Nanodegree programs with certificates.
Criteria for Certification
Udacity's Nanodegree courses are micro-credentials taught by industry-recognized professionals. They typically take one to six months and cost $249 and $399 per month.
However, Udacity has partnered with top-rated companies like Shell, Infosys, Cognizant, and Google to provide scholarships to students for some of the programs. The scholarship application process is upfront, easy, and typically takes less than two days.
With the scholarship, you can access all learning materials, which include videos and quizzes. Then you'll need to complete the required projects and pass an assessment to earn a certificate.
You can get a scholarship for this Nanodegree thanks to the Amazon Web Services Artificial Intelligence and Machine Learning (AWS AI & ML) Scholarship program.
The AI Programming with Python program lays the foundation for a successful career in AI. It teaches:
The main building blocks of AI
Foundational AI programming tools (Python, NumPy, PyTorch)
Essential math skills (linear algebra and calculus)
You'll receive a certificate upon completion, and should you wish to continue to advance your AI skills, you can also enroll in the following courses.
| | | |
| --- | --- | --- |
| Course | Description | Can I Get Scholarships? |
| Deep Learning | Learn how to build and apply deep neural networks | Yes. Through AWS or Facebook Intelligence |
| Machine Learning | Enroll to become a leading machine learning engineer | Yes. Through AWS |
| Artificial Intelligence Nanodegree | Expand your AI understanding | No. But you can get personalized discounts |
Udacity gave me a new path to my programming career and huge confidence to start my own tech labs.

Naveen
Unlock New Career Possibilities by Enrolling on Udemy
Udemy is an online training website that offers a variety of paid and free courses.
Certification Criteria
Only paid Udemy courses offer a certificate upon completion.
The courses are affordable, with most ranging between $10 and $199.99. However, you can get the courses for free or get up to 90% off the course when you use Udemy coupon codes. These codes are offered by instructors and Udemy affiliates and are available for a limited time.
Rating: 4.5
Enrollment: 46,900+
Duration: 1.5 hours
This highest-rated course takes you through how to create content that sells. You can enroll now for $84.99 and get lifetime access to the course materials and any updates, plus a certificate of completion.
The course teaches everything from the role of content marketing, how to create a content marketing strategy and content plan, how to optimize content to ensure it sells, and how to analyze the impact of the content.
If you're not very keen on learning content marketing tips and tricks, you can also gift this course to a friend or relative. Whether they're an entrepreneur, marketing executive, digital marketer, or content marketer, they'll appreciate the thoughtful gift.
Rating: 4.8
Enrollment: 302,000+
Duration: 37.5 hours
This is the #1 bestselling course on HTML and CSS on Udemy taught by top-rated Udemy instructor Jonas Schmedtmann—a full-stack web developer and designer.
The course is practical and easy to follow as it teaches you the 7 steps necessary to build a website from scratch. Upon completion, you'll be able to build a beautiful and responsive website that users can enjoy using on a computer, smartphone, or tablet.
The course is different from other web development courses because:
You'll gain real-world skills in building HTML and CSS websites
You'll build actual projects
You'll learn and practice website planning and CSS theory
The course focuses on both coding and designing
You'll be able to utilize tools and technologies like HugeDomains.com
Rating: 4.5
Enrollment: 39,000+
Duration: 1 hour
This is a short course on using Clarity—Microsoft's new free user behavior analysis tool to help you enhance user experience and boost engagement.
The course is a great choice because it teaches you more than the basics of using Clarity by exploring how to understand site visitor behavior.
It's suitable for:
Website owners and managers
Digital marketing professionals
Business intelligence enthusiasts
At the end of the course, you'll understand Clarity's features like Recording, Heatmaps, and Path filters, understand semantic metrics, and leverage the metrics from the site as actionable insights.
Rating: 4.5
Enrollment: 165,000+
Duration: 14 hours
Another Udemy bestseller covering stock market investing and trading taught by millionaire investor and top instructor MBA Steve Ballinger.
The course is a good fit for beginners and new investors who want to learn the practical steps of investing in stocks, and experienced investors who want to improve their skills, gain new insights and be confident while investing.
In the course you'll learn about:
How much money you can make in stocks
How to use free and basic Stock Screeners
Understanding the risk and volatility of stocks
The type of stocks to buy
The mechanics of buying a stock
Techniques to reduce fees and taxes
Please note: The course doesn't recommend any particular investments as it's primarily for educational and informational purposes.
Rating: 4.5
Enrollment: 57,000+
Duration: 2 hours
People skills are an underrated quality that determines your success as a sales professional.
This course teaches how to develop a support network of connections and build relationships that set your business base.
The instructor will keenly take you through:
How to take an interest in your customer's lives
How to secure a sale and retain the customer
How to make small talk with a customer
How to regard lost accounts
The 80-20 rule
Like Nabil. H you'll find this course informative and useful in your career or business.
I love how short yet informative and very helpful since it takes only 3-4 hour to fully finish. Can't go wrong while I got this for free, cheers!

Nabil H.
Study From Home on Oxford Home Study Center
Oxford Home Study Center (OHSC) is a private online university not affiliated with any university, offering learners accredited home study certificates and diplomas.
Certification Criteria
OHSC is UK-based, but they offer 100% free short online courses to everyone regardless of location or educational background. Learners subscribed to the free online courses enjoy the same support as those taking paid courses.
They also come with certificates and diplomas endorsed by Ofqual-registered awarding bodies. Some, however, require you to pay a small fee to obtain.
You have three certification options to select from for a small fee:
An official Course Completion Certificate from Oxford Home Study Center
A CPD Accredited certificate to boost your CPD profile
An Endorsed certificate issued by the Quality License Scheme
Rating: 4.5
Enrollment: 395
Duration: 450 hours
Sign up for this course to earn an advanced level 5 Customer Service Diploma for free and become an amazing online customer service personnel. The course includes 8 self-paced modules that cover:
Building better relationships with customers
Why you need to understand your target audience
Creating and implementing a service excellence strategy
Importance of effective training in customer service
How to handle complaints
The right way to manage unprofitable customers
To earn the certificate, you must complete all assignments and get the required grades. You can add the certification to your credentials and increase your chances of getting hired by top employers.
Rating: 4.8
Enrollment: 46,000+
Duration: 20 hours
As an operations manager for any company or organization, you are expected to maximize efficiency while minimizing waste.
Signing up for this course equips you with an understanding of the operational aspects of a business to groom you into a well-paid operations manager.
You'll learn:
The types of operations
How to set up an effective and efficient system for hiring, retaining, and helping employees succeed
Understanding and applying accounting and financial terms
Generally Accepted Accounting Principles (GAAP)
How to increase productivity and responsiveness
How to deliver high-quality standards
After successful completion, you'll be able to apply the skills in various real-world business environments.
Rating: 4.9
Enrollment: 71,000+
Duration: 20 hours
Cybersecurity professionals enjoy working in any organization with an average pay of $66,270 per year in the USA. You can curve your way into the industry by taking this free certification course on OHSC.
The course covers key industry insights, fundamentals, objectives, functions, and limitations of cyber security. You'll also understand your roles and responsibilities as a cybersecurity professional in a practical setting.
You'll gain skills in identifying and defeating all kinds of online threats, including phishing, ransomware, advanced trackers, and Denial of Service (DOS) attacks.
Rating: 4.9
Enrollment: 382+
Duration: 450 hours
Despite having a low enrollment rate, the learners give it a 4.9 star rating. The free digital marketing diploma equips you with skills that will enable you to get a promotion at your current job or start your own digital marketing agency.
It covers all the essential elements of digital marketing, which include:
Developing social media strategies
Creating social media marketing plans
Using Google Ads
Fundamentals of SEO
Promoting a business effectively on social media
Setting up pay-per-click campaigns
The course is comprehensive, and it effectively takes you through all the strategies, tools, and tips you need to market a business online through all the major marketing channels.
Rating: 4.9
Enrollment: 291+
Duration: 450 hours
Life coaching is a fast-growing career due to the growing need for people to prioritize wellness and attain greater fulfillment. If you're an excellent listener and love to help others overcome life's challenges by encouraging and motivating them, this is a well-fitting career option.
The life coaching diploma designed and created by OSHC breaks down the life coaching process into easily digestible bites. You will gain valuable knowledge on the following:
Fundamentals of life coaching
How to use life coaching tools
How to build communication skills
Practical listening skills
Facilitation skills for coaching
Effective negotiation skills
Learn From World Leading Universities on edX
edX is an online learning platform that partners with leading global universities, multinational corporations, nonprofits, national governments, and leading organizations. The platform empowers learners from all over the world and all walks of life to become changemakers.
How to Get a Certificate on edX
As a learner on edX, you can start by enrolling for their free 1000+ professional certificate or XSeries program. These entry-level courses teach popular topics and in-demand career skills if you're looking to advance your career or grow your professional knowledge base.
At the end of the course, you earn a verified edX certificate. Unfortunately, to get the certificate, you must part ways with $50 to $300 depending on the course and specific program.
Online courses on edX you can audit for free are highlighted below.
Rating: –
Enrollment: 45,700+
Duration: 18 hours
With a basic programming understanding, you can boost your skills and employment prospects by enrolling in the Algorithms: Design and Analysis course. The intermediate-level course is offered by Stanford Online through edX.
The course will make you the best programmer because learning algorithms teaches:
How to solve complex problems that you'll encounter as a programmer
How to recognise common queries and patterns
Different analysis techniques that help your solve problem efficiently
You can audit the course then; if you find the course valuable, pay $149 for graded assignments, exams, and the certificate. You can advance your knowledge by enrolling in the "Algorithms: Design and Analysis, Part 2" taught by the same instructor.
Microsoft Excel is pivotal in the field of data analysis. Gaining professional skills and a certificate to prove your expertise in Excel gives you a good standing with multiple employers.
This course covers the most popular and commonly used Excel features. It equips you with skills like:
How to create pivot tables
How to summarize data and produce valuable insights
How to create aggregate reports
How to calculate common ratios, like margins
Rating: 4.8
Enrollment: 3,555,000+
Duration: 12 weeks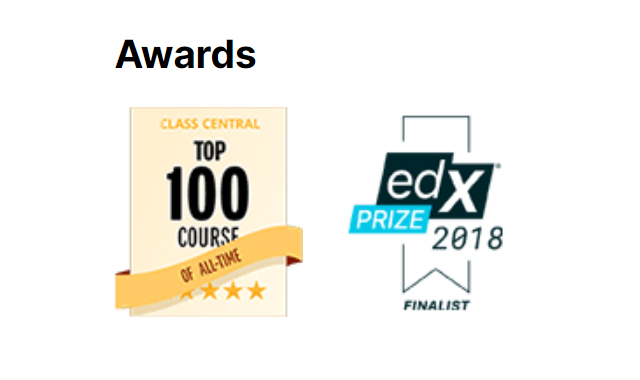 This course is facilitated by Harvard University through edX. It introduces students to computer science and the art of programming.
It's an entry-level course that you can learn at your own pace. You'll gain skills to solve programming problems efficiently. Familiarize yourself with various programming languages, like C, Python, SQL, JavaScript, CSS, and HTML.
The course covers abstraction, security, encapsulation, software engineering, resource management, and web development.
To be eligible for a certificate, you must score well on 9 problem sets and abide by the edX honor code. This course is part of a series of other programming courses by HarvardX.
This program is provided by Doane University, and it teaches the best marketing techniques you can apply whether you intend to start a career in marketing or advance your marketing skills.
As a micro bachelor's degree, you pay $496 (sometimes discounted) to enjoy the full program experience, which includes grades, assignments, exams, and a certificate that highlights your achievement. You can also collect at least 3 academic credits transferable to your bachelor's degree transcript.
The modules in the program include:
Marketing operations
Marketing foundations
Delivering value proposition
Unlock the Power of Technology with CISCO Networking Academy
Cisco offers 12 free certification courses that equip learners with programming and networking skills. The course may be done online, or you can find a training academy near you.
The verification at the end of the training may be a badge, certificate of completion, or statement of attendance, depending on the course that you can add to your LinkedIn profile and list on your certifications in your resume.
The goal behind the training is to transform lives using technology; hence you'll also be connected to a select group of exciting employment partners, like IBM, Red River, and Verizon.
These students come to us with entry level Cisco certifications, are easier to train, and pick up other skills quickly.

Dan McGee, C.O.O., Red River
This is the first course in a 3-course CCNA series that introduces you to the principles of networking.
It takes you through how networks work by breaking down architectures, protocols, models, and networking elements. The course will ensure you can build LANs, perform basic router and switch configurations, enable end-to-end connectivity between remote devices, and troubleshoot connectivity within a small network.
In addition, you'll gain critical thinking and problem-solving skills that enable you to use the Cisco Packet Tracer and other real-world equipment. You can follow this with the other two courses in the series:
You can jump right into a successful networking career by learning the basic networking skills and concepts. This networking course teaches you the importance of networking, how networks operate, and how to protect the networks.
Although it's an online self-paced course, the Networking Academy digital badge is only available for the instructor-led version. The course will ensure you can install a local area network using wireless technology, verify and troubleshoot network and internet connectivity, and identify and mitigate security threats on a home network.
This course is suitable for:
Cybersecurity experts
Data scientists
Internet of Things (IoT) is a rapidly growing field with employment opportunities popping up every other day. Gaining IoT skills gives you a chance to revolutionize businesses and organizations in any industry.
You can take the online course led by an instructor or self-paced. Taking this course will help you understand how IoT is changing the world by bridging the gap between IT and operational systems.
You'll also understand how IoT is transforming business processes and the security concerns rising from IoT solutions.
Learn to Code Online for Free on freeCodeCamp
freeCodeCamp is an innovative platform offering free verified coding certificates since 2014.
The platform teaches students how to code and use coding platforms free of charge and issues a certificate at the end of each course at no extra cost.
Take your web development skills to the next level by learning how to build entire web applications from the back end using Node.js, NPM (Node Package Manager), and the Express framework. Additionally, learn how to build a microservice using the Mongoose library and MongoDB.
At the end of this course, you should be able to:
Create a server, serve different files, and handle a variety of requests from the browser
Set up a model, save, delete, and find documents in a database
Create schemas—blueprints for your documents
Create 5 microservice APIs
Take this course if you're keen on leveling up your JavaScript, HTML, and CSS skills. The course discusses how to style your site with Bootstrap, add logic to CSS styles, and extend the styles with Sass.
Through interactive lessons, you will gain skills that enable you to:
Create responsive websites using Bootstrap
Build Single Page Applications (SPAs) with Redux and React
Utilize jQuery to select, remove, clone, and modify the elements on a page
Store data in variables, and add loops and logic to your styles
To earn a certificate, you must complete 5 projects that test how well you can use the tools covered in the course.
This data visualization course teaches you how to present different data types and work with data online using an API.
The three main technologies that make the foundation of the course are D3, APIs, and AJAX. So, you'll learn:
How to work with data to create dynamic and appealing data visualizations
How to create interactive data visualizations using Data Drive Documents (D3s)
The basics of APIs and the different AJAX technologies you'll find in the browser
To get certified, you need to complete 5 Data Visualization projects that test your ability to test and fetch datasets.
Learn the importance of good information security and how to protect people's sensitive data online.
The course will teach you practical information security skills, principles, and concepts. It'll also put this knowledge to the test and endow your portfolio with various infosec projects that prove your competence.
The course is based on HelmetJS—a type of middleware that prevents sensitive information from being passed between server and client. You'll need a background in Python programming because the penetration testing bit of the course is taught in this language.
Become a Certified Digital Marketer with Meta Blueprint
Meta Blueprint is a Facebook initiative focused on helping you acquire digital skills to help you run and manage a successful online business.
Learners are awarded badges and certificates when they prove their proficiency to help boost their resume and establish credibility with customers and potential employers.
As an aspiring digital marketer, you need to understand the skills, policies, and tools necessary to buy well-performing ads on Instagram, Facebook, and Messenger.
The Meta Certified Digital Marketing Associate credential is your best bet at becoming an amazing entry-level digital marketer. Through the certification, you will learn:
The value of Meta
How to establish a presence on Meta
The advertising fundamentals of Meta
How to create Facebook and Instagram ads that's officially recognized by Meta
Ads management and reporting
Other Meta Certifications to consider are highlighted in the table below.
Certification
Description
Skills To Be Tested
300-101: Meta Certified Creative Strategy Professiona
Learn strategic skills that help you develop insight-driven creative briefs

Mobile fundamentals
Research insights
Brief development
Evaluation & measurement

600-101: Meta Certified Community Manager
Learn how to build, scale, and sustain online communities

Ability to define and establish a community
Community

700-101: Spark AR
Learn how to translate ideas into quality interactive Spark AR experiences

Design and concepting
Ability to assemble the scene
Ability to add scene interactivity
How to optimize the scene
Publishing and effect management
Frequently Asked Questions
What are the advantages of online certifications?
Online learning is challenging yet very engaging. Other reasons why it's preferable to millions of people include:
It's cost-effective
It's flexible or self-paced
The certificates often have a positive career impact
Some courses help to grow your network
They barely disrupt your regular work-life schedule
How do I tell whether an online certificate is worth it?
You can tell if an online certificate is worth it if it's associated with the following:
An accredited university
A top-rated company, like Google, Facebook, or AWS
An industry expert with experience in the field and academic qualifications
You should also ensure:
The program curriculum covers what you hope to learn
The program is highly rated, with a significant number of enrollments
What other online platforms are worth a look?
Skillshare: For home creatives looking to grow their skills. Skillshare offers thousands of free and paid courses which come with certifications.
Masterclass: Learn business writing, cooking, acting, singing, and more from icons from around the world.
Small Revolution School: Gain world-class skills to become the best copywriter, virtual assistant, or customer service assistant.
CreativeLive: Are you looking to take a career leap, start a new hobby, or change your lifestyle? CreativeLive can teach you all the skills you love.
Alison: Take free online courses with diplomas or certificates to boost your CV and help you advance your career.
Do you need experience to start working online?
The answer is no. Most online jobs are receptive to hiring entry-level employees or freelancers. However, you stand a greater chance of landing the jobs if you have a certificate to prove your skillset.
Share on Facebook: